Light on the Head, But Terrific When It Comes to Giving Wide-beam, High-Quality Light – 100% Waterproof for Running, Cycling, Trekking, Hiking, Camping, and Many More

Safety and Security in the Dark is Made Better with This Reliable Headlamp With Brightness That Can Light Up a 3-meter Radius!
Making the XyverLit headlamp a part of your essentials for your outdoor activities can increase safety for your adventures. This headlamp does what a mere flashlight can't – giving you better visibility by distributing light all over.
So when you are running, hiking, trekking, camping, or fishing and it gets dark, you don't need to stop the fun. Just put the XyverLit on and you can enjoy safety in every step.
The XyverLit is for you if… 
You no longer feel safe with using flashlights alone.
You would prefer to have hands-free illumination.
You want to feel safe without sacrificing your convenience.
You are looking for a headlamp with great lighting power.
You want to go for a headlamp that has a wider light distribution.
You prefer a headlamp that is lightweight, and has a tight fit.
You want to go for a headlamp that can last in the outdoors.

XyverLit Headlamp Features
It's handy, but it's a powerhouse. Check out why the XyverLit is perfect for anyone looking to combine convenience and performance in one headlamp.
The Headlamp That Provides 350-Lumens of Illumination – Feel Safer Even When Night Comes
The wide viewing angle illuminates more than what your eyes can see so you will have zero blindspots. The XyverLit boasts a illuminating capacity of 350 lumens – that's like 4 flashlights combined!
The Headlamp That Distributes Light at a Wider Range So You Can See All The Areas You're Walking On
The XyverLit can cover up to a 3-meter radius in light. The reach of its illumination can also run up to 350-feet. This feature helps you to easily assess the area even before you step foot on it. XyverLit will help you negate danger before it even comes close.
No More Fiddling or Stopping Just to Operate the XyverLit – Its Unique Wave Sensor Allows You to Turn on/ off Using a Wave Gesture
Easily control the lights by waving your hand around the sensor. Just wave across the sensor and it turns ON/OFF – in an instant. This will eliminate the need to constantly adjust your headlamp to illuminate specific areas, allowing you to stay focused.
The Headlamp with 5 Light Modes for Your Different Adventures
The XyverLit comes in COB high mode, COB low mode, XPE high mode, XPE low mode, and Flashight mode. To change the types of light, short press power button to switch the mode, long press to turn on flashight mode.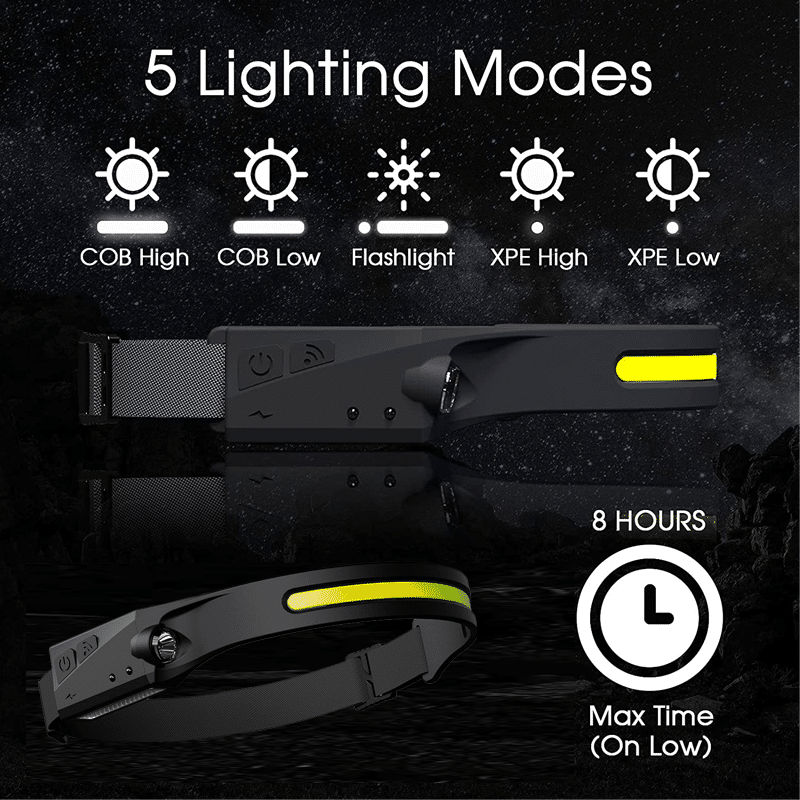 Long-lasting Batteries That Work Up to 8 Hours when Fully Charged
The headlamp charges with lighting speed via USB Type C. A full charge takes only 90 minutes. When fully charged, the headlights can work from 3-8 hours depending on light mode.
Waterproof Headlamp That You Can Use Rain or Shine
There's no stopping you with what you can do with this headlamp. It comes with an IPX4 water resistance feature that can stand the rain and splashes of water.
Lightweight and Comes with a Great Fit – Allows You Handsfree Illumination
The XyverLit only weighs 3.40 ounces – it's easy to wear, and won't cause strain on your head. The bands are made from silicone – it won't easily slip and change fit even when it gets wet with sweat, rain, moisture, and contact with water. With its great, tight fit, you can enjoy hands-free illumniation even better.

180° Wide Angle Illumination
Powered by COB LED technology, it delivers 350 Lumens in high setting for maximum illumination. With Visus you get to see the world as you would normally do in broad daylight. The wide viewing angle allows you to get the best light coverage in dark areas with impeccable flood light.

XyverLit Headlamp Functions
The induction floodlight is equipped with two XPE lamp beads, so it has high brightness, pure color display and long life.
The induction floodlight comes with a regular switch and a high quality side wave sensor.
The touch floodlight uses an integrated multi-function design, making it waterproof and weatherproof outdoors.
Specifications:
Waterproof: Waterproof
Light source: XPE + core
Weight: 95 grams
Battery: Built-in large capacity lithium battery
Light color: White light
Battery life: about 3 hours
Material: ABS plastic shell
Equipment: Four opacity
Charging: USB direct charging
Lumen: 120-350lum
Packing list:
Induction headlights * 1
USB charging cable * 1
User Manual * 1
Note:
Due to lighting effects and shooting angle, the product has color difference, please understand.
Due to manual measurement, product size has tolerance.