The High-Beam Headlamp That Features 3000 Lumens of Intense Light To Give You Proper Illumination When Navigating the Outdoors, Doing Security Checks, or If You Want to Increase Safety While You're Working at Night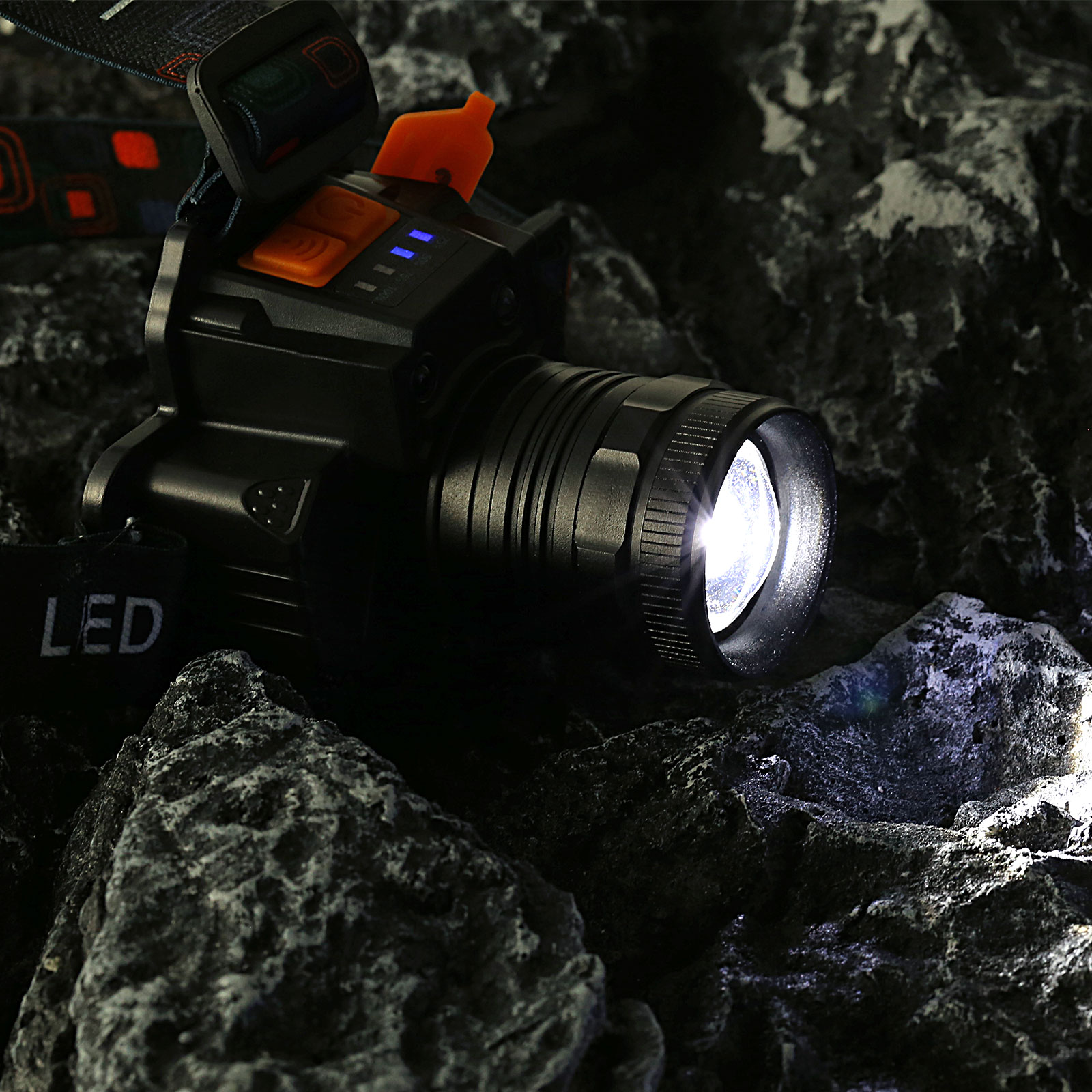 The Headlamp That Will Illuminate an Area – Far and Wide! The LumoxHy's Light can Reach 800 yards!
The impressive illuminating power of the LumoxHy is what you need if you want to feel extra safe and secured while you're outdoors at night. Once turned on, the headlamp blasts 3,000 lumens of light that can reach up to 500 meters. The light is distributed at a 180-degree angle for a wider range.
This headlamp helps you see any danger zones, broken roads, and hazard paths that you might easily miss if you're just using a regular flash light.
Created with safe adventures in mind, the LumoxHy is the best choice if you want to make your nighttime adventures as safe, as covered, and as easy-to-navigate as the ones done during the day.
The LumoxHy is For You If… 
You are looking for a high-intensity LED headlamp not lower than 3k lumens.
You want a headlamp that can cover a wider range.
You are looking for a rechargeable headlamp.
You are looking for a headlamp with multiple modes.
You want a headlamp that is waterproof.
You want to enjoy hands-free illumination.
LumoxHy Headlamp Features
The LumoxHy is not just about its high-light design. Check out some features that make this headlamp a great addition to your outdoor adventure must-haves!
High Power, High Lumen – The Light Coming Out from this Headlamp is At 3,000 Lumens!
This top-rated headlamp is 70% brighter than basic LED head flashlight. The headlamp can light up up to 2 football fields ( 500 m) and reaches nearly 1600 ft.
Fully zoomable from wide to narrow beam – totally adjustable based on your needs.
If ever you need to turn the light concentration to a specific spot, you can adjust the narrowness of the light's beam. If you prefer a wider light coverage, you can easily switch it from narrow to wide. The narrow beam covers 90-degrees, while the wider option can extend up to 180-degrees.
Comes with 3 light modes for different outdoor adventures.
The headlamp can create light direction in 3 modes – high, low, and strobe. You can easily choose a mode that is ideal to your current adventure needs. Each mode lights up to 90-degrees of solid illumination.
Features a sensor that enables you to turn on and off with just a wave of your hands.
You no longer have to remove the headlamp just to operate it. The unique sensor that comes with the headlamp makes things easier by allowing you to turn the light off and on with just a flick of a hand.
High performance LED flashlight with high quality of 50,000 hours working life.
If you're looking for a long-lasting LED flashlight, the LumoxHy is one of the best choices. This headlamp is guaranteed to perform well for up to 50,000 hours. Durability is in its build and design.
180-degree light range, helps you see from foot to field!
The LumoxHy also prides itself for its optimum light distribution. The light can be distributed up to 180-degrees helping you see all corners and spots so you won't miss anything that you should be careful of.
Includes 1 rechargeable battery which allow the lamp to run in bright light for 6 hours!
If you need a flashlight for long hours, and you don't want to charge every now and then, the LumoxHy is for you. When fully charged , the headlamp can last up to 6 hours.
Waterproof and easy to wear.
You can wear the LumoxHy while it's snowing, raining, fogging, or when you need to cross rivers, puddles, and waterfalls. It won't be broken by water, thanks to its IPX7 waterproof design.
Specifications
Brightness:3000LM
Charge:USB Rechargeable
Modes:High, Power Saving, Strobe
Power Source:Built-in rechargeable Battery
Irradiation Distance:1000ft
Weight:11.2 oz
Size: 3.4×3.2×1.7 in
What's in the box
1 x Rechargeable Headlamp
1 x Micro-USB Cable