What Makes Magnilum Standout
The headlamp designed by pure adventure enthusiasts, the MagniLum is inspired by the wild outdoors. The headlamp does not skimp on providing the best illumination. 
✔ The lamp comes with 4 lighting modes you can choose from. Whether you prefer to use the lowest, most focused setting, the widest and most splendid mid and high modes, or the emergency-ready strobe, this lamp can deliver its multipurpose features. The four modes of the headlamp allows you to use the headlamp in whatever situation. 
✔The most practical, safe, waterproof headlights in the market. This product features a practical, reliable and durable package. The 90 ° rotating head, helps you rotate the lamp in whatever direction you want. 
✔Classified as ipx4 water resistance grade – the most long-lasting headlamp in the market. On the outside, there is a waterproof switch that is safe to use even when it is raining. Inside, there's high-quality, leak-resistant, waterproof wiring to make sure your light stays on even when the rain is soaking wet.
✔ The whole family can use this lamp. With a little help from the adjustable headband, you should be able to adapt this most cost-effective headlamp to just about any friend, neighbor, or family member who joins your exterior (and interior) adventure. An exquisite large capacity case, a perfect gift for your loved ones. This is everything you want for a headlight.
✔ Yes, they refer us to infinite uses: use these lamps to keep both hands free when you're working on a project in the garage, have a list when the power runs out, or supply in a complete set so you can carry get your family hiking and jumping safely, you won't run out of uses for this magnilum headlight anytime soon.
Specification
The material is made with aluminum alloy and plastic.

Headlamp color is silver.

Voltage: 3.7V-4.2V

Lamp beads: T6*1+XPE*2

Shooting distance: 0-200m

Waterproof: IPX4

Power: 20W-30W

Brightness: 1500-2400 lumens (theory)

Gear Position: Main light, auxiliary light, three lights, three lights.

Function: lighting, night riding, emergency, night fishing

Power supply: 18650 lithium battery*2

Endurance: 3 hours under strong light, 5 hours under low light

Size: 3 lamp diameter 83mm, auxiliary lamp 24mm, main lamp diameter 37mm, height 55mm
Other Features Include
– The ability to rotate the light up to 90 degrees.
-A headband that you can adjust to fit a variety of head shapes and sizes.
– Waterproof cable and a waterproof switch, so you don't have to worry about spills or sudden showers when using your LED light in soggy conditions.
– Quality wiring designed to withstand the kind of dangerous and inefficient electrical leakage that could shorten the life of your LED lamp.
– Indicator light in the battery compartment to tell you when it is under charge (red light) or fully charged (green light).
-Don't worry about taking batteries with you wherever you go with your LED head light – this is a rechargeable headlamp so just take your charger and you are good to go.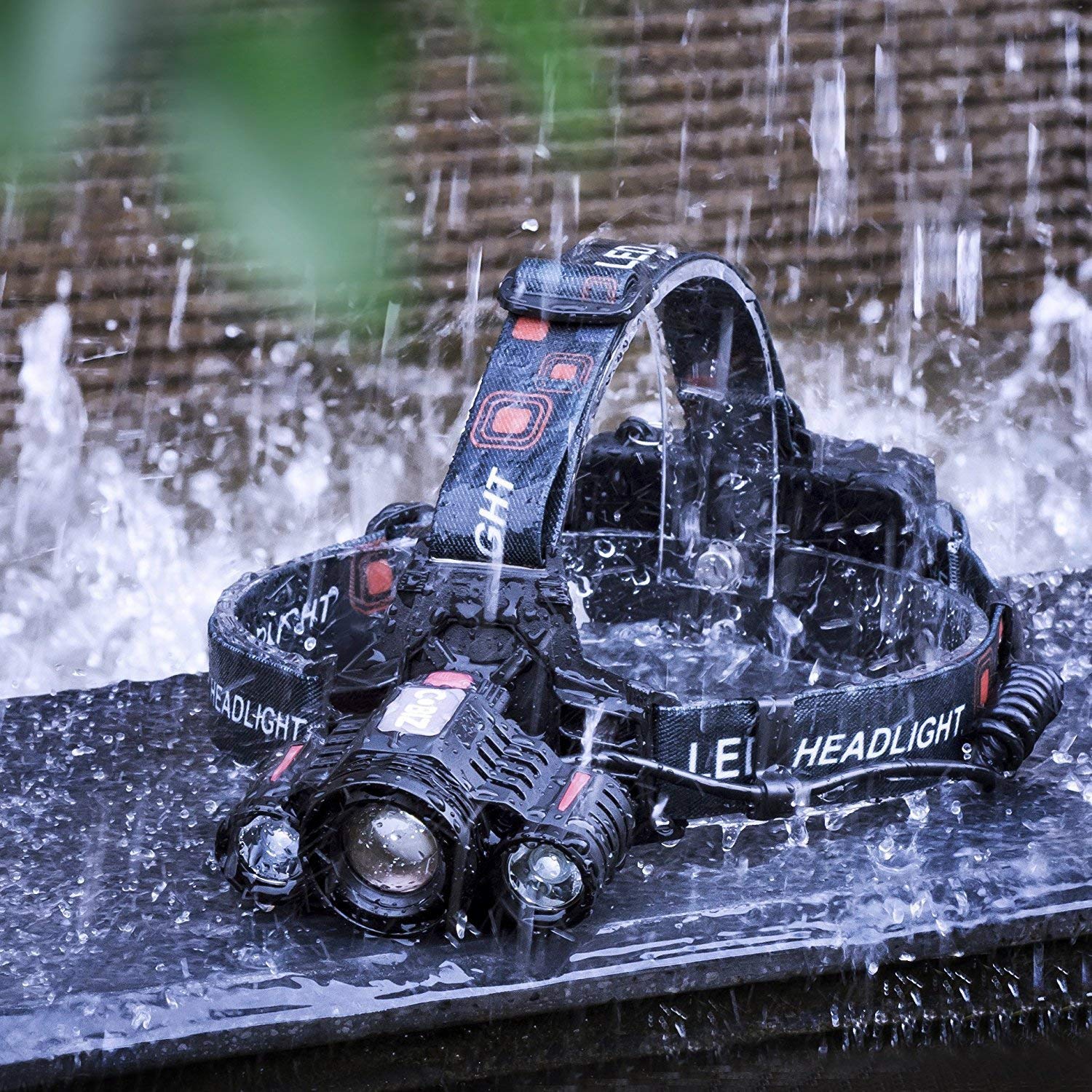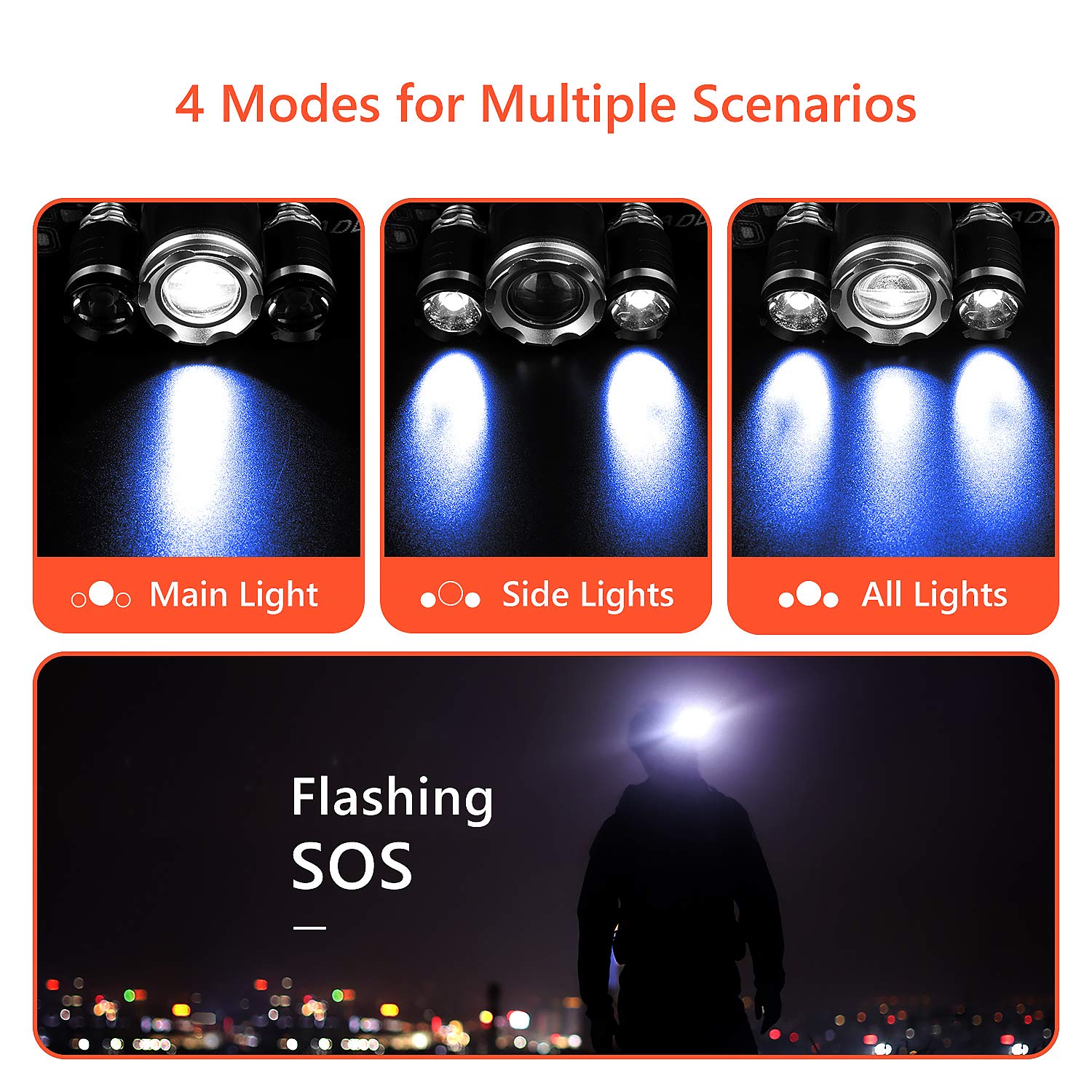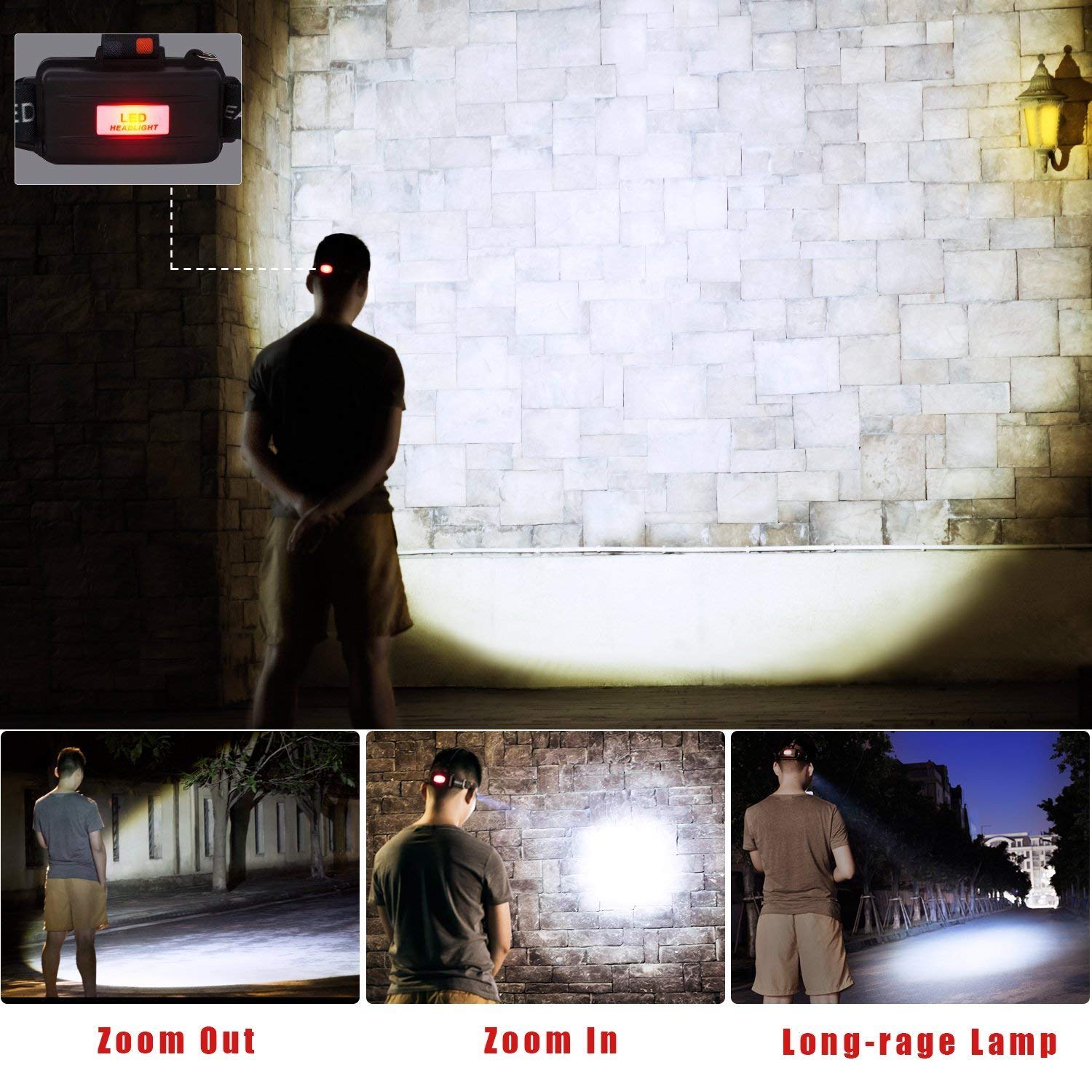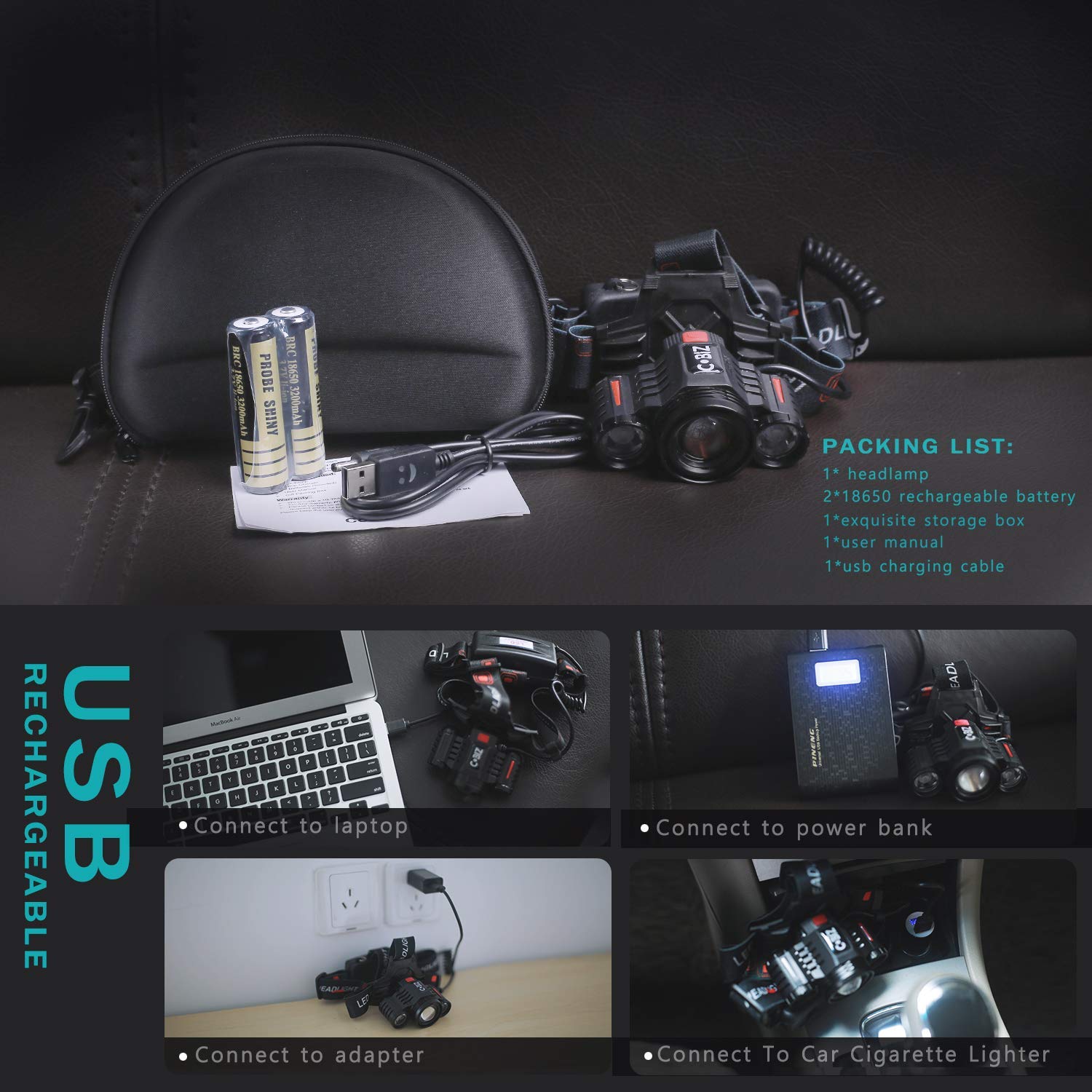 Stay safe with a moving head light that keeps every path you take, every trail you explore, and every shady corner of your home clearly visible.
Cobiz's innovative LED lamp is strong enough to guide you through some of the deepest and darkest conditions.
Choose from four lighting levels to find the setting that works best for you and your current environment:
–Low, that turns on the middle light only
–Medium, which turns on both side lights to create a wider glow
– High, which illuminates the three bulbs for maximum visibility.
–Strobe, which is especially good at getting the attention of rescuers and helpful bystanders when you're stuck in an emergency situation.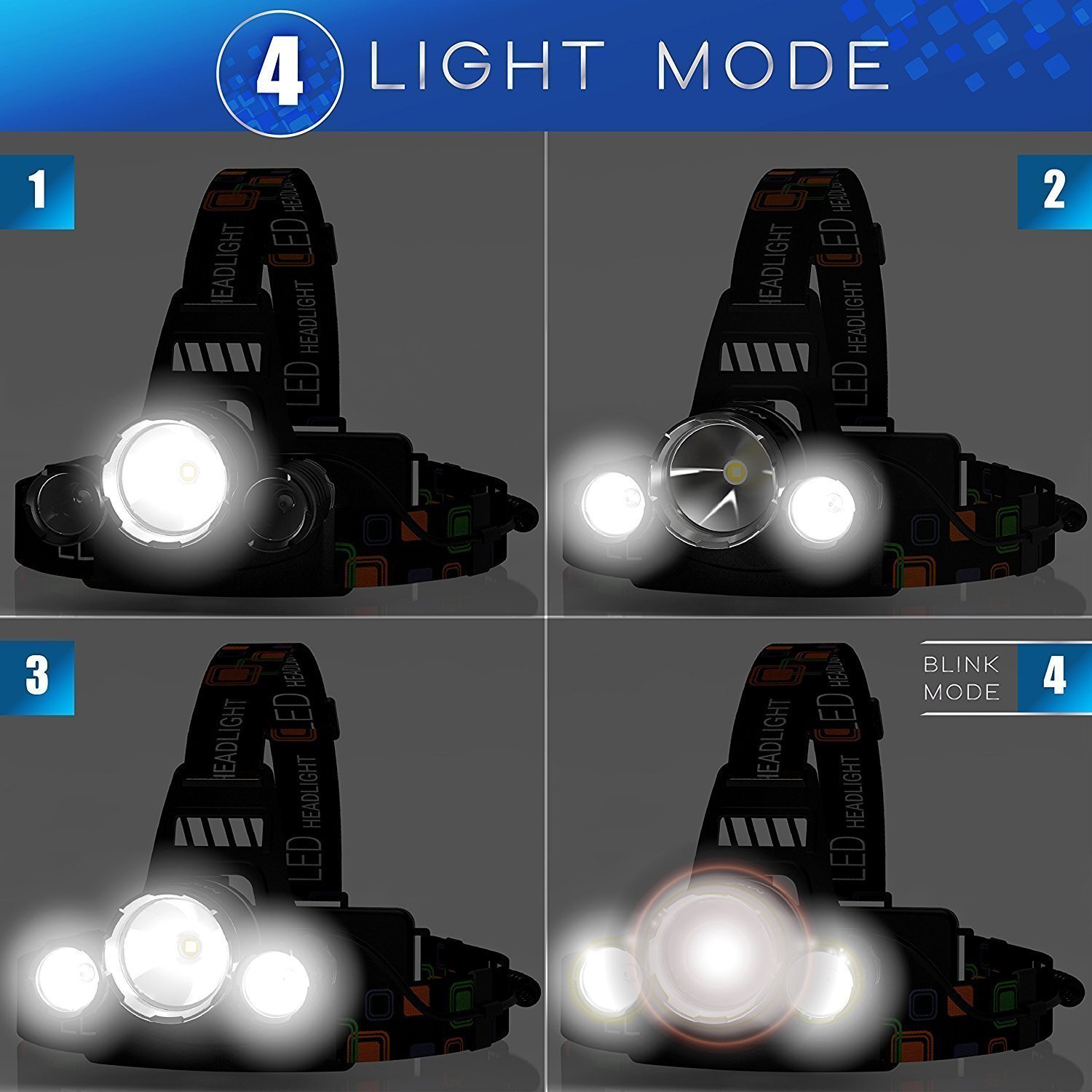 What are You WaitingFor?
– Carry your camping, caving, hiking or backpacking head torch for a reliable source of light.
– Add your own source of daylight to early morning horseback riding, hunting or fishing expeditions.
– Keeps your hands free when you are working at night or playing in a dark garage.
-Pack an extra light or two with your emergency supplies: After all, what could be better in a crisis than a hands-free flashlight that is also a bright signal lamp?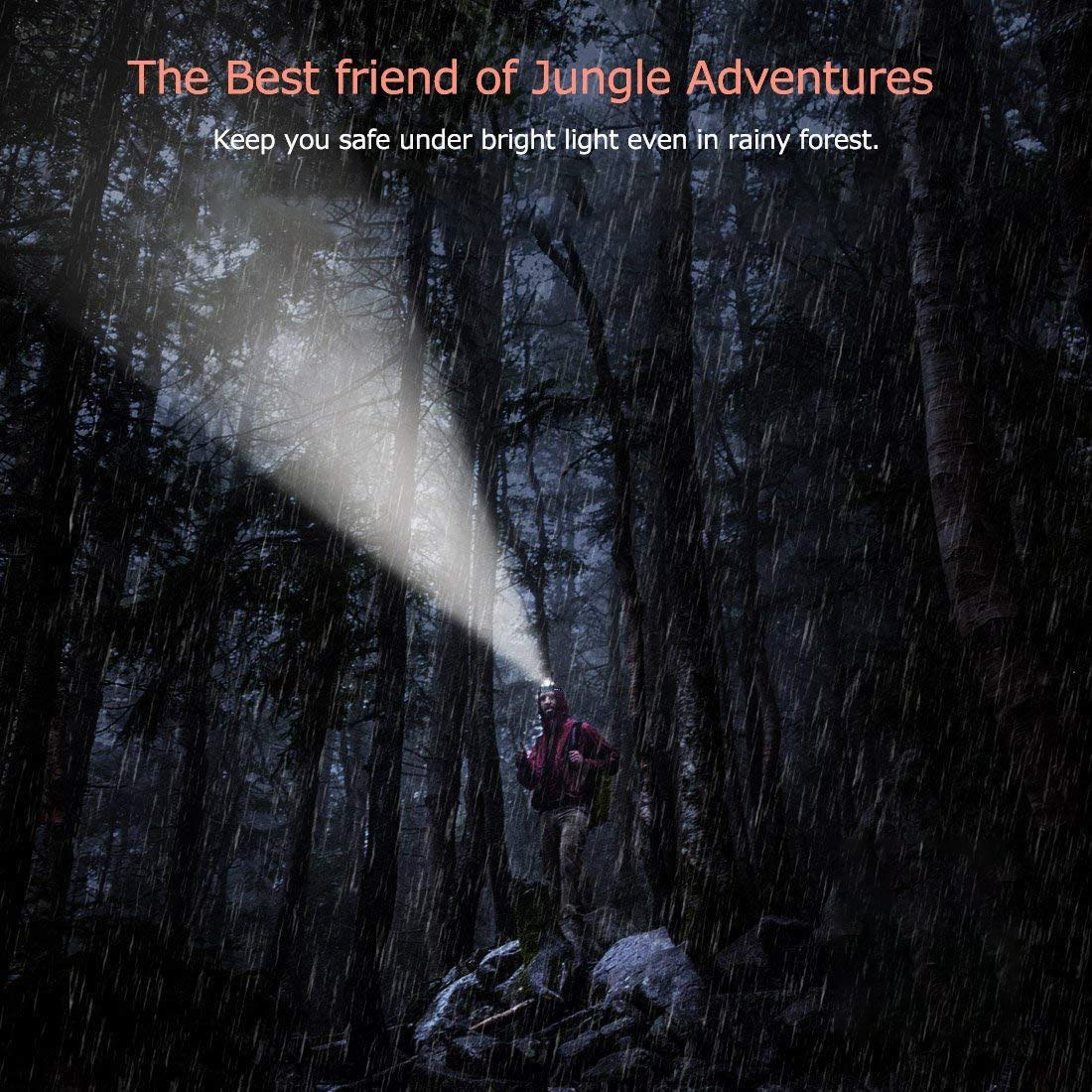 Package List:
1* LED Headlight.
1 *USB cable.
2 * 18650 battery
 Note:
 When putting in the battery, be careful not to confuse the polarity "+" and "-".
 Please don't look directly with your eyes. The ultra high brightness will hurt the eyes.
Take out the battery if you don't use it for a long time.
Please do not recharge after running out of power during long time use.
Do not mix different batteries.
Keep the interior clean. Do not clean with your hands or hard objects. Clean fingerprints from the lens with cotton sticks and soft tools.