Material: ABS+TPR
Spray distance:8-12 (m)
Scope of application: Car wash, clean, water the flowers
Water pressure:4-12bar
Dimensions:37cm*23cm*11.5cm
Weight:0.4 (kg)
Are you tired of all those complicated foam guns that give you a hard time before you can use them? How about getting a short, user-friendly foam gun that you can effortlessly use anytime? Forget about all those complex cleanings and discover SludgeProof for a simple and straightforward car washing!
Sludgeproof is a low-pressure washer with multiple uses. It is ideal for cleaning the car, motorcycle, home surfaces, and at the same time, you can use it in watering your plants and making cleaning more easier and faster.
Low-pressure washer: does not need complicated installation as it easily connects foam products instantly.

Leak-free: it has a rubber-sealed loop inside the interface dial for good sealing and no leakage.

Adjustable foam cannon: foam gun has a 0-5 gear adjustment selector. Foam flow can be decreased and increased by changing the selector.

Multiple-use car wash gun: can be used to water flowers and plants. Second, use it to wash the car, motorcycle, floors, windows, driveways, roofs, wash siding, and so on.
Features
Scope of Application: This foam cleaning gun fits for car washing, window washing, or whatever else needs washing.
Large Capacity: unique foam cleaning gun with 800ml capacity and works with the most garden hose.
2 in 1 Function: Support to spray foam or water. The foam-generating rod can produce a thick and adherent foam.
Adjustable Scale Dial: The scale dial is flexible, the foaming chemicals are accurately mixed and sprayed, and six adjustment methods are in total.
Durable and Eco-Friendly: This car foam gun has durable construction for long-lasting use, portable, and environment friendly.
Easy to Install and Storage: Handgrip is with quick connect and easy to install. It has a detachable design for ease of carrying and storage.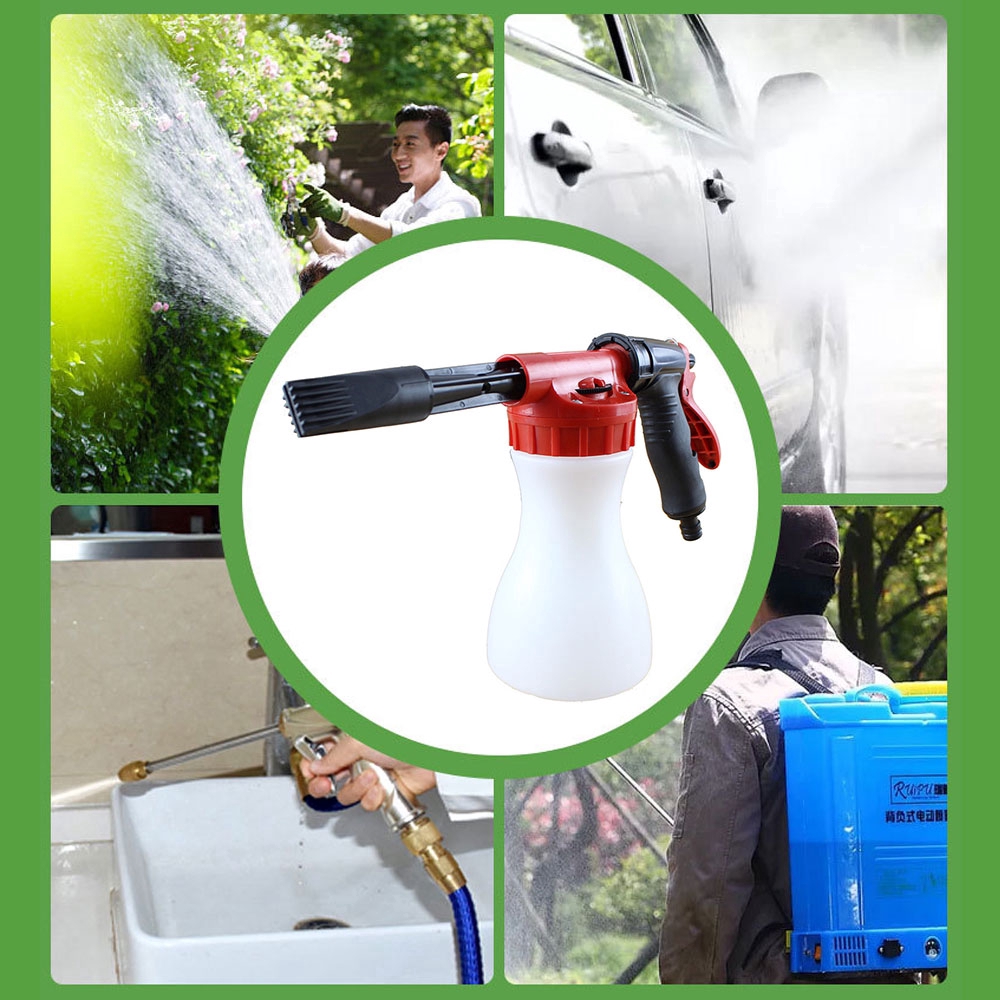 Usage Method
Please read the instruction manual carefully and assemble the foam gun correctly.
 Infuse the right amount of washing fluid. (Capacity: 900ml.)
Please assemble the hose kit to the water pipe of the tap and foam gun rightly.
To layout the diagram and adjust the rotary knob according to the ratio. 5.Open the water faucet of the tap.
Hold the controlling pole of the foam gun with nozzle aiming at the object and spray foam.
Lay it for a proper time and the offload gun and wash it.
Remove the dirty water with rubber cleaner and then wipe it with a clean rag or scrap cotton yarn.
You must hold the controlling pole of the gun closely and control the moisture after close the tap water faucet.
Notes
Joint with the tap water faucet. Please confirm the connections tight carefully to avoid any leak.
Please carefully confirm the connections are tight to avoid leaking.
Please discharge the hose kit from the water faucet and foam gun when you don't use it.
Never mix many kinds of detergents.
Please don't use it on a human being.
It is better to wear rubber gloves and protective glasses when using it