A car wash is like a bubble bath for your vehicles, it makes them look fresh and new. How about using a multifunctional hose nozzle foam cannon depending on your preference? Try MotoBath and discover the wonders of using a foam cannon nozzle with different functions and let your vehicles, pets, and plants get the love and treatment that they need.
MotoBath is a hose nozzle sprayer with 8 spray patterns and is made of high-quality materials. It is ideally used in washing cars, bathing your pets, and watering your plants. With all its versatility and benefits, you can never go wrong with this!
Features
💕High-Pressure Garden Hose Spray Nozzle: MotoBath has 8 spray patterns and a soap dispenser. This new garden hose nozzle has a high-pressure industrial design. Its spray distance is high up to 6 -10 (m) and water pressure power (about 116 psi / 8 bar ). With textured comfort grip, ergonomic spring trigger, and universal base connector which makes it comfortable and portable.
💕Functions: 8 SPRAY MULTIPURPOSE PATTERNS and a soap sprayer function. MotoBath foam sprayer has spouts, spin-click spray selector ( rinse, stream, flat, center, jet, shower, mist, and cone) which can spout water in 8 patterns for different uses.  An ideal spray nozzle for a garden hose that can fulfill your different needs. This hose spray nozzle is also made of high-quality materials and will never leak under pressure.
💕Usage: MotoBath is perfect for watering your garden, lawn, grass, washing your car, dogs, pets shower, and no need for a bucket anymore! A big-time saver and enjoy the fun of spraying. MotoBath sprayer gives you the ability to easily spray away dirt and debris because of its adjustable nozzle that has a rear trigger design and locking feature for longer watering jobs.
💕Suitable for Washing Cars, Flowers, and Pets. The professional three-stage adjustment design of foam spraying fills the single function of other sprinklers. It allows you to save time and effort by sparing the steps of foaming with other tools.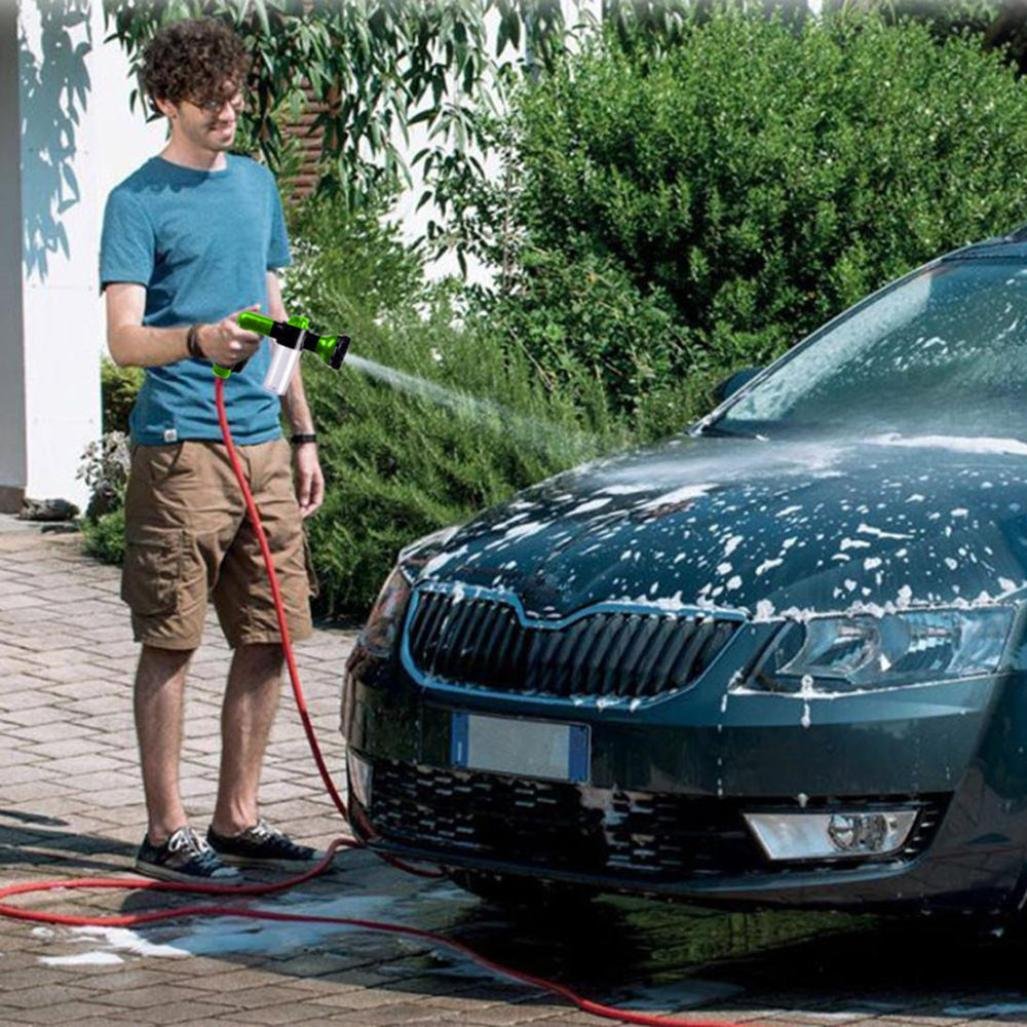 Product Parameter:
material: plastic + rubber
color: green, yellow
type: foam water gun
capacity: 100 ml
type handle: palm pressure type
size: 22X19X6cm
weight: about 250g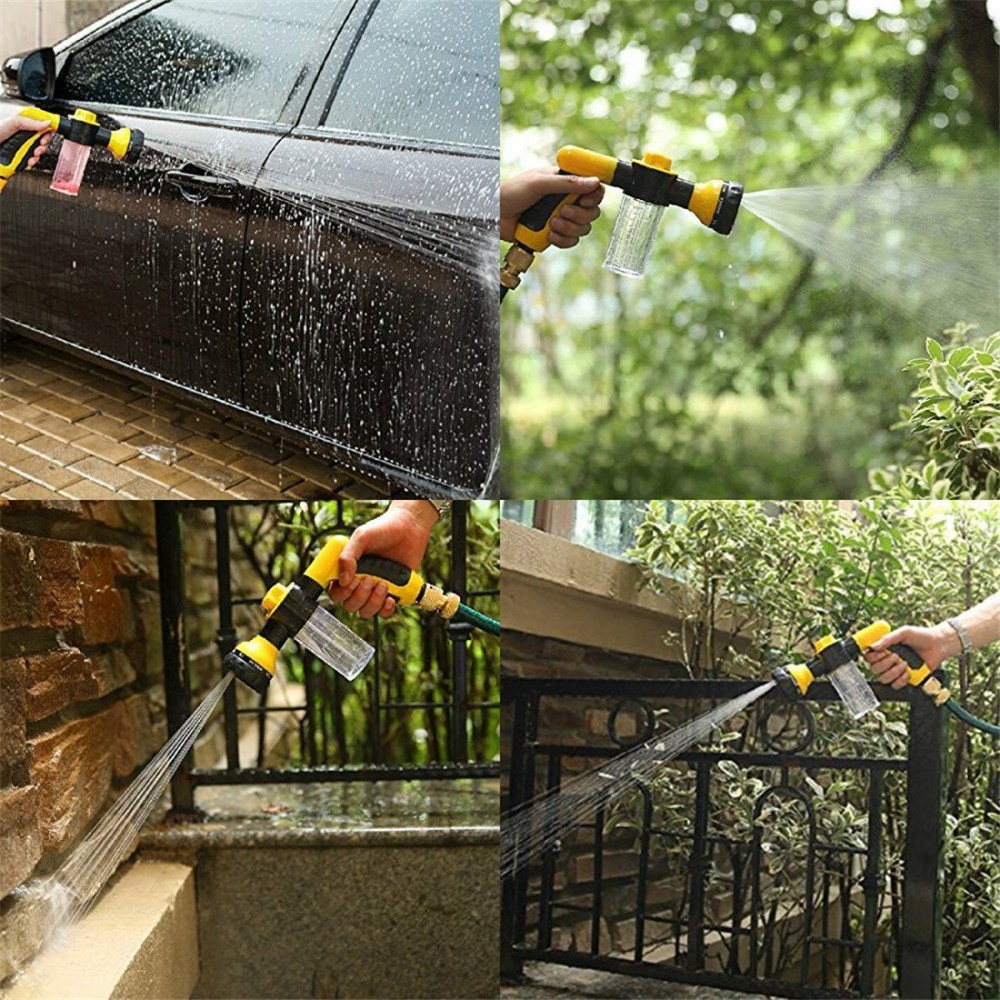 ★ 8 flexible nozzle configurations – to meet all your needs from a gentle mist for flower beds and pets to a jet for the car or other more stubborn jobs. (Mist, cone, rinse, stream, shower, jet, center, plane)
★ Built-in soap dispenser to mix soap or fertilizer, 3-way foam flow control switch. The best car wash soap.
★ 2-6 kgs high-pressure wash gun – best for all types of washing and cleaning outdoors, such as washing gutters, windows, house exteriors, cars, boats, sidewalks, stairs, and sliding doors.
★ Trigger lock – no need to keep squeezing the gun's front trigger during spraying, just press it down to start the water and press it again to turn off which helps to reduce hand pain during use longer, makes watering much easier and much more comfortable.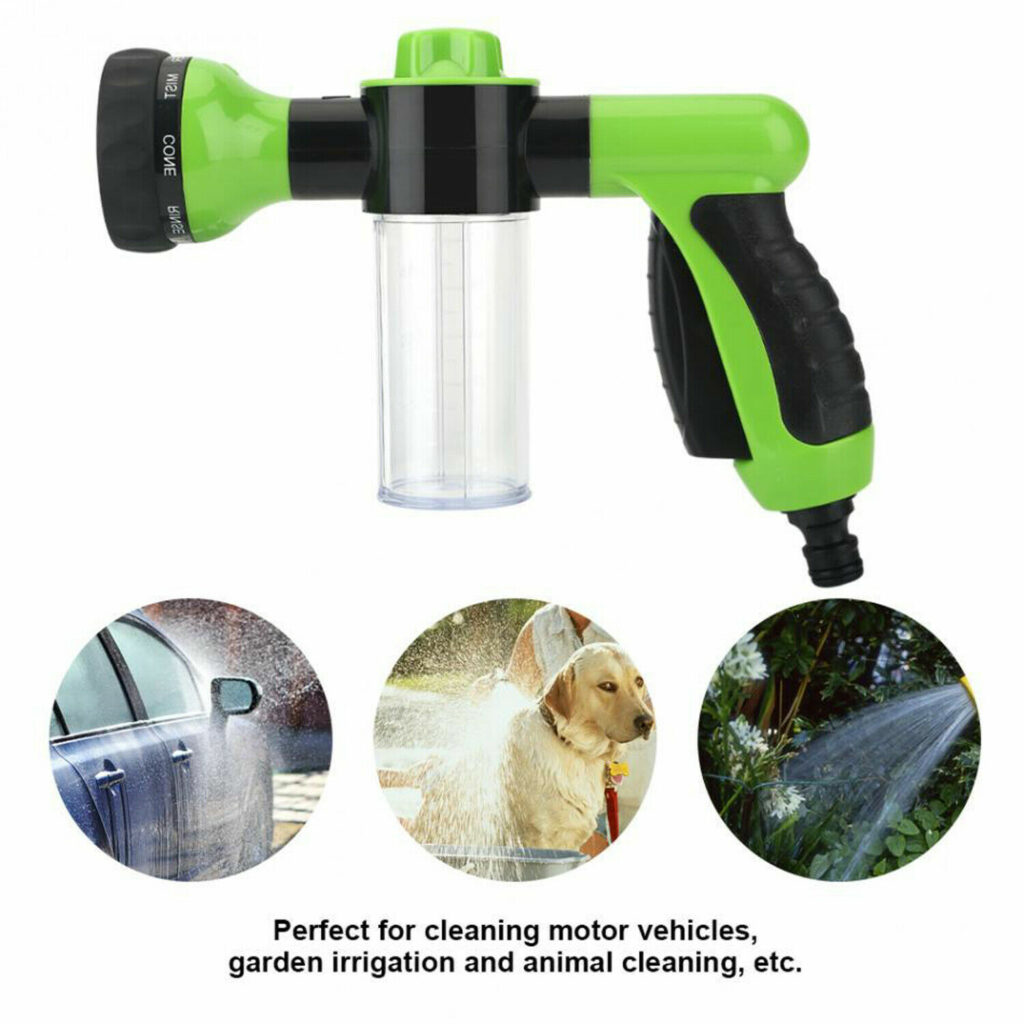 How to Use:
Remove the foam container and pour it into car wash liquid or water wax.
Place the foam container and install the water tube.
Start the car wash.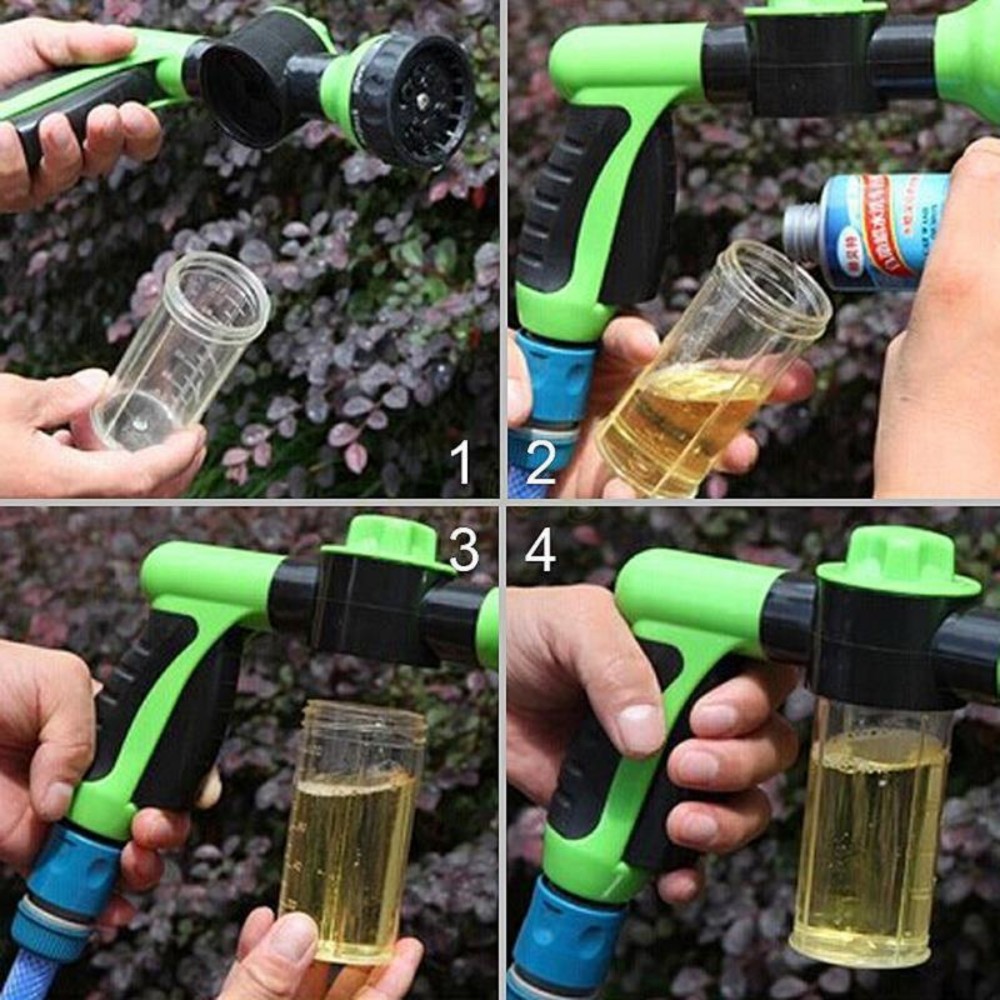 Warning: Warning:
This foam water gun does not contain joints and water pipes, you need to buy it yourself.
0-1 cm errors are allowed according to manual measurement.