Professionally cleaned cars are always sleek and good to look at. Those shining surfaces are invariably eye-catching that you wish your car is the same. So better stop wishing and get Foambuz so you can achieve those shining car looks that you dream of!
Foambuz is an adjustable foam cannon that is made from quality and durable materials that helps you in getting all those dirt and grime in every side and nook of your car. An ideal partner in achieving a shiny and fresh finish for your lovely vehicle.
Features
Adjustable Foam Lance:Foam cannon with 1/4″ quick disconnection fitting,33 OZ (1 liter) container bottle.
Requires Pressure Washer to Have 2.0GPM & Over 1000 PSI Pressure for use
Foam Blaster Core Is Made of Quality Brass.Product quality, long life with simple operation. There are (2) adjustments that allow you to dial in the sprayer for any situation: the top dial is for foam dispensing amount and the nozzle adjusts the spray pattern (wide to narrow).
Multiple-Use: Car, Motorcycle Washing, floors, Windows washing, Driveways, Roofs, Siding washing, and so on. It can be directly connected with the gun on the pressure washer gun.
5 Pieces Pressure Washer Nozzles: 0 Degrees Red Stainless Steel Nozzle Tip,15 Degrees Yellow Stainless Steel Nozzle Tip, 25 Degrees Green Stainless Steel Nozzle Tip, 40 Degrees White Stainless Steel Nozzle Tip,65 Black Degrees Brass soap nozzle.1 piece of foam maker (mesh filter) and 1 piece of orifice nozzle tips (foam generator nozzle). 1/4″ quick connection.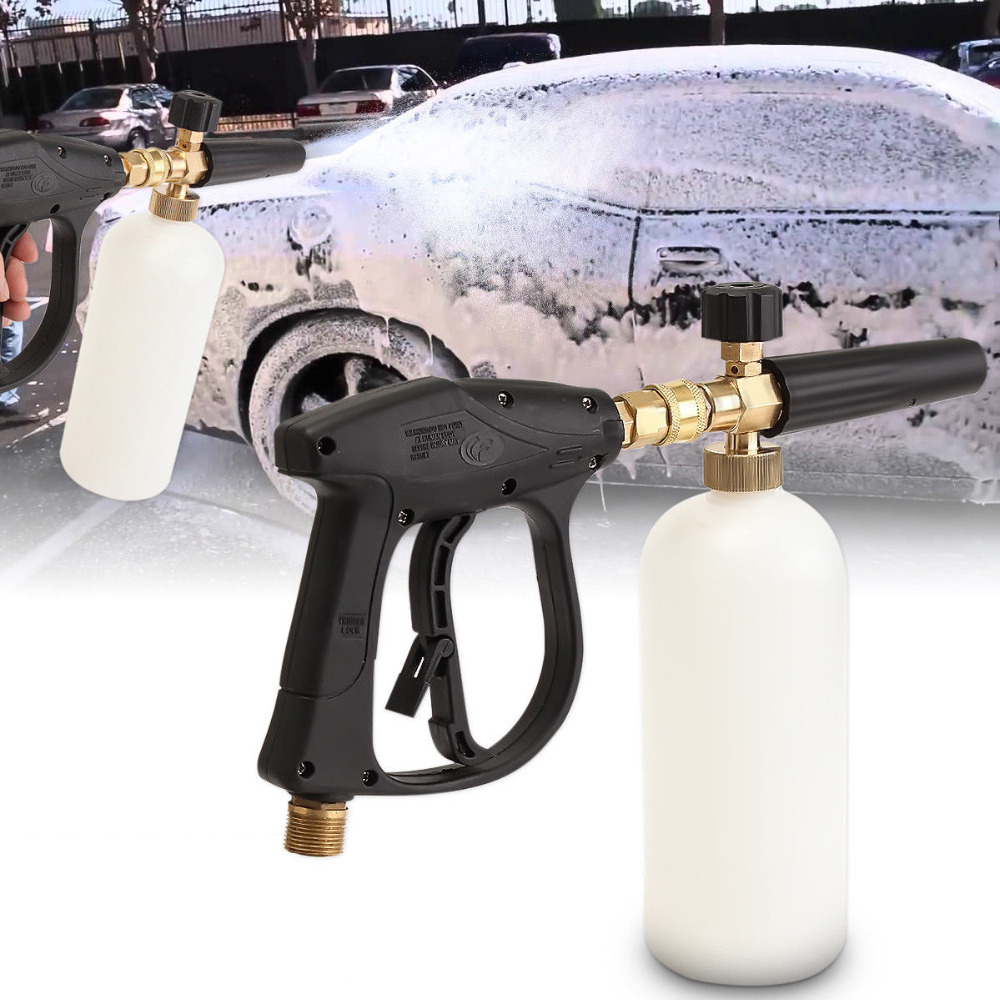 Material
Snow foam lance: Plastic & Brass
Nozzle Tips: stainless steel
Foam maker: stainless steel
Orifice nozzle tips: Brass
Set1:Water gun interface: outer wire 14
Set2:water gun interface: outer wire 18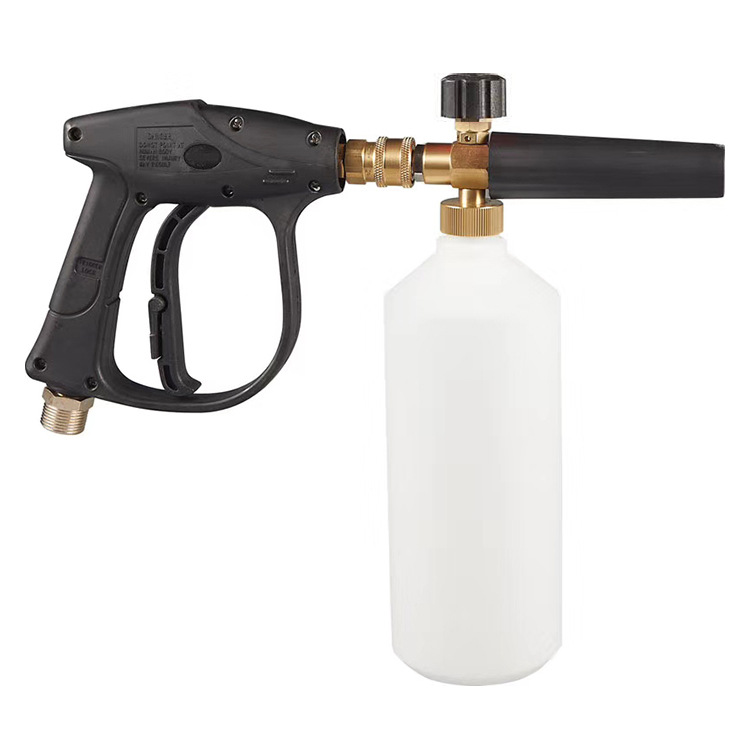 It is mainly used to clean cars, but it can also clean machines, floors, walls, etc. the adjustable design meets daily needs and is a versatile spray bottle.
Easy to use and practical. Brass adapter and HDPE bottle to ensure fine quality for use.
The upper knob is for adjusting the amount of foam distribution and the nozzle adjusts the spray pattern.
Suitable for cleaning the car, mechanical equipment, floors, walls, etc. Adjustable spray nozzle for accurate mixing and foam generation.
The pressure cleaning lance can be perfectly connected with the adapter to make it more convenient to spray water.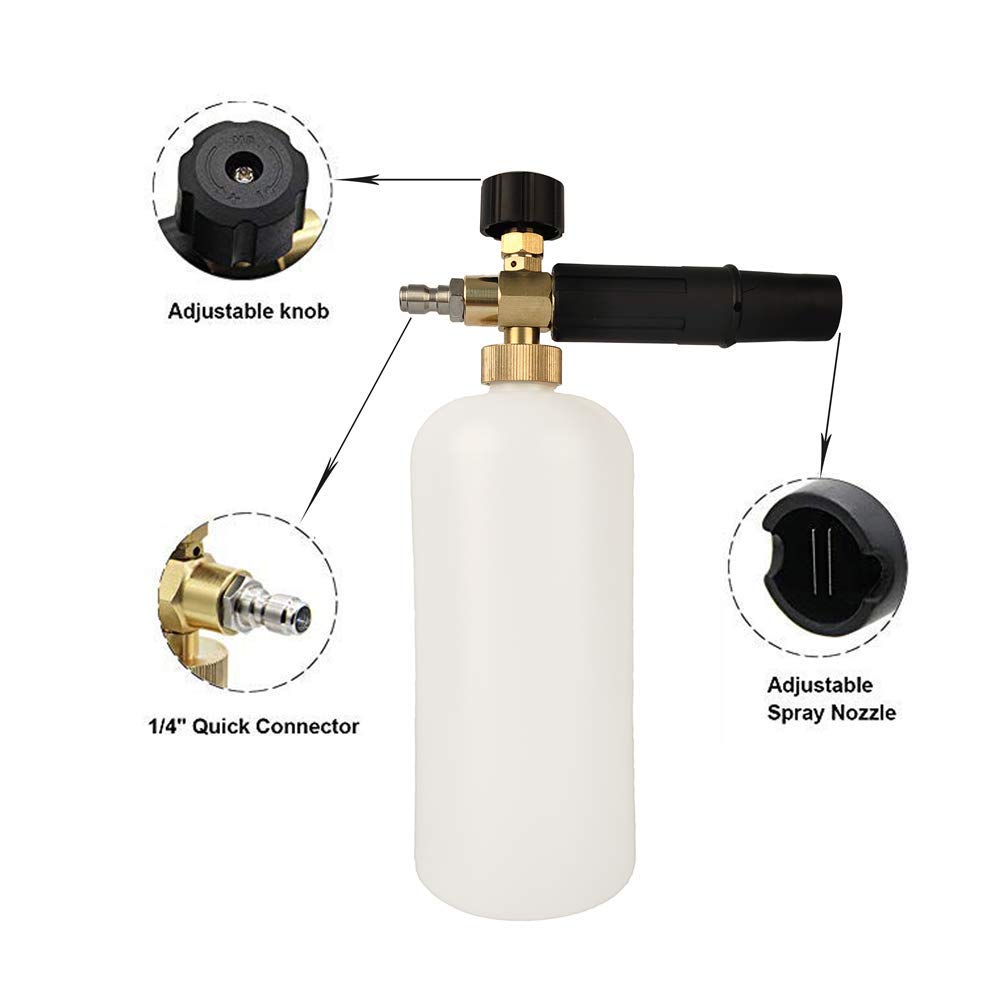 How to Use the Foam Gun?
Add solution to the bottle.
Install the Foam Gun.
Spray the solution evenly.
Replace with pressure washer nozzle, high pressure flush.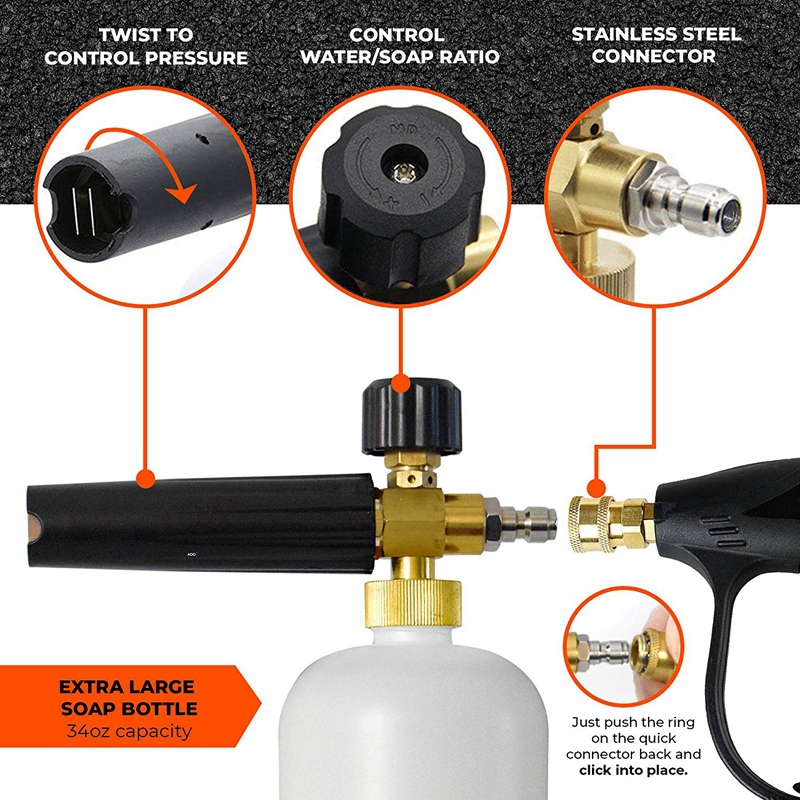 Tips:
☆Fill the bottle with hot/warm water before adding soap. This helps your solution mix together.
☆Adjust the knob on the top to control how much water is mixed in. The minus (-) sign indicates less water (so more foam is produced), and the (+) indicates more water (so less foam is produced). DO NOT max out the knob onto the (-) side otherwise, you won't get much foam. You can turn it all the way to the (-) then dial it back a little, this produced a ton of foam.
☆If the foam cannon doesn't work well as before, maybe the mesh filter wore down and foam cannon orifice tips blocked. You can replace them with new ones and it will recover.
☆For commercial or industrial washing machines, please replace the orifice nozzle tips in the snow foam lance with the large orifice nozzle tips in the plastic bag.
Package Includes:
1 x snow foam lance
1 x Red Stainless Steel Nozzle Tip (0 Degree)
1 x Yellow Stainless Steel Nozzle Tip (15 Degree)
1 x Green Stainless Steel Nozzle Tip (25 Degree)
1 x White Stainless Steel Nozzle Tip (40 Degree)
1 x Brass soap nozzle tip (65 Degree)
1 x foam maker (mesh filter)
1 x orifice nozzle tip (foam generator nozzle)