Dust and grime cannot be avoided on car or motorcycle surfaces when you're using it frequently or not. Those smudges are an eyesore and will keep bothering you every time you see them. However, cleaning will take too much of your time, that starting it is quite a struggle. Good thing FoamCleanse makes it easier and so much faster!
FoamCleanse is a foam cannon that lets you save time, energy, and money. Just with the help of your garden hose, the right chemicals, and dirt will be gone effortlessly and swiftly.
Specifications:
Name: Foam pot car wash water gun
Material: plastic + metal + pure copper nipple
Quantity: 1 Set
Bottle Capacity: 100ML
Water Pipe Adapter Size: 1/2″
Product size: 35*14.5*3.5CM
Net weight: 598g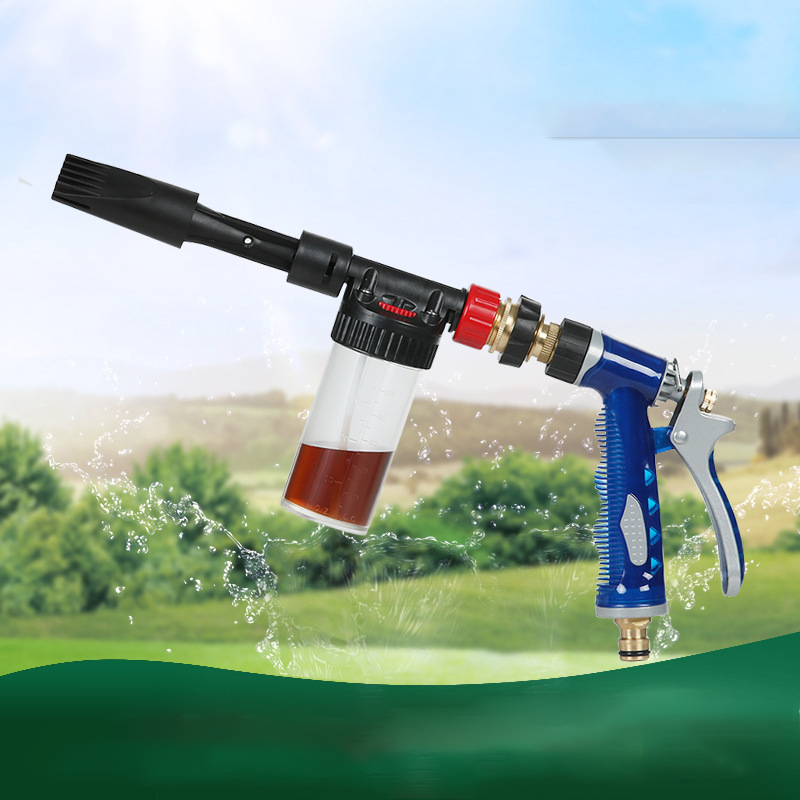 Feature
【Tight Design & Multi-pattern Water Spray】
– Leak-free connection so that the foam gun joints won't leak and you won't worry about wasting water; you can adjust the screw freely to make different water patterns, meeting your different needs.
【2 in 1 Foam Car Washing Gun】
– Support to spray foam or spray water; no more using a bucket with water and soap. It is so convenient to use that you just have to add some soap and water to the container, connect the garden hose, and enjoy cleaning in a short period of time.
【Large Capacity & Universal Fit】
– Bottle's capacity can reach up to 100 ml, so it can work with most garden hose that's perfect for the car, motorcycle washing, driveways, carpet, roofs, pet/garden washing, or whatever else needs washing.Perfect for automotive care enthusiasts or professional detailers.
【5 Adjustable Sizes for Foam】
– Adjustable ratio dial, accurately mixes and sprays 6 ratios of foaming chemicals; foam generating wand creates a thick, clinging foam, so as to reach exceptional cleanliness.
【Ergonomic Design & Easy to Assemble】
– hand grip with a quick connector that is easy to install; detachable size to carry and store, durable construction for lasting use; washing the car at one time or another, making it faster for you to soap and foam your car.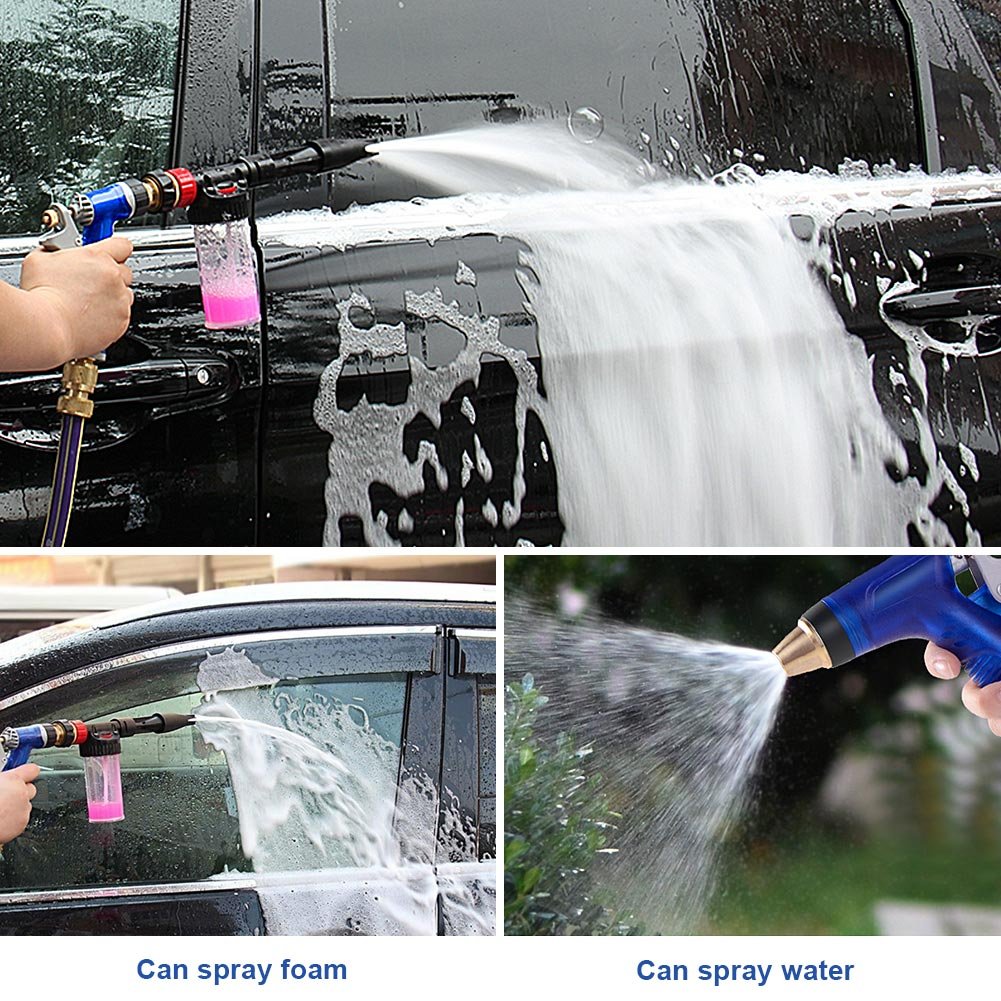 Usage Method:
Infuse the right amount of washing fluid. (Capacity: 100ml.)
Please assemble the hose kit to the water pipe of the tap and foam gun rightly.
Adjust the rotary knob according to the ratio.
Open the water faucet of the tap.
Hold the controlling pole of the foam gun with nozzle aiming at the object and spray foam.
Lay it for a proper time and the offload gun and wash it.
Remove the dirty water with rubber cleaner and then wipe it with a clean rag or scrap cotton yarn.
You must hold the controlling pole of the gun closely and control the moisture after close the tap water faucet.
Package Included:
1 x Foam Water Gun Sprayer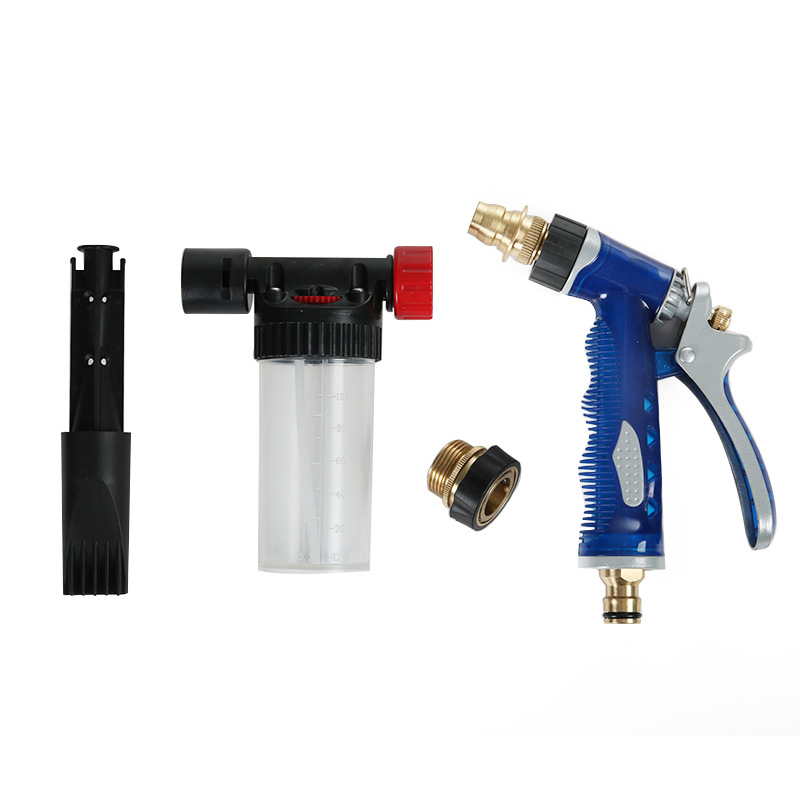 Note:
 Joint with the tap water faucet. Please make sure the connections are tight to avoid any leaks.
Please carefully confirm the connections are tight to avoid leaking.
 Please discharge the hose kit from the water faucet and foam gun when you don't use it.
Never mix many kinds of detergents together.
 Please don't use it on human beings.
It is better to wear rubber gloves and protective glasses.
Please allow 1-3cm error due to manual measurement.