The Comfort of Light in Your Fingertips
When it comes to exploring the great outdoors, light is your best friend. It gets you to places and keeps you cozy in your tent most safely and securely possible. However, the problem with most camping or outdoor lights is that it's often too heavy or, if it's too light, it doesn't provide the necessary brightness to feel safe outside. With such, we have developed the PERFECT camping lantern that combines "portability" and "functionality" into one so that you can keep exploring the outdoors without fear.
Why Choose ProCamper Rechargeable Camping Lantern?
Not all camping lanterns are built the same. Some are "OK" while others exceed your expectations, and one of those who deliver the best lighting support outdoors is the ProCamper Rechargeable Camping Lantern. With hundreds of reviews from outdoor enthusiasts worldwide, the ProCamper is a "must-have" camping essential to keep you safe and secure outdoors. It could emit light as bright as day in the dark and keep you away from potential dangers.
This super 360° camping lantern is equipped with an extra searching flashlight and red warning modes that make it possible to match any situations just by a single click of a button, such as fishing, hiking, exploration, and soon on. In addition, it could add a romantic or homely atmosphere to the party in the starry sky of a summer night with your whole family or special someone. The ProCamper Camping Lantern is 100% rechargeable, so that there's no need to buy an extra set of batteries. With just one push of the power button, you can get up to 6-hours of light on low and 4-hours on high mode. Indeed, simplicity at its best.
Whether you use it for camping, emergencies, or any other outdoor activities, this lantern could provide you with enough light to see your surroundings just as you want. It's time to level up your outdoor adventures and experience brightness like no other with ProCamper.
Topnotch Feature to Expect: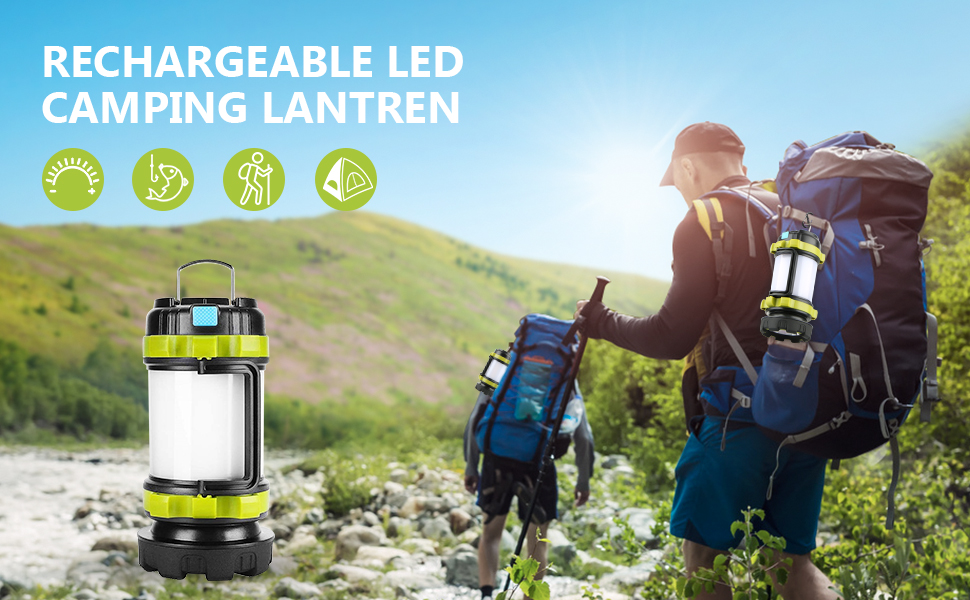 Camping Lights with 6 Modes LED
Lantern headlight (as a flashlight) [Low/High brightness mode]: The headlight uses T6 LED lamp beads. In high mode, the lantern emits a beautiful bright light that can reach 1200 lumens and can last for 4 hours.
Sidelight (as a lantern) [Low/High brightness mode]: It can last for 6 hours in high mode. The sidelight has 2 additional red light modes (SOS: Steady and Flashing). The operation is straightforward; press a button to cycle between the different modes.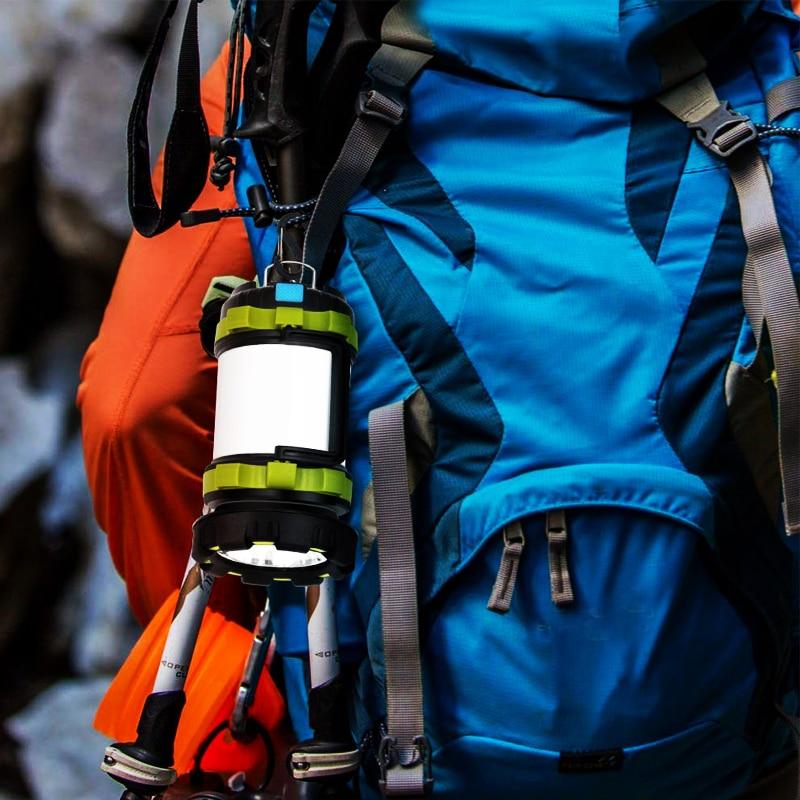 Rechargeable Lanterns for More Uses
You can use the lantern's battery-powered LED when fishing, camping, hiking, and backpacking. The LED camping lantern can be used as a flashlight, camping lantern, emergency power, and emergency distress signal light [SOS]. Whether you want a little extra lighting for your backyard oasis or some additional light to guide your outdoor adventures, the ProCamper can suit your different needs.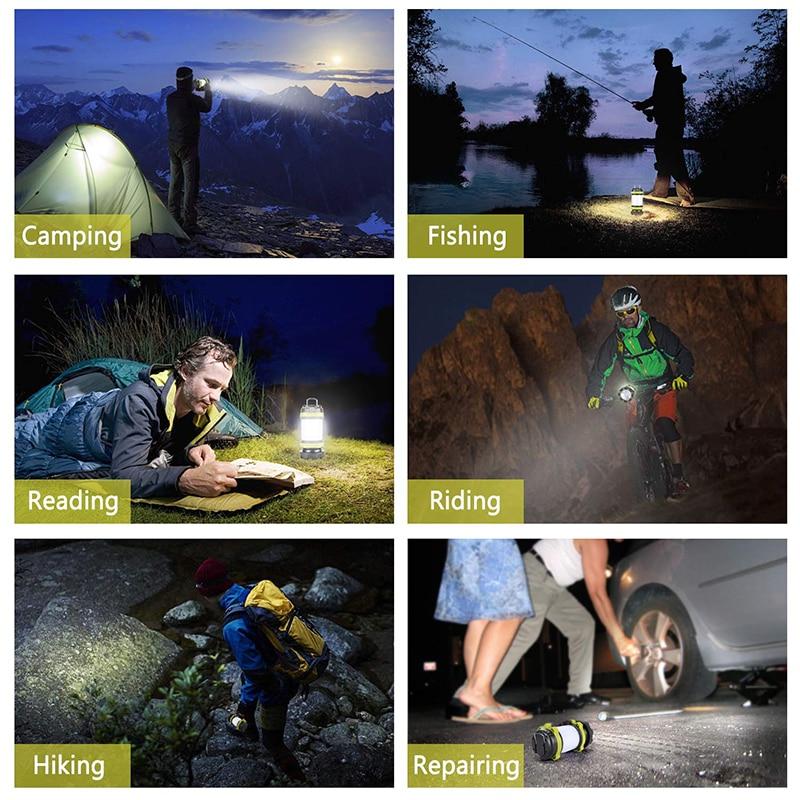 USB Charging and Power Bank
Our rechargeable camping lantern has 2 built-in 18650 lithium-ion batteries with 4000mAh capacity. You can charge via USB port or 5V DC charger adapter (not included). It's time to say goodbye to the frequent battery replacement problem. Invest in a camping essential that could do more in less the price.
NOTE: You can also use the ProCamper as a power bank for your smartphone or other devices in case of emergency; thus, bringing you a lot of convenience on your outdoor trips.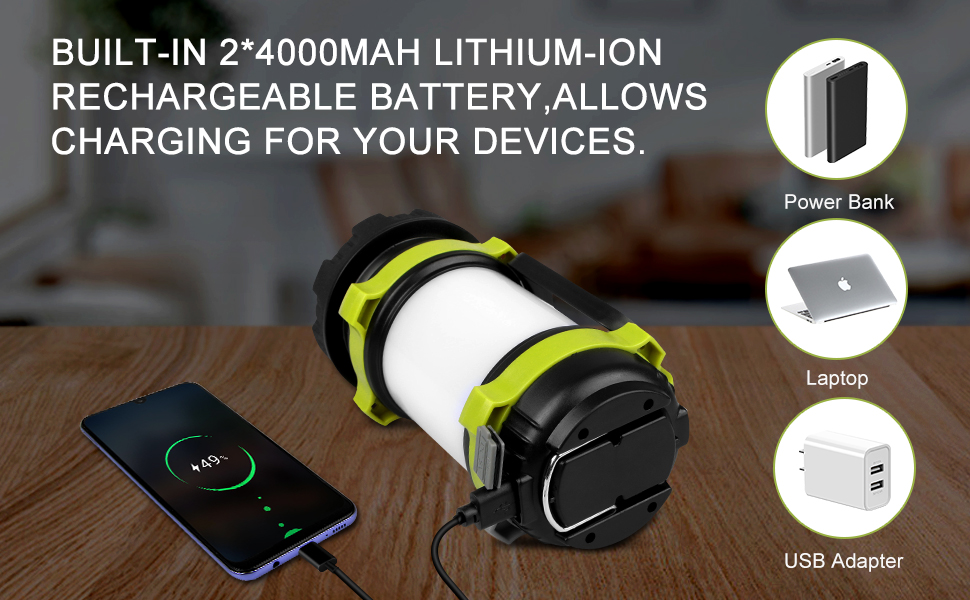 Portable and Hangable
The ProCamper comes with a user-friendly handle and two-way hook for better portability and accessibility. The lantern weighs only 340g and is compact and lightweight enough to allow you to carry the lantern for long periods of time—regardless if you hold it or fix it in your backpack. There's also an easy-grip handle specially designed for you to have a nice and comfortable walk at any point at night. It can also be hung from the inside and outside of a tent to extend the light's illumination range.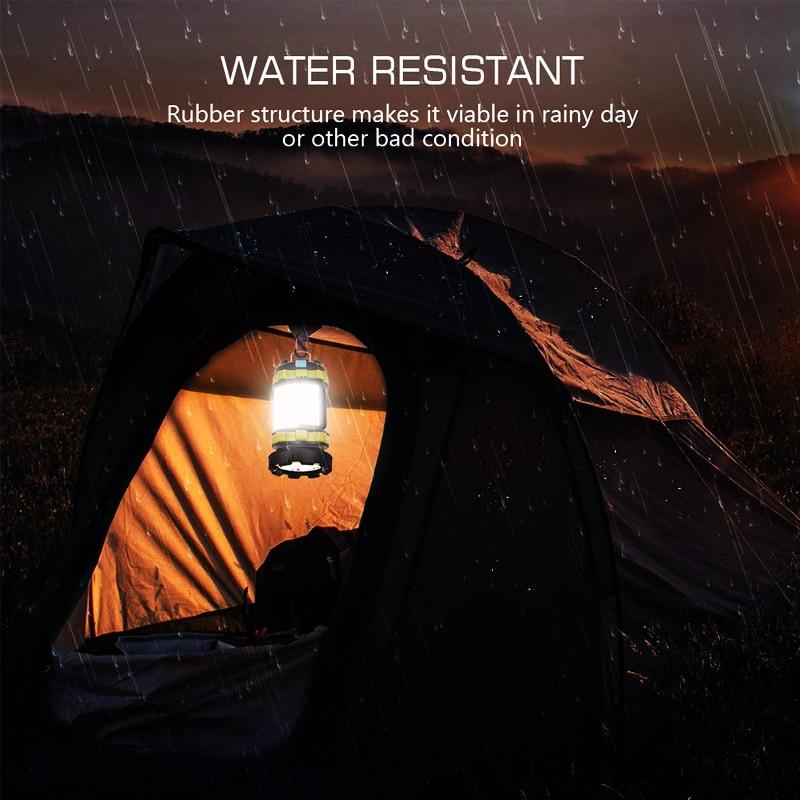 IPX6 Waterproof
This rechargeable camping light has an IPX6 waterproof rating, meaning it is protected from splashing water from all angles and can withstand rain from all directions. It's suitable for indoor or outdoor environments and harsh weather conditions. The camping light is perfect for emergency lighting outdoors, earthquakes, hurricanes, and power outages. 

Specification:
Material: ABS + Stainless Steel Handle
Color: Green
Power Source: USB charging (Built-in Rechargeable Battery)
Package Includes:
1* Camping Lantern
1 * USB Charge Cable
1 * Hook