Enjoy Some Of The Comforts Of Home On Your Next Camping Trip!
Who wants to sleep in a hot tent with no air circulation? Well, tell you what, your outdoor adventures don't have to be uncomfortable all the time. So for those times, you need a little breeze of air to beat the hot spell inside your tent while keeping well-lighted, OdyHill is here to the rescue.
OdyHill is a versatile camping lantern with a ceiling fan that works perfectly for camping and emergencies. The light emits a beautiful white bright that could illuminate a camper or a small room in your house. The fan moves the air adequately to keep you cool in the heat when your power is off, giving you that extra touch of fresh air while lying outdoors.
Hang the OdyHill Portable Camping Lantern in your tent or shelter, or let it stand on its base and take pleasure in hours of light and fan. The light is powered by 2D cell batteries (not included) and has a combined burn time of 16 hours with a fan and light.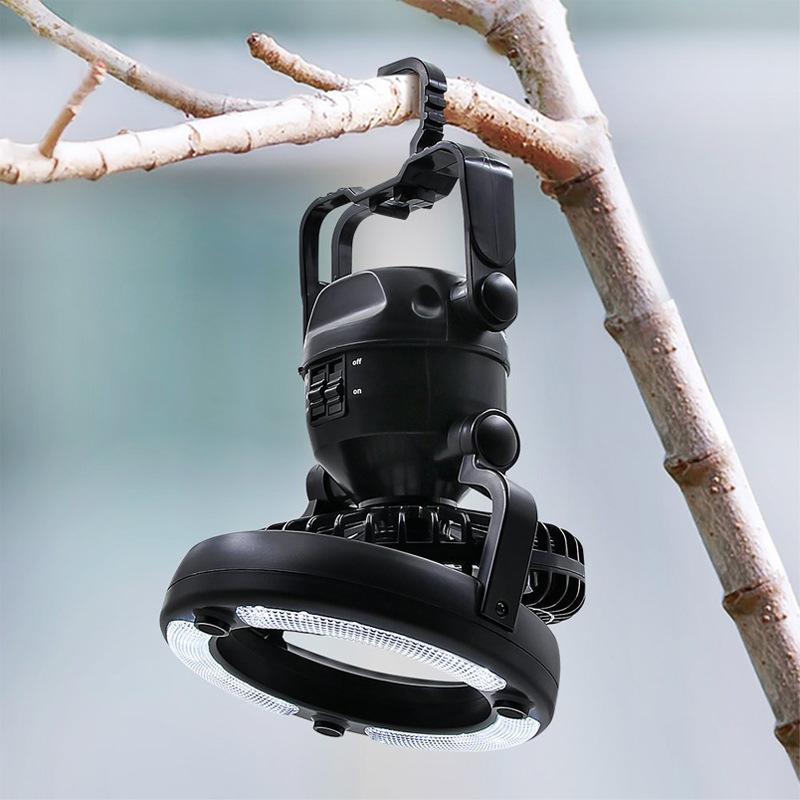 What Choose the OdyHill?
Portable And Easy To Use: The OdyHill comes with a built-in handle with a hanging hook that enables the lantern to work both as a standing fan or light. You can take it while walking and hang it on trees, in tents, indoor, or any other places; this outdoor camping lantern will keep you satisfied all the time.
FAN And LED Light: Get the best of both worlds with OdyHill, because no one can stop you from bringing your personal fan with you outdoors. With the OdyHill's adjustable 2 wind speed models (high or low wind), 360° adjustable lighting angle, and 18 powerful LED bulbs, it can provide you with great brightness and illumination that will transform your outdoor adventures from "OK" to something memorable.
Power Supply: The OdyHill delivers the same brightness and accessibility similar to those high-end brands you see. The fanlight only requires 2D cell batteries (not included) for easy replacement and convenience for outdoor use. It's built with enough power supply to last you up to 16 hours of use.
Premium Materials: We made our promise to deliver only the best camping equipment for you, so rest assured that our OdyHill Camping Lantern is made of high-quality material and durable construction to survive the harsh condition of the outdoors.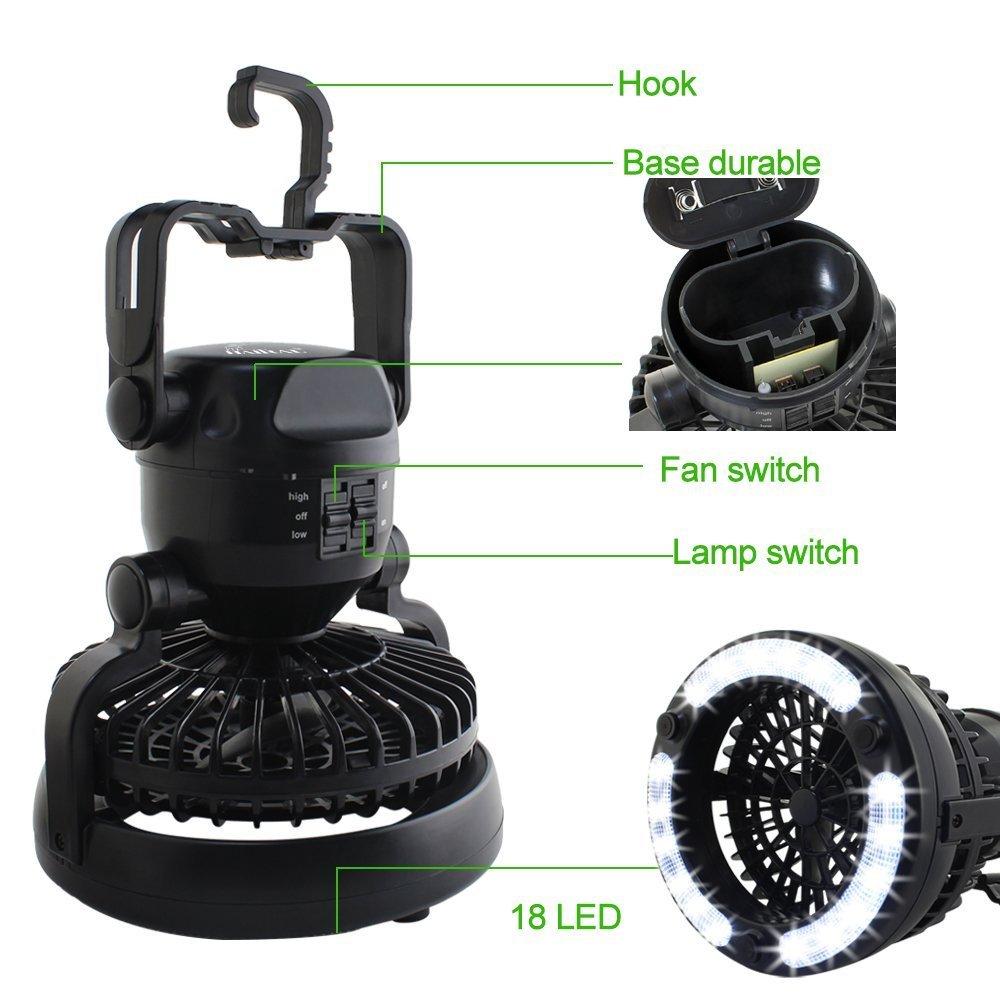 Additional Features:
Water-resistant
Foldable handle with hanging hook
2D Cell Battery
Zoom-adjustable LED flashlight that works up to 1000 Lumens.
50-hours (low speed) and 30-hours (high speed) fan operation in a single set of batteries.
Up to 16 hours of light in a single set of batteries.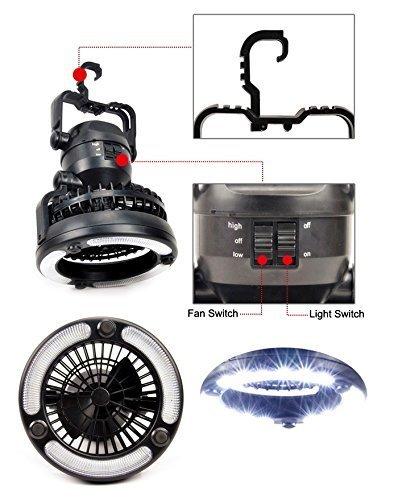 This is the PERFECT Outdoor Camping Lantern For You If…
You want a combination of light and a fan in a single device to lessen the weight of your luggage outdoors.
You want to go camping yet wish to bring along simple comforts that will keep you cool and comfortable inside or outside your tent.
You want a camping lantern that lasts longer than other products you've tried in the past.
You're looking for a light source that could easily and effectively illuminate your tent at night.
You wish for a camping lantern that comes in a minimal weight and is highly portable to support your maneuverability while exploring outdoors.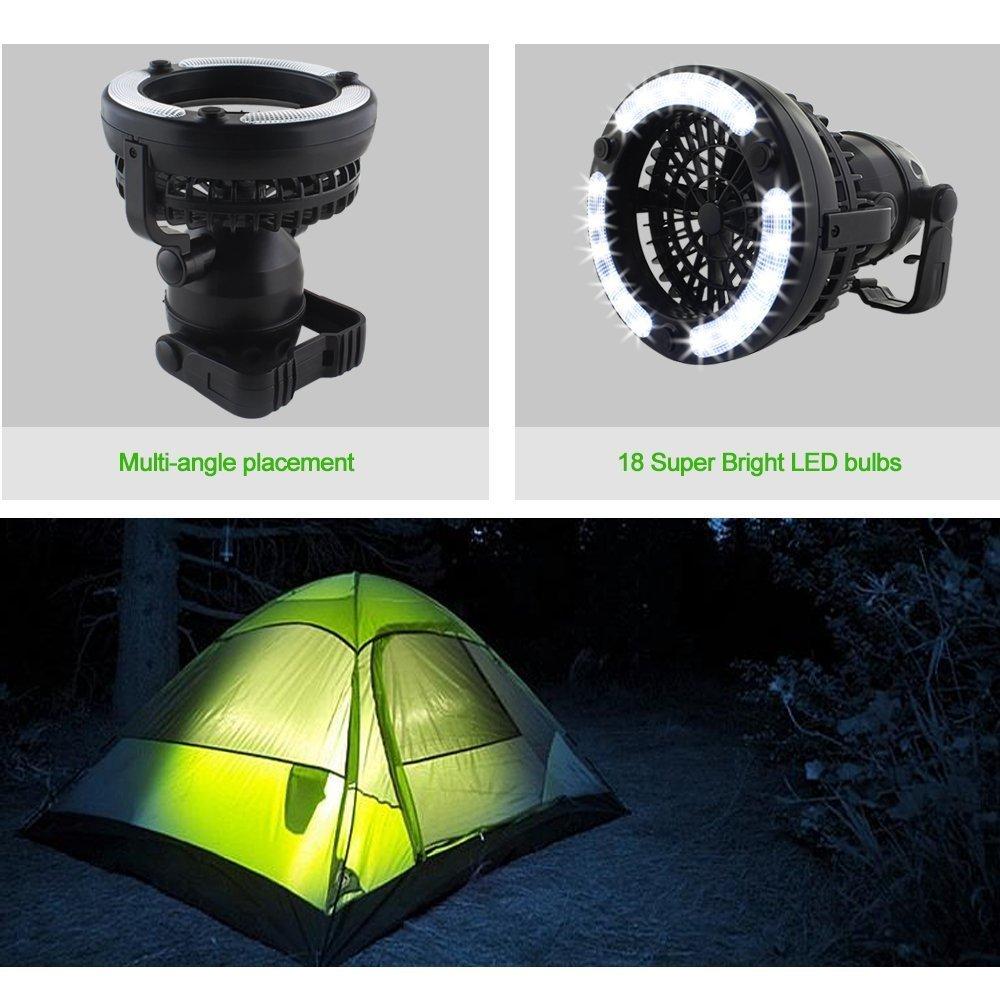 Specifications:
Color: Black
Item Dimensions: 7.5 x 7 x 7 inches
Weight: 1.05 pounds
Package Include:
1 X Portable Camping Lantern with Fan