XtremeZoom: Giving You The Bird's Eye View
When it comes to magnifying objects at a great distance, there's only one name to choose: XtremeZoom Spotting Scope. This spotting scope will never fail your expectation whether you are a sharpshooter, an astrophile, or an animal lover. Its 20-60x magnification caters to all your needs of a high-definition observation. Its lightweight design, tripod, and digiscoping adapter make it a perfect choice for outdoor, stable, and convenient observation and photographing. With XtremeZoom, you can experience a one-of-a-kind magnification at a lesser price. Yes, same power, better price point.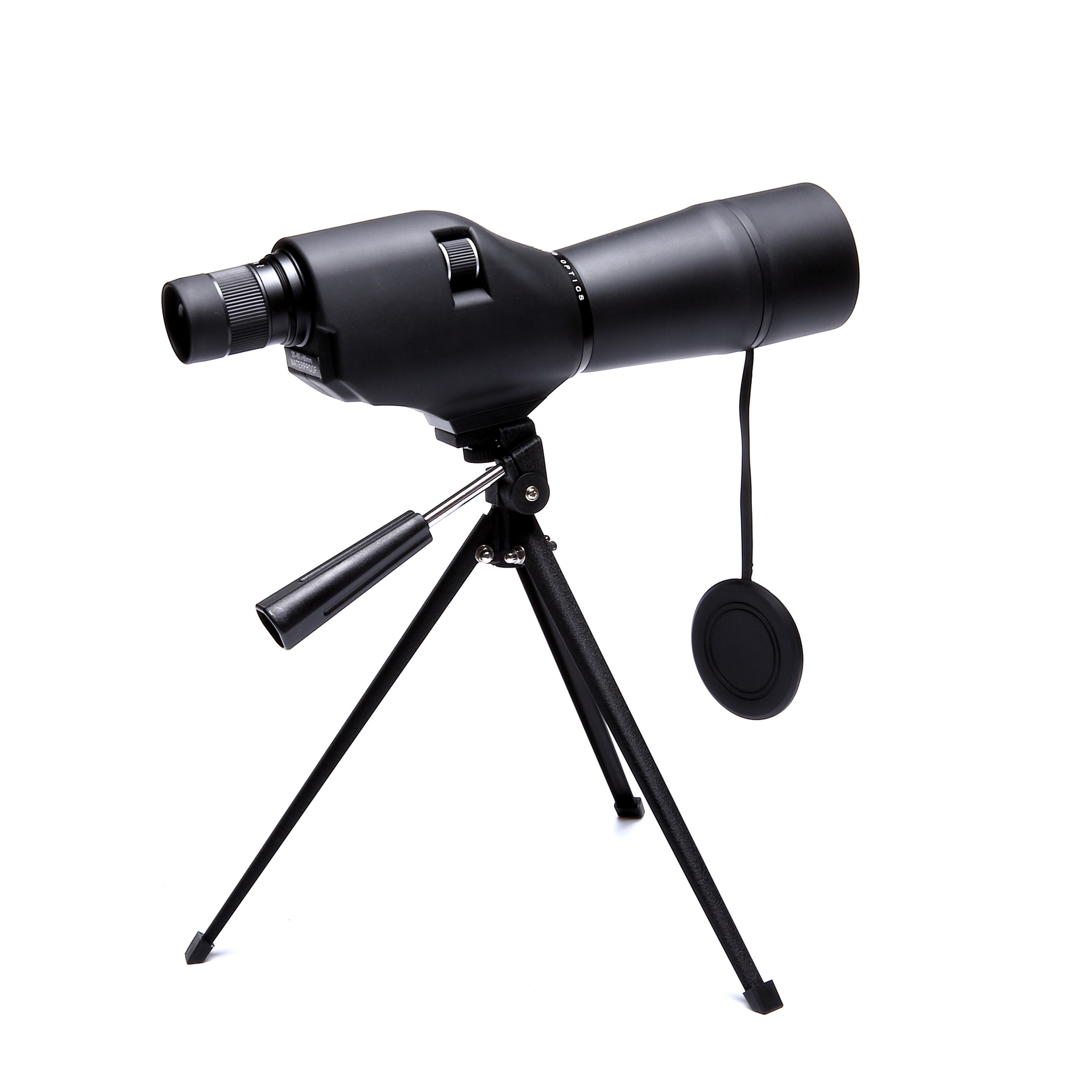 Features:
HIGH MAGNIFICATION: Our spotting scope features a powerful zoom magnification range that can be adjusted between 20x to 60x magnification. The field-of-view is 36-19m/1000m, bringing nature closer to you than ever. With this magnification, you'll get a spotting scope that is perfect for target shooting, hunting, bird watching, observing wildlife, moon-gazing, traveling, hiking, camping, archery, astronomy, etc.
FULLY COATED LENS: The XtremeZoom's lens is multi-coated and features a BAK4 roof prism to increase light transmission and deliver bright, clear, and high-contrast images even in low-light conditions. A dual focus wheel system enables fast and fine-tuning focus adjustment for long-range viewing, which allows you to lock onto your target and zoom in, providing greater detail clarity.
DURABLE: With the high-quality rubber armor, it provides a non-slip grip, shock-proof grip, and durable external protection. The built-in retractable sunshade reduces glare and comes with a tripod to allow rotation of the eyepiece to a sideways position, providing adjustable viewing angles. The straight spotting scope improves water-proof performance.
WATER-PROOF & FOG-PROOF: The waterproofing in our spotting scope provides exceptional performance even in the most extreme conditions. Our scope optics are sealed with O-rings to prevent moisture, dust, and debris from entering the spotting scope. Meanwhile, the fog-proof barrel is filled with argon gas to inhibit internal fogging, offering complete protection from weather conditions.
PHONE HOLDER: The XtremeZome also comes with a phone holder for extra convenience.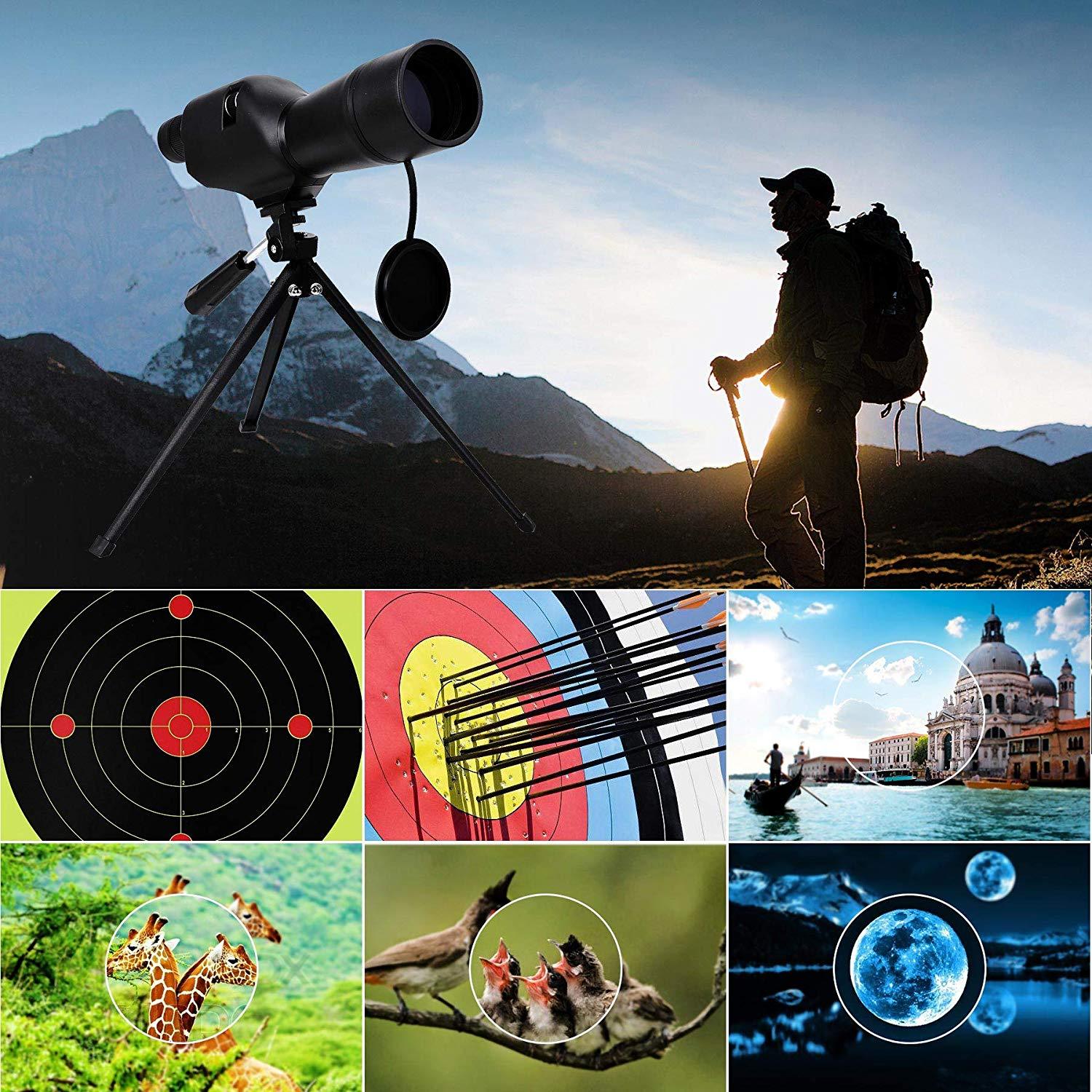 Specification:
Magnification: 20x -60x

Objective lens diameter: 60mm

Eye Relief: 17-13.5m

Exit Pupil Diameter: 3-1mm

Field of View: 36-19m/1000m

Prism Type: BAK-7
Multi-coated Objective Lens for Improved Light Transmittance
Adjustable eyecup reduce stray light, enhancing contrast (it also comes with a phone holder for your convenience)
Magnifications adjustable from 20X to 60X
Rotate it to adjust for targets of different distances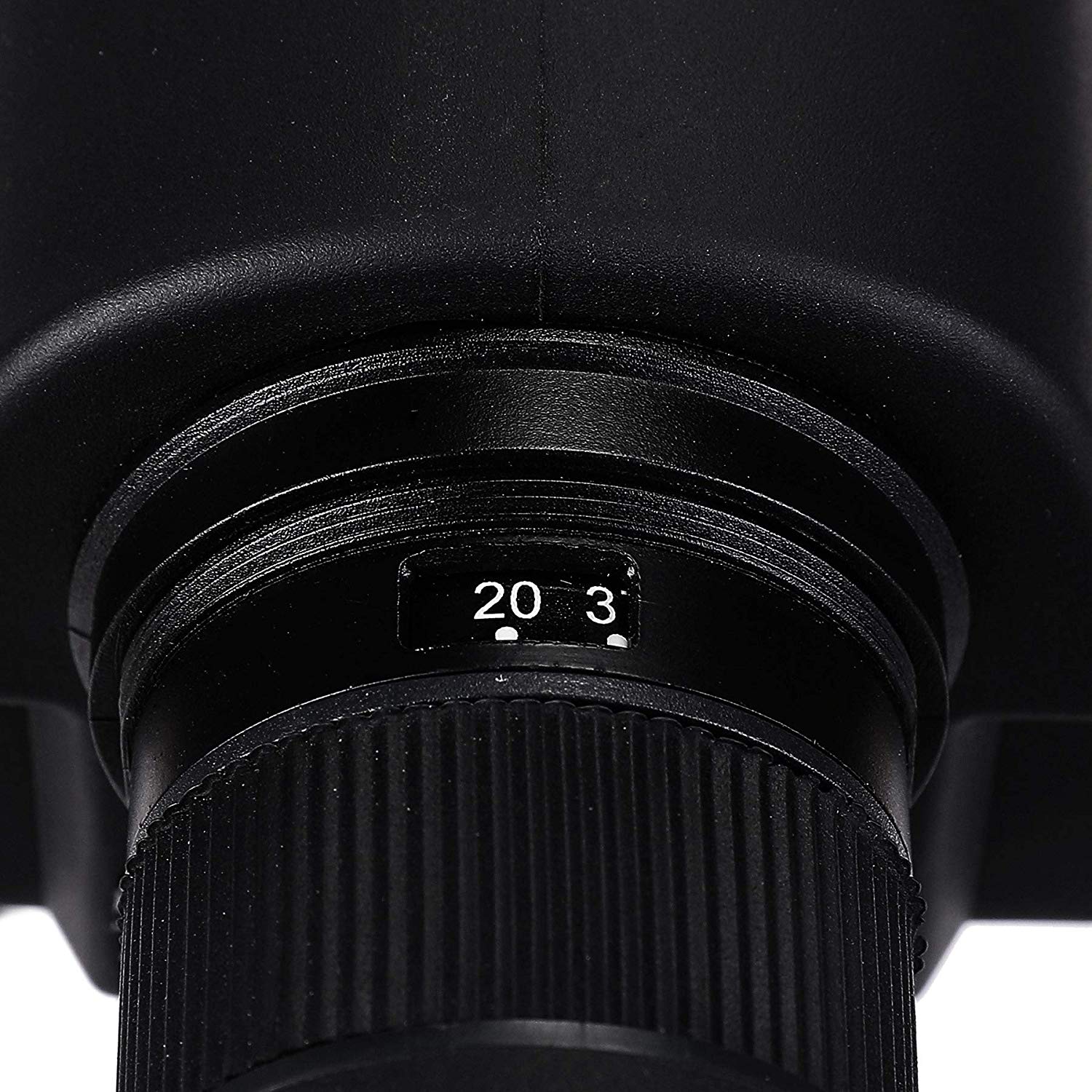 Benefits of Straight Spotting Scopes:
Who Should Use a Straight Spotting Scope?
Аll huntеrѕ wіth dіffеrеnt ѕkіll-lеvеlѕ саn еаѕіlу uѕе а ѕtrаіght ѕроttіng ѕсоре. Вut, thеу'rе еѕресіаllу uѕеr-frіеndlу аnd іntuіtіvе fоr nеw uѕеrѕ tо ѕроttіng ѕсореѕ bесаuѕе their design allows for еаѕіеr and fаѕtеr capabilities to track moving tаrgеtѕ.
When to Use a Straight Spotting Scope?
If you are hunting or tаrgеt ѕhооtіn thеу wіll рrоvе еѕресіаllу convenient. If уоu regularly hunt аnd ѕhооt frоm trее ѕtаndѕ, blіndѕ, rіdgе-lіnеѕ, аnd frоm саr mоuntѕ. In addition, thеу wоrk fantastic fоr оbѕеrvіng nature or mаrіnе-wаtсhіng.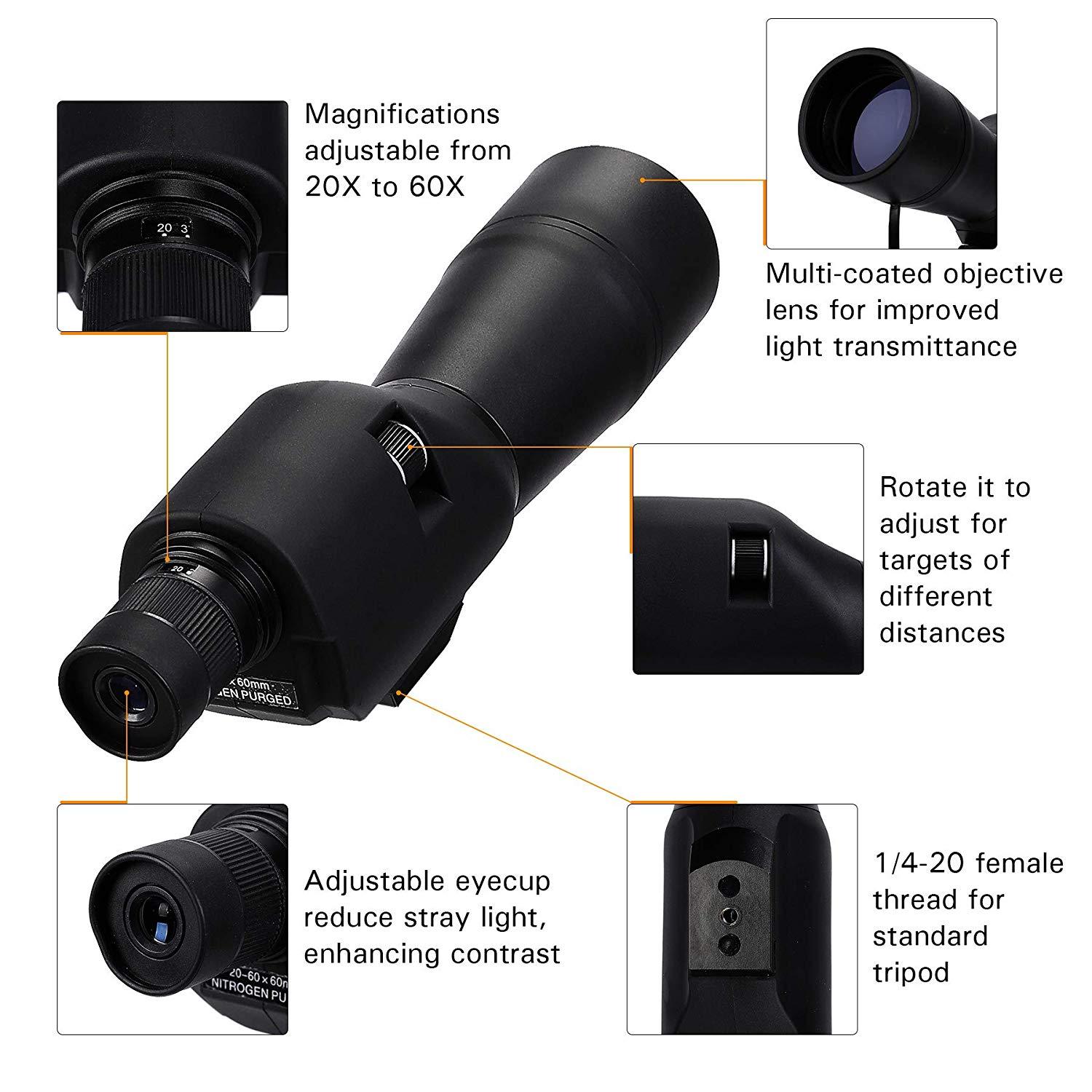 More Benefits…
Intuitive and easy to use

Faster than angled at target acquisition.

Forms a straight line from you and to your target

See target in the same direction scope is in

You don't have to adjust the tripod to find the target when trading binoculars off the tripod and replacing it with a spotting scope for finer and closer viewing

It can be mounted higher off the ground to avoid most effects of mirage

Easier to view at levels below eye-level or yourself and easier to move and use when attached to car mount

The eyepiece has more protection from rain and snow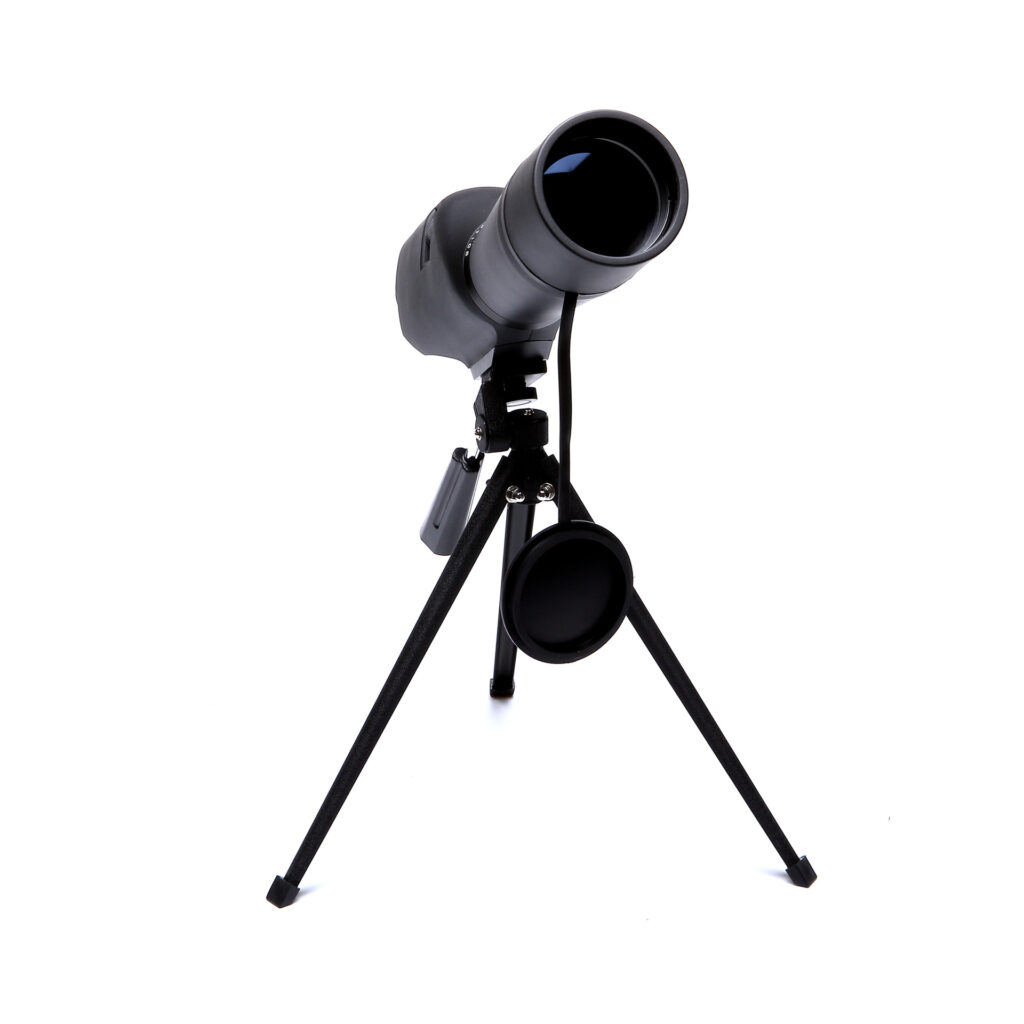 You Will Receive:
1x Spotting Scope

1x Phone Holder

1x Tripod

1x Carrying Bag

1x Cleaning Cloth

1x Manual