All-in-One Backpacking and Camping Stove
Going backpacking or camping this weekend? If you haven't decided what stove you're going to bring, our WilderFix is here to give you an all-in-one solution so that you don't have to worry about which fuel to use or complicated instructions. With WilderFix, you can use standard butane camping fuel gas canisters or 7/16 threaded monobutane/butane or EN 417 propane blend tank. If you're new to camping and still trying to understand the difference between these two fuels, particularly on effectivity based on your campsite, then the WilderFix is your go-to, easy stove for all your meals and coffee outdoors.
Designed With Durable and Lightweight Features to Withstand All Adventures!
The WilderFix Portable Backpacking Stove is high-quality stainless steel with high wear resistance, strong oxidation resistance, and long service life. Its three fixed feet have strong stability to prevent knocking over or spillage while cooking or boiling water.
With a compact size, this stainless steel burner stove is lightweight and collapsible, making it perfect for backpacking, hiking, camping, and other outdoor adventures. It also comes with a carrying case so that it's easy to carry when switching locations.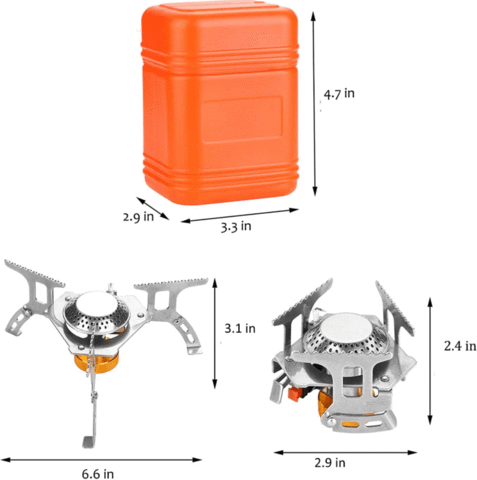 Easy Operation
These portable camping stoves feature a piezoelectric ignition. All you have to do is connect the tank, turn on the gas control switch and press the ignition switch. The flame adjustment knob allows you to adjust the flame size according to your needs. At the same time, it can reach 3700W power and boil water in a short time. It also features a uniform flame distribution and full combustion of gas to save fuel and ensure consistent burning.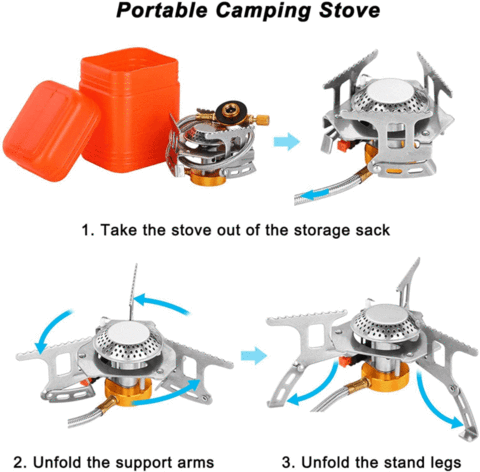 Excellent for All Types of Outdoor Adventures!
Our small burner stove is an excellent piece of equipment for camping, hiking, and overnight trips. It's great for backpackers, campers, hikers, hunters, geologists, and other outdoor activists!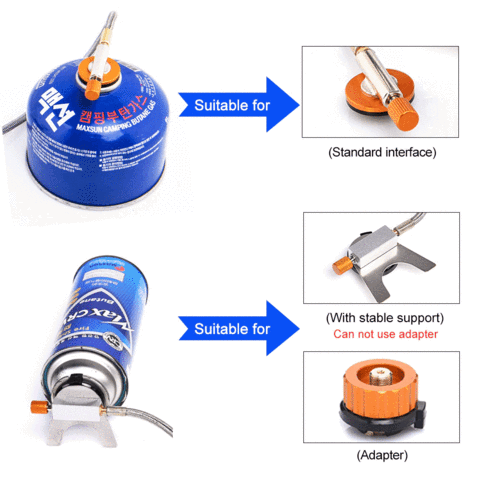 How to Use It?
Step 1: Turn off the valve to the right till tight.
Step 2: Screw the connector onto the canister OR add the adapter, and you can connect a 1lb propane tank. (Please note that there will be gas outflow when connecting to the propane tank, and it will return to normal after tightening. This is a normal phenomenon; please rest assured to use).
Step 3: Turn counterclockwise to open the valve.
Step 4: Press the ignition button.
Step 5: Adjust the valve to control the flame.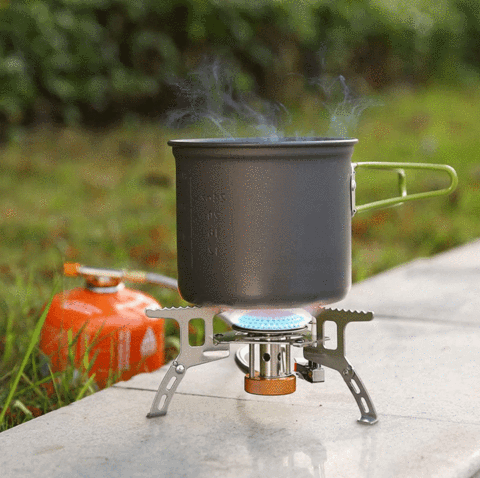 Features
Sturdy & Ergonomic Design – the small camping stove features solid brackets, which provide full stability to the pots and pans on the burner. In fact, the brackets on our single burner camp stove can handle a large amount of weight with ease.
Portable – our camping burner is extremely lightweight and convenient to carry. It weighs only about 10oz and can fit extremely tight spaces.
Easy to Cook & Clean – traditional camping stoves often take ages to light up properly and cook. Cleaning the stove itself is another rough task. With our portable camping cooking stove, cooking & cleaning can be done literally within minutes. To clean, wipe the camping gas stove with a wet paper towel.
High Quality – food sticking to the pan can cause serious issues in the wild and lead to potentially life-threatening situations. This portable camp stove is made from premium material designed to streamline the cooking experience and keep you focused on your wild adventure.
Specifications:
Material: Stainless steel, copper, aluminum
Power: 3500W
Gas consumption: 50-100 g/h
Size: 15 * 7cm
weight: 230g
Package Includes:
1* Camping Stove
1* Storage Box