Multi-purpose Foam Roller for All Types of Muscle Workout and Recovery. This Bigger Foam Roller with EVA Foam, Non-Stick Material, and 3D Massage Design is Gentle on the Skin but Tough on Overall Muscle Knots!
You're looking for a foam roller that is a total package. From quality material, skin-friendly features, durable build, and massage quality, you will win with VeloStretch!
You want an all-in-one foam roller; the one that can massage you well is reliable when used, and won't leave you feeling sore the next day. If you are on the hunt for a foam roller that can cater to your fitness and wellness needs without compromising what you really want from a roller, you can trust on the VeloStretch.
VeloStretch efficiently combines both high-density and mid-density pressure. It has nubs and spikes for a more intense massage, and it also has a smoother surface for hard-to-reach muscles.
This foam roller is made from premium materials -ABS and EVA foam for its core, and non-sticky, firm grip EPP foam on the outer layer. Gym buffs, yoga fans, and those who love exercising and relaxing outdoors will love the VeloStretch!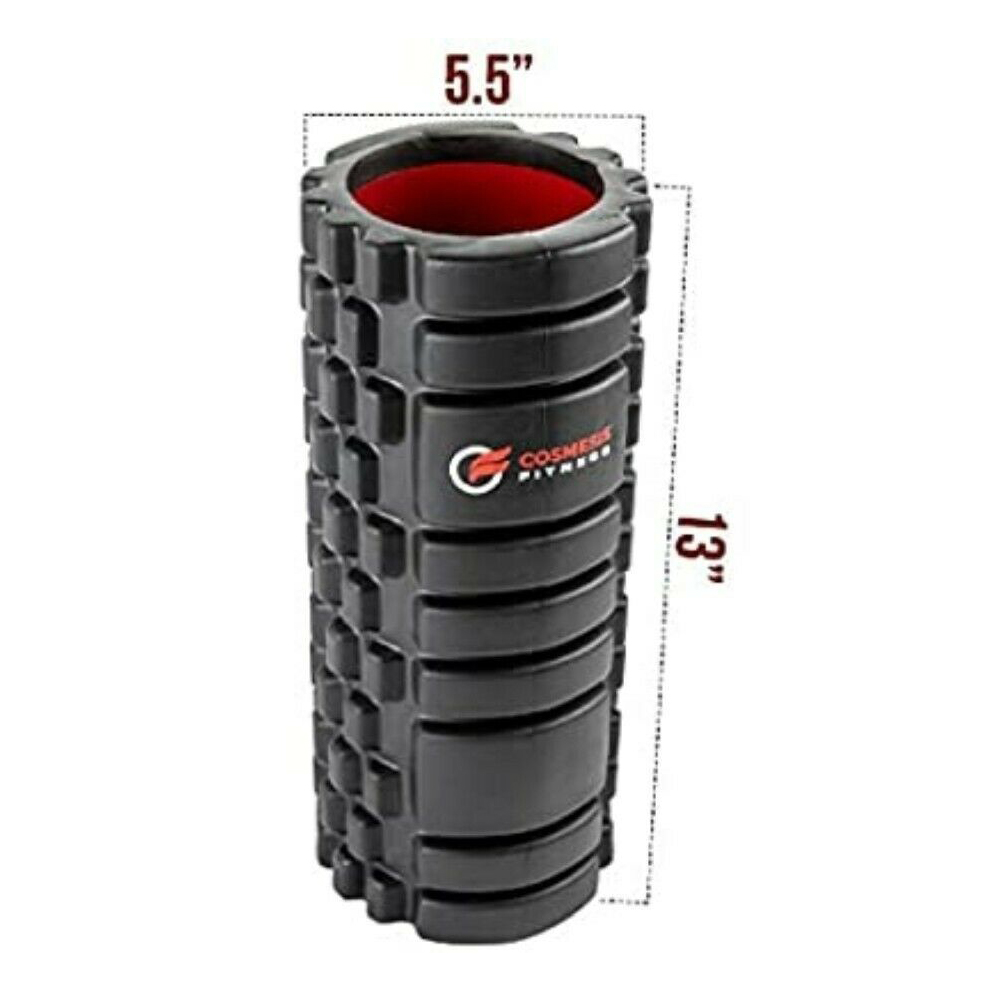 The VeloStretch is For You If… 
You want to experience all types of massage. You want a foam roller that can cater to all types of massages. The VeloStretch comes with spikes and nubs for high-density massage, and a smoother surface for hard-to-reach muscles.
You want to target different muscle groups. The spikes-and-nubs part is ideal for applying pressure on certain muscle points. The smoother part is perfect for targeting muscles that are hard to reach.
You want spikes and nubs to increase muscle recovery. You don't mind rollers with spikes and nubs. You're actually a big fan of them.
You want a bigger foam roller. This 13-inch foam roller is bigger than most foam rollers. This can cater even to large sizes.
You don't want a foam roller that collapses when you're using it. You're scared that the roller will crack out of nowhere. With the VeloStretch, you can be more confident as its ABS material layered with EVA foam is flexible and durable.
You want a foam roller that works on every part of your body. You can easily use it on your upper body, lower body, legs, chest, arms, and even sides!
You don't want a roller with tough, painful foam material. You are over foam rollers with materials that leave you feeling sore. The VeloStretch is made from durable EPP foam material that is non-stick, holds roller properly, and isn't too painfully tough on the muscles.
You want a foam roller you can carry anywhere. Just below 800 grams, the VeloStretch is perfect for any health buff who wants to bring this anywhere.
VeloStretch Features
Incorporates both spike massage and the smooth massage that won't leave you in pain. This multi-density massage roller can be used for all types of concerns – a painful back, sprains, cramps, overworked muscles, and muscles that were not stretched enough.
Made with quality ABS plastic, EVA foam, and EPP foam. The VeloStretch does not skimp on materials. The inner core is made with ABS and EVA foam for superior strength that can handle up to 220 lbs of weight. The outer layer made with EPP foam allows you to enjoy a massage without feeling sore.
With an ergonomic, expert design that targets different muscle groups. Both the spiky side and the smooth side target different muscle groups so you won't leave any muscle untreated.
Spikes and nubs target trigger points for a more effective massage. If you are suffering from trigger points that cause pain that comes back. the spikes and nubs can help you.
The 13-inch foam roller is bigger than the rest. The VeloStretch foam roller is bigger than any rollers in the market. If you are a larger build, you will love this.
Perfect for all parts of the body that need massaging. The design of the VeloStretch makes it ideal for all types of muscle concerns.
Easy to carry everywhere. At 2lbs, this foam roller is easy to bring wherever you like.
Specification
Color: Black
Activity: Yoga
Material: Foam
Width:5.5 inches
Weight:2 lb
Usage: Commercial Use, Home Use, Semi-Commercial Use
Muscle Group: Arms, Back, Full Body, Glutes, Legs, Thighs
Package Include