Never be without weather updates or light with the RoveDio Emergency Hand Crank Solar Powered Radio.
The RoveDio is a reading light, flashlight, and weather radio in one. It runs off four power sources including solar power and a hand crank. It also has an SOS mode if you require emergency assistance.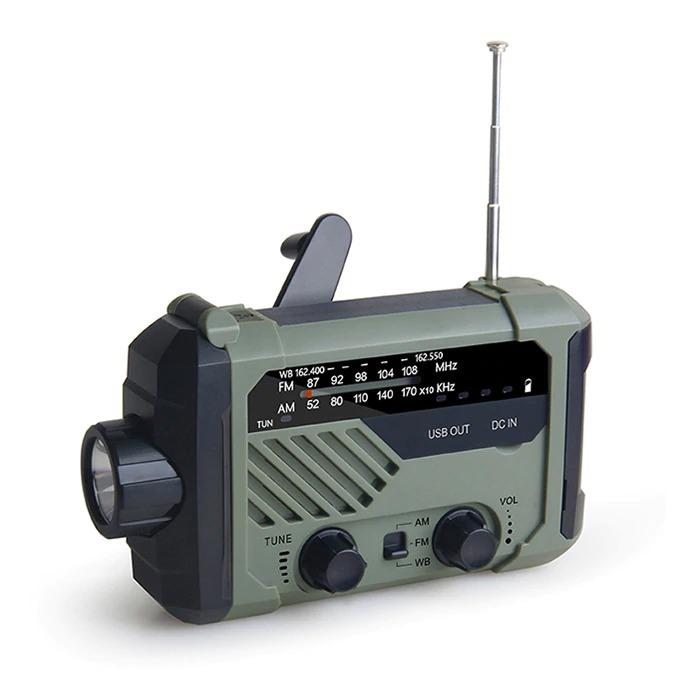 In the event of a power outage due to bad weather, you can't check your phone for weather alerts if it's dead. The Emergency Solar Powered Radio has a built-in 2000mAH power bank, so you can charge your phone. If you want to be prepared for any natural disaster or emergency, you need this radio.
Features
Waterproof – In a natural disaster, you need a radio that can hold up to rain and floodwater. Our emergency radio is 100% waterproof.
NOAA Weather Radio – With AM / FM capabilities, this radio also broadcasts emergency weather alerts through the WB NOAA channels. If you live where there's a higher risk of earthquakes, tsunami, hurricanes, or typhoons, you need a weather radio to keep you up-to-date.
Power Bank – With this radio, you have an easy way to charge your phone or mobile devices when the electricity is off. The 2000 mAh power bank is rechargeable via USB.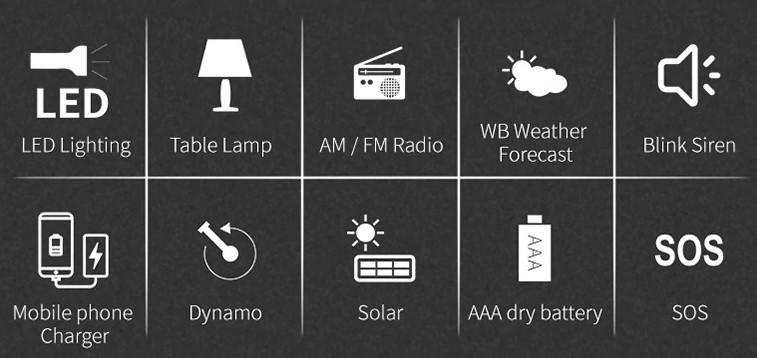 4 Power Options
With this weather radio, you have three main ways to power your radio: AAA batteries, USB charging, or solar-power. In the event all of these fail, you can hand crank the radio to build a charge.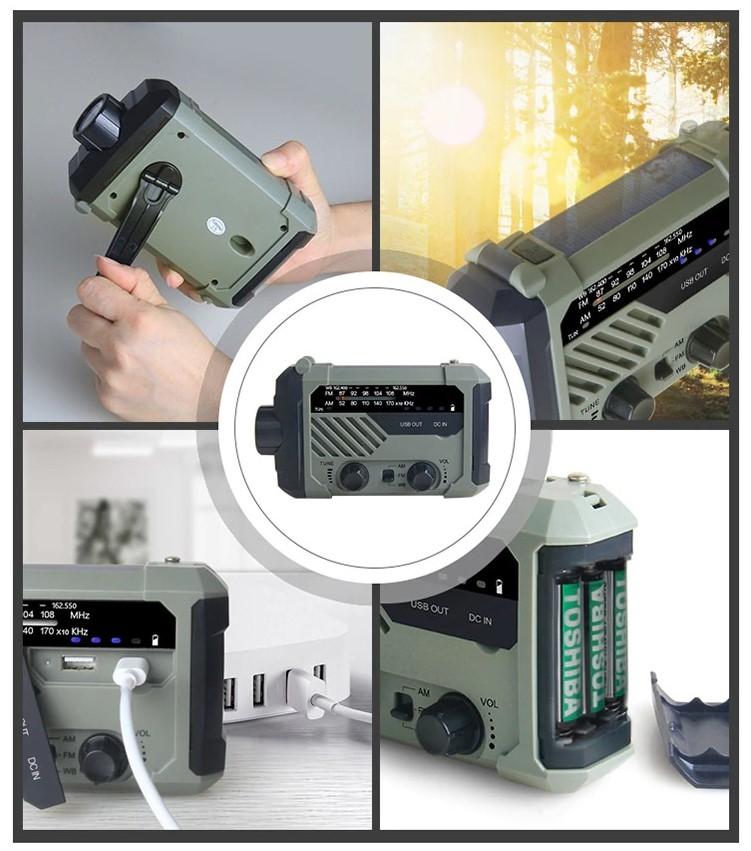 SOS Alert
If you are stranded, flip the radio to SOS mode. It gives off a shrill alarm and flashing white light.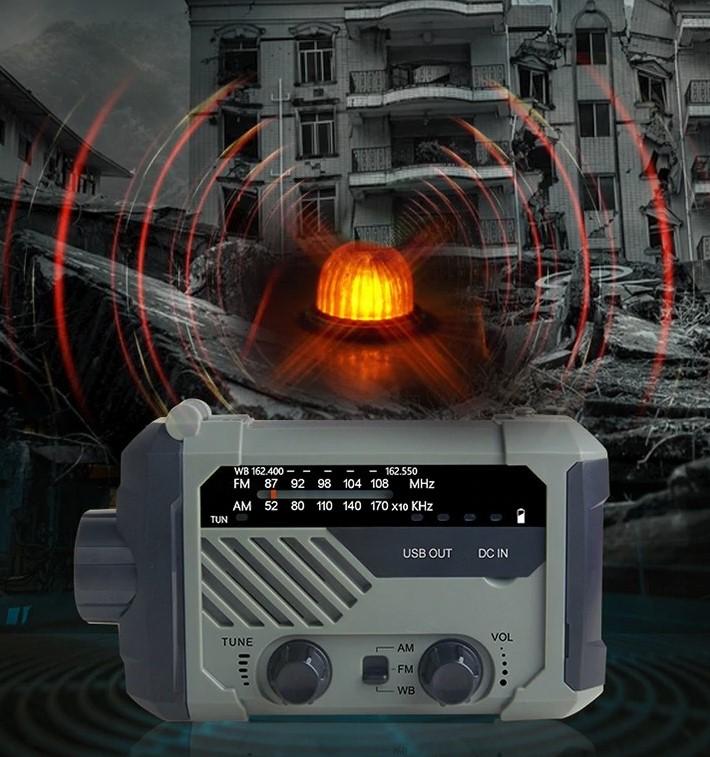 Flashlight & Reading Light
This radio isn't just for emergencies. It's also a flashlight and reading light which makes it ideal for camping and other outdoor excursions.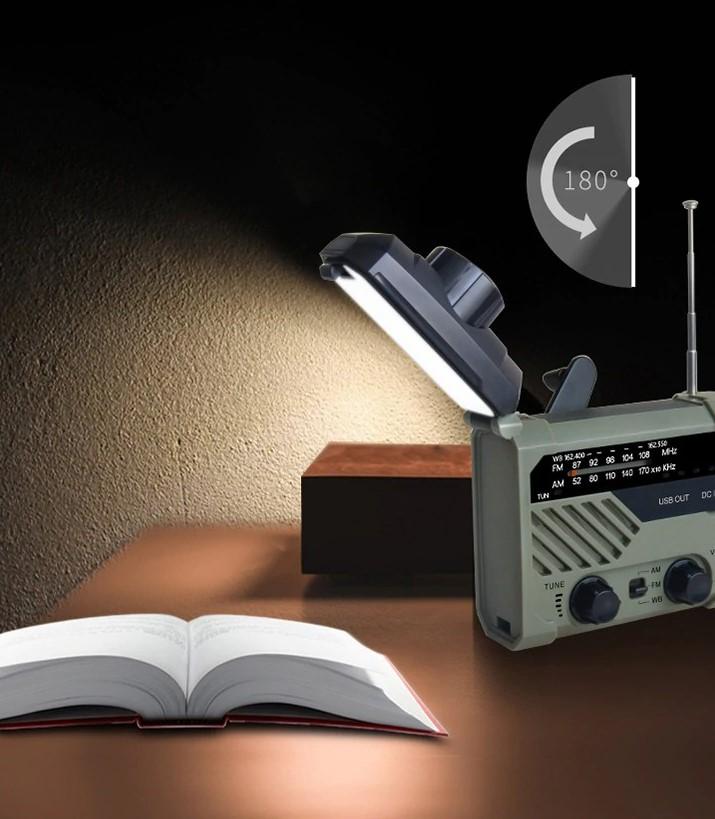 Specifications
Power Supply: Rechargeable Battery Pack
Dimensions (WxHxD): 155*94*49
Built-in battery: 3.7V 2000 mAh 18650
FM: 87-108 MHz
AM: 520-1710KHz
WB: 162.400 – 162.550MHz
Input: DC 5.0 1.2A
Output: DC 5.0V 1.0A
Unit weight: 275g
Radio working time (fully power):10H
White light working time (full power): low bright (10H)