2021 Newest Design
When you're in an emergency, staying connected to information is your first line of protection. When there's an earthquake, or a flood, and the power gets lost, it's important that you have a radio you can count on for news and crucial information. Be ready in whatever the emergency with the RadoFleg emergency weather radio.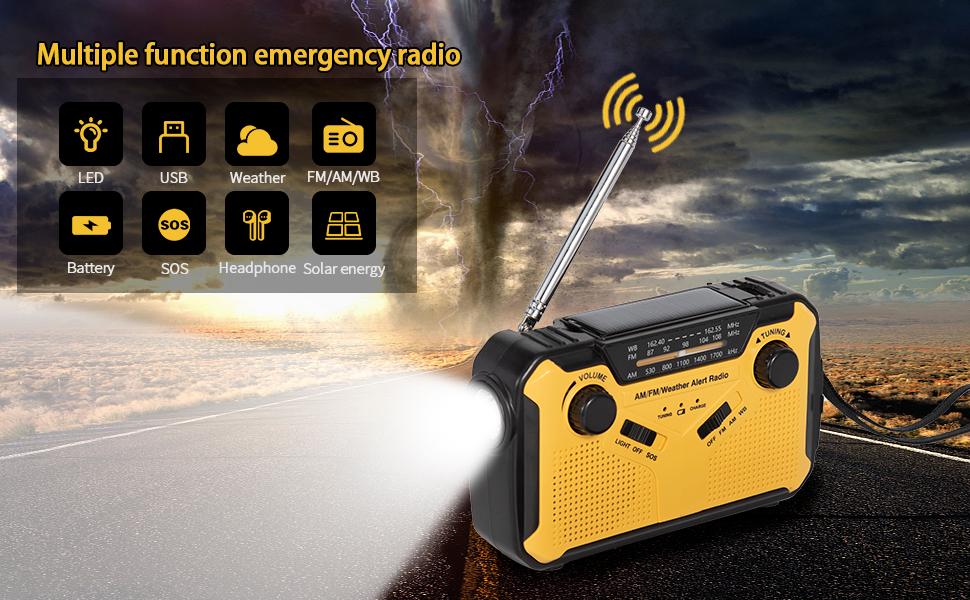 Alert Radio
This weather alert radio is a particular device designed to receive emergency warnings for various life-threatening weather events such as cyclones, hurricanes, tsunamis, and other weather disasters. Keep this AM/FM & weather radio with your family, get up to date with the latest weather and all hazard information for your area.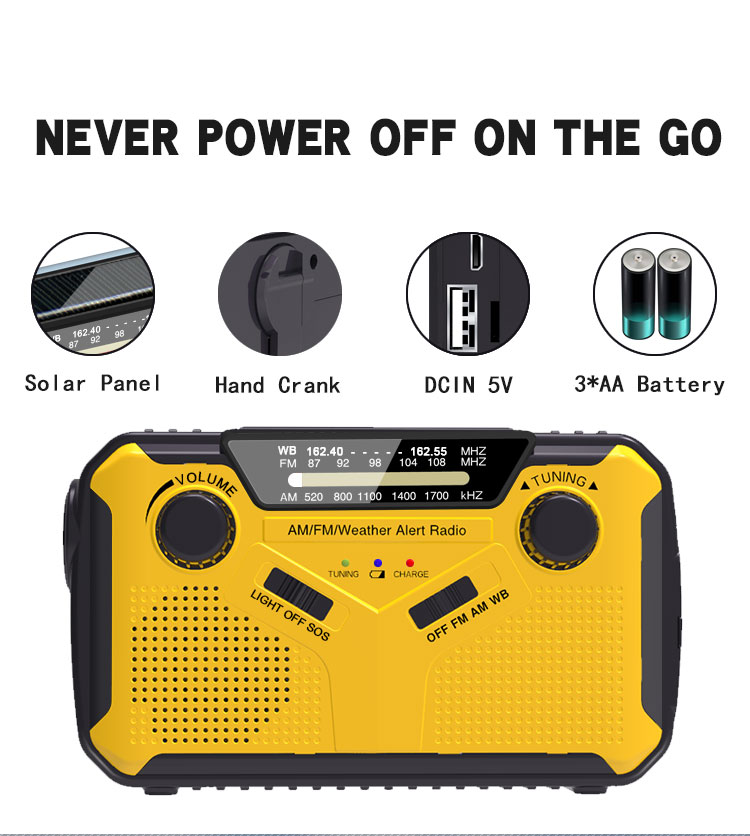 4 Power Supply Methods
The RadoFleg will always work, thanks to its 4 power supply methods. This radio works with batteries, with power supply/charge option, with solar power, and with hand-cranking movements. No matter the emergency, this radio will never let you down.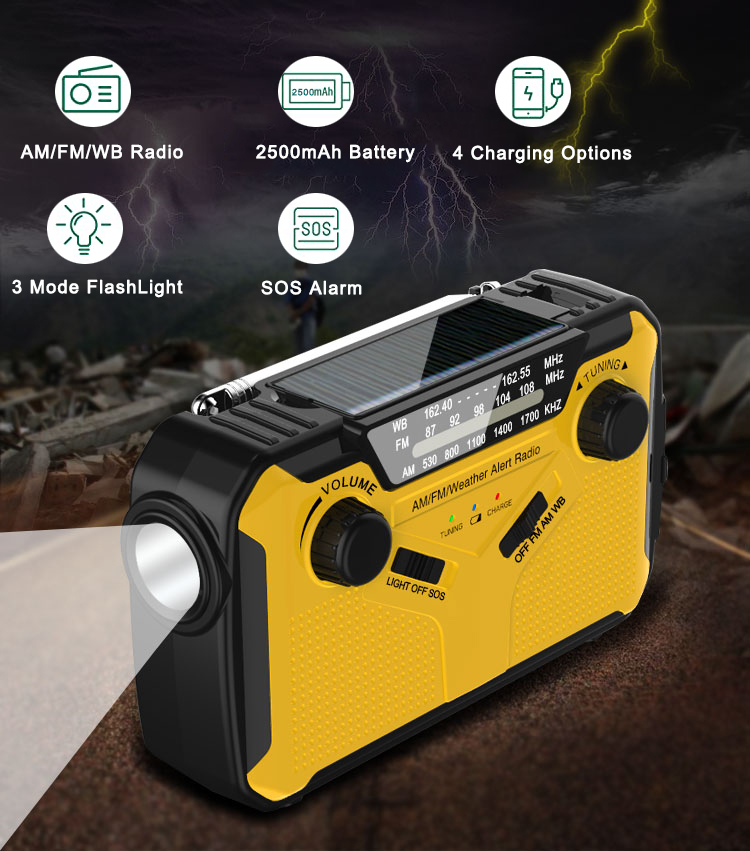 FM/AM & Weather Radio
Support FM frequency modulation: (87MHZ-108MHZ); AM mid-band: (520KHZ-1700KHZ); American WB: (162.400MHZ, 162.425MHZ, 162.450MHZ, 162.475MHZ, 162.500MHZ, 162.525 MHZ, 162.550MHZ) and can be used as a mobile power source in the event of a power outage in extreme weather.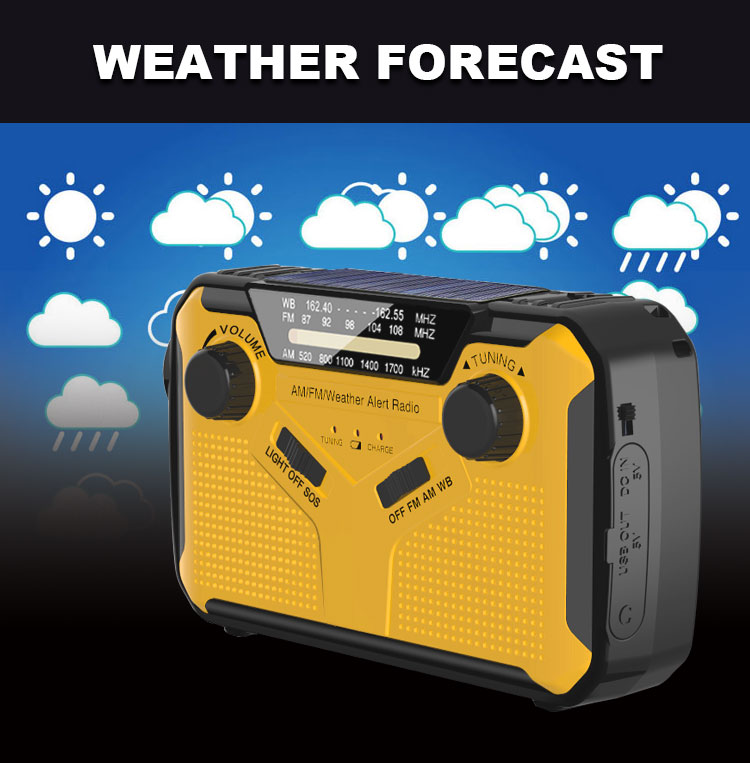 We Care About You and The ones Your loved
The team is committed to creating the best products. Our emergency radios have helped countless Americans through hurricanes, tornadoes and snowstorms in the past time. Your voice drives us to be the best.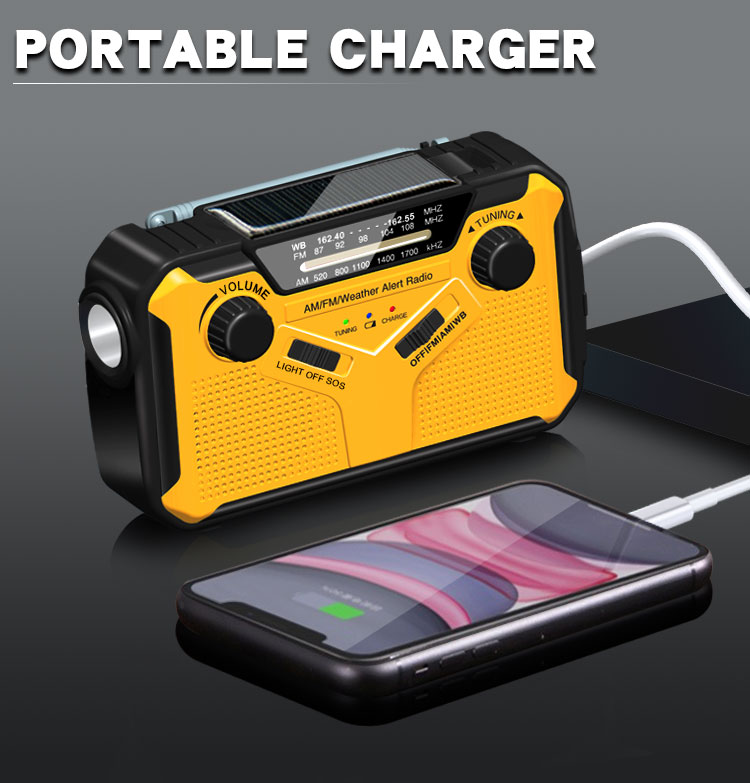 Nature is unpredictable, but you can be prepared and ready in the face of her fury!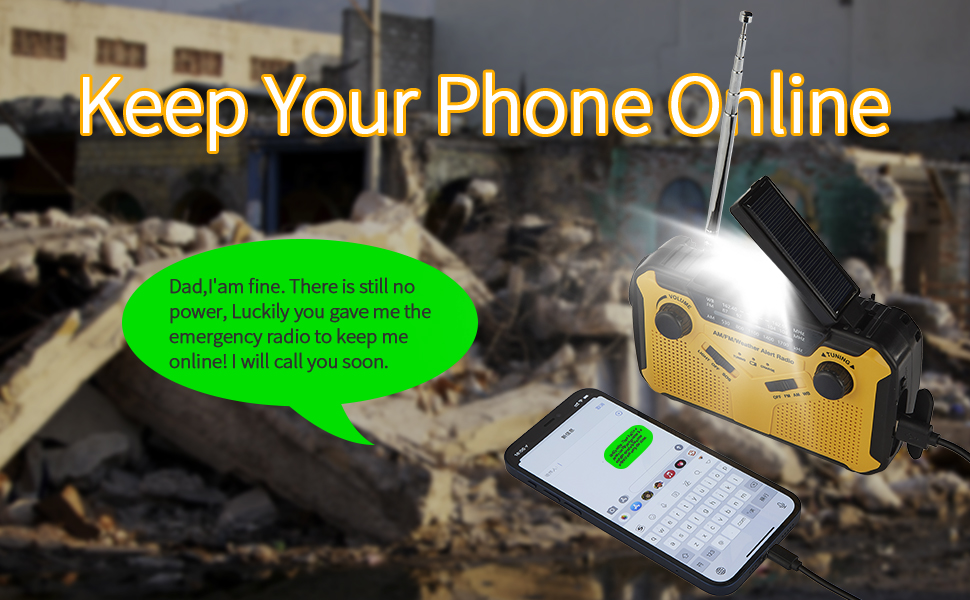 Crank radio receives AM/FM/7 Weather channel to get up to date with the latest weather when tornado, flood, storm is around the corner. The radio comes with a 2500 mAh battery for charging your phone in case of emergency. The radio also comes with a long lasting 1W LED flashlight to keep you safe in case power outage.
UPGRADEDFEATURES
Weather radio with 7 channels to get the latest weather and hazard information.
Portable radio. The lightweight and portable portable radio supports a wide range of FM/AM channels, allowing you to easily listen to the channels you need!
Built-in hidden retractable antenna to enhance the signal, you no longer have to worry about bad signals and about missing the news.
The hand crank radio comes with a flashlight, a cell phone charger, built-in high-capacity lithium battery 2500 mA, and MSDS certification.
4 Power Supply Methods:1: Solar charging, 2: hand-cranked power generation, 3: dry battery power supply (dry battery is not included in the factory), 4: AC power supply (external computer or DC, AC power supply), built-in Li-ion rechargeable battery.
Emergency radio has an SOS alarm and 2 light sources. In an emergency, the SOS function will enable you to send out huge police sirens and flashes to ask for help. Flashlights and reading lights (5 LED lights) can light up your road to a safe place.
 Mobile power function: In an emergency, emergency radio can provide sufficient power for you and your family's mobile devices!
Headphone output function: the radio supports the headphone output function, so that you can wear headphones to listen to the content you want!
Emergency Radio Access
Emergency radio will give you dependable access to emergency NOAA weather broadcasts. The AM/FM function provides full access to all AM or FM radio broadcasts. This radio will escort you and your family even on bad days.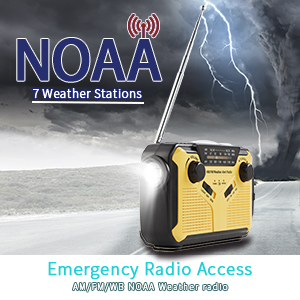 The small radio has 4 power modes
Emergency radios are hand-cranked radios, solar radios, battery radios and AC power radios. Various power supply methods continue to keep the radio working.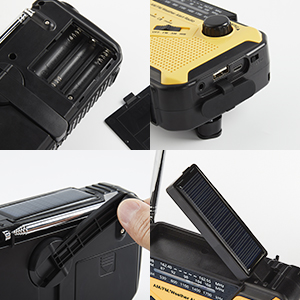 2 LED Lights Sources
Emergency weather radio provides you with 2 light sources: a 5 LED reading light and a 1W LED flashlight capable of lighting any emergency situation. When the solar panel and reading light assembly are turned on, the 5 LEDs of the reading light will automatically turn on, and when the solar panel and reading light assembly are turned off, the reading light will automatically turn off.  Lithium batteries can be charged via solar energy.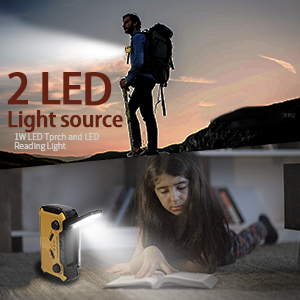 SOS function
When you and your family are in an emergency, please turn on the SOS function of the radio. The SOS function allows you to sound a huge alarm and flash for help!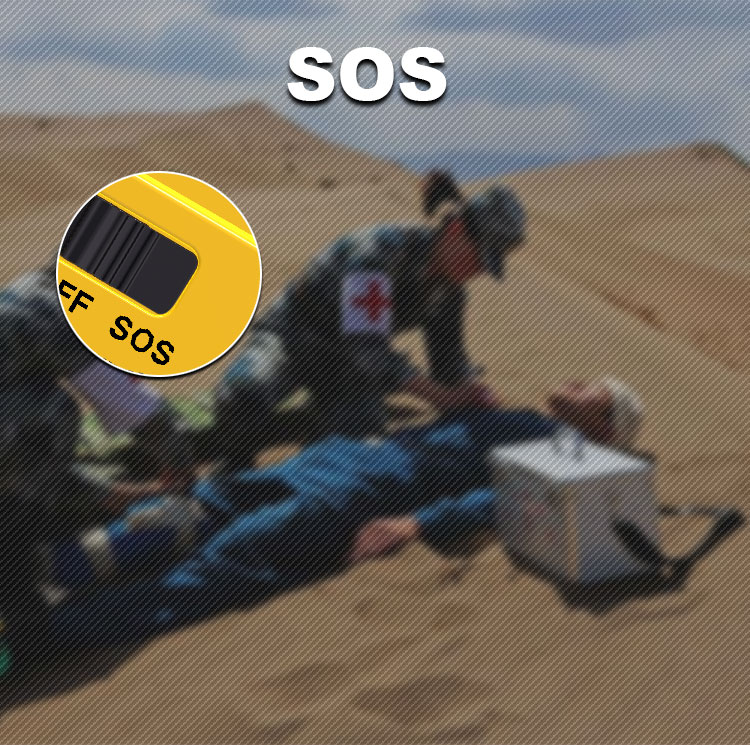 Power bank function
Emergency weather radio has a built-in mobile power supply of 2500 mA, which can provide sufficient emergency power for any mobile device in an emergency. Suitable for most USB powered devices.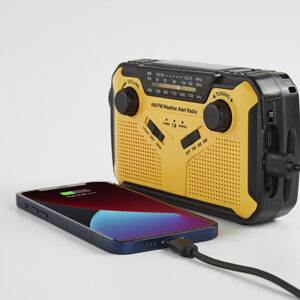 AUX Music Player
This portable crank radio has a 3.5mm earphone jack to listen to radio , you can enjoy your lesisure time.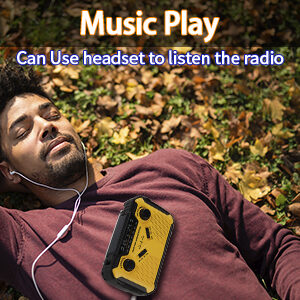 Care for your family starts with Emergency Radio!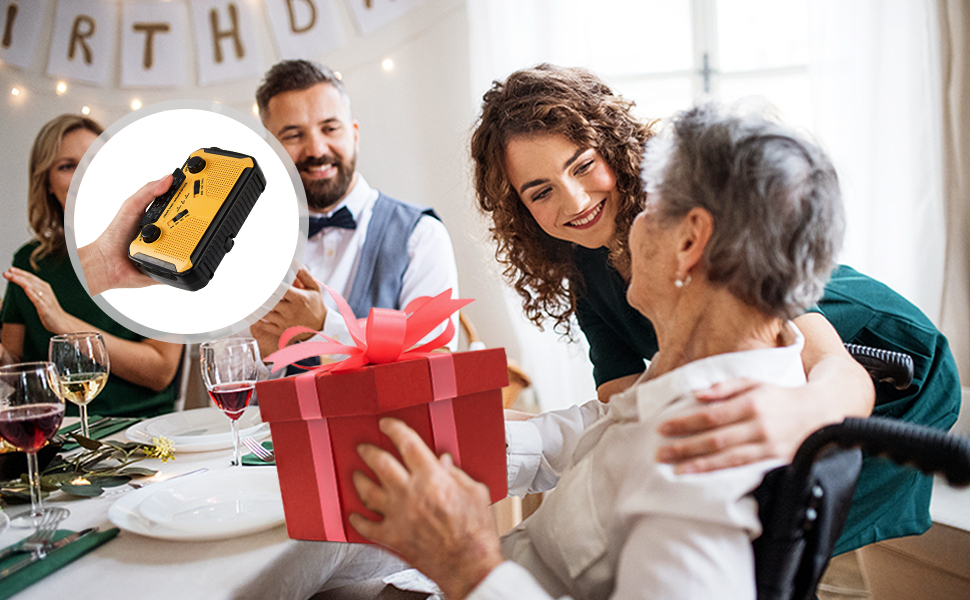 Emergency radio is the best gift for your family! It enables you and your family to keep abreast of the latest local weather information. When bad weather comes, it can help you prepare in advance, and can provide you and your family with enough emergency force in the most urgent situation. And provide emergency lighting support!