Experience Safe and Protected Ride with MadBike 
Motorcycle rides are all great and fun. Coupled with fresh air, good scenery, and great company, they will be memorable and remarkable. But, we also know that these rides have a higher baseline level of danger than a car and the stakes of anything going wrong are so much higher! So always get those jackets, boots, motorcycle pants intact, and never ever neglect the excellent and comfortable gloves like MadBike to ensure your safety and comfort during your long rides.
Protect your hands from numbness and any serious injuries with the use of MadBike. The motorcycle gloves are a great addition to your safety gear collection. With its sturdy, waterproof, and comfortable material, your grip stays firm and controlled even when it's cold.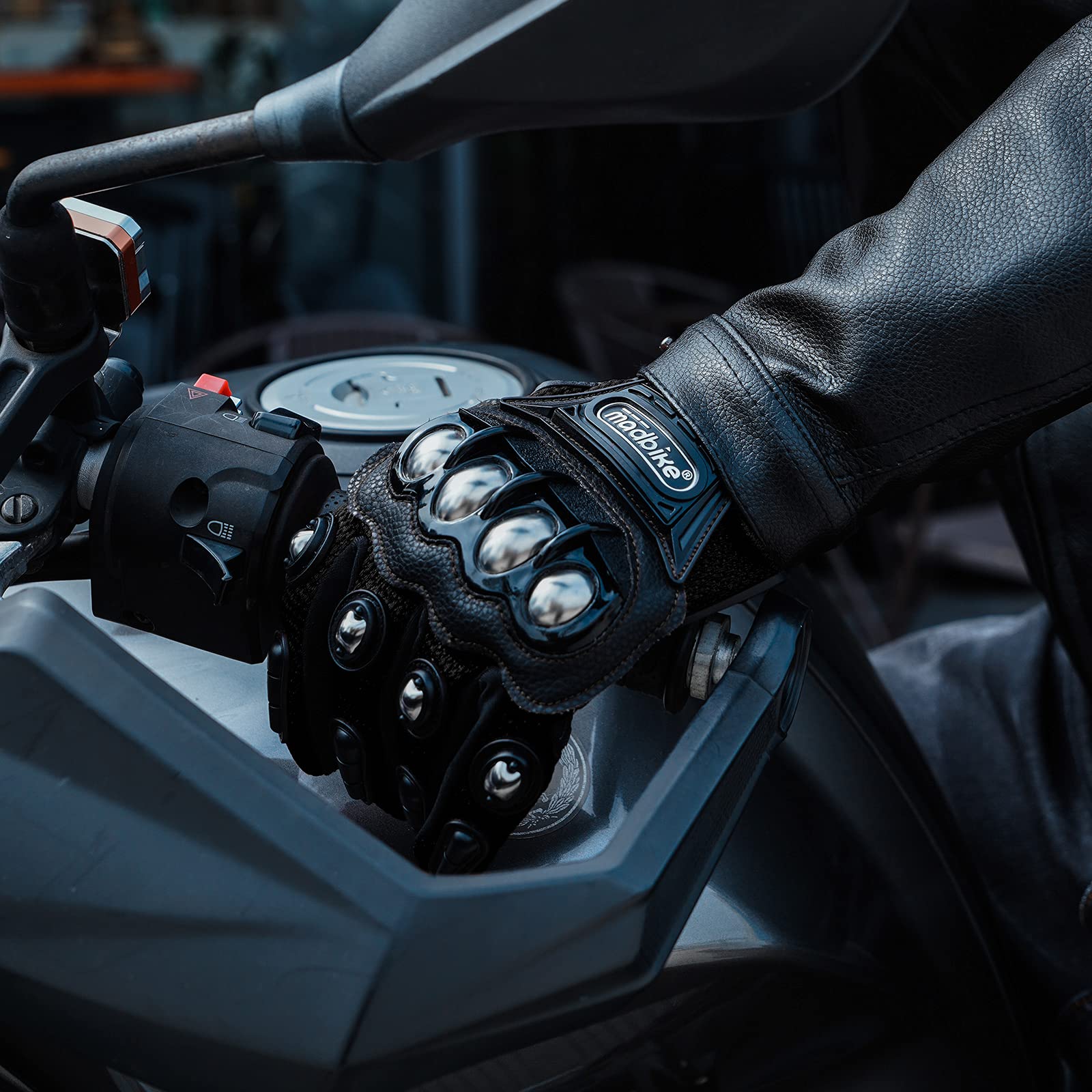 All These Features Make These Madbike Motorcycle Gloves W/ Steel Alloy Nubs Gloves Extraordinary:
They are made of premium PU leather to give the palms traction for that non-slip grip.

Nubs are made out of high-quality steel alloy.

Fixed with a side-shell for additional protection and safety.

Each finger joint has molded plastic for added protection.

High-quality cotton inner linings and flannel fabric keep your hands warm and comfortable.

You can choose a black, blue, or red variant, depending on your overall styling.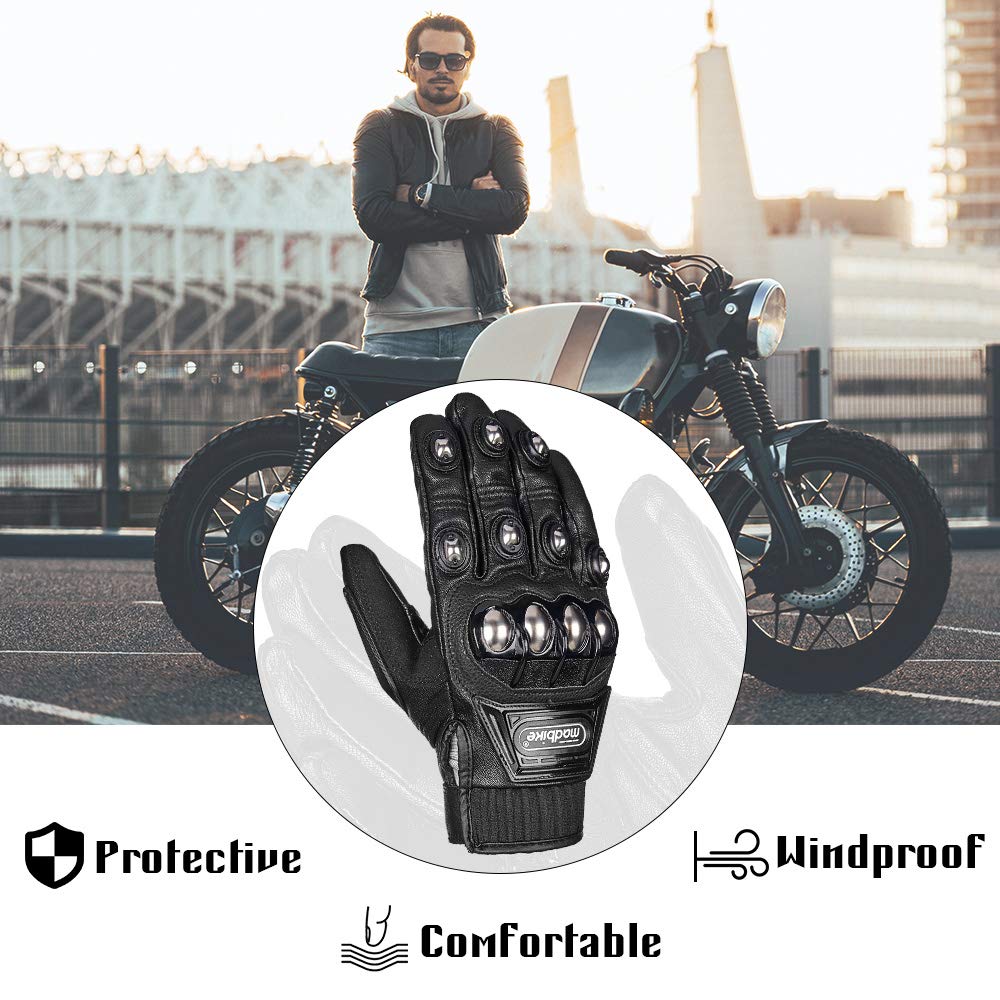 MadBike's most significant advantage is its appearance. Their rough, powerful, and excellent design adds to the badass biker style. 
These great gloves are the perfect choice for the experienced biker who knows the dangers on the road and solves them with style. 
Get these gloves, and be like the experienced bikers: prepared, comfortable, cool, emitting biker-style toughness.
Features
MadBike features a Finger Touch Screen Design: It contains conductive metal fibers on the index finger and thumb in both gloves so that you can work with all touch screen devices with ease. 
You can get full protection on all your rides: It has built-in alloy steel protectors that give extra cushion for impact. The gloves prevent fingers and knuckles from being injured and hurt. At the same time, there are also additional padded protectors for the thumbs and palms.
It comes with Anti-shock and Anti-slip design: The palm pad protects your palm from bumps, humps, and impacts. MadBike gloves come with a good grip for the non-slip design on the palm that helps you better maintain and control your motorcycle. 
It gives extra comfort, especially for long rides: The gloves are more durable and comfortable to wear with their quality leather. The elastic strap around the glove's wrist provides complete user control over how the glove fits on the hand. At the same time, the leather part between the forefinger and the thumb allows a comfortable fit when in use and anti-slip protection when holding the motorcycle handlebar.
It is not just great for motorcycle rides, but it also comes with a wide range of uses: MadBike is also Great for motorcycle, riding, cycling, ATV, hunting, hiking, riding, climbing, and training sports.
Size Chart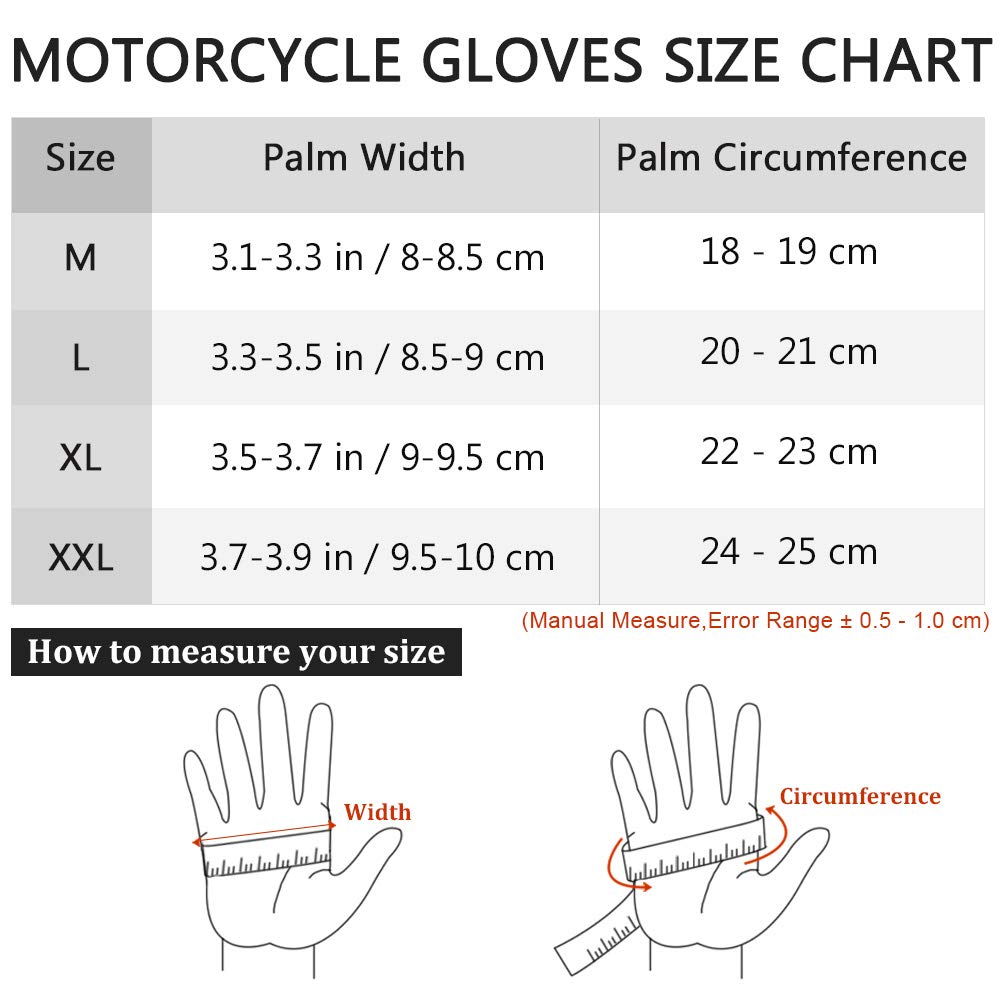 Specification
Material: Nylon, EVA sponge, alloy steel protection;
Color: Black, Blue, Red;
Size: M / L / XL /XXL
Package Includes