Score the finest treasures with LootFinder!
A treasure hunter in the making or an enthusiast looking for an upgrade? No matter what your NEXT METAL PROSPECTING GOAL is, here's a metal detector that can help you find your big gold nugget!
The LootFinder is designed by professional bounty hunters for bounty hunters and enthusiasts looking to increase their chances of finding their next big-time treasure. This device features powerful and versatile functionalities to ensure great success in hunting for coins, relics, jewelry, gold, and silver in your chosen location.
And here's more. The LootFinder is also widely used in detecting aluminum, copper, and even rare metals that are waiting for you to find.
So get the LootFinder today and see what hidden treasures you can find!
Here's how the LootFinder increases your chances of unearthing hidden treasures!
EXCELLENT SENSITIVITY
Nothing gets left behind with LootFinder's impeccable detection range. With 130 mm or up to 5.12″ sensitivity, you can detect metals as small as a quarter. You can also play around with the device's sensitivity to increase your chances of finding lost items and treasures.
COMFORTABLE USE
Adjust the device's settings according to your preference. From sensitivity to height to volume control—you can set your comfort and make the device work for you.
DETECTS ALL METALS
The LootFinder is capable of detecting all types of metals. No matter if it's an iron relic, a coin, a household item, or a precious metal, this device can help you discover your NEXT BEST FINDS. The search coil is even submersible so that you detect treasures hidden in shallow waters.
KNOB CONTROLS
Feel like a pro with LootFinder's futuristic controls. Unlike other devices that use buttons, the LootFinder allows you to control the device's settings using knobs for better targeting.
Other Essential Features You'll Like!
Widely Used: Perfect for finding metal objects and anywhere that hidden metal needs to be detected.
Designed to Find Metal: Search gold & silver jewelry, coins, and other metal in the ground.
Adjustable Height of Metal Detector: Adjust the detector's length for comfortable use.
Detection Indication: Audio alert and pointer indicate the detection of metal.
Headphone Jack: Provided for headphone connection. Both stereo or mono headphones can be used.
Volume Control: Adjust the output volume of the loudspeaker or headphones.
Waterproof Search Coil: You can use the metal detector in shallow water.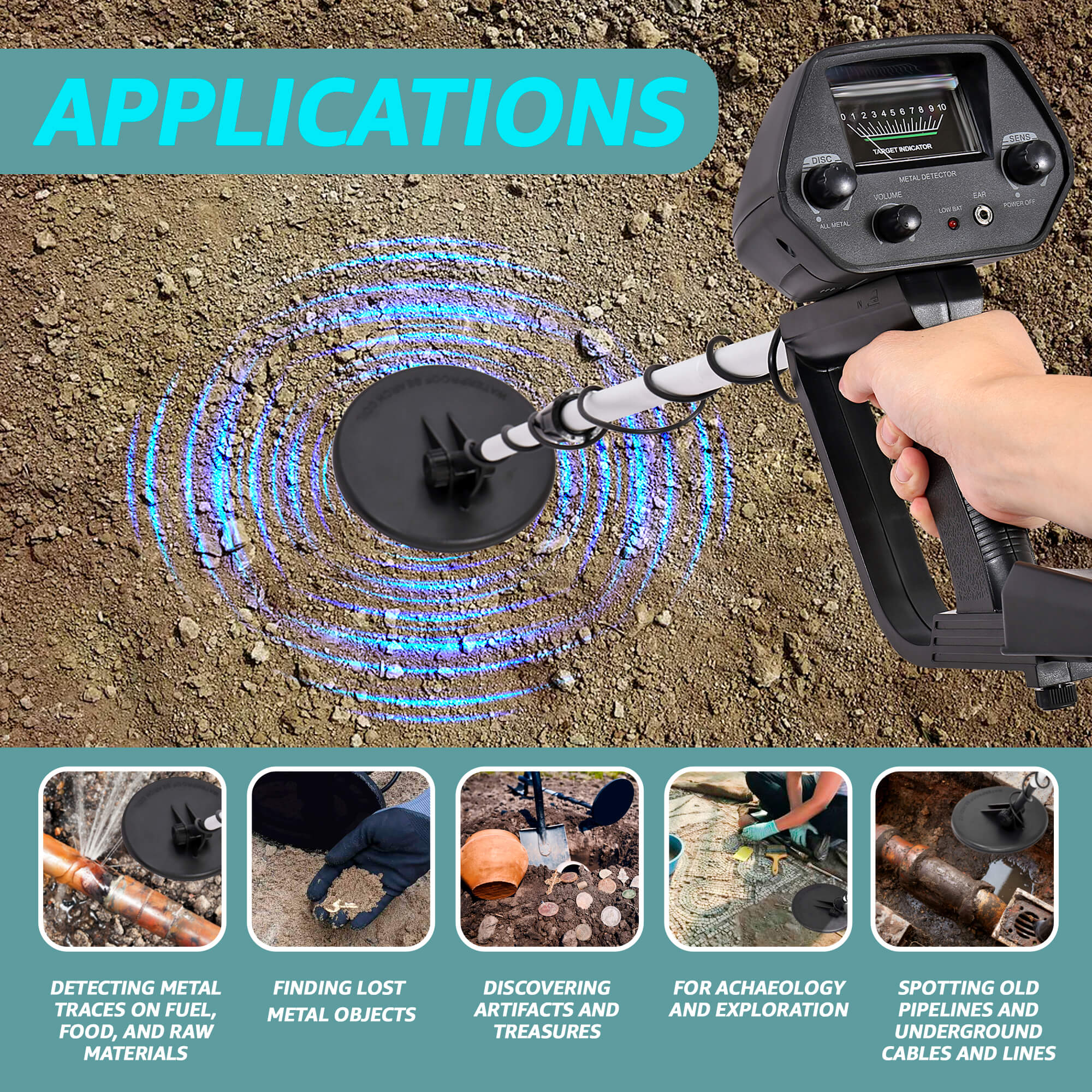 Our customers worldwide love the amazing functionality of the LootFinder! Here are some of our favorite reviews:
First time user, and absolutely in love with this device!
I'm new to all this metal prospecting stuff, and it's difficult for me to find devices that fit my skill level. This LootFinder is absolutely the best thing ever. What I appreciate the most is its user-friendliness and adjustability. It does not require some complicated set up just to make it work. And I can just take it at any location and hunt stuff away without thinking too much whether "did I set this one right?" Overall, if you're a beginner, this is a good device to start your prospecting journey. And if you're an expert, well… I've from some acquaintances that they prefer this device over some popular brand. Thanks!
Josh G., Verified Purchase
Great device. Simple and powerful.
I've been metal prospecting for quite some time. I'm self-taught and only followed Youtube videos to improve my skill. But never did I imagine that things can get much simpler with the help of this device. There are some wins and fails, but overall, made me enjoy prospecting and unearthing anything. For my best find, I was able to find some old, valuable coins that I add to my collection. Hands down the best metal detector for me.
Julius G., Verified Purchase
Specifications:
Material: ABS Plastic + Aluminum
Sensitivity: Min. 130mm / 5.12″ (Test Coin: US Φ 25)
Detect Objects: Metal (Iron nail, iron covering, aluminum ring, small aluminum product, coins, gold, bronze, silver)
Detection Mode: All Metal, Discrimination
Operating Frequency: 5KHZ
Power Supply: 2 x 6F22 9V Batteries (Not Included)
Operating Current: Standby 10mA(LCD with backlit color 80mA)
Max 70mA(LCD with backlit color 150mA)
Operating Voltage Range: 9V
Detection Indication: Mechanical Pointer Mode, Audio Mode
Control: Power Switch
Sensitivity: Adjustable
Detection Depth: 10-30cm / 3.94-11.81inch
Volume: Adjustable
Adjustable Height of Detector: 78-107cm / 30.71-42.12inch
Application: Testing metal foreign body of materials, fuel, and food, detection of underground pipeline & line, archaeology, exploration, found buried treasures of gold, silver and metal artifacts, the acquisition of scrap metal industry, customs and safety inspection, police department detective search, detection of Interpol search, checking metal foreign bodies in express delivery and luggage.
Operating Temperature: -15~45℃ / 5~113℉
Storage Temperature: -20~60℃ / -4~140℉
Item Size: 107 * 27 * 16.5cm / 42.12 * 10.63 * 6.50in
Item Weight: 862g / 1.90 lb
Package Size: 54 * 22 * 11cm / 21.26 * 8.66 * 4.33in
Package Weight: 1.28kg / 2.83 lb
Note: The search coil is waterproof, but the control housing is not waterproof.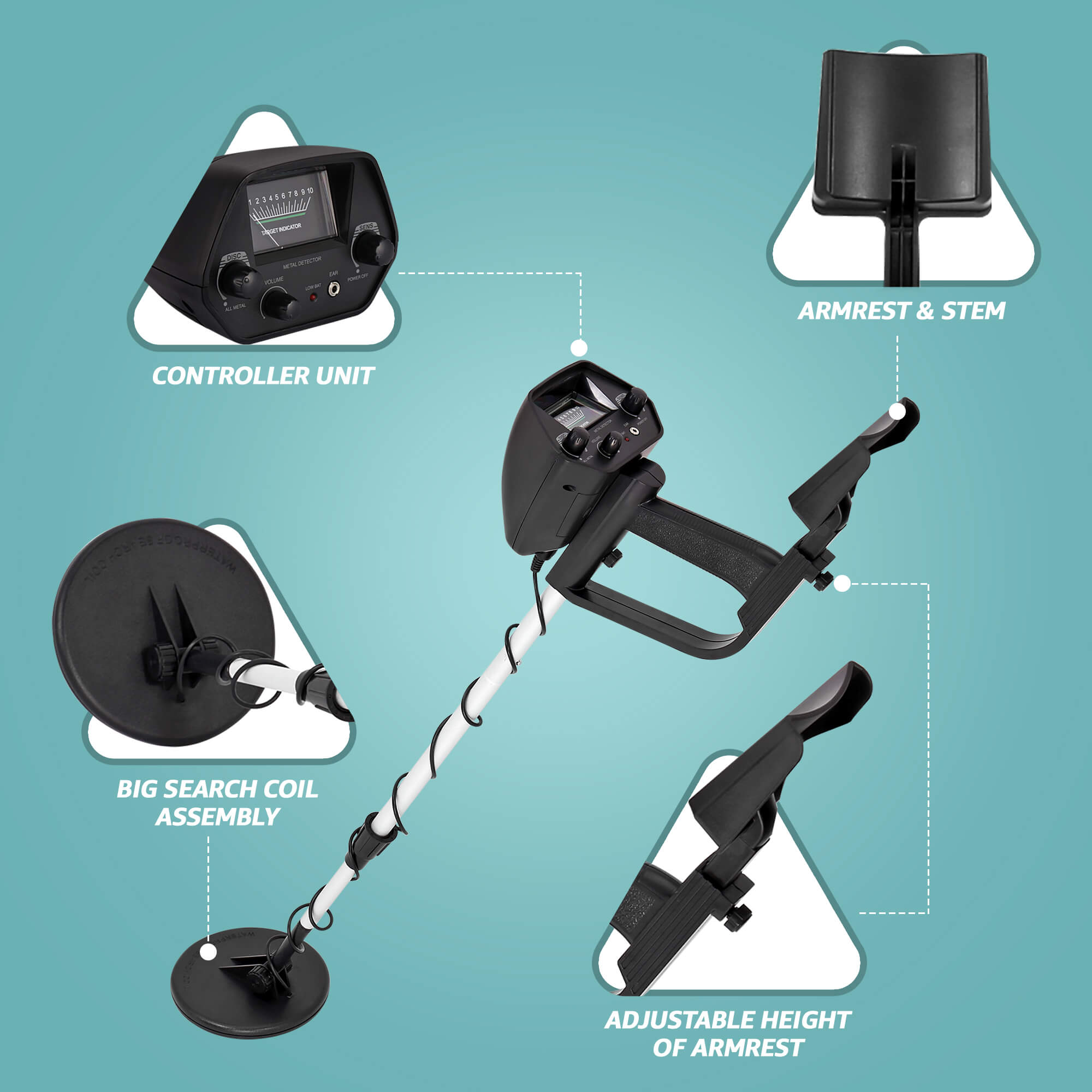 Package Includes:
1 * Metal Detector Main Unit
1 * Armrest
1 * Connecting Rod
1 * Search Coil
1 * Search Coil Knob
1 * User Manual