EXTRAORDINARY finds start with EXTRAORDINARY equipment—LoKator Pro
For your best discovery yet, here's a metal detector that not only increases your chances of unearthing valuable items but also understands your skill level.
Hunt for coins, jewelry, gold nuggets, and silver anywhere with ease and accuracy with the LoKator Pro Metal Detector.
Designed with specialized controls and features, this metal detector aims to make your metal prospecting fun and easy. It's perfect for…
✅ Beginners who need an upgrade to increase their chances of finding valuable discoveries
✅ Kids and science experiments
✅ Families looking for a fun and exciting activity to do during travels
✅ And, anyone who's interested to immerse themselves in the world of metal prospecting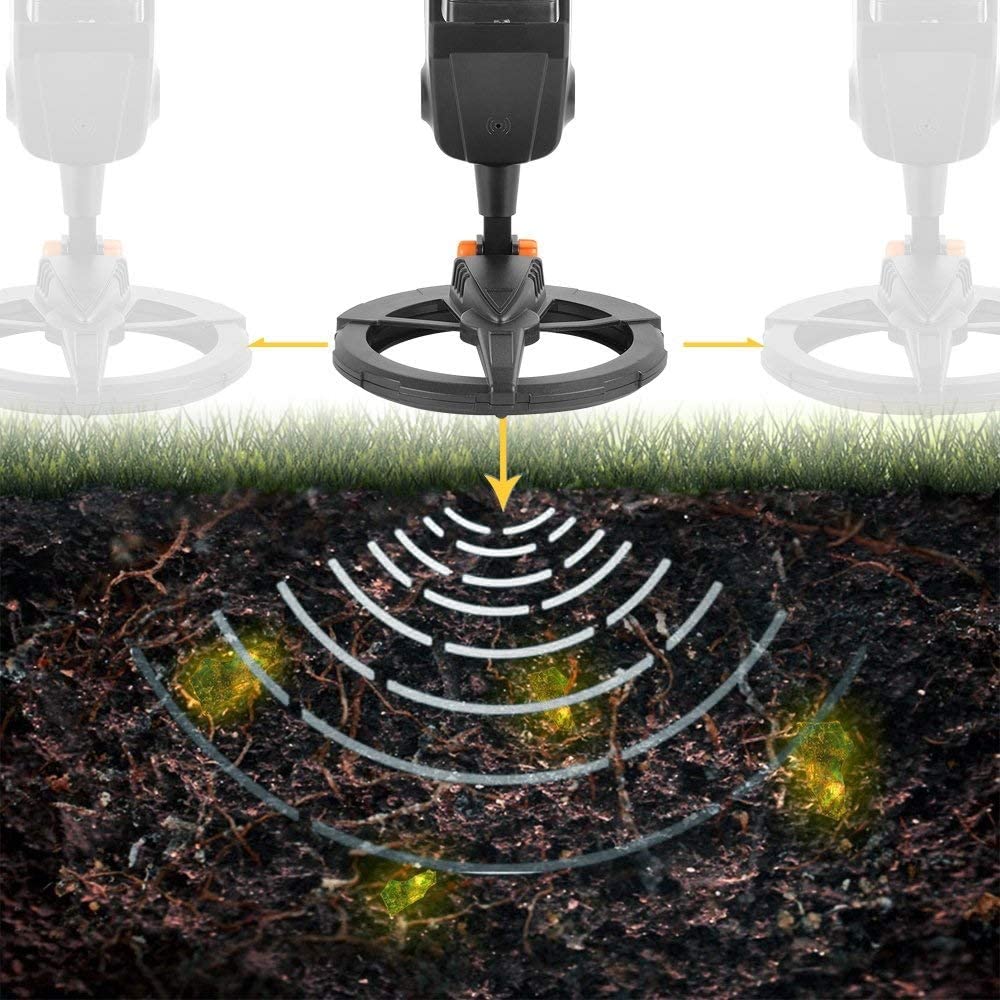 Why choose the LoKator Pro?
Widely Used: The LoKator Pro with its specialized controls and features is perfect for finding metal objects that are hidden.
Designed to Find Metal: Search gold & silver jewelry, coins, and other metal in the ground with excellent accuracy.
Easy-to-Use Operation: This metal detector is tailor-made for inexperienced metal finders and suitable for children.
Adjustable Sensitivity: Easily control the device's sensitivity to increasing your chances of finding your targets. With just one twist of the know, switch to your preferred sensitivity anytime.
Adjustable Volume: Adjust the volume level of the speaker when searching to find missing or lost coins, pieces of jewelry, and other metal objects.
Detection Indication: The LoKator comes with an audio alert and LCD indicator to notify you that your target has been detected. This interface makes it easy for you to spot the location of your target.
Waterproof Search Coil: Search hidden treasures underwater with LoKator's waterproof coil. Take it with you during travels and summer trips and have fun searching for lost items, metals, and other precious metals.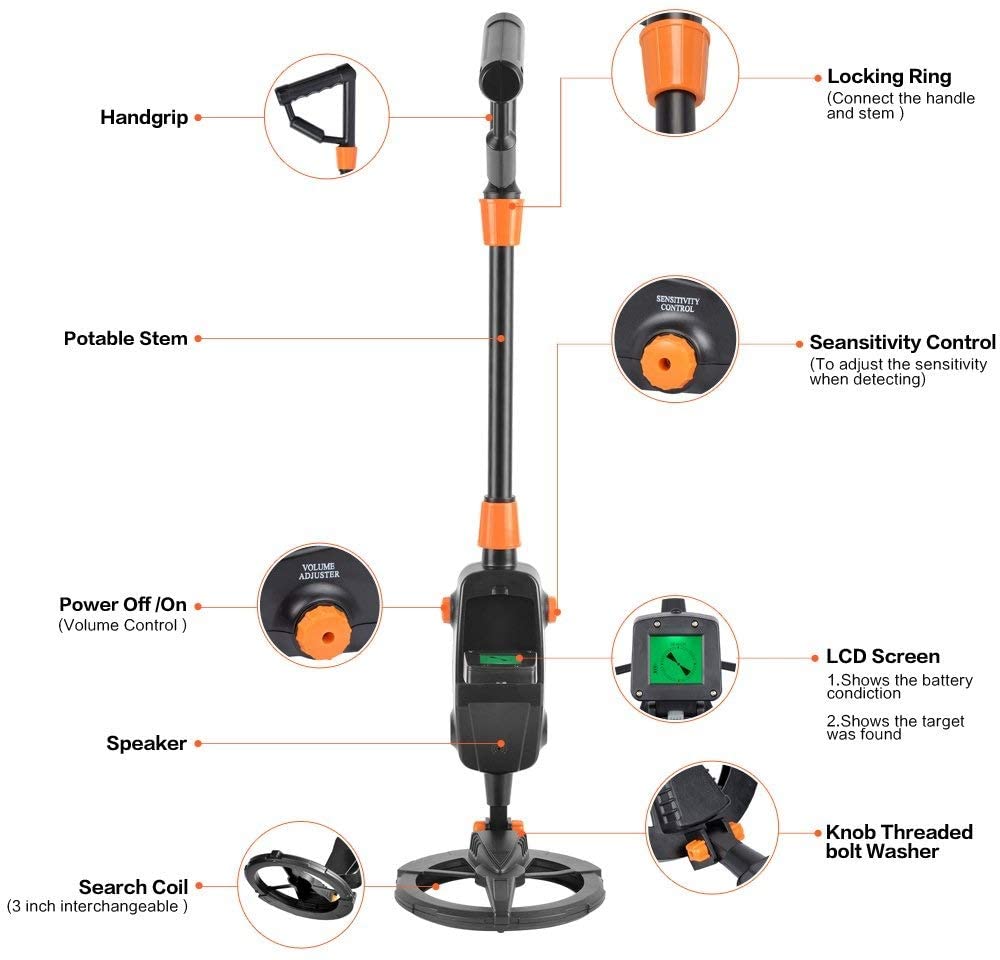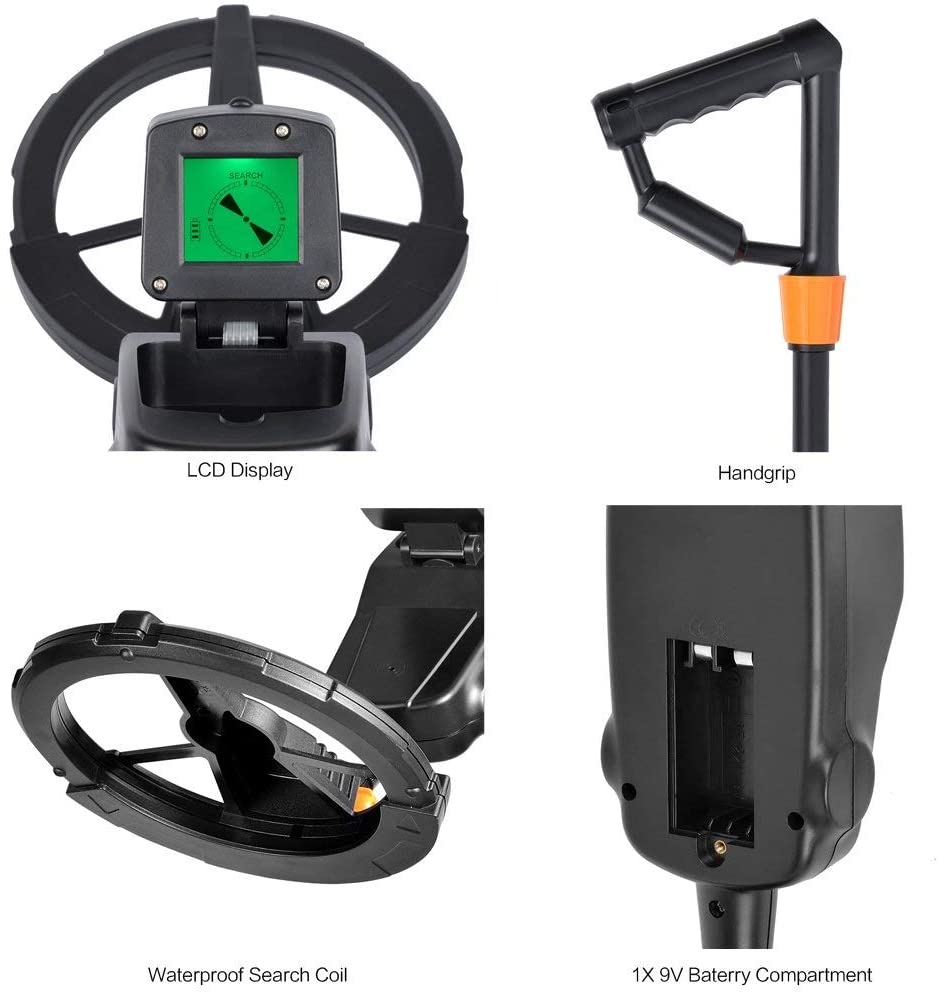 Sharing some of our favorite reviews to help you decide if the LoKator Pro is for you!
Just starting with metal prospecting? Start with this device!
I'm new to metal prospecting, and I may not have that much experience to recommend products, but in my beginner's journey, I found it easy to learn and improve my skill using this device. Well, this device is not as powerful as those heavy-duty detectors you see on Youtube. In fact, this device is tailored specifically for beginners and kids. But, the great thing about this device is it teaches you the basics, such as understanding how sensitivity works, proper handling, and searching techniques. The LoKator makes everything easy for you while keeping precision and increasing your chances of finding something valuable in your early days. There's not much setting up to do or anything too complex just to make the device work. Once you pull it out of the box, you can easily run a few rounds in your backyard and play around. So if you're a beginner like me, this is a good starting point.
Josh J., Verified Purchase
Great device to bond with kids!
Love this metal detector! It's easy, quick, and fun to use, unlike those products I saw on Amazon. I highly recommend this device if you're looking for something that can make things easy for kids to understand. So, if you're a parent with a kid who's interested in pirate treasures and rocks, this is the PERFECT device to buy.
Jenna H., Verified Purchase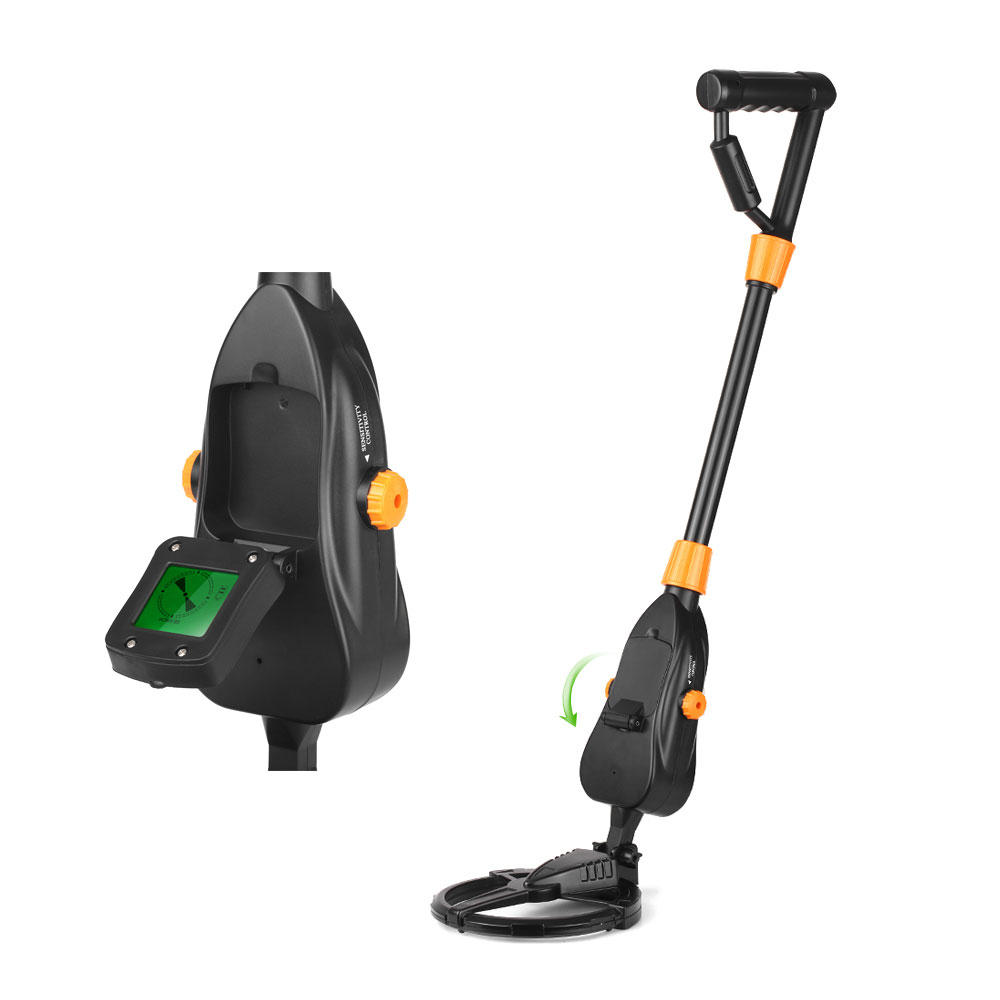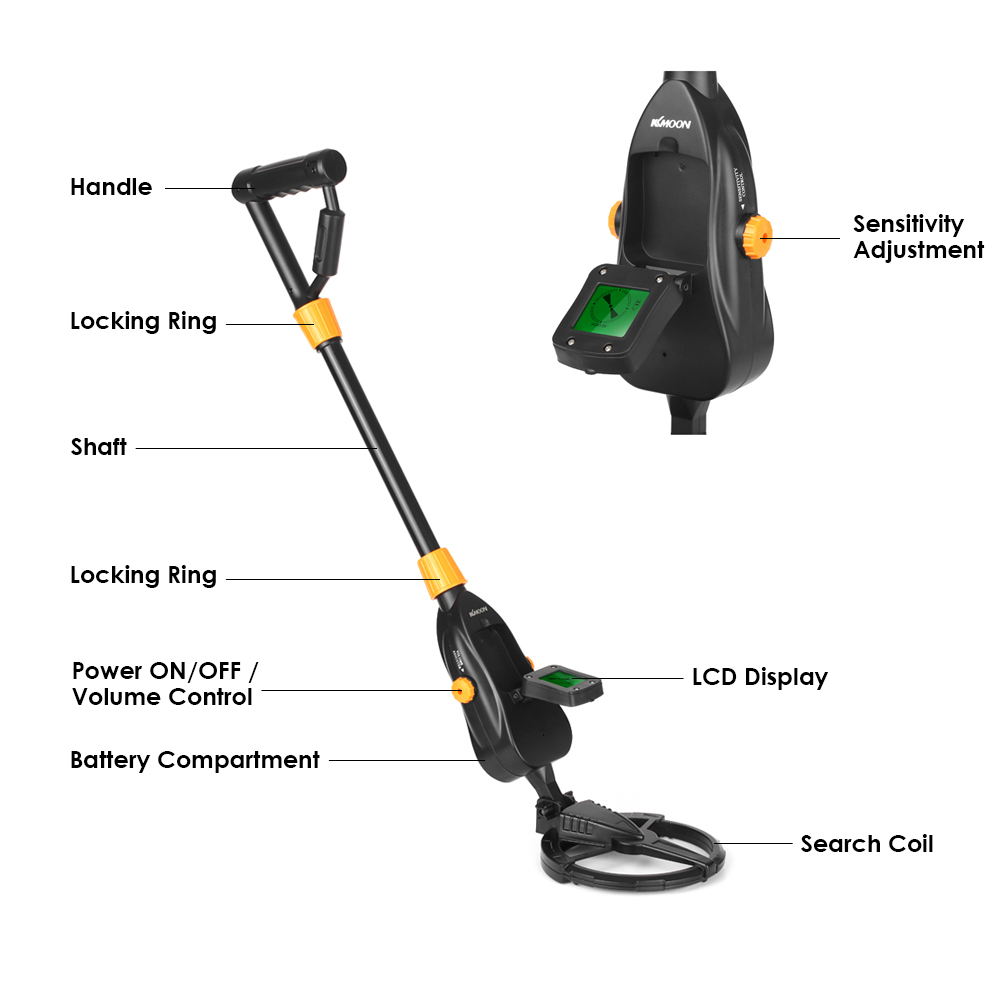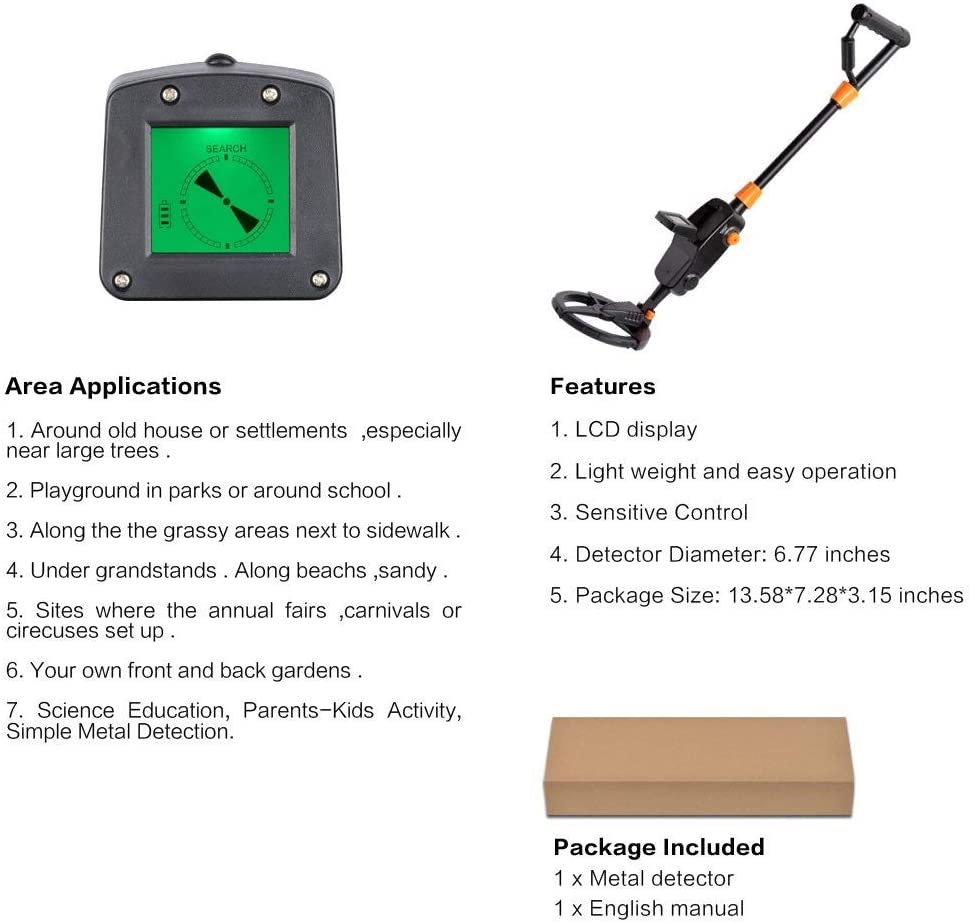 Specifications:
Material: ABS Plastic
Detector Diameter: 6.10inch
Detect Objects: Metal(Iron nail, iron covering, aluminum ring, small aluminum product, coins, gold, bronze, silver)
Detection Mode: All Metal
Operating Frequency: 55.2KHZ
Operating Current: Standby 20mA, Max 70mA
Operating Voltage Range: 7V-9V
Detection Indication: LCD Display, Sound Mode
Sensitivity: One Coin: 10mm, Stepless Adjustable
Detection Depth: 10-100cm (Depends on the target area you detect)
Battery: 1 * 6F22 9V Battery (Not Included)
Application: Looking for Coins, Silver & Gold, Detecting All Kinds of Metal, Scientific Education, Parents-and-Kids Activity,
Simple Metal Detection
Operating Temperature: -15~45° / 5~113°
Storage Temperature: -20~60° / -4~140°
Item Size: 19 * 15.5 * 67cm / 7.48 * 6.10 * 26.38in
Item Weight: 390g / 13.74oz
Package Size: 40 * 18.5 * 6.5cm / 15.75 * 7.28 * 2.56in
Package Weight: 555g / 19.54oz
Note: The search coil is waterproof, but the control housing is not waterproof.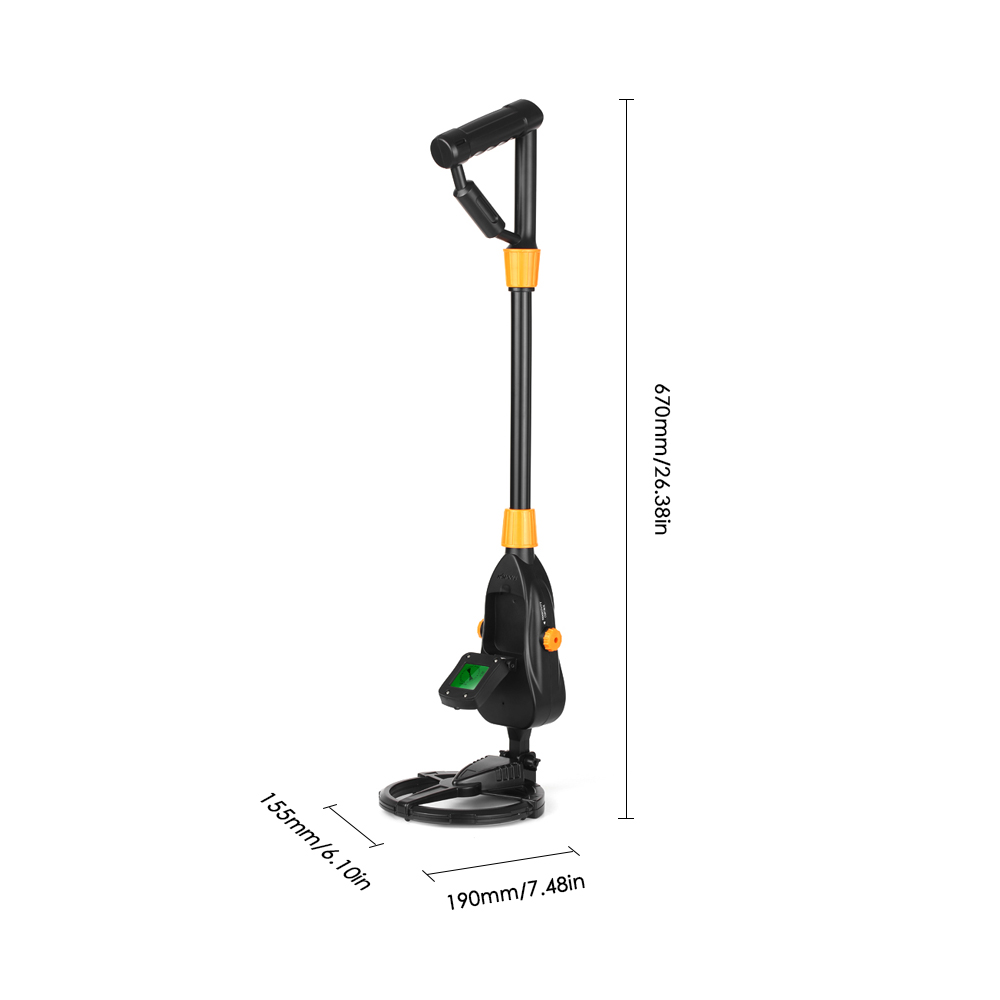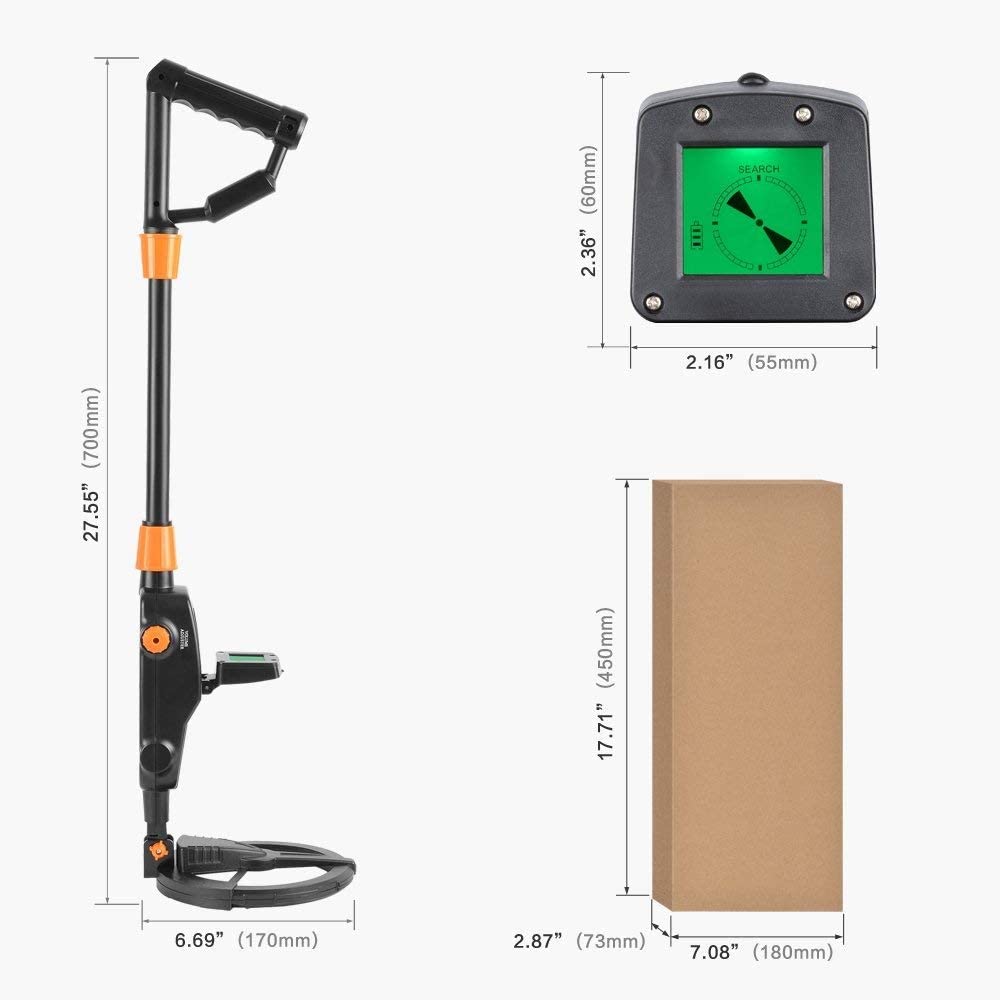 Package Includes:
1 * Metal Detector Main Unit with Search Coil
1 * Connecting Rod
1 * Armrest
1 * User Manual