Our HeriTone Smart Sport Hula Hoop is a hula hoop on steroids—it's designed with a weighted gravity ball that slides while you exercise, so that your waist gets a more effective workout during every use. Best yet—it stays put until you want to take it off.
If you're hesitatant to get a hula hoop because they are so big and cumbersome and storage is a problem, you will be happy to know that this hula hoop is smaller than  usual and can be broken down into individual pieces for easy storage.
Whether you are a beginner or an experienced hula hoop user, there's no excuse to skip a daily workout now. The hula hoop is so much fun to use you will have a hard time putting it down. Buy more than one! Your children are not going to want to just sit by and watch you have all the fun!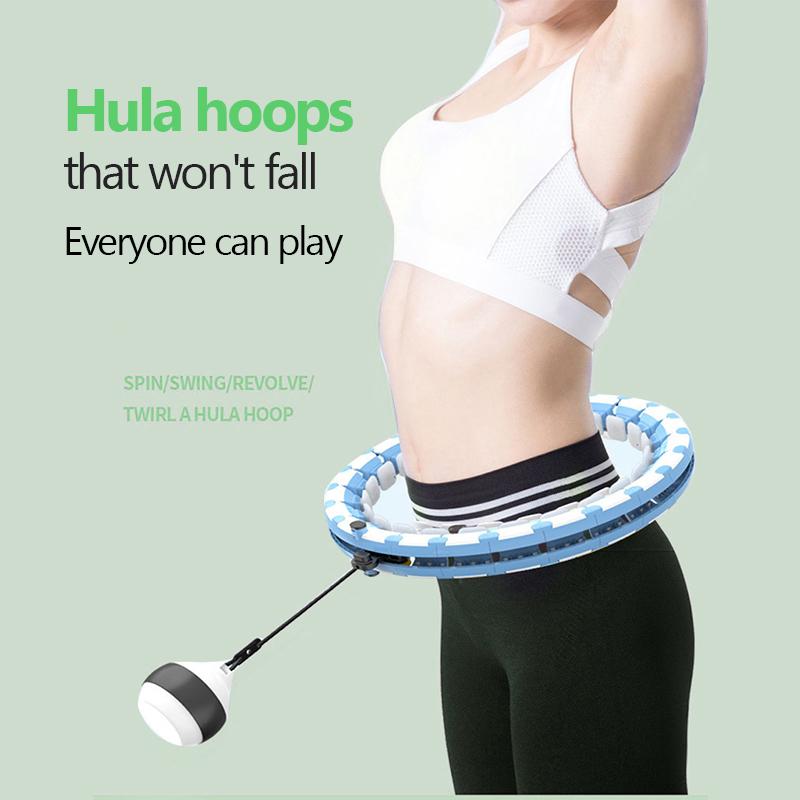 Details
Auto Spinning : There is a 0.88Ib soft gravity ball that slides smoothly around the hula-hoop and produces evenly inertial force to get your waist trained 360°, effortlessly but more effectively.
Never Drops: No more bothering to keep the momentum of the moving hula hoop, especially for the beginners. This smart hula hoop is specially designed to fit most waistlines and will not fall off. But it is easy to take off and won't get you stuck or hurt.
Breaks Down For Easy Storage: The weighted hula hoop comes with 24 detachable knots in total that can be easily split and reorganized to make a perfect fit. And our HeriTone hula hoop features an additional magnetic closure to ensure a more secure assembly.
Easy To Carry: It is designed to be smaller than conventional hula hoops for kids or adults to make it easy to carry, take to the gym, and store.
Slim & Massage Your Waist : Hula hoop is a practical ab workout equipment to help burn calories, slim the waist, and keep in shape. Our advanced fitness hula hoop is equipped with support pads all around to massage the waist and relax muscles.
Suitable For All Ages, Genders And Fitness Needs: Can be used in a variety of applications, ranging from post-natal recovery, serious advanced fitness training, or to get back into shape. Are also suitable for sports advocates.

Product include:1 X Smart fitness circle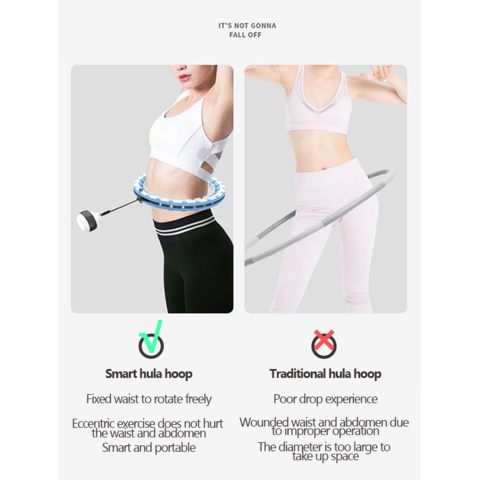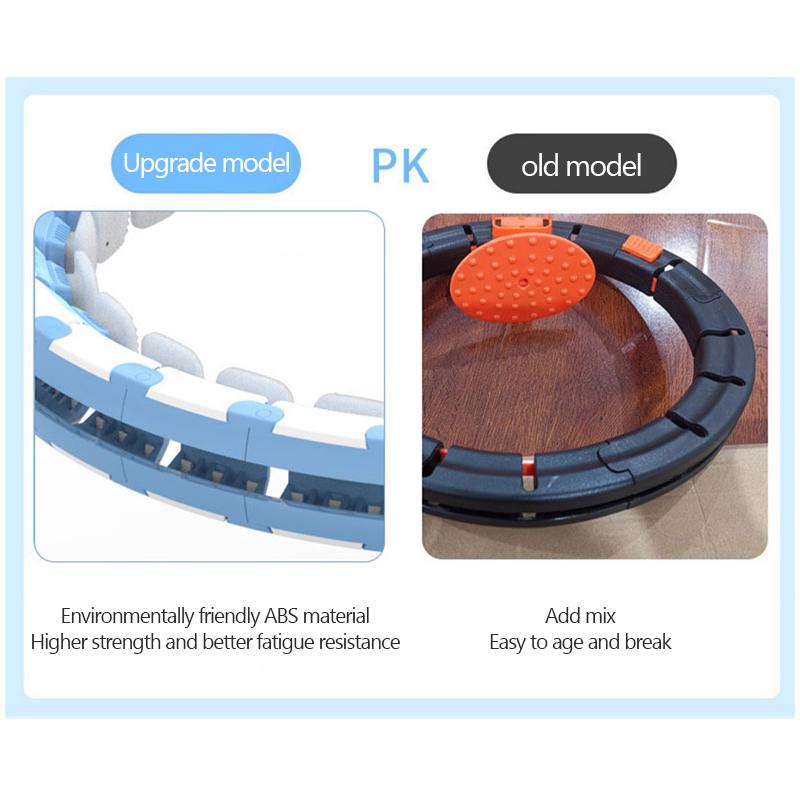 Adjustable size
HeriTone hula hoops are easy to disassemble and assemble, then there are 24 detachable knots, so you can adjust the size to your waist and not fall off, This way, all family members can use this hula hoop. However, please note that the maximum waist circumference of all 24 knots can not exceed 125 cm and these hula shadows may not be able to make these hula shadows as your waist are to use over 125 cm It is suggested that the fat reduction period is regular and the reasonable diet effect is better.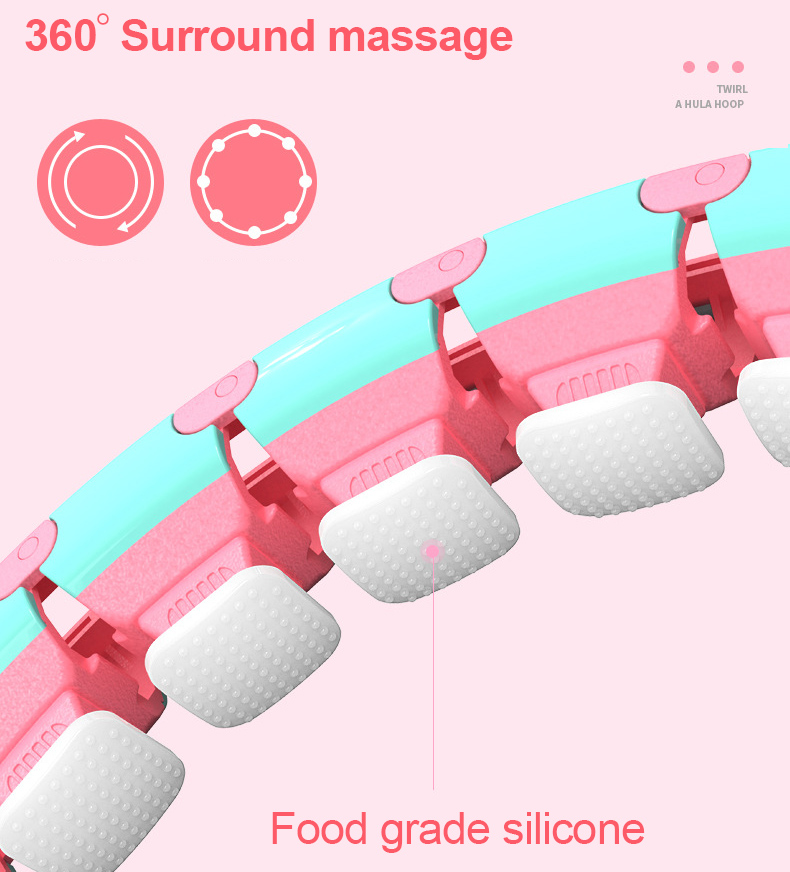 360° surround massage
360° surround use of sliding rail rollers and inertia to massage the waist muscles to achieve the ultimate goal of reducing fat. You can burn 800 calories if you workout five times a week for 30 minutes! For allergic body construction, body will not produce allergic reactions. It features 360 degree rotating silent shaft that provides easy and flexible rolling. The HeriTone helps massage the waist muscle – it's easy to shape the body. Ultimately, this is your good partner to slim down, This intelligent hula hoop solves the problem that of those who hate hula hoop.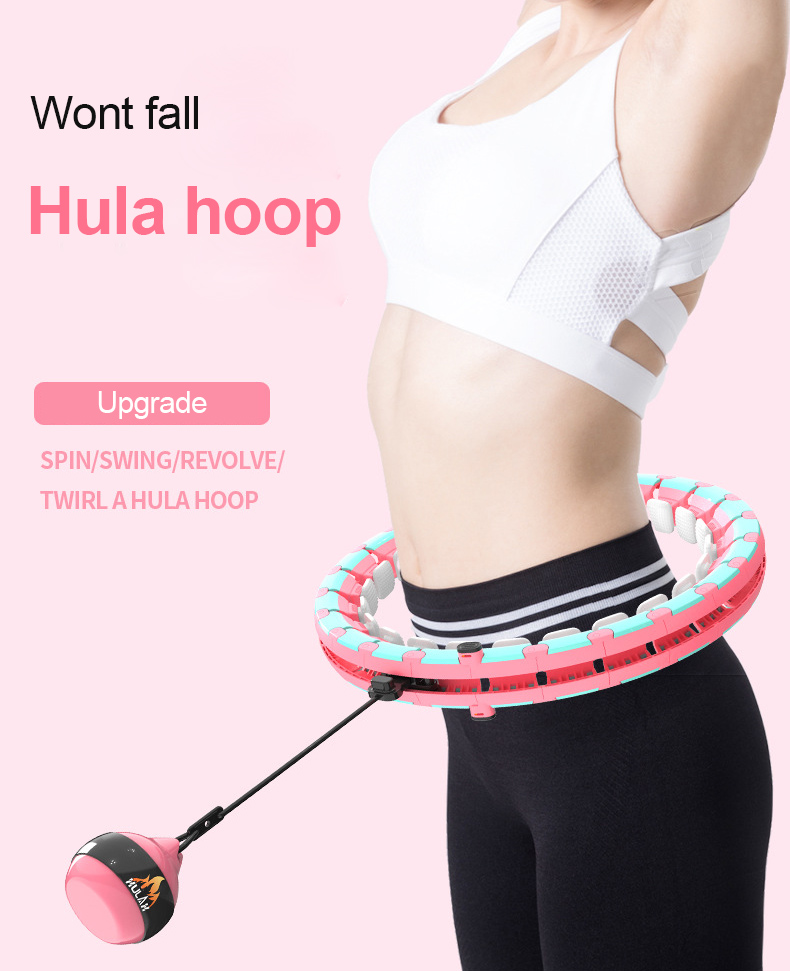 Durable material
The HeriTone is made from environmentally friendly ABS material which equates to higher strength, better fatigue resistance. Weight adjustable ball design. Depending on your ability to resist, the weight of the ball can be added or reduced. You can use hula hoops day by day to exercise and reduce belly fat. It does not take much energy and time. Suitable for men, women, old and young.
Free your hands
You can burn calories handsfree! With this feature, you can still use the phone, do some simple chores, and move your hand freely — even when working out! It's a major convenience!


Efficiency
This hula hoop plays a very important role in daily training. It is suitable for mothers after childbirth (increasing belly strength), students (increase stamina) and white-collar workers (to relieve fatigue and relieve meridians). Through continuous training, it also provices functions of massaging the waist and abdomen, reducing weight, cleaning the intestines and supporting digestion. Combined with aerobic exercise, it can tighten the stomach quickly. You can also shape and tone beautiful arms and legs.