Description
Do you want to lose weight but you hate the idea of doing exhausting cardio activities? Do you want an easy weight loss tool that is low maintenance and easy to use? Look no further – you can stay healthy and keep fit with the FiniteSleek weighted hula hoops!
Our FiniteSleek Weighted Hula Hoops is the ultimate fitness tool. It will change your body by burning calories, enhancing metabolism and strengthening the coreWeighted Hula Hoops does not require a lot of space, and can maximize exercise benefits.

FEATURES
2 In 1 Fitness And Massage:These Weighted Hula Hoops can not only quickly burn body fat, but also help achieve an ideal figure. They can also massage your waist to help you relax. One product, two functions: side movement, side massage.
All-round Thin 360 Degree Body: The Weighted Hula Hoops burn fat three times faster than a normal hoop. If you do 30 minutes, five times a week, you can burn 800 calories. Beautiful waist pulls into the stomach / thin leg beautiful leg / slim arm / tight hips, it is a good partner for a thin body.
Easy To Use:Compared to conventional hoops, this intelligent hoop does not fall off and solves the problem that beginners cannot use it.
Free Adjustment Of Multiple Parts:There are multiple smart hoops with magnetic buckles, which can be combined at will to suit your waist. The whole family can use it-suitable for fatter/slim waist.
Applicable People:Suitable for people who need to lose weight / belly fat / mums after birth / office workers / students. Removable, easy to carry, exercise anytime and anywhere, without being subject to the restrictions of where you are.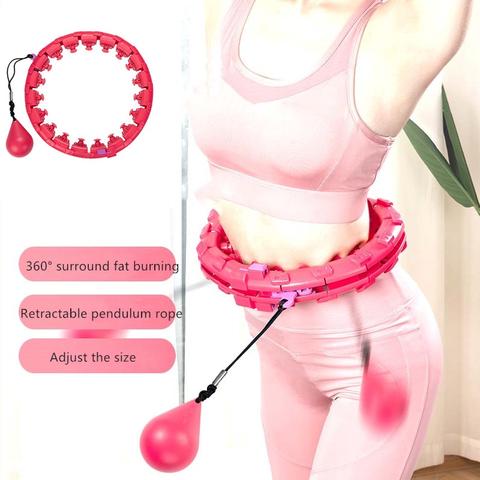 SPECIFICATIONS
Material:ABS
Color:Indicates As Shown
Size:Waist Up To 42 Inches
Package:1*Weighted Hula Hoops

Knot Quantity:24 detachable knots
NOTES
You should maintain a steady movement when using the Hu-la-Hoop, don't spin too quickly. Your body should be relaxed, your feet should not have to be too stiff.  You can also walk around from time to time to avoid muscle and joint fatigue from long repetitive training.
Since Hu-la Hoop is an aerobic exercise that consumes calories, it is recommended to use it for more than 30 minutes for better weight loss effect. Smart Adjustable Size Detachable Fitness Ring With Massage Nut For Weight Loss.