Accurately Count Your Steps—Simple and Convenient
Want to know how well you're doing with your daily steps requirement? Here's a convenient device to accurately count your daily steps without the distraction of other apps—the ExeSteps Pedometer.
The ExeSteps Pedometer is focused on tracking your walking activities so that you can stay on top of your fitness routine all the time. With its top-notch tracking sensor and 10 steps error correction, there's nothing better than the ExeSteps as your walking buddy.
Here's Why ExeSteps is For You!
【 𝐒𝐈𝐌𝐏𝐋𝐄 𝐀𝐍𝐃 𝐏𝐑𝐀𝐂𝐓𝐈𝐂𝐀𝐋 】 The ExeSteps Pedometer is a NO SETUP, clip-on attach pedometer that is solely designed to count your steps. The interface only comes with a RESET button on the top corner to help you restart tracking conveniently. Its CONCISENESS is suitable for people who want to track steps without redundant settings and applications. This simplest step tracker can fully meet your needs and help you stay fit and healthy.
【 𝐓𝐑𝐀𝐂𝐊 𝐘𝐎𝐔𝐑 𝐃𝐀𝐈𝐋𝐘 𝐒𝐓𝐄𝐏𝐒 】 With ExeSteps' impressive tracking sensor, it can help you determine your total steps per day at a glance and understand the progress of your fitness goal easily. What's more scientific, it ignores the steps less than 10, until you have walked 10 steps in a row and go on. (10 STEPS ERROR CORRECTION). It can count up to 99,999.
【 𝐋𝐀𝐑𝐆𝐄 𝐃𝐈𝐒𝐏𝐋𝐀𝐘 𝐀𝐍𝐃 𝐋𝐀𝐑𝐆𝐄 𝐍𝐔𝐌𝐁𝐄𝐑 】 With a large display, the large numbers on the step counter for walking are clear at a glance, which is very friendly for seniors and people with myopia.
【 𝐄𝐀𝐒𝐘 𝐓𝐎 𝐂𝐀𝐑𝐑𝐘 】 Lightweight and compact size, 26.3g only, easy to PUT IN pockets or bags directly. POCKET CLIP included – easy to clip on the waistband, belt, etc. LANYARD included – attach the lanyard and wear it on the neck.
【 𝐀𝐔𝐓𝐎 𝐒𝐋𝐄𝐄𝐏 𝐀𝐍𝐃 𝐏𝐎𝐖𝐄𝐑 𝐒𝐀𝐕𝐈𝐍𝐆 】 CR-2032 Button battery included step trackers for women and men can be used directly from the package. Pedometers for steps clip-on for seniors ​auto sleeps when you are not moving, and auto wakes and counts steps when you start moving again. Enjoy Great Battery Life.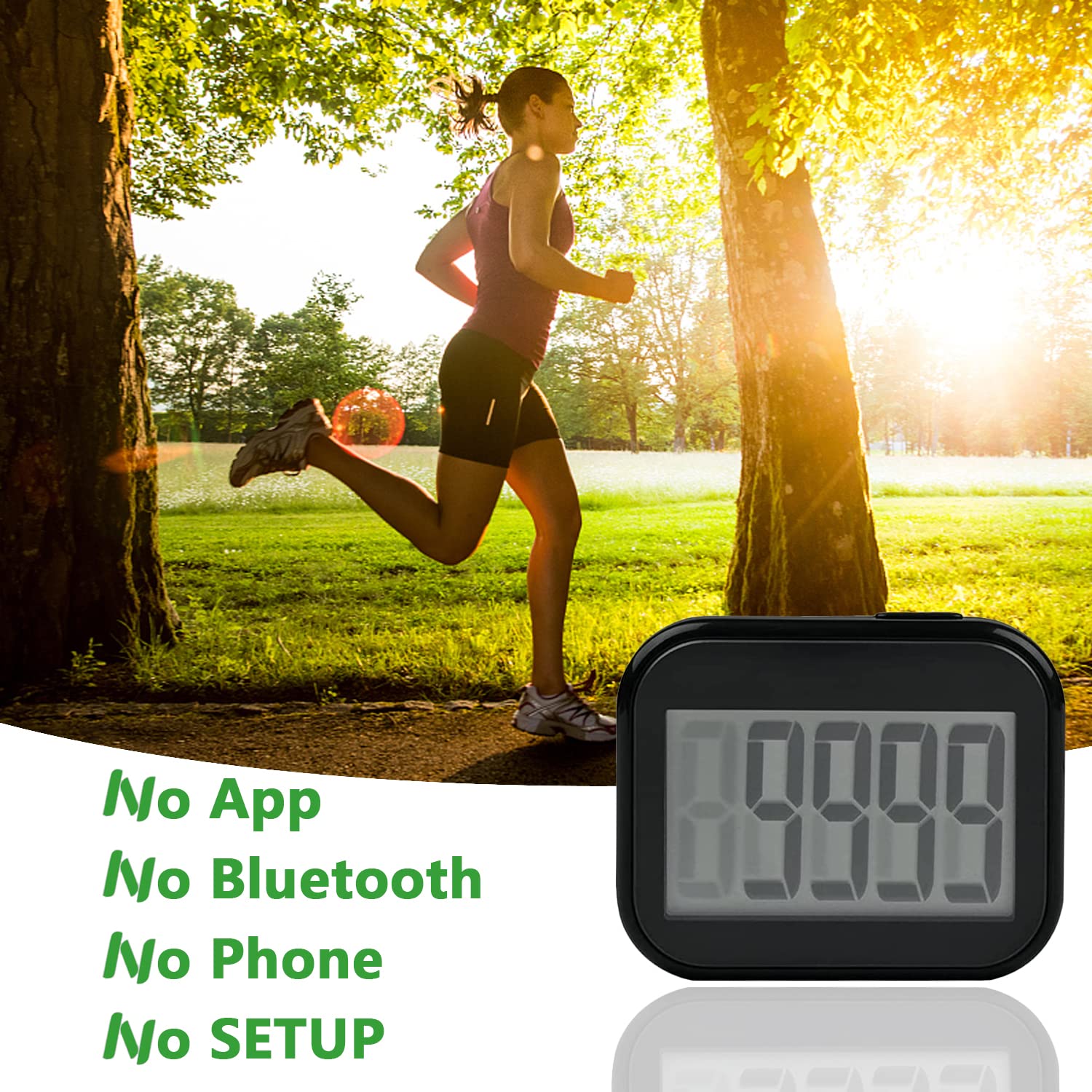 3D Silent Accelerometer Sensor
Using the latest 3D Tri-Axis Sensor Technology to measure your steps when carried in any position accurately.
Track Your Steps Accurately
Record your Daily Steps, 10-step detection; once you have walked 10 consecutive steps, the step counter will begin counting 11, 12, 13…
Easy to Use
No Bluetooth, downloads, or smartphone connections are required. Take it out and start using it.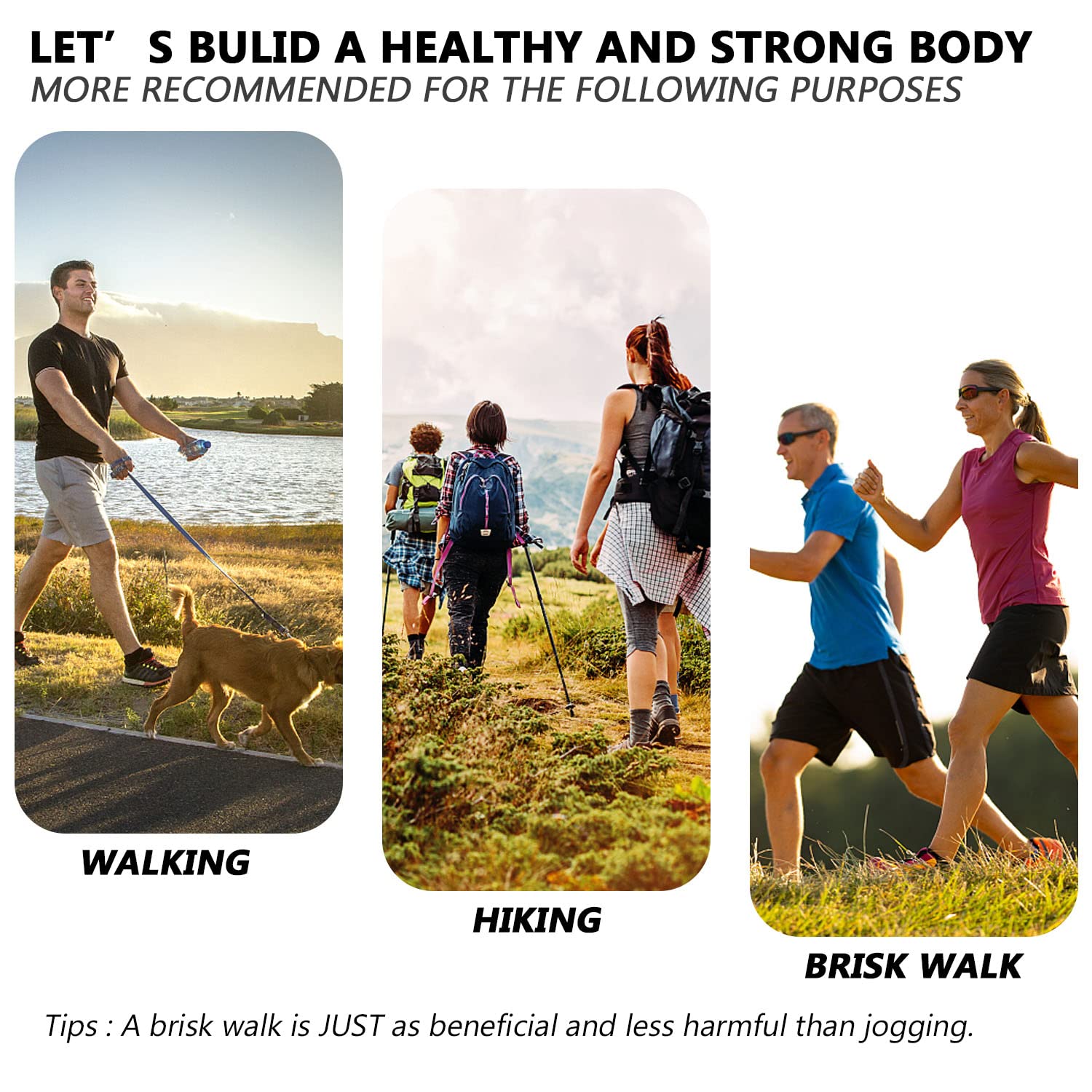 Large Display
With a full-screen display, you can clearly and easily read the numbers at a glance. You also can view your steps change while walking.
CR-2032 Battery
Standby mode to conserve battery power when not in use. Included CR2032 battery can last up to 6-12 months.
Large RESET Button
Hold press the button on the back for 5 seconds to get the step to zero and start walking.
Removable Clip and Lanyard
Multiple wearing options. Clip to the waist, wear around the neck on a lanyard or place inside pocket or bag.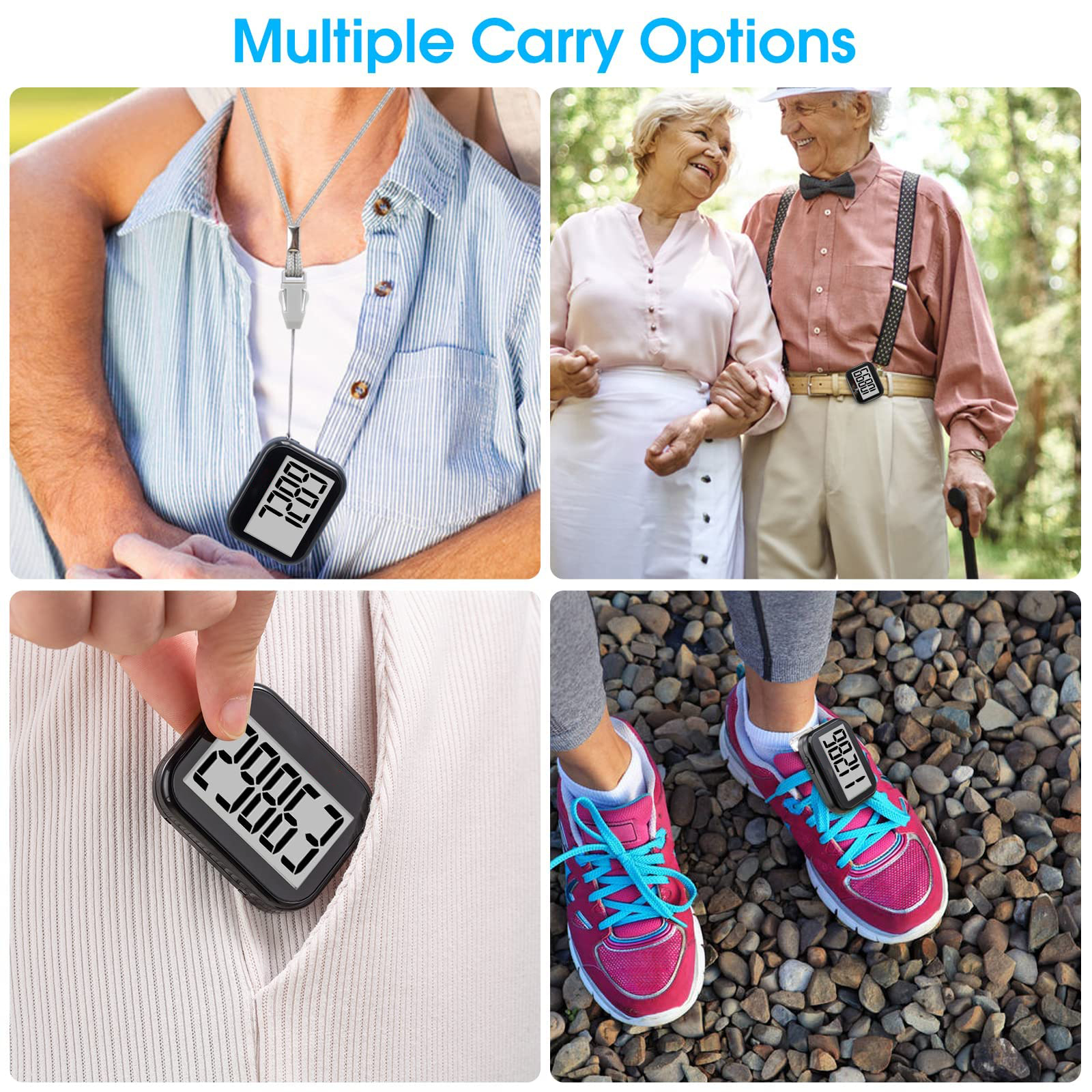 Please Note:
The pedometer may not count steps correctly in the following conditions
Light walking, wearing slippers, up and down slopes.
Riding on transport such as buses, trains, and cars.
In addition to walking up and down, repeated standing, sitting, and other irregular movements.
Getting Started / First Use
If first-time use / the LCDs abnormal characters / the screen freezes / the pedometer doesn't count, please pull and remove the battery and reinsert the battery back into the pedometer again.

What You Will Get:
1 X Pedometer
1 x Amovable Clip
1 x Neck Lanyard
1 x Product Manual