Are camping showers necessary?
Can you imagine yourself being under the heat of the sun, setting up your tents while feeling the stickiness of your sweat? We bet that you're looking forward to a clean and quick bath after the rigorous work you've done. But what if you find out that there is no accessible water on the site? It would be so disappointing, right? To avoid these scenarios that may ruin your camping adventures, we recommend that you get Coolbie Shower Bag and have ever-ready access to clean wherever you are!
Made from high-quality rubber cloth material Coolbie can hold up to 5 gallons of water without any wastage. Powered with solar, you don't need any electricity to enjoy a warm and relaxing bath. Lastly, it is easily inflated and deflates for easy storage. So, what are you waiting for? Stop having second thoughts and get Coolbie to enjoy your camping activity!
Large Outdoor Camping Solar Shower Pump
Get squeaky clean after a long day of outdoor camping activities by taking a relaxing shower under our handy camping shower. Our portable camping shower absorbs heat from the sun to warm up the shower water, providing you with a pleasant bathing experience.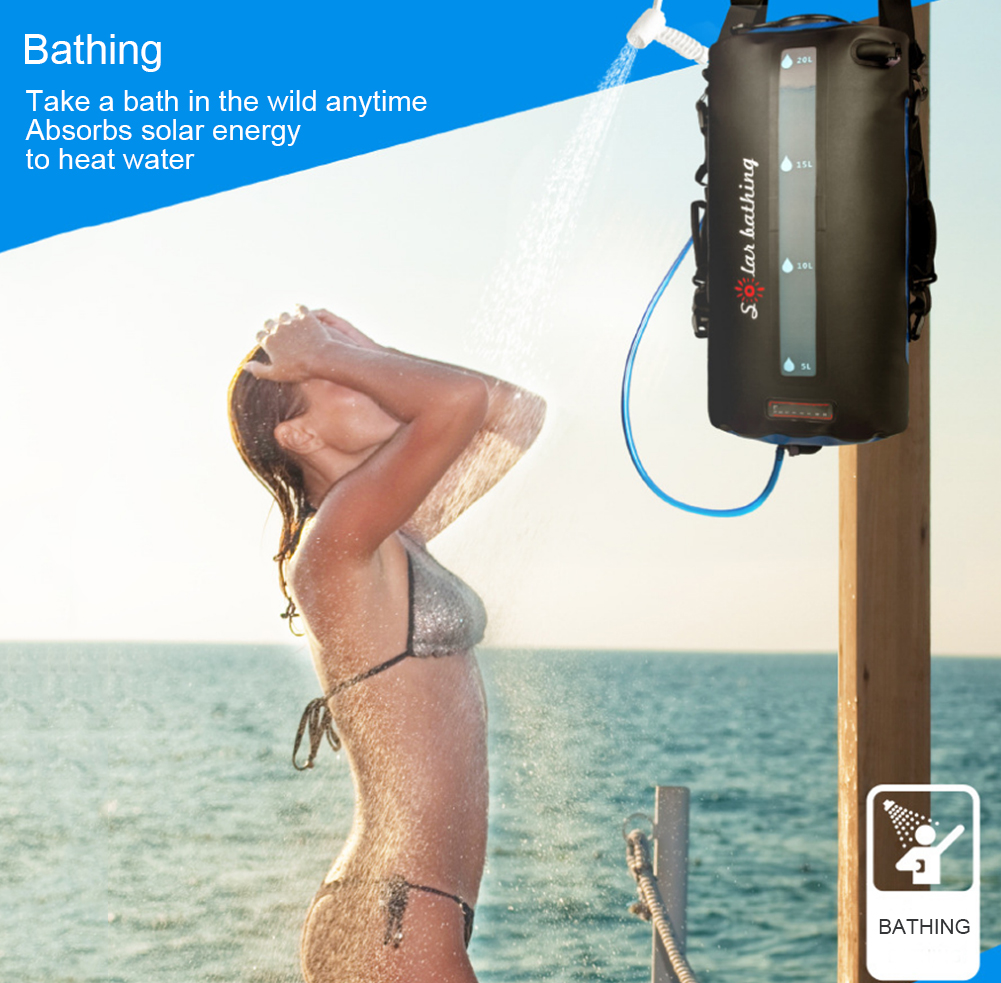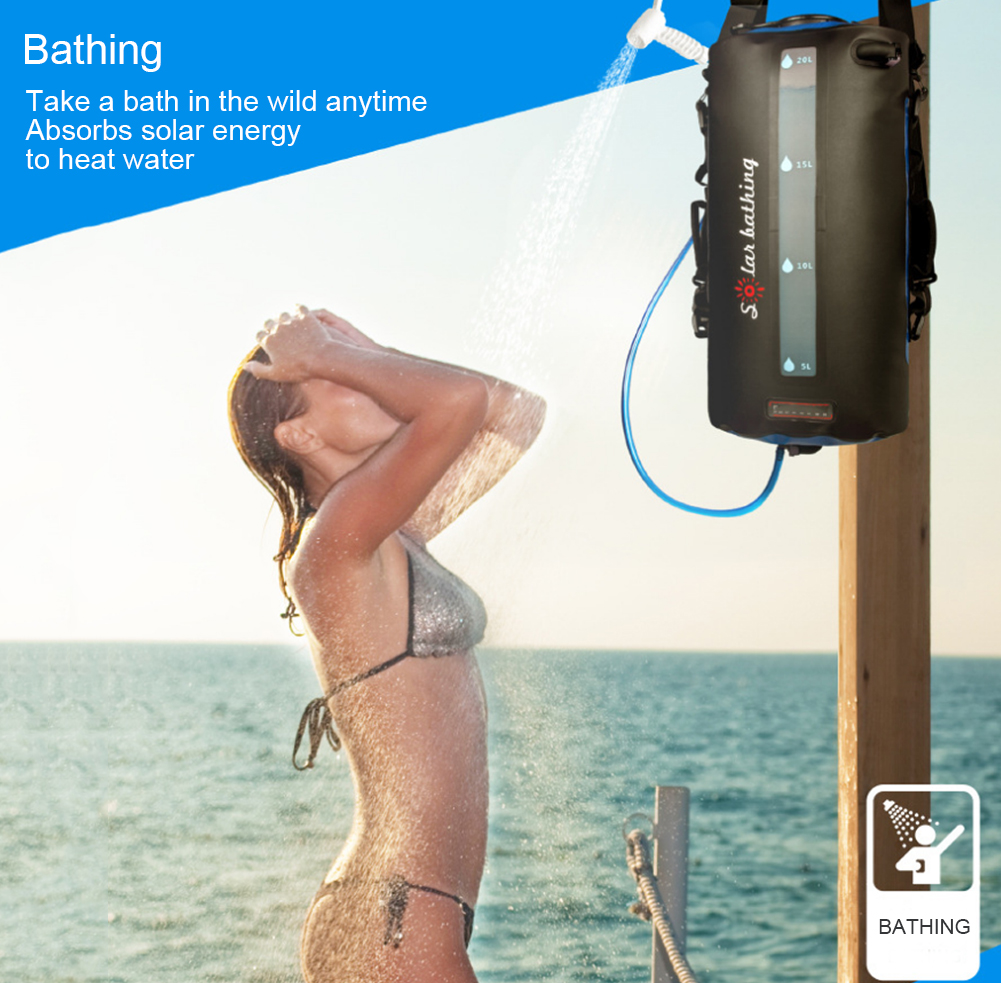 Not only that but it was designed with five gallons worth of water storage space. This much storage space ensures that you have cleansing showers regardless of where you are.
Included with the shower bag is an upgraded pump that helps you effortlessly inflate the solar shower bag quickly. It also comes with a lengthy shower hose and nozzle that makes it easy for you to control the water output when you bathe.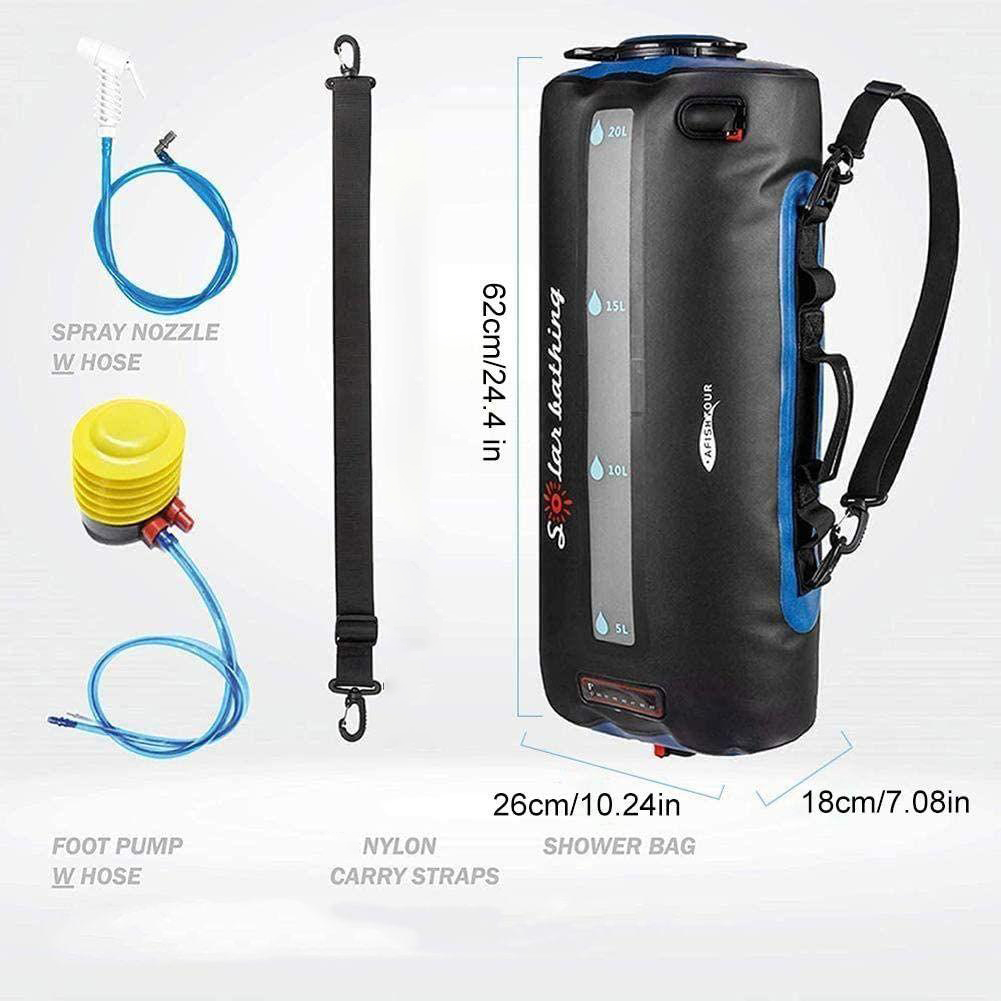 Better yet, the portable outdoor shower is tightly sealed, helping you to conserve water and prevent any wastage. Enjoy a nice, relaxing shower in the wild and stay free from germs with the help of our handy camping shower.
FEATURES
LARGE STORAGE – The portable camping shower is capable of storing up to five gallons of water comfortably without leaking or breaking. Plus, the outdoor camping shower inflates and deflates as needed, making it easy to store.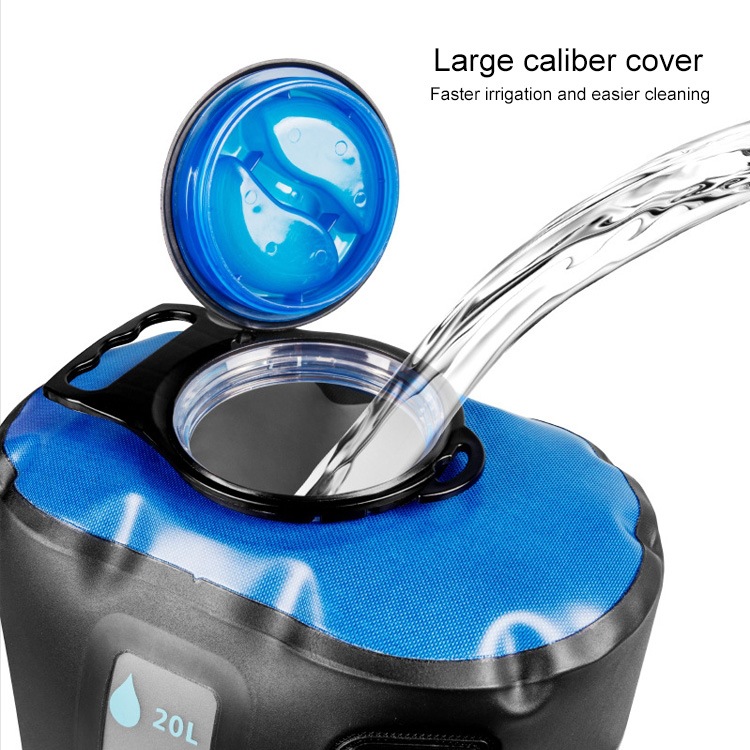 PORTABLE – Despite its large capacity, the shower bag can be flattened and folded up for easier storage.  This camping shower bag is also extremely easy to carry around regardless of whether it's filled up with water.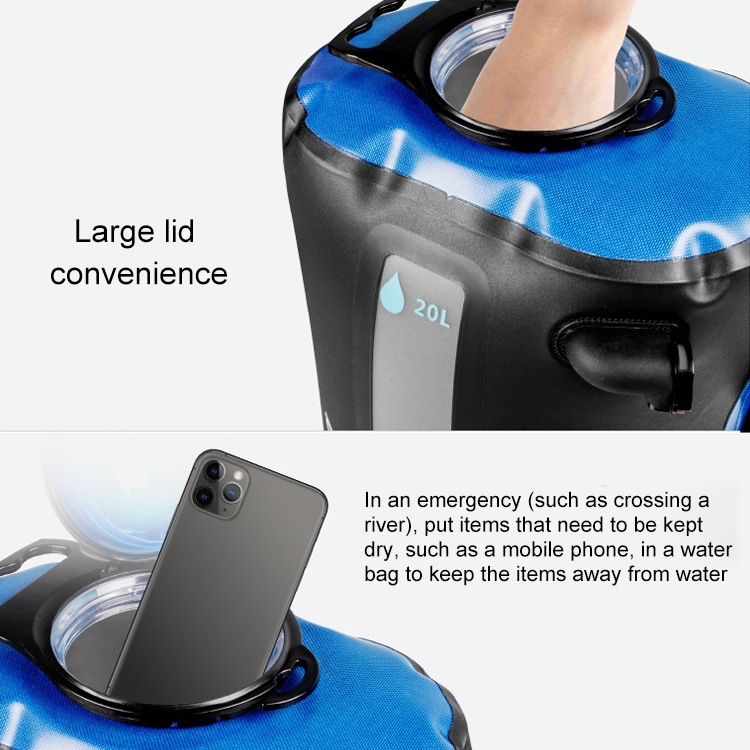 EASY TO USE – There is no type of external device or attachment required to get the flow of the water from the solar shower bag started. All that you need to do is to fill up Coolbie with water, hang it on an anchor point, release water through the showerhead, and enjoy a relaxing shower.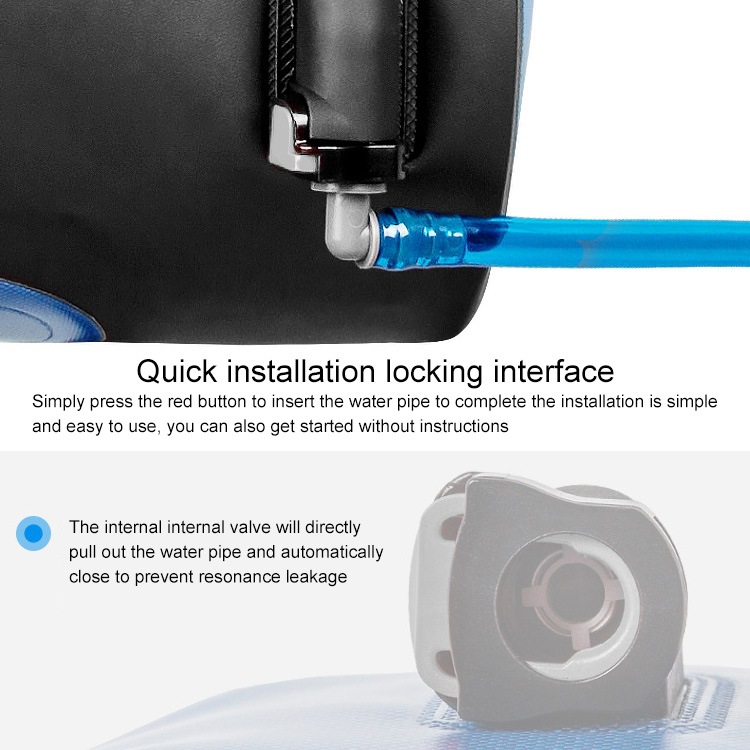 SPECIFICATIONS
Material: PVC, Rubber Cloth
Water Pipe Length: 35.43 in
Size(LxWxH): About 24.4 x 10.24 x 7.08 in
Capacity: About 5 gallons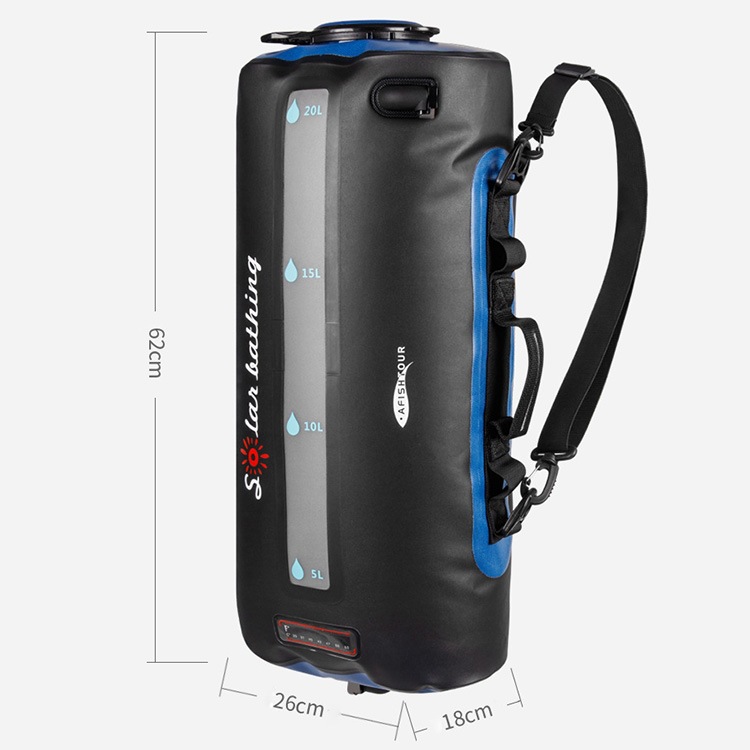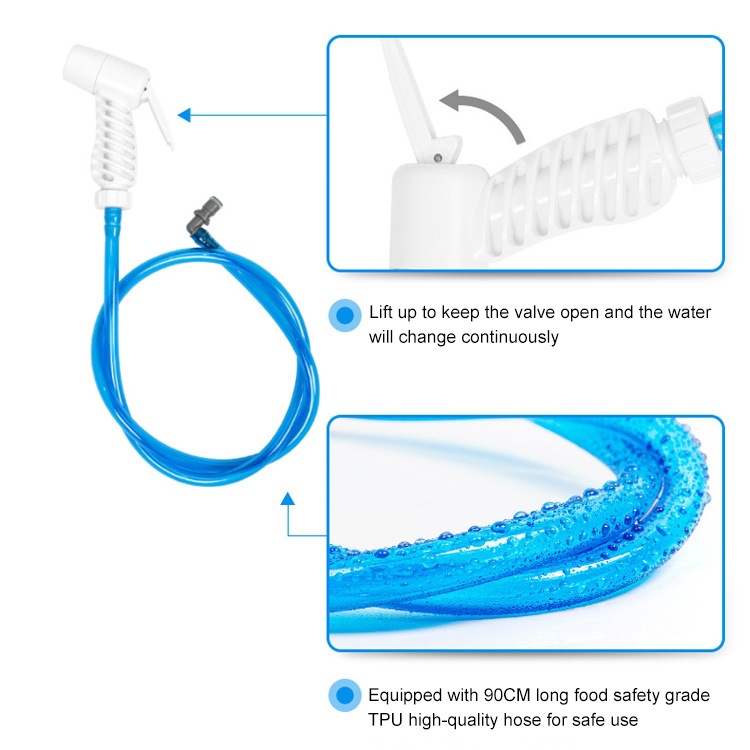 PACKAGE CONTENT
1x Camping Shower
1x Detachable Shoulder Strap
1x Shower Hose with Nozzle
1x Upgraded Foot-type Air Pump