BeTempo Bone Conduction Earpiece  (ideal for those who had hearing deficiency, need hearing aids and for runner or cyclist)
Imagine being able to experience sound through the vibrations in the bones of your jaw and cheeks. The sound waves bypass both the outer and middle ear, but their stimulating effects go directly to your inner ear using your bones as a conductive current.
The entire process might sound a little bit too sci-fi to be a reality, but the technology has been around for over a decade. BeTempo  Bone Conduction Earpiece are widely used by individuals suffering hearing loss, during scuba diving, as an essential form of military communications, and while performing certain sports such as running and cycling. Thus, it's ideal for those who had hearing deficiency and those who are using hearing aids. Besides, since these don't seal around or even touch the ear canal, they allow you to hear other pedestrians, passing cars, and any other potential hazards.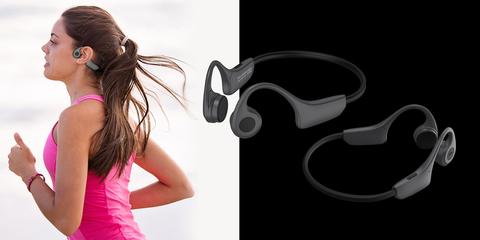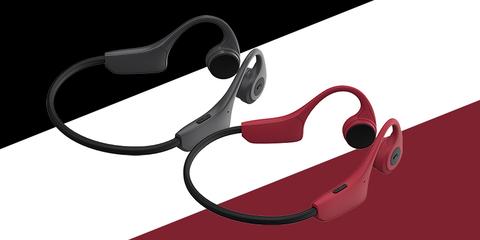 Features
Bone conduction earphones: Transmit sound to the auditory nerve through the bones to protect the eardrum. Comfortable to wear and not easily fall down.
Suitable for those who had hearing loss and needed hearing aids
Ideal for jogger and runner, which still needs to hear other pedestrians, passing cars, and any other potential hazards.
Comes with 8GB Memory: It can work as a MP3 player. Just download your favorite songs and enjoy.
BT 5.0 Connection: Guarantee high data transmission speed, stable connection and low power consumption.
Built-in Noise Reduction Microphone: Noise reduction microphone ensures hands-free call and provides a clear call effect.
IP55 Waterproof and Sweat-proof: Suitable for walking, hiking, running, climbing, skating, driving and more outdoor activities. Not for swimming.

Benefits
Lets you enjoy clearer, crisper sounds. 

Wireless sound device to help you listen to music while on the go. 

Lets you connect to any device easily

Listen to music and sounds without harming your ear. 

Perfect for anyone who needs special assistance when listening to sounds and music.
Product Description :
Model : BeTempo Bone Conduction Earpiece
Size : 135x94x48mm
Weight : 32g
Color : Black/Red
Waterproof : IP55
Product Parameter :
Bluetooth Solution : BT8832
TF Care : Built – in 8G
Operating Frequency : ISM Band 2.402-2.480Ghz
Transmitting power : Class 2(-6dbm-4dbm)
Maximum Output Power : 8mW
Rated Output Power : 5mW
Frequency Response : 80-20kHz
S/N : 90dB
Audio Amp Type : Digital Amplifier
Antenna
By Distance : 10M
BT-ANT : Built-In, Ceramic Antenna, 2.45g Antenna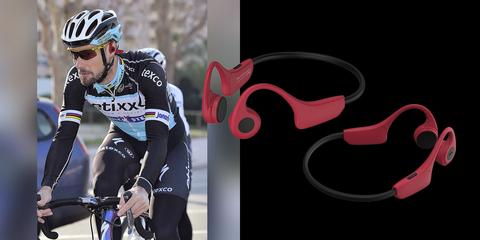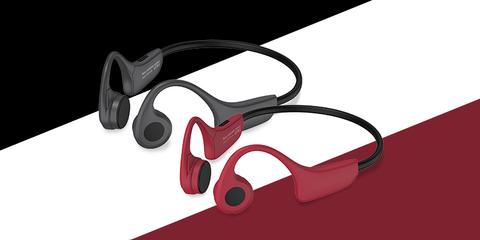 Connector
Physical Keys : Three Keys
Supported Bluetooth Profile : A2DP AVRCP AVCTP ACTP HFP HID
Bluetooth Version : BT V5.0
Electroacoustic
MIC : -42dB ±3dB
Speaker : Vibration Speaker
Power
Battery : Capacity 180mAh
Voltage : 3.7V
Music Time : Maximun Volume About 5 Hours, Cell Phone Volume Down 3 Bar About 6 Hours.
Charging Input : DC-5V 1.1mA
Socket
USB : Type C USB 2 Core Pure Copper Core / Length 60mm / Black / 5V / 1A Current Charging
Structural Parameter
Cover
Top Cover : PC + ABS
Bottom Cover : PC + ABS
Speaker Cover : Skin – Friendly Silicone
Headband
Steel : Nickel – Titanium Alloy Steel Wire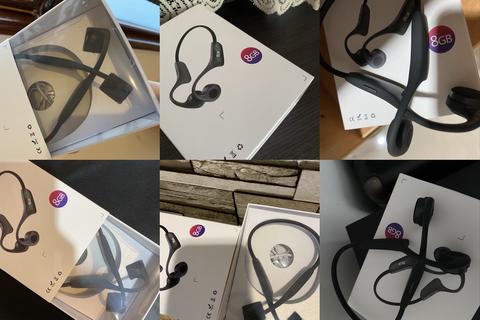 Our Customers :
Kenny G. – Los Angeles

"I've been using these pretty consistently for a couple of days now. I haven't had to charge them yet, which may be partially due to the fact that I listen at a lower volume, which uses less energy. So far the fit is great. "
Sam R – Toronto 

" Sound Quality: I really like the sound quality. You don't get thumping bass (more of a tap) and there are definitely some frequencies that struggle, but the overall experience is brilliant once you are used to it. "
Sebastian F. – Los Angeles 

" In conclusion, if you have an open mind and love to listen to music and podcasts, I cannot recommend these enough. If you ride a bike or run, this is a clear no-brainer. "