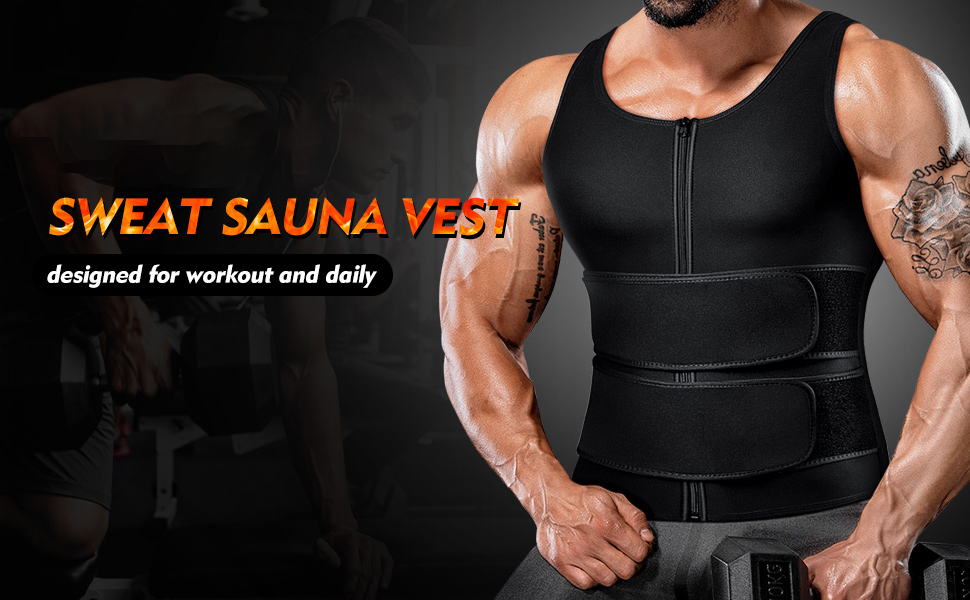 Hey there, fitness aficionados and transformation enthusiasts! Picture this: You're gearing up for a workout session, and you're about to slip into a piece of gear that not only amplifies your sweat game but also has you strutting with the kind of posture that screams confidence. Yes, we're talking about a waist trainer, but not just any waist trainer. Meet the WaistWarrior Men's Waist Trainer Sauna Vest, the ultimate wingman in your fitness journey, ready to back you up as you carve out that dream physique. Trust us, this isn't your grandma's corset; it's the modern-day armor for the contemporary warrior, ready to conquer the fitness battlefield!
Now, we know what you're thinking. "A waist trainer? Really?" But hear us out. Imagine stepping into the gym, your living room, or wherever your workout sanctuary is, wearing a waist trainer that feels like a second skin. It's like having a personal trainer, a cheerleader, and a best friend all rolled into one, constantly pushing you to shed those extra inches and ooze confidence with every step. The WaistWarrior is not just a piece of clothing; it's a statement, a commitment to yourself that you are on a mission to sculpt the best version of yourself.
But wait, there's more! This isn't just about breaking a sweat; it's about doing it in style and comfort. Crafted with a blend of 70% neoprene, 15% polyester, and 15% nylon, this waist trainer is designed to be your comfortable companion in your weight loss journey. With its double waist straps, you have the power to control the level of compression, giving you that much-needed support and a gentle nudge to maintain an upright posture. Plus, it's got a zipper closure that's as steadfast as your resolve to get fit, ensuring everything stays in place as you move, bend, and stretch.
So, gear up, stand tall, and get ready to unleash the warrior within with the WaistWarrior Men's Waist Trainer Sauna Vest. It's not just a purchase; it's an investment in the fiercest version of you. Let's get this fitness party started, shall we?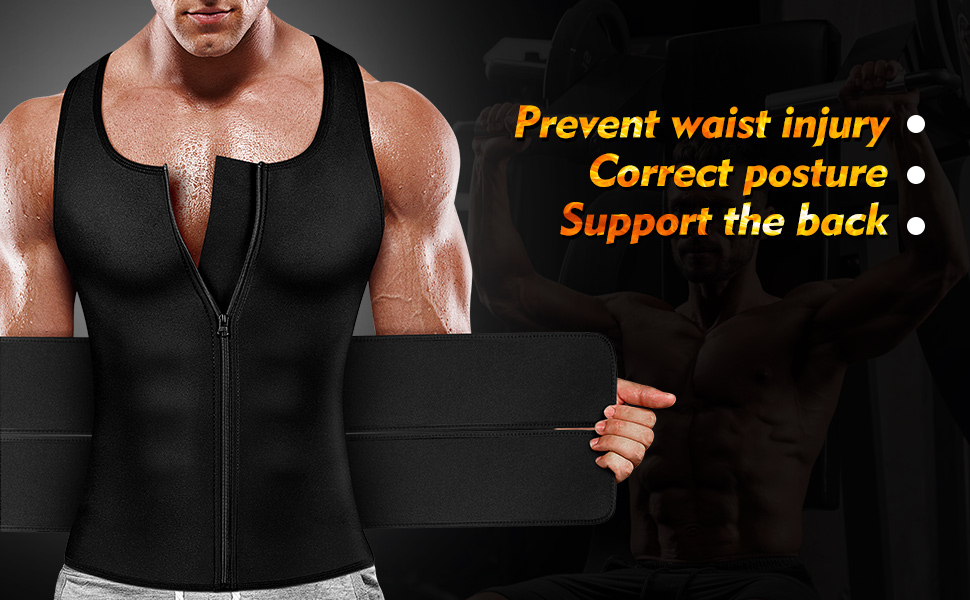 Meet Your New Sweat Buddy!
Oh, you thought you knew what breaking a sweat was? Think again! The WaistWarrior is here to redefine your workout game, making you sweat up to three times more than usual. It's like having a personal sauna wherever you go, helping you shed those extra pounds faster and more efficiently. Get ready to say hello to a more svelte you!
Customized Comfort and Support
Ever wish your workout gear could give you a warm, supportive hug? Well, dream no more! With its double waist straps, this waist trainer offers adjustable compression levels, letting you decide the kind of support you need. It's like having a best friend who knows exactly when to give you a gentle squeeze of encouragement!
A Material That Cares
Let's face it, nobody wants to be stuck in uncomfortable workout gear. That's why the WaistWarrior is crafted with a blend of neoprene, polyester, and nylon, offering a snug yet comfortable fit that moves with you. It's the kind of material that whispers, "I got you, buddy!" as you power through your workout.
Zip, Zap, Zoom!
No fuss, no muss! With its easy-to-use zipper closure, getting into your WaistWarrior is a breeze. It's like the superhero cape of the fitness world, ready to be donned in a flash, so you can zoom off to conquer your fitness goals with gusto!
Posture Perfector
Slouching is so last season! The WaistWarrior not only helps you carve out that dream physique but also encourages you to stand tall and proud. It's like having a personal posture coach with you at all times, nudging you to strut your stuff with confidence and grace.
Size? No Issue!
Whether you're a medium marvel or a 3XL powerhouse, the WaistWarrior has got you covered. Offering a range of sizes to suit every body type, it ensures that everyone gets to join in on the fitness fun. It's inclusivity at its finest, because every warrior deserves to shine!
Care Tips for the Caring Soul
We know you're eager to jump into your new waist trainer, but hold your horses! To ensure a comfortable first encounter, give it a warm soak and a gentle hand wash to remove the neoprene smell. And if you've got sensitive skin, just pop it over a t-shirt to keep those allergies at bay. It's all about loving and caring for your new fitness buddy, right from the get-go!
Versatility is its Middle Name
Gym? Check! Outdoor run? Check! Casual stroll? Check! The WaistWarrior is ready to accompany you wherever your fitness journey takes you. It's like having a versatile workout buddy who's always up for a fitness adventure, making every day a day to look forward to!
Seize the Day, Seize the WaistWarrior!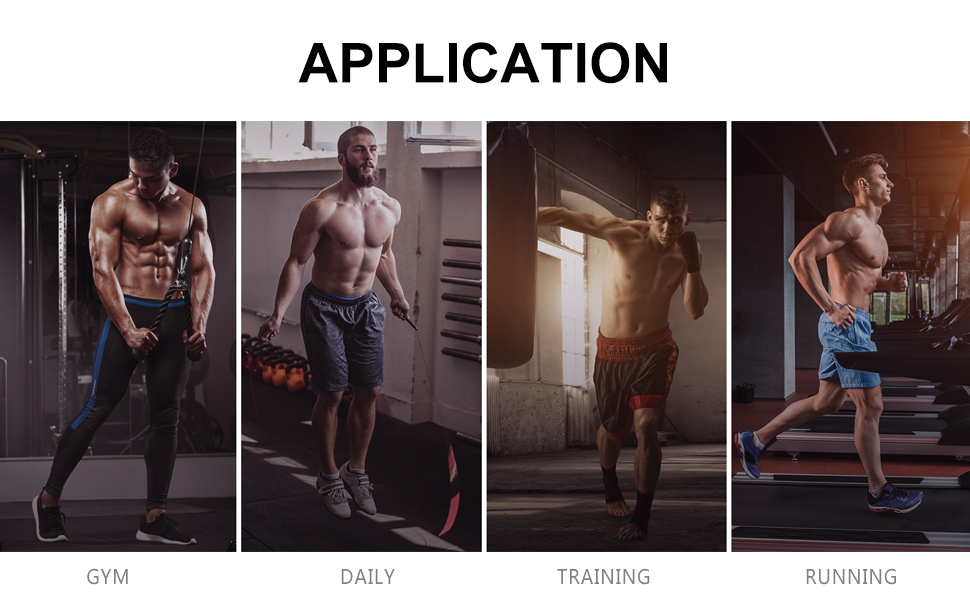 Hey, you! Yes, you, the one with the fiery spirit and the zest for life. We see you, and we know you're ready to take the world by storm. But why not do it with a secret weapon in your arsenal? The WaistWarrior is not just a waist trainer; it's a revolution, a movement, a lifestyle. It's your golden ticket to a world brimming with confidence, poise, and undeniable swagger.
Don't just stand there on the sidelines, watching others seize the day. Step into the limelight with the WaistWarrior, your trusty companion in carving out a path to a healthier, happier, and more fabulous you. But hurry, because this isn't just a waist trainer, it's a phenomenon, and you definitely don't want to miss out. Grab yours now and join the legion of warriors who are transforming their lives, one sweat-drenched workout at a time!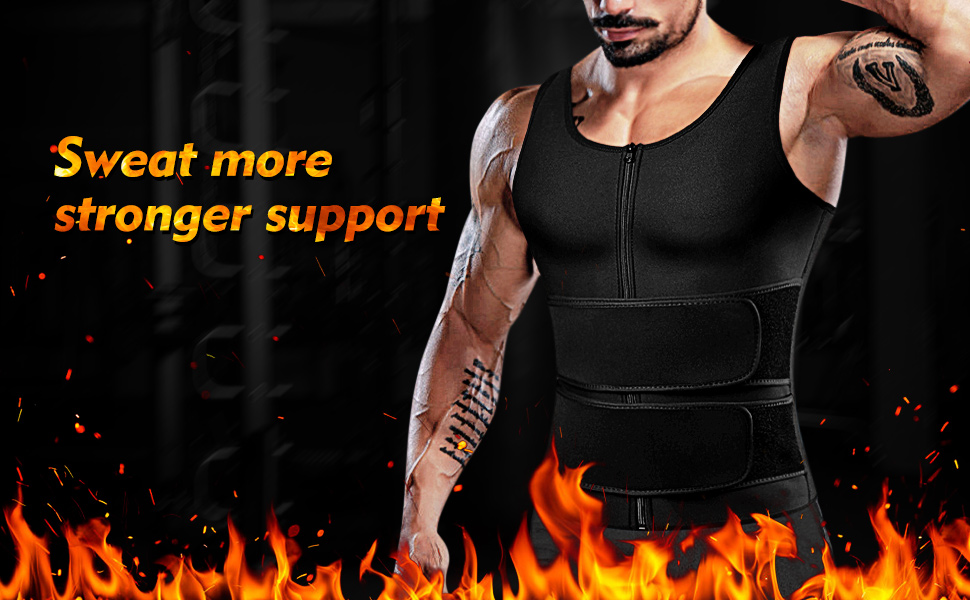 The WaistWarrior Blueprint
Alright, tech enthusiasts, gather 'round because it's time to delve deep into the heart of the beast, the core of the marvel that is the WaistWarrior. Let's strip away the layers and take a peek at what makes this bad boy tick, shall we?
Material Composition: A heavenly trio of 70% neoprene, 15% polyester, and 15% nylon, coming together to create a fabric that's not just comfortable but also durable and ready to withstand the rigors of your workout regimen.
Design Specs: Featuring a scientific design with an insulating layer to ramp up the temperature in the abdominal area, facilitating a quicker and more efficient fat-burning process. It's like having a personal furnace that's always fired up and ready to go!
Closure Mechanism: Boasts a sturdy zipper closure coupled with a closed button to prevent any zipper mishaps, ensuring a snug and secure fit as you move, bend, and stretch. It's all about keeping everything in place, so you can focus on what truly matters – your workout.
Size Range: Offers a diverse range of sizes, from M (32-34 inches) to 3XL (40-42 inches), ensuring that warriors of all shapes and sizes can join in on the fitness revolution. Because at the end of the day, it's all about inclusivity and celebrating every body type.
Care Instructions: Recommends a warm soak and hand wash before the first use to remove the neoprene smell, ensuring a fresh and comfortable start to your WaistWarrior journey. It's all about starting on the right foot, or in this case, the right waist!
So there you have it, folks, the full lowdown on the marvel that is the WaistWarrior. It's not just a product; it's a promise, a commitment to a healthier, happier, and more confident you. So what are you waiting for? Dive in and discover the magic for yourself!