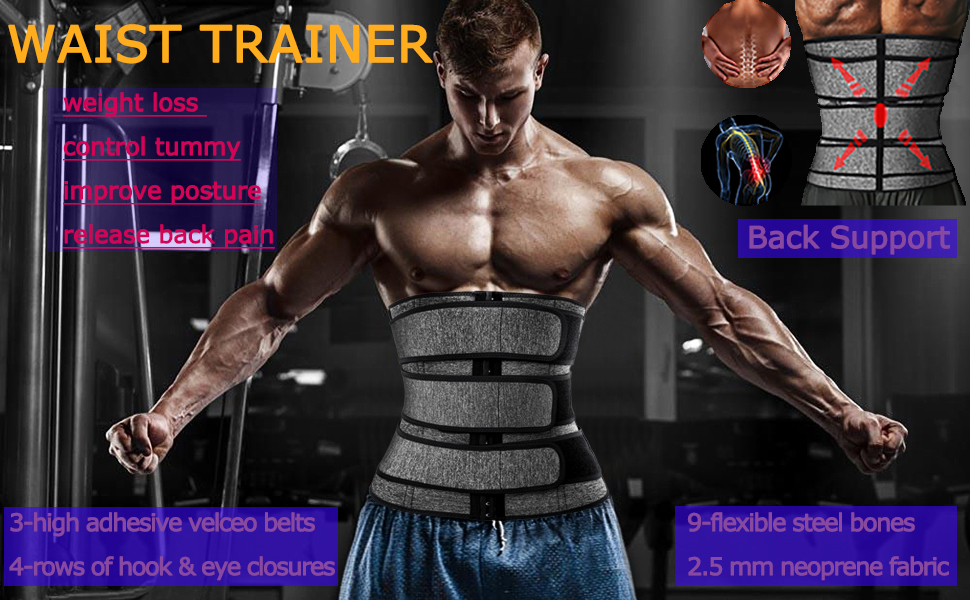 Hey there, fitness aficionado! Picture this: you're about to embark on a transformative journey, one where you morph from a mere mortal to a true titan, a deity of fitness and finesse. And guess what's going to be your secret weapon in this grand adventure? Drumroll, please… It's the TorsoTitan Men's Waist Trainer! Yes, you heard it right. This isn't just a waist trainer; it's your ticket to unlocking a version of yourself that's brimming with confidence, oozing charm, and sporting a physique that could very well have been sculpted by the gods themselves.
Now, we know the road to fitness glory is often paved with sweat, determination, and a sprinkle of tears (let's keep it real, shall we?). But what if we told you that the TorsoTitan is here to sprinkle a bit of magic on that road, to be your steadfast companion, your cheerleader, your confidant as you carve out a path to greatness? Imagine having a buddy that not only encourages you to push your limits but also hugs you in all the right places, giving you that much-needed support and comfort as you sweat it out.
But wait, there's more! The TorsoTitan isn't just about helping you sculpt that dream physique; it's about doing it with a flair that's unmatched. Crafted with advanced sweat technology, it's ready to turn your workout sessions into a symphony of sweat and success, a ballet of burning calories and building confidence. It's not just a waist trainer; it's a revolution, a movement, a lifestyle. So, step into the world of TorsoTitan, where every workout is a step closer to unveiling the titan within you.
Sweat Like a Titan!
Oh, buddy, you won't believe this! The TorsoTitan comes with this mind-blowing advanced sweat technology that literally turns your workout sessions into a calorie-burning fiesta. It's like having a personal sauna that's working overtime to help you carve that Greek god physique!
Hug Your Curves, the Manly Way
You know that comforting hug from a dear friend? That's exactly what the TorsoTitan feels like with its premium material composition. It snuggles around your waist like a gentle embrace, giving you that comforting yet firm support as you power through your workouts. It's like a warm hug, but for your muscles!
Your Body's Best Friend
This isn't just a waist trainer, it's like a tailor-made suit crafted just for your body. Thanks to its ergonomic design, it fits you like a glove, accentuating your natural silhouette and making you look like a million bucks even when you're sweating buckets!
Customize Your Comfort
Guess what? The TorsoTitan lets you be the boss of your own comfort level with its adjustable compression levels. Want it snug? You got it! Prefer a looser fit? No problem! It's like having a waist trainer that listens to you and adapts to your needs.
Stay Cool, Look Hot
Oh, and you won't believe how cool this is – literally! The breathable fabric ensures you stay cool and comfortable even during those intense workout sessions. It's like having a personal breeze that keeps you fresh as you work up a sweat!
Slip In, Work Out
No fuss, no muss! The TorsoTitan is a breeze to wear and remove, letting you jump straight into your workout without any hassle. It's like having a no-nonsense friend who knows you don't have time to waste!
Your All-Terrain Workout Buddy
Whether you're hitting the gym or pounding the pavement, the TorsoTitan is ready to roll. Its versatile usage means it's up for anything, just like your most adventurous friend who's always up for a new challenge!
Stand Tall, Feel Great
And here's the cherry on top: the TorsoTitan is like your personal posture coach, constantly encouraging you to stand tall and proud. Say goodbye to slouching and hello to a confident, upright stance!
A Style Statement
Oh, and did we mention it looks absolutely smashing? The stylish aesthetics mean you're not just working out; you're making a fashion statement. It's like having a personal stylist cheering you on as you sculpt that dream physique!
Easy-Peasy Maintenance
And don't worry about the upkeep; the TorsoTitan is as low-maintenance as they come, allowing for easy care and a long-lasting product life. It's like having a reliable friend who doesn't ask for much but gives you a ton in return!
Unleash the Titan Within!
Hey there, future TorsoTitan! We know you've been eyeing this game-changer of a waist trainer, and guess what? It's high time to take the plunge and step into a world of fitness and finesse that's just brimming with potential. Imagine, just a click away lies the secret to unveiling a more sculpted, more confident, and yes, more titanic version of yourself. But don't just take our word for it, become a part of the TorsoTitan revolution and experience the transformation firsthand!
Now, we wouldn't want you to miss out on the chance to become a part of this exclusive club of fitness enthusiasts who are redefining what it means to work out in style and comfort. The clock is ticking, and the Titans are assembling. So, what are you waiting for? Grab your TorsoTitan Men's Waist Trainer today and step into a realm of fitness where dreams meet reality, where sweat meets style, and where you meet the Titan within. It's now or never, future Titan. Make your move!
The TorsoTitan Tech Tour
Alright, tech enthusiasts and detail lovers, gather 'round because it's time to delve deep into the heart of the marvel that is the TorsoTitan Men's Waist Trainer. Let's strip away the layers and take a peek at what makes this powerhouse tick, shall we?
Material Composition: A premium blend of materials that offer the perfect balance of comfort and durability, ready to withstand the rigors of your workout regimen.
Sweat Technology: Advanced technology that promotes increased sweat production, turning your workout into a calorie-burning extravaganza.
Adjustable Compression: Features adjustable straps that allow for customizable compression levels, giving you targeted support where you need it most.
Ergonomic Design: A design that contours seamlessly to your body, enhancing your natural silhouette and adding a touch of style to your workout ensemble.
Easy Wear Mechanism: A simple yet secure closure system that makes getting into your TorsoTitan a breeze, letting you jump straight into your workout without any fuss.
Versatility: Suitable for a wide range of physical activities, making it a versatile addition to your fitness gear collection.
Posture Support: Provides substantial support to your back and abdominal muscles, encouraging better posture and reducing the risk of strain during workouts.
Size Range: A diverse range of sizes to suit all body types, ensuring that everyone can find their perfect fit and enjoy the benefits of the waist trainer.
Breathable Fabric: Fabric that breathes with you, wicking away moisture and keeping you cool and comfortable even during the most intense workout sessions.
Customer Support and Warranty: Backed by excellent customer support and a warranty that guarantees product quality and customer satisfaction.
So there you have it, folks, the full lowdown on the marvel that is the TorsoTitan Men's Waist Trainer. It's not just a product; it's a promise, a commitment to a healthier, happier, and more confident you. So what are you waiting for? Dive in and discover the magic for yourself!