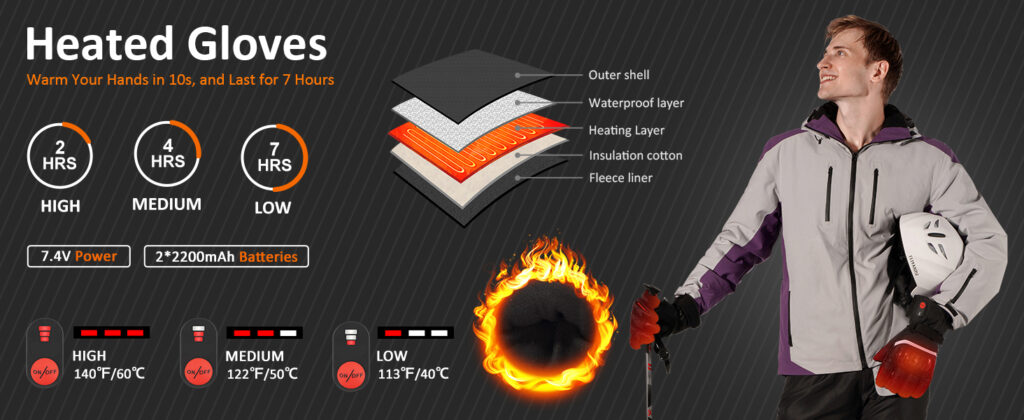 Alright, leather aficionados and chilly-fingered bikers, strap in! Let's talk about a game-changer in the world of motorcycle gloves: the TurboHeat Leather Heated Gloves. These aren't just any mitts; they're the Bruce Wayne of gloves—sleek on the outside, techie on the inside, and always ready for action.
With their genuine sheep leather, you'll feel like you're grasping the reins of luxury itself. And when the mercury drops, those three heat levels are your personal climate control, right at your fingertips. Plus, with that 2200mAh battery keeping the heat going, you could ride to the end of the playlist and back. So whether you're typing out a text or throttling up, these touchscreen-friendly gloves mean you'll never have to miss a beat. Ready to elevate your ride? These gloves are calling your name.
Luxury Meets Functionality
Ever wished your hands could dwell in the lap of luxury while you conquer the road? These gloves are clad in genuine sheep leather, so every time you slip them on, it's like shaking hands with elegance.
Your Personal Hand Heaters
Forget about those feeble hand warmers that last as long as a snowflake in a sauna. With just a press, you summon a wave of warmth that's more reliable than your favorite diner's coffee.
Touch and Go
Swipe, text, and play without ever exposing your fingers to the chill. It's like your gloves got a tech upgrade—now they're as smart as your phone.
Charge, Ride, Repeat
The 2200mAh batteries are the silent heroes here, working overtime so you can keep riding without the 'brrr'.
Guardians of the Hands
With carbon fiber protectors, your knuckles are like mini fortresses, because who said only smartphones need screen protectors?
Laugh in the Face of Puddles
Waterproof? Check. Your hands stay as dry as your humor on a rainy ride.
Quick Heat for the Swift
30 seconds is all it takes to go from cold to "Oh, that's the stuff!"
Style That Protects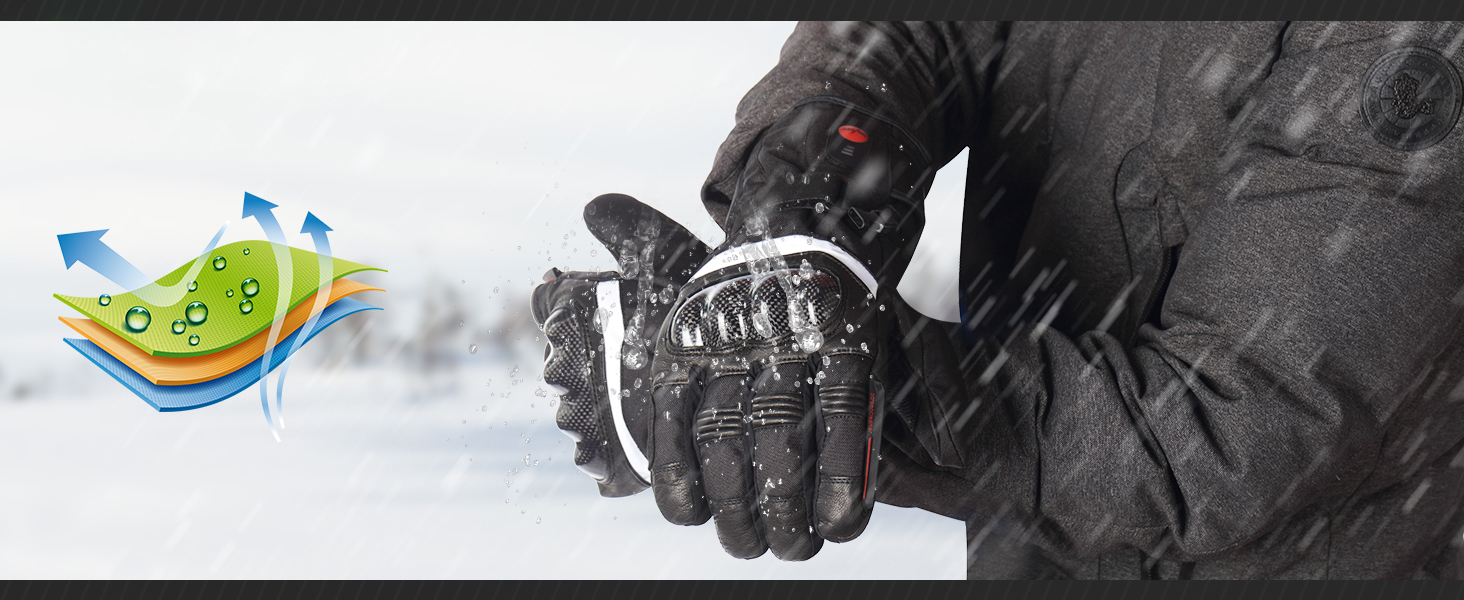 They're not just gloves; they're a statement that says, "I look after my hands."
Machine Wash Friendly
Life's too short for hand-washing—toss 'em in the machine and spend more time riding.
All-Rounder Gloves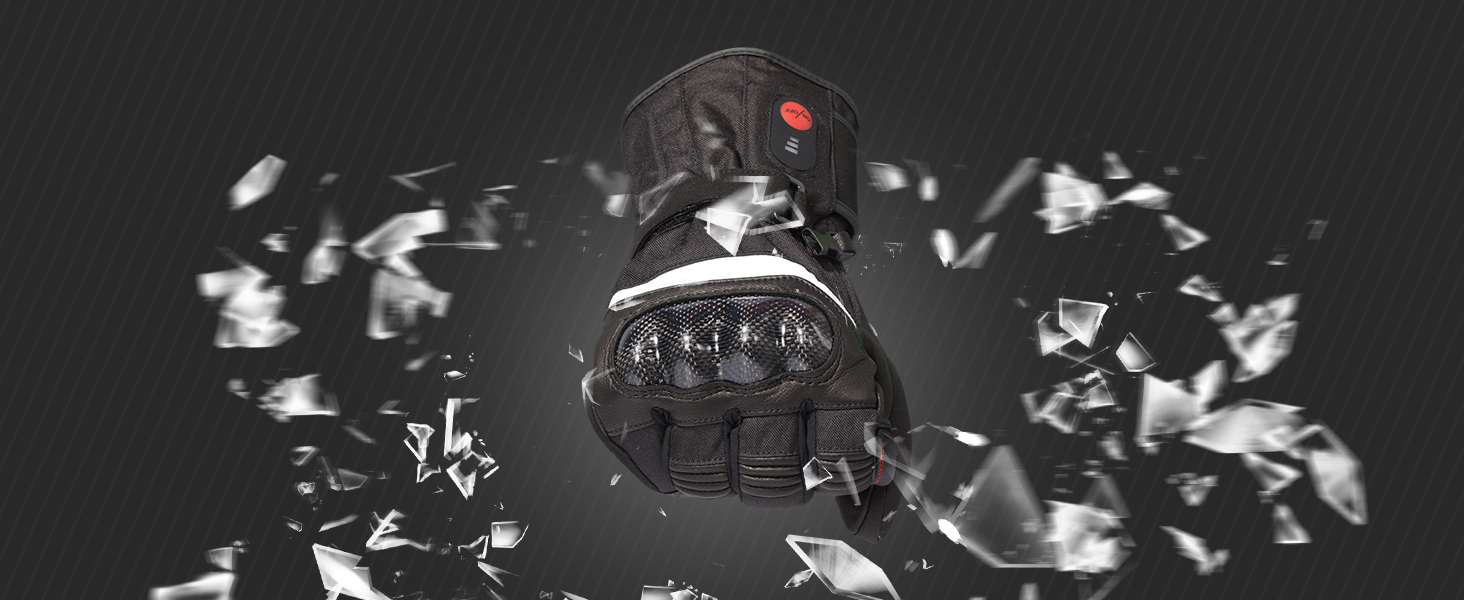 Motorcycling, skiing, or snowball fighting—if it's outdoors, these gloves are in.
Ready-to-Gift Warmth
The gift that whispers, "I care about your hands as much as I care about your texts."
Warm Up to the Idea of Endless Rides
Hey, you. Yes, you—the one who's been eyeing these gloves like they're the last slice of pizza. The time for wishful thinking is over. Imagine your rides with no more numbness, no more shivering at red lights, just pure, blissful warmth. Make that leap from 'maybe' to 'heck yes' and click that 'Add to Cart' button. Because let's face it, with gloves this good, waiting isn't an option. They're selling like hotcakes at a lumberjack convention, and you don't want to be left in the cold, do you?
Tech Talk: The Glove Lowdown
Now, for the enthusiasts who speak fluent tech-spec: these TurboHeat Leather Heated Gloves boast a premium sheep leather exterior, a trio of heat settings to match your body's thermostat, and a robust 2200mAh battery capacity for extended warmth. They come with a dual charger for convenience, are touchscreen compatible (because we're in the 21st century, after all), and feature a waterproof HIPORA layer for those surprise showers. All this with the added bonus of carbon fiber protection—because we're all about that shield life. Ready to upgrade? Your hands are waiting