Optiacal performance Magnification: (3.6-10.8) X 31mm lens
Digital Zoom: 1- 3x
Angle Of View: 9.2°
Objective Aperture: 31mm
Exit Pupil Distance: 30mm
F# for Objective lens: 1.3
 IR Zoom: 2X
5m~∞ in daytime; Viewing in the darkness up to 700M (monochrome)
Video Output 640×360 resolution: TFT , LCD
OSD menu display
 CVBS always output with VGA resolution
 Imager:High-sensitivity CMOS Sensor
 Size:1/2.7"
 Resolution: 1920X1080
 IR LED: 5W Infared 850nm LED
Memory Card: 64GB Micro SD Card(included)
 Hardware Buttons Power:on/off
 Record JPEG file in Micro SD storage
Capture mp4 file in Micro SD storage
Playback media file from micro SD storage(included)
Power External power supply – DC 5V/2A
 8 pcs AA battery: 8-12 V(not included)
Battery life: 10 hours working time with IR off
Low power warning
3 modes (Capture, Video, Playback)
Single frame Image Capture
 Video and image Record
 Playback image and video
Delete image and video
7 level IR switch
 Micro SD card format
 Power save (Off/1 min/ 3min/5 min)
Menu Language: English / Français / Español / Deutsch / Italiano/ Português/Русский
System Rest
Light Freq. 50/60HZ
 RTC setting
 Size: 170mmx150mmx60mm
Weight: 700g/24.7oz

Features
See in Complete Darkness
Night vision binocular utilizes an infrared sensitive cmos sensor, for providing outstanding image quality. Fully multi-coated optics increase light transmission and decrease glare. Never miss an outstanding view even at night!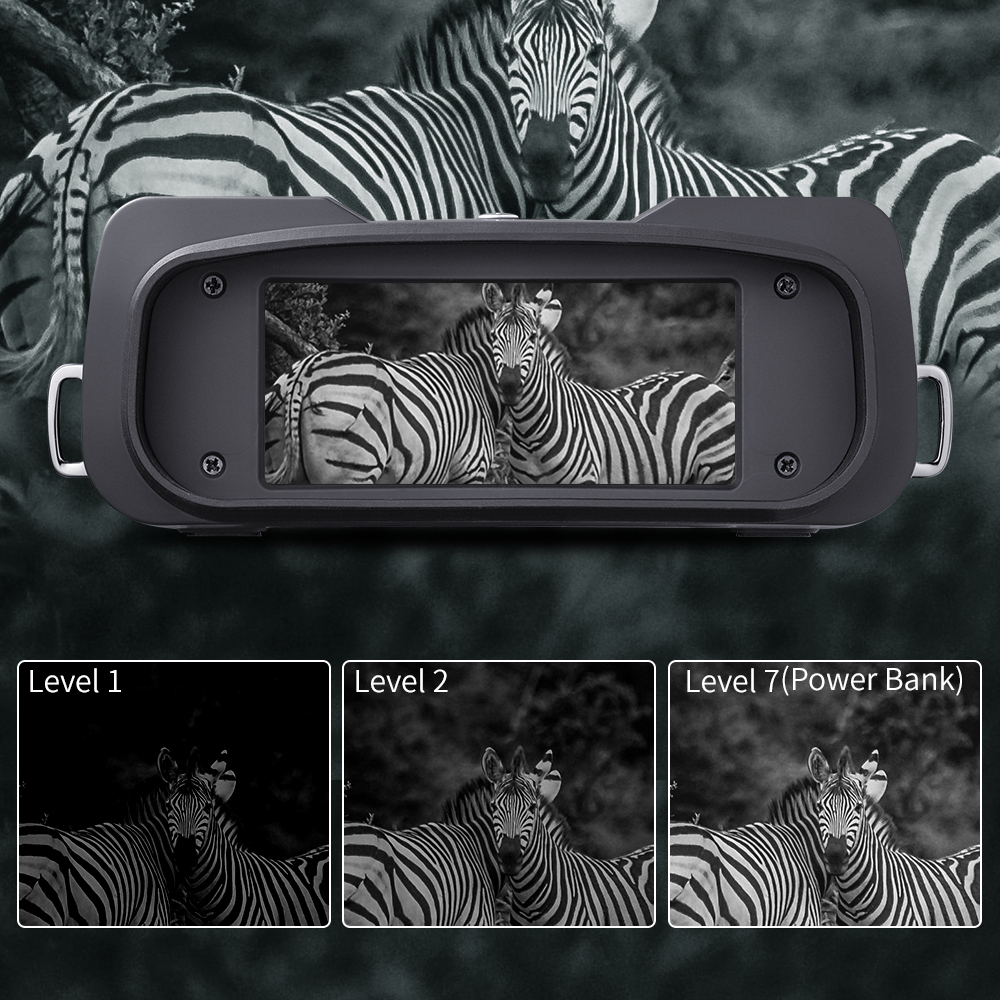 Various Applications
The digital night vision binoculars camera is ideal for adventure geeks who love hunting, camping, exploring, going on adventures, making security surveillance, search and rescue, nighttime navigation, and wildlife observation.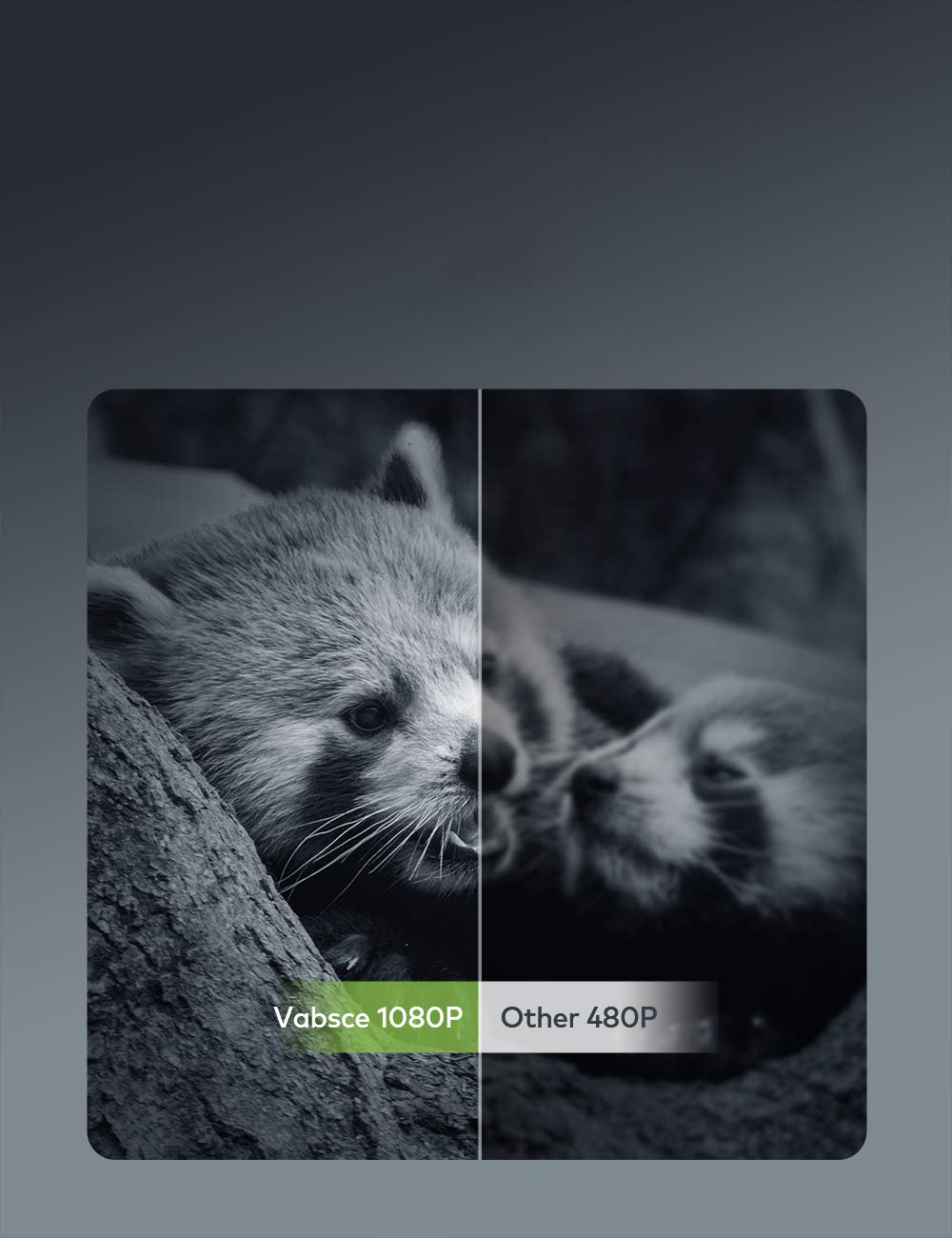 Large 4″ View Screen
Built in 4″ HD lCD display screen: 1920*1080 video, display resolution: 640*360. Can connect to tv and pc.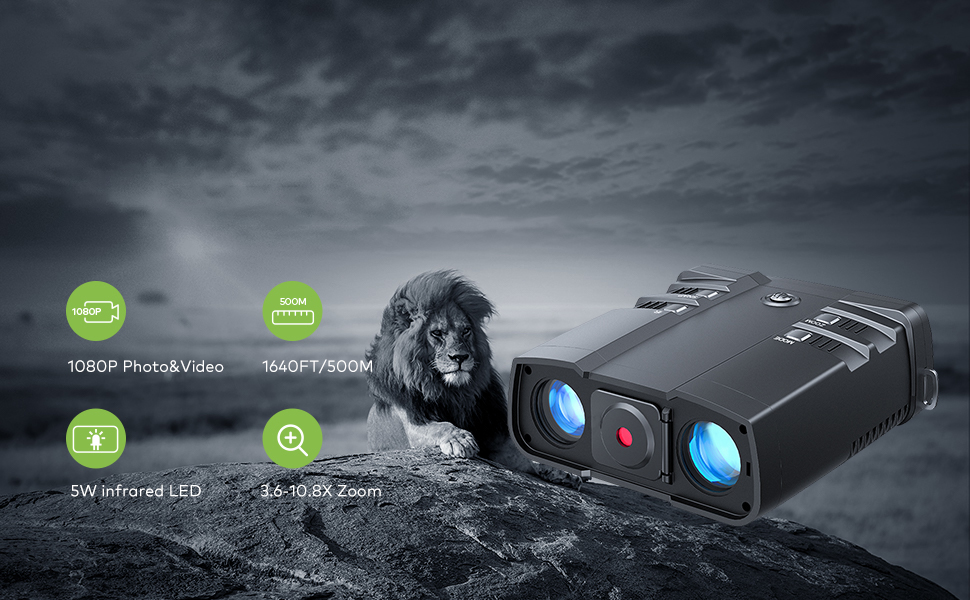 5W/850NM Infrared LED Illuminator
Built-in 5w infrared led 850nm illuminator enable observe targets in the darkness and can range up to 984ft/300m.While connecting with power bank, the range can be up to 700m / 2297ft

7 IR Levels
The higher the IR level, the brighter the night vision effect. When powered by a mobile power supply, the IR can be adjusted up to level 7.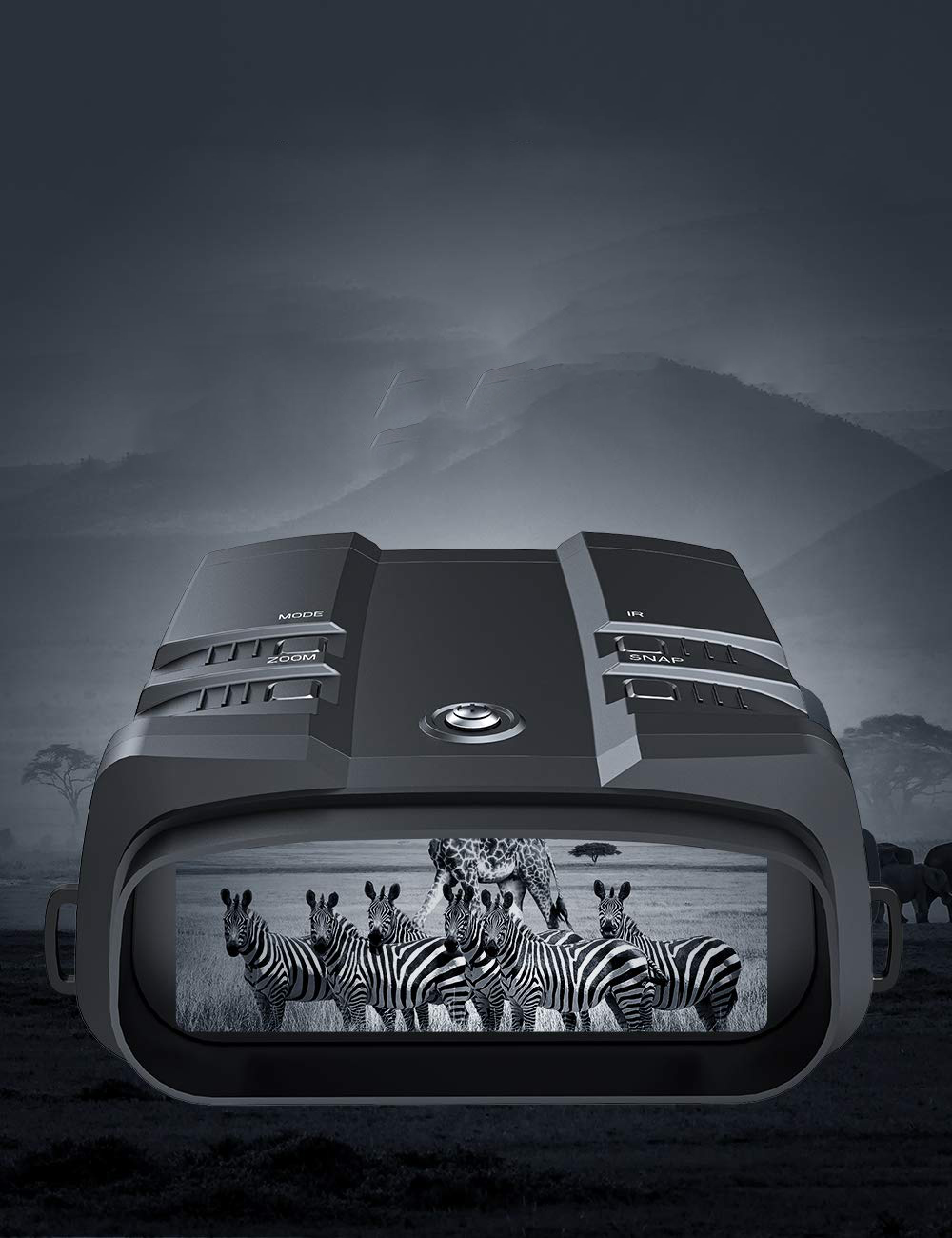 Adjustable Angle of View
Adjust angle of view from 9.2° by a adjustable wheel on the back of this night vision binoculars.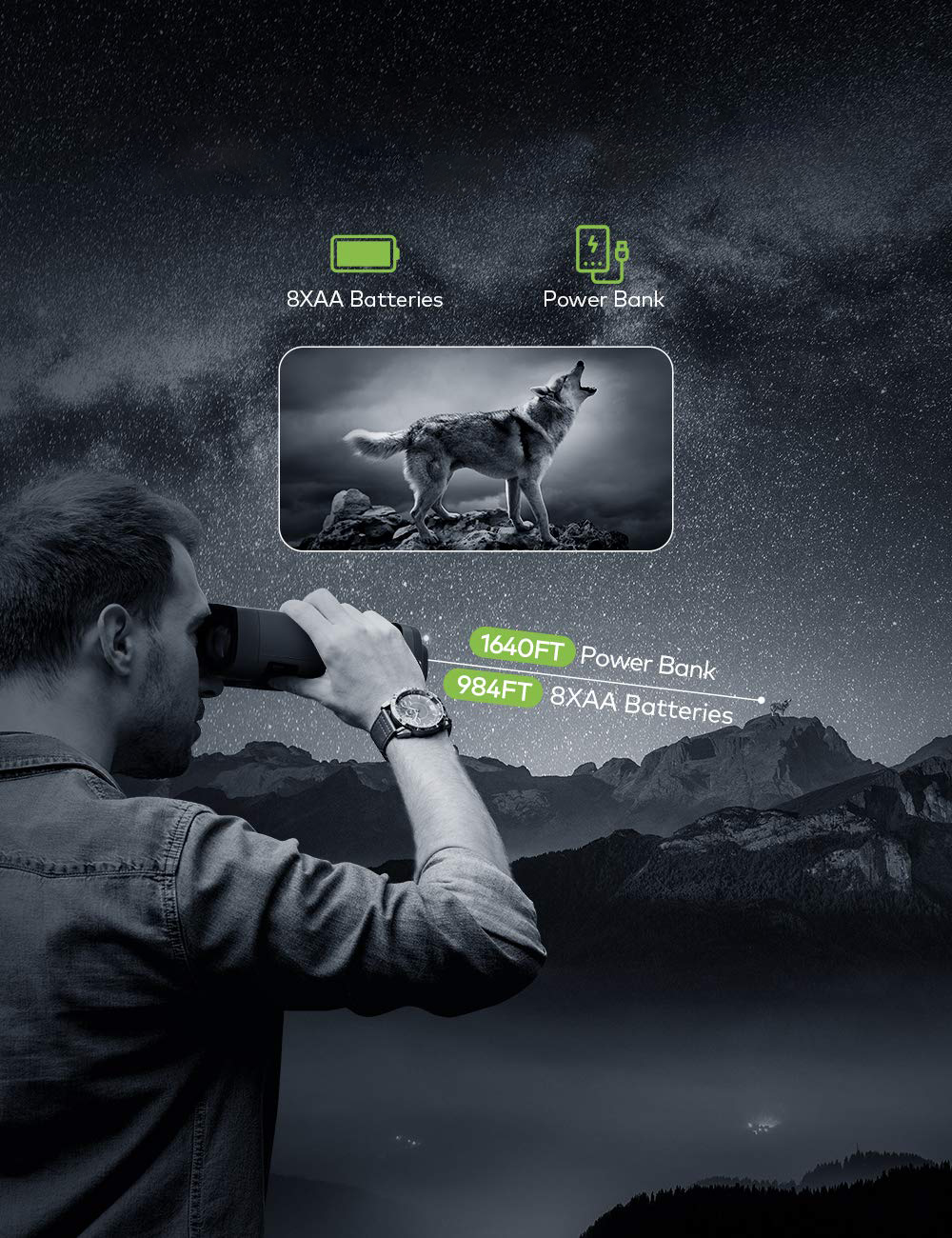 3.6x-10.8x Zoom Magnification
1-3x digital zoom magnification and 3.6x optical zoom magnification allows the user to zoom in on an object or zoom out to a wider view. During the day or low light, observation distance is infinite.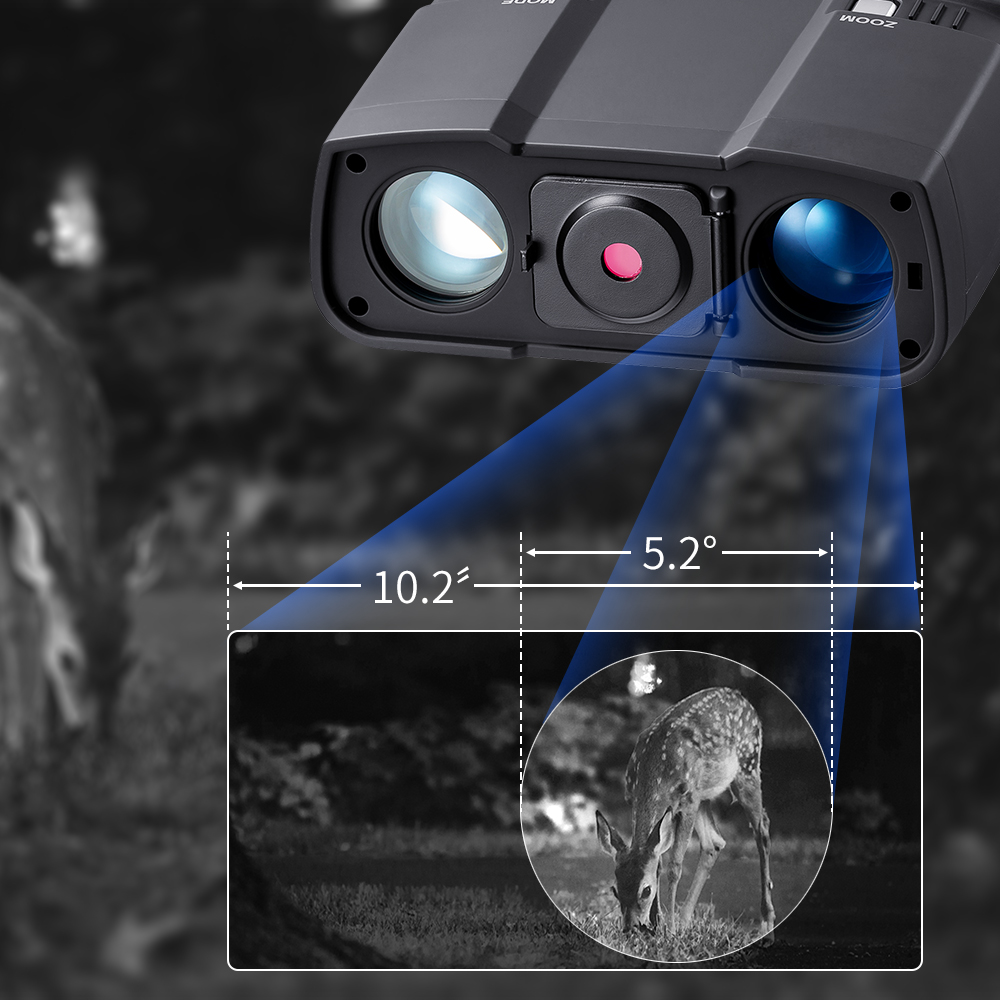 Connect TV and PC
This night vision device can be connected to a TV with an AV cable (included) or a USB cable (included) to a computer. Share your images and videos with family and social media.
Low Power Consumption
Works with 8 X AA Batteries(not included)
Both 1.5V and 1.2V rechargable AA batteries are available.
Eneloop Pro AA batteries are preferred.
Battery life: 10 hours working time with IR off.
Power bank can also feed this night vision.
Tripod Mounting Thread
Shoulder strap(included), release your hands.
The night vision binocular features a threaded tripod mount. The bottom screw hole can be connected directly to the tripod.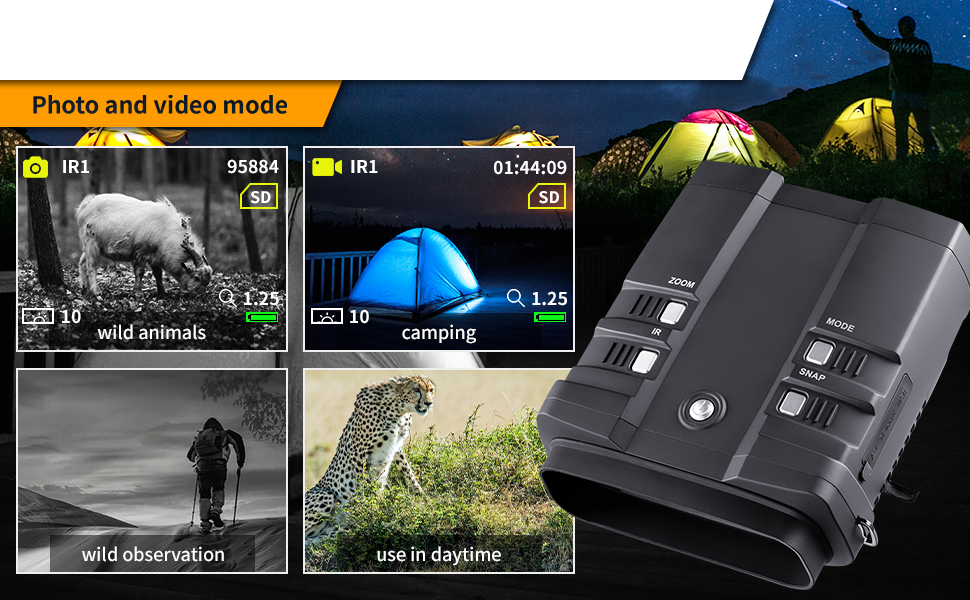 Package List:
1* night vision device
1*USB cable
1*AV cable
1*64GB Micro Card
1*Bag
1*Paper Manual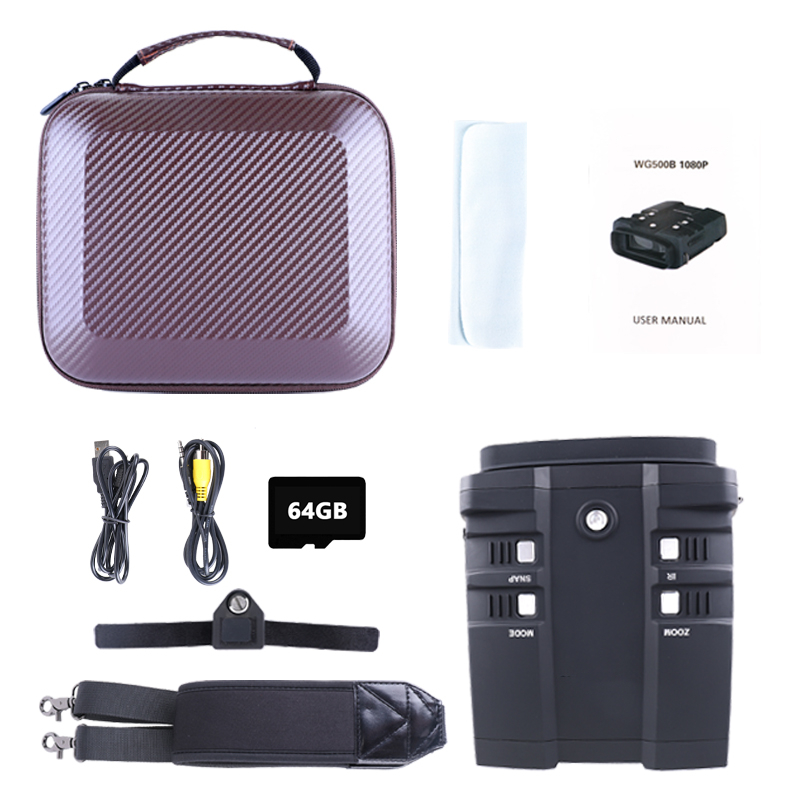 Q&A
Question 1:Can we use power bank with this binocular? thank you.
Answer: Yes, Ordinary power banks that can charge mobile phones are suitable for this night vision device,
it has normal USB jack and relate USB cable to connect power bank.
Question 2:Does this binocular record in color? Color videos/ph.tos?
Answer: Yes, as long as it is not in IR mode.
Question 3:Are these waterproof or water resistant?
Answer: it is water resistant, that's means that it cannot go into the water with it but it will resist under the rain.
Question 4:Do these also work for daytime?
Answer: Not only it works well in daytime, also works great for daytime and low light environment.
Question 5:Are these good for people who wear glasses ?
Answer:Yes, they are easy to use with glasses on and off.