Are you a fan of exploring the night? Are you worried that your safety might be compromised because of the dark? Introducing the LumoxSyt, the digital night vision binoculars that will ensure you won't be missing any important shot in the dark. The binoculars you need for outdoor adventures at night!
Dual Purpose. The LumoxSyt comes with a 3.5x optical magnification, 7x digital zoom, 31mm objective lens. In the day, you can clearly see every detail upclose. The digital night vision binoculars adopt 850nm infrared illuminator, which enables you to observe the target during 1300ft/400m even in complete darkness.
Features a 4″ large screen. The night vision goggles with 2" ft view screen can be converted to a 4″ large viewing screen by the convex lens. This allows you to have a better picture of what is in the outdoors. You can apply the infrared sensitive CMOS sensor so you won't miss the important details that might escape your vision in the dark.
High quality camera. The LumoxSyt comes with an excellent fully multi-coated all-optical system video camera which can deliver and achieve a high transmittance and 640*480 high resolution. The camera allows quick capture of the perfect high definition photo or video.
Not just goggles! The LumoxSyt offers 3 functions: photo shooting, video recording, and playback. You can browse or delete the pictures and videos taken on the night vision binoculars. It can easily connect to the computer and tv with the use of a usb cable or an AV cable. You can share your images and videos to your family or social media.
Includes a 32-gig memory card. The digital night vision binoculars come with a 32g tf card which has large storage capacity. It has two power supply ways: 1. By power bank(not included). 2. By 8*aa batteries (not included), which can run up to 6 hours continuous runtime with ir on or 17 hours runtime without ir.
Can be used for different purposes. Its ergonomic design offers a non-slip, ipx4 waterproof, anti-fog features. It can be mounted on a tripod, or linked to the neck strap. The digital night vision goggles is ideal for hunting, scouting, camping, exploring, adventures, surveillance, search, rescue, nighttime navigation, wildlife observation.
Portable and Lightweight
dimension: 8.6×5.5×2.3 inches/22x14x6 cm
net weight: 1.68 pounds/0.76 kg
field of view: 9°
f for objective lens: f=1.2
working voltage: 4.5v-6.0v
waterproof standard: ipx4
working power: power bank(not included) / 8xaa battery(not included)
Parameter
function: photo, video and playback
observing distance(low light environment): 1m~∞
observing distance(full dark environment): 1300ft /400m
high-sensitivity sensor: 1/3" cmos
optical magnification: 3.5-7x
objective aperture:φ31mm
exit pupil distance: 30mm
Night Vision Scope
With 3.5x optical magnification, 7x digital zoom, 2 inch tft lcd widescreen, 31mm objective aperture, night vision binocular offers wider field of view. Adopt infrared sensitive cmos sensor, fully multi-coated lens, increases light transmission and decrease glare. Resolution of screen: 640×480. Equipped with 850nm 3w infrared illuminator for up to 1300ft/400m viewing distance in full darkness.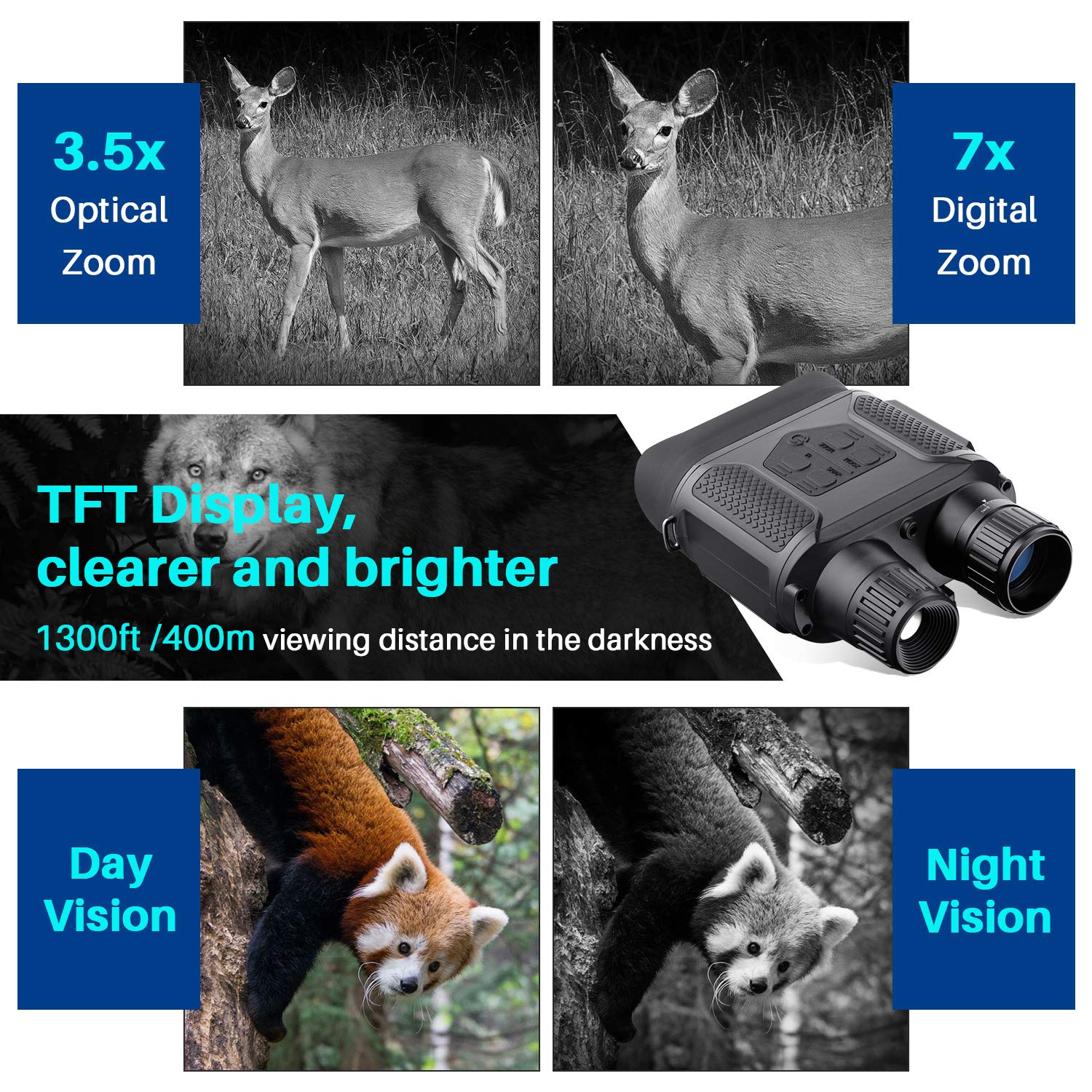 Operation
First, choose the mode, photo/video /playback functions.
Then, focus, adjust the magnification, start taking photos/videos
Finally, you can view pictures and videos, you can share photos and videos with your family or friends.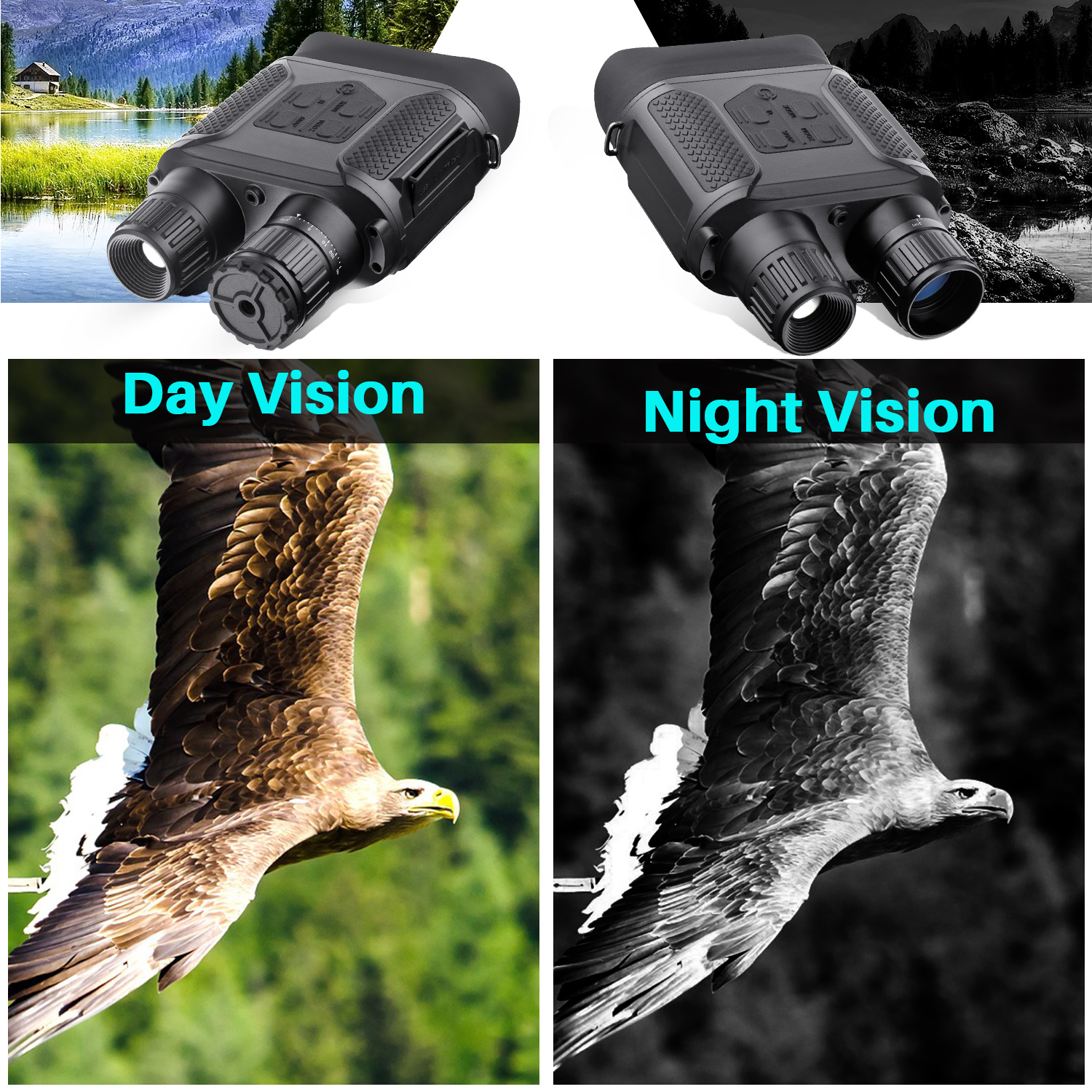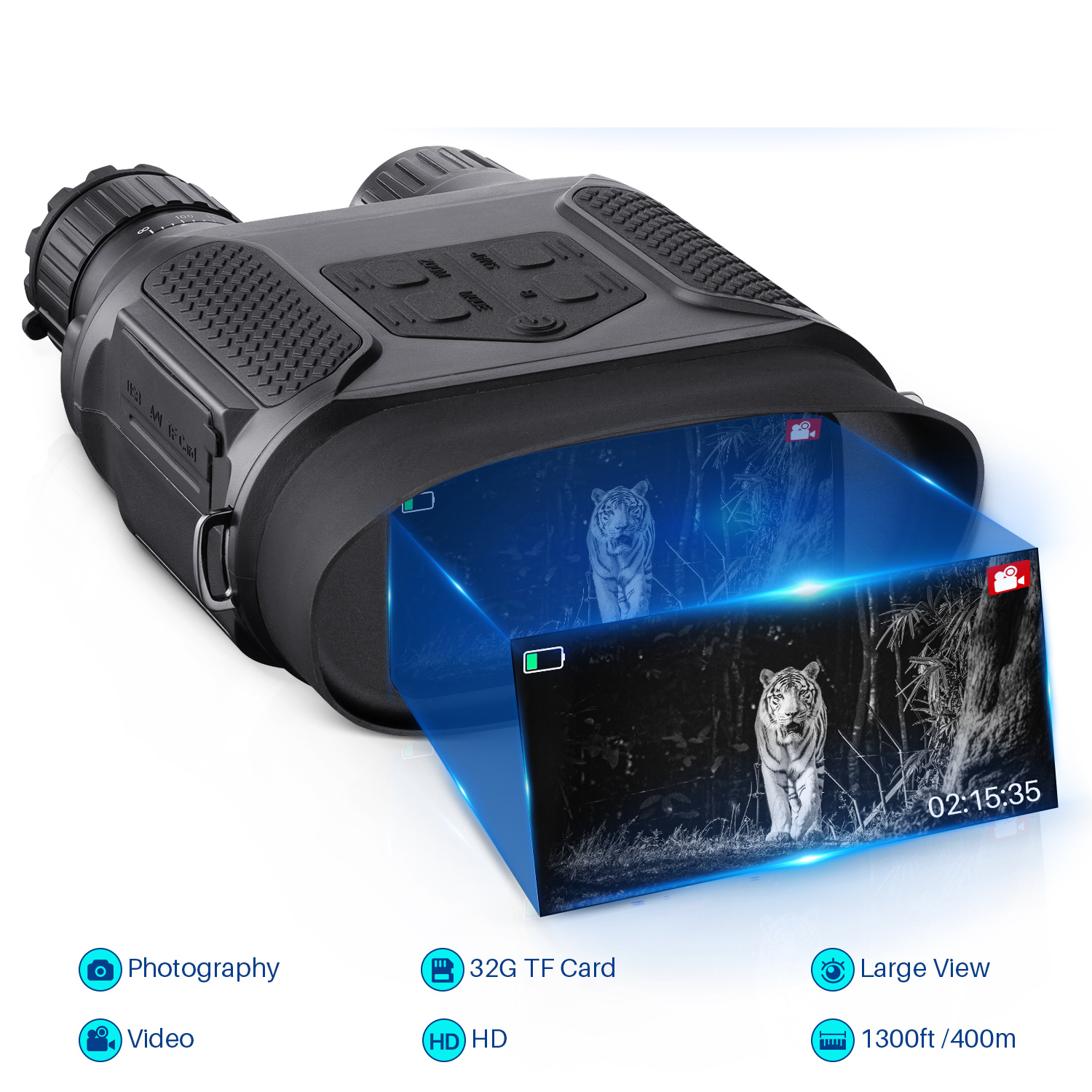 Package List
1* tf card
1* usb cable
1* av cable
1*manual
1* cleaning cloth
1* backpack
1*neck strap
1* color box