Swing Like a Pro with the SwingSkill Foldable Golf Swing
and Training Aid Stick
"I once had trouble with my swings due to bad posture, incorrect form, and terrible grip. When I started using the SwingSkill, I found myself slowly getting the right form and movement! In two weeks, I was a pro!" – James, Golf Enthusiast, Nevada
🌟🌟🌟🌟🌟
For Golf Beginners Who Want to Improve Their Posture, and for Pros Who Never Want to Lose the Skill
Are you looking to improve your golf swing with better grip control and stability? Do you want each swing to make that world-class shot?
SwingSkill is here to help. This training tool will guide your hand placement and enhance your swing over time, maximizing the effectiveness of your practice sessions.
This stick is designed to support the critical components of a great swing – forearm rotation, shoulder turn, and wrist hinge – resulting in consistent power and control in every game. Constructed from durable, lightweight materials, this high-quality training aid promises long-lasting performance and reliability.

Why Choose the SwingSkill Golf Swing Trainer?
The golf training sticks help improve posture by keeping shoulders correctly aligned with feet and hips for more accurate ball landing. 
Right posture, right landing. The SwingSkill helps you get a feel of what a good golfing posture is like so you can automatically work on this position everytime you make a swing.
Tempo trainer features special design, sturdy construction, greater weight at end and flexible shaft for more accurate hits. 
This tempo trainer features a special design, a sturdy construction, greater weight at the end, and a more flexible shaft. You may be able to hit your target more accurately. It could make golf more enjoyable for you!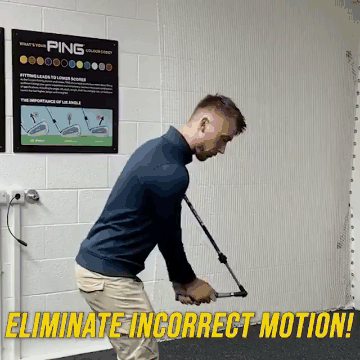 Comfortable Grip That Makes Training Much Easier
The high-quality, durable, and anti-twisting material used to construct this golf swing training grip is comfortable to hold. The user can strike the ball more effortlessly due to the softer hand grip.
Portable Training Tool That Helps You Practice Anywhere
Whether you're a novice or an accomplished tour professional, we created this golf assist to be user-friendly, simple to learn, and adaptable for a broad range of arm lengths, hand sizes, and swing styles.
Designed by Golf Trainers 
The SwingSkill is designed by actual golf trainers for beginners and novices who want to improve their swing without stepping into an actual golf course.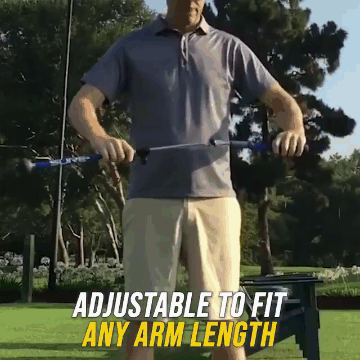 Specifications:
Material: 

Stainless steel + rubber + plastic

Color: 

Black,Blue

Adjustable length: shrink 31.1″, extend 43.3″
Package Included: 1x Golf Swing Trainer