Spacious, All-Season Truck Bed Tent for All Adventures!
Do you love to go on spontaneous road trips and spend the night outdoors? Let the SUPREMATIC Truck Bed Tent deliver the comfort you need to make truck camping a breeze for your next escapade!
This truck tent is suitable for all seasons, creating that perfect camping oasis no matter where your location may be. With its easy-to-follow installation, you'll never have to stress out about setting up your tent ever again.
The SUPREMATIC Truck Tent Bed offers you:
Spacious interior that can fit 2 people comfortably
Sewn-in polyethylene flooring to keep you clean and dry
Large interior area with 4.75′ of headroom for excellent coziness
190T polyester with 1500mm water-resistant coating to withstand all weather conditions
Lightweight and easy to set up with 4 total poles
Large D-shaped door and mesh windows for ventilation
Features shock-corded fiberglass poles and tension straps anchor for top-notch stability
Includes a full rainfly to keep you dry
With SUPREMATIC, you can also enjoy these fantastic inclusions:
2 storage pockets for all your essentials
Fully enclosed for your security at night
Includes a heavy-duty, weather-resistant polyester carrying bag for easy transport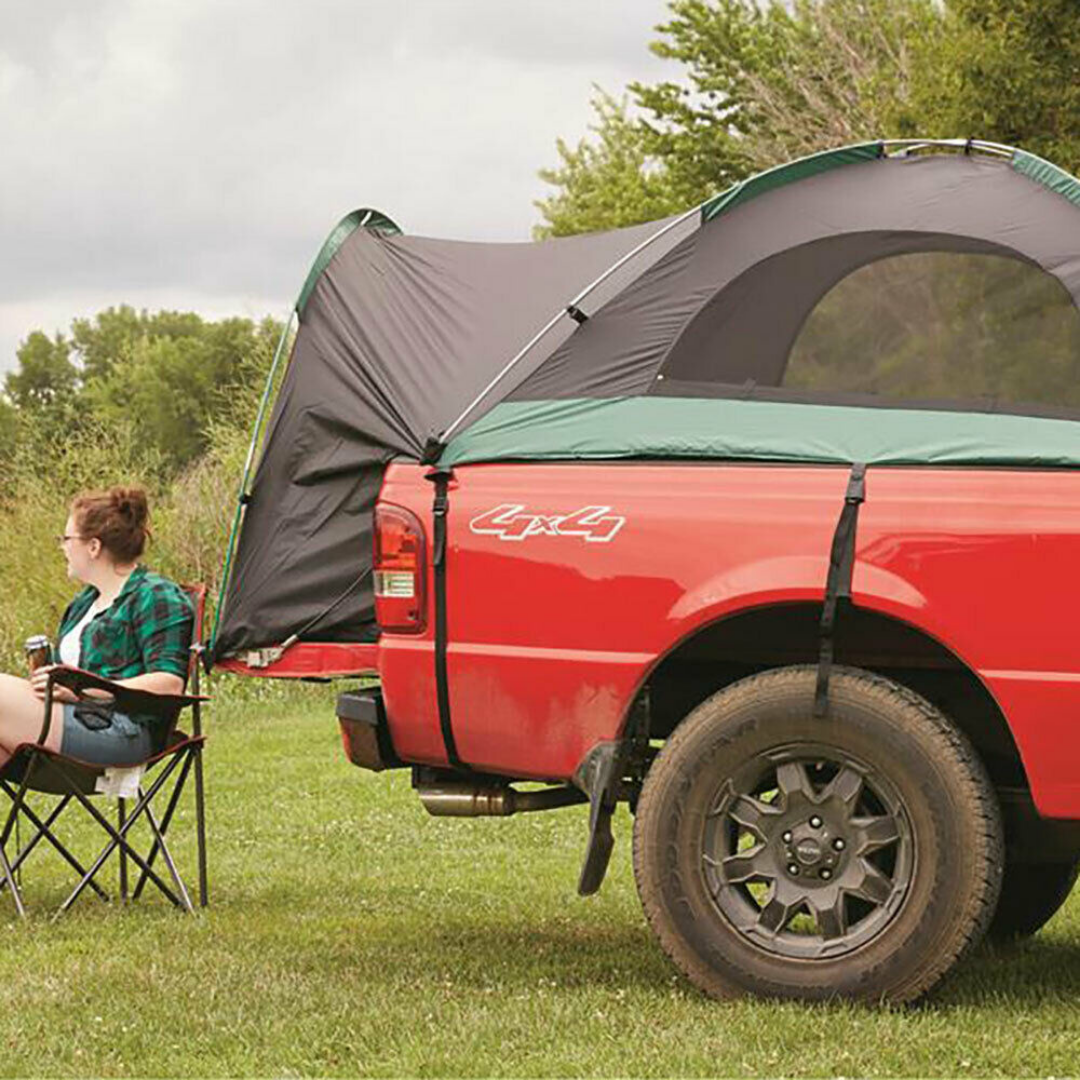 Nothing beats SUPREMATIC's versatility for outdoor adventures
When it comes to your not-so-planned weekend getaways, our truck bed tent is the perfect gear to make everything comfortable and stress-free!
Our truck tent camper features integrated storage pockets with mesh windows to provide maximum convenience and air ventilation. And, with its large D-shaped door, it gives you easy access to going in and out of the tent.
The SUPREMATIC's Truck Top Tent has a spacious interior that allows you to fit a full-sized bed that measures from 72 to 74 inches. It's 100% the best choice for 2 people to sleep comfortably outdoors!
Suitable for All Weather Conditions
This truck pop-up camper provides you with a good night's sleep despite heavy rains due to its durable and water-resistant materials. It features polyethylene flooring that prevents water from entering, keeping you warm, clean, and cozy no matter if it rains or shines.
No Sweat Installation
Our SUPREMATIC Truck Bed Tent requires minimal effort when installing. All you need to do is insert all four poles and tension straps into your truck, and you're ready to go!
It fits most truck beds 72-74″ with the tailgate down
63″ x 74″l. footprint
57″ center height
Weighs 10 lbs.
It fits pickups from Chevy, Ford, GMC, Nissan, Toyota, and more but may work slightly differently from truck to truck.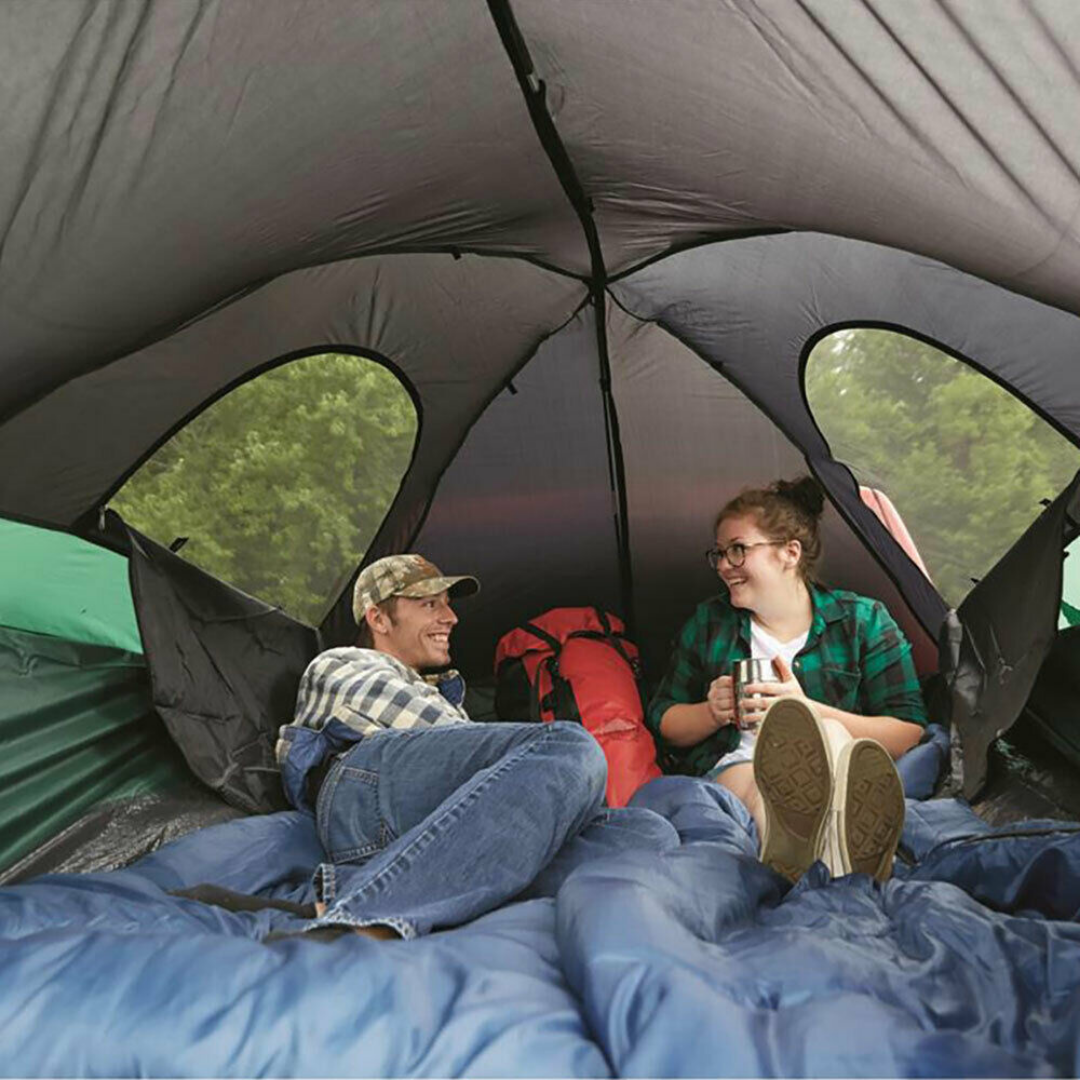 An outdoor enthusiast who owns a truck will appreciate this truck pop up tent. Additionally, it is designed to provide a relaxing environment for people inside their vehicles.

SUPREMATIC Team
Functionality:
Water Resistant: Our truck tent comes with a 1500-millimeter water-resistant coating that protects you from heavy rains.
Durable: Our truck bed tent is constructed of 190-thread polyester to provide extra durability against challenging situations.
Easy Installation: With our truck tent camper, you can set it up in just a few minutes with ease.
Specification:
Color: Green

Dimensions (L x H): 74″ x63 " inches

Weight: 10 pounds

Capacity: 2 Person

Material: Polyethylene

Sleeping Area: 1

Style: Dome
Package Content:
1 x truck top camper

4 x Poles

1 x Manual