The Best Expandable, Canopy-Style Truck Bed Tent
For your next adventure, whether planned or unplanned, here's a truck bed tent that can deliver comfort and convenience no matter where you'll go. The ERTEA-CAMP is designed with easy-to-follow installation, spacious interior, durable materials, and weatherproof structure to make your camping and road trips fun and stress-free!
What We Got to Offer:
LARGE SPACE: Features 65″ width and 63″ height dimensions that make staying inside cozy and comfortable for 2 people. 75-inch length fits all 5.5-5.8 foot truck beds. Note: Please measure the bed of your truck first.
EXPANDABLE CANOPY (48 "L x 48 "W): The extra-large canopy can act as your shade or keep out the rain. It also creates the perfect resting place to make fishing easy. If not in use, the canopy can be stored easily.
WEATHERPROOF STRUCTURE: This car tent is made of waterproof fabric with taped seams (Polyurethane 2000mm), which can keep your car clean and dry. It quickly mounts or removes in 5 minutes. This tent also comes with a 4000mm PU fully sealed floor to ensure you have a comfortable sleep.
QUICK AND EASY TO SET UP: Our Truck Tents for Camping include easy-to-use poles and rod pockets, allowing you to locate the pole quickly. Fast construction or removal in 5 minutes.

Designed for Convenience
Rear Access Window: Quickly access your truck's interior for storage and connect to power outlets.
Lantern holder & Gauze Mesh: Place lights, small fans, or other gear to create a more comfortable interior.
Storage Bag: There is 1 storage bag on both sides for convenient sundries storage.
Easy to Use
Double Hole Pole Pockets: The more adjustable Pole Pockets with double holes make your installation more accessible and suitable for your bed.
Color-Coded Poles & Pole Pockets: The color of each pole and pocket corresponds to each other, allowing you to locate the pole quickly.
Storage Carry Bag: This bag allows you to pack all the parts for easy storage and portability.
How to Measure Your Truck Bed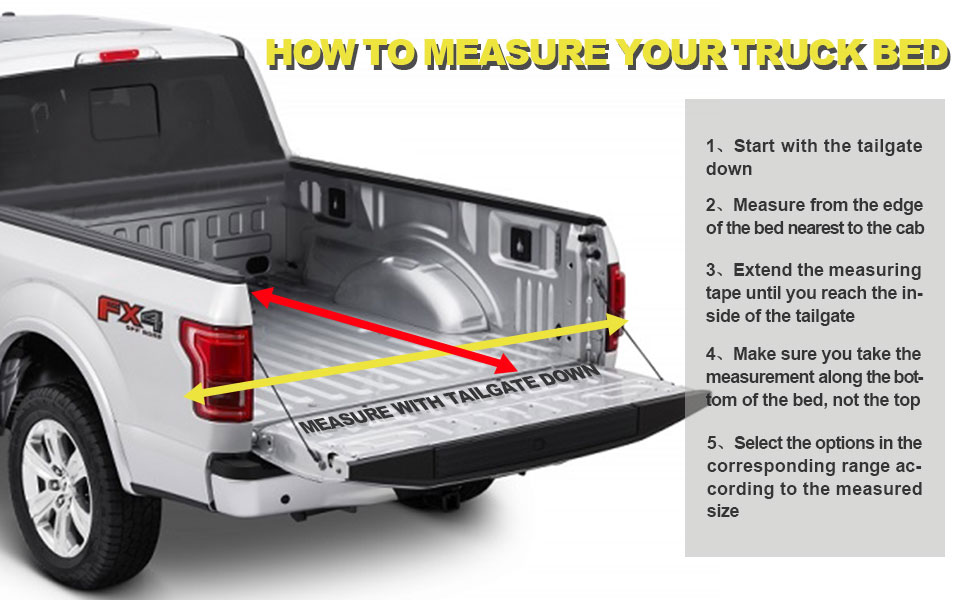 Package Includes: