Enjoy Every Moment Under the Sun!
Planning for a beach outing with the family this weekend? Take SunBevy with you worry no more about getting sunburns or uncomfortable resting locations. That's because, with SunBevy Instant Pop-up Beach Tent, you'll get everything you need to make your outdoor, beaching experience a relaxing, fun-filled, and memorable one.
It's the Perfect Shade
No matter where your location may be, the SunBevy gives you the perfect shade for your resting place at the beach. It's quick and easy to set up, giving you more time to spend quality minutes or seconds with your kids, friends, and family.
Our pop-up tent serves as your all-in-one haven at the beach, campsite, or other outdoor locations. Thanks to its highly innovative Lightspeed Folding Hub Technology and top-notch quality fabric, the SunBevy makes setting up your sun shelter quick, easy, and comfortable.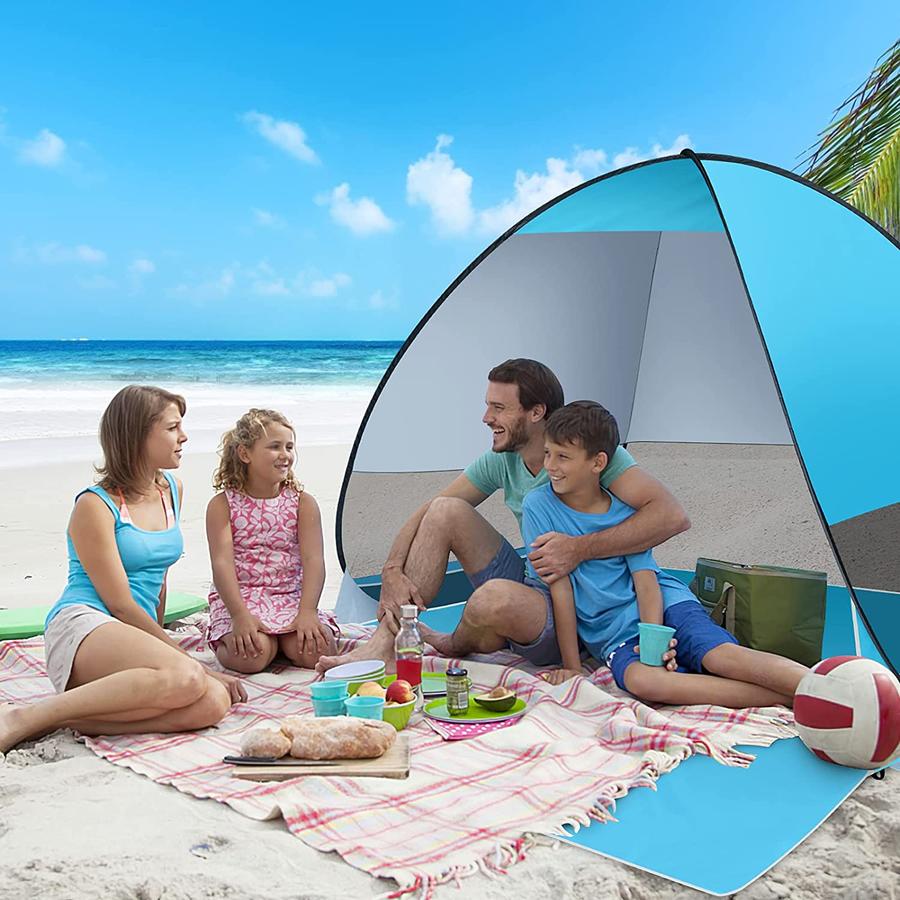 Make Summertime More Heartfelt by Creating a Relaxing and Comfortable Beach Haven for Your Family…
Every second you spent setting up your tent is every second lost to foster unforgettable moments with the family this summer. Make everything fast and easy by taking advantage of our pop-up beach tent in your outing. It provides the same comfort and protection as conventional tents like all-day sun and rain protection, air circulation, and so on, but quicker to put up and takedown. And with SunBevy that comes with a suitable large space, you'll have more leisure time to enjoy with your family at the beach, weekend trips, camping, hiking, fishing, and more.

Why Choose SunBevy Pop-up Beach Tent?
All our efforts in creating SunBevy center on your comfort outdoors. Whether it's installing your tent or establishing a relaxing atmosphere—the SunBevy is designed to make beach outings and any other outdoor adventures simpler and fun-filled.
Here are some of the upgrades we've added with the SunBevy:
Better UV Rays Protection: With our 190T silver-coated polyester fabric with UV coating (UPF 50+ UVA <5%), it effectively blocks up to 98% of the harmful UV rays to protect you against sunburn—making the SunBevy the ideal pop-up beach tent for family and friends to enjoy summer.
More Breathable: With 3 large windows to maximum ventilation and air circulation, the SunBevy provides an extra comfortable resting place outdoors. Plus, it comes with a spacious internal shelter and 2 internal storage pouches to store personal belongings and help you reduce clutter.
Strong and Durable: This pop-up beach tent is equipped with 8.5mm fiberglass poles, pegs, and fixing holes which ensure stability on windy days and are suitable for various outdoor activities.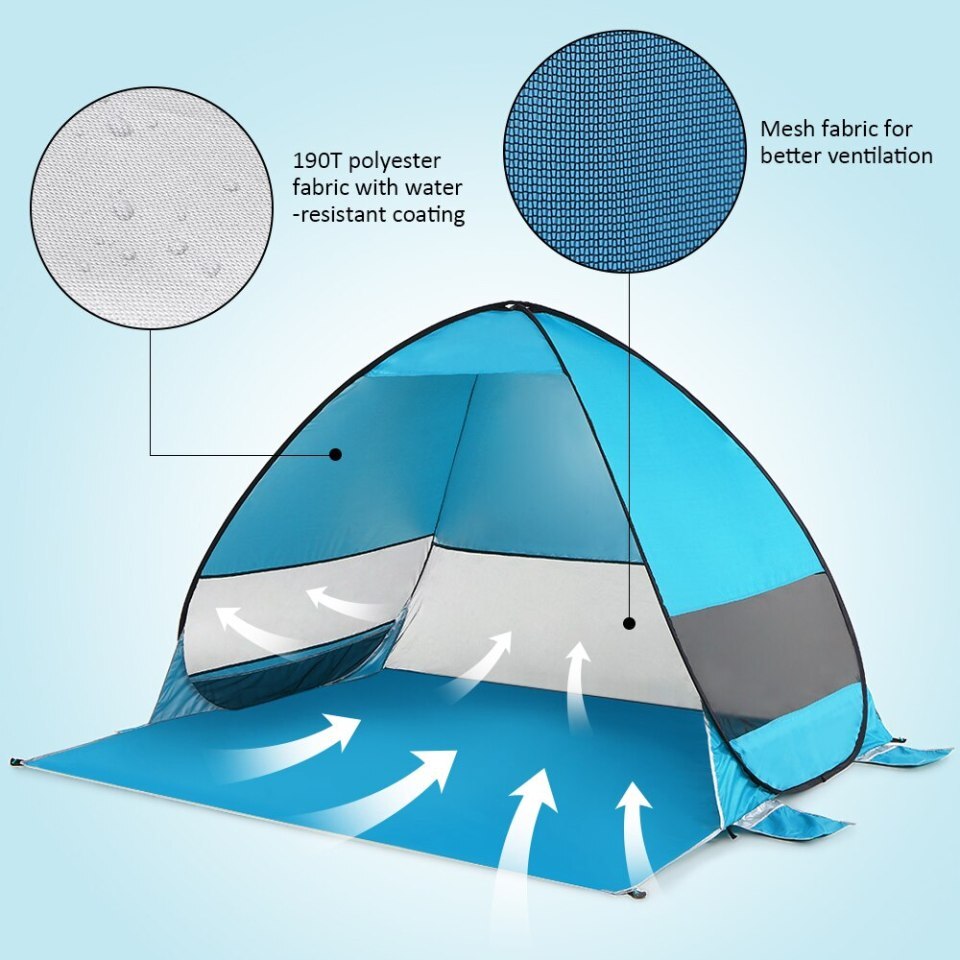 Features:
– Fast Set-Up & Pack Away: Forget confusing tent instructions and complicated poles; our SunBevy Instant Pop Up Tent automatic pop-up design allows you to set up in just seconds and pack away in minutes
– Good Ventilation: The open-door design and rear mesh fabric window ensure that the tent is always well-ventilated to keep the inside cool and breathable, even in the heat of summer.
– Lightweight Design: The tent has been specifically designed to be lightweight and easy to transport. Weighing only 1 kg, you can take it everywhere, the park, the beach, nature, etc.
– UV Sun Protection: The beach tent is lined with a UV protection silver coated fabric that provides a comfortable shelter for you and your family.
– Waterproof: The SunBevy is specifically designed with polyester fabric with a water-resistant coating to deliver the best resistance, so you don't need to worry about sudden rains. Its practical design will ensure you stay dry and comfortable all the time.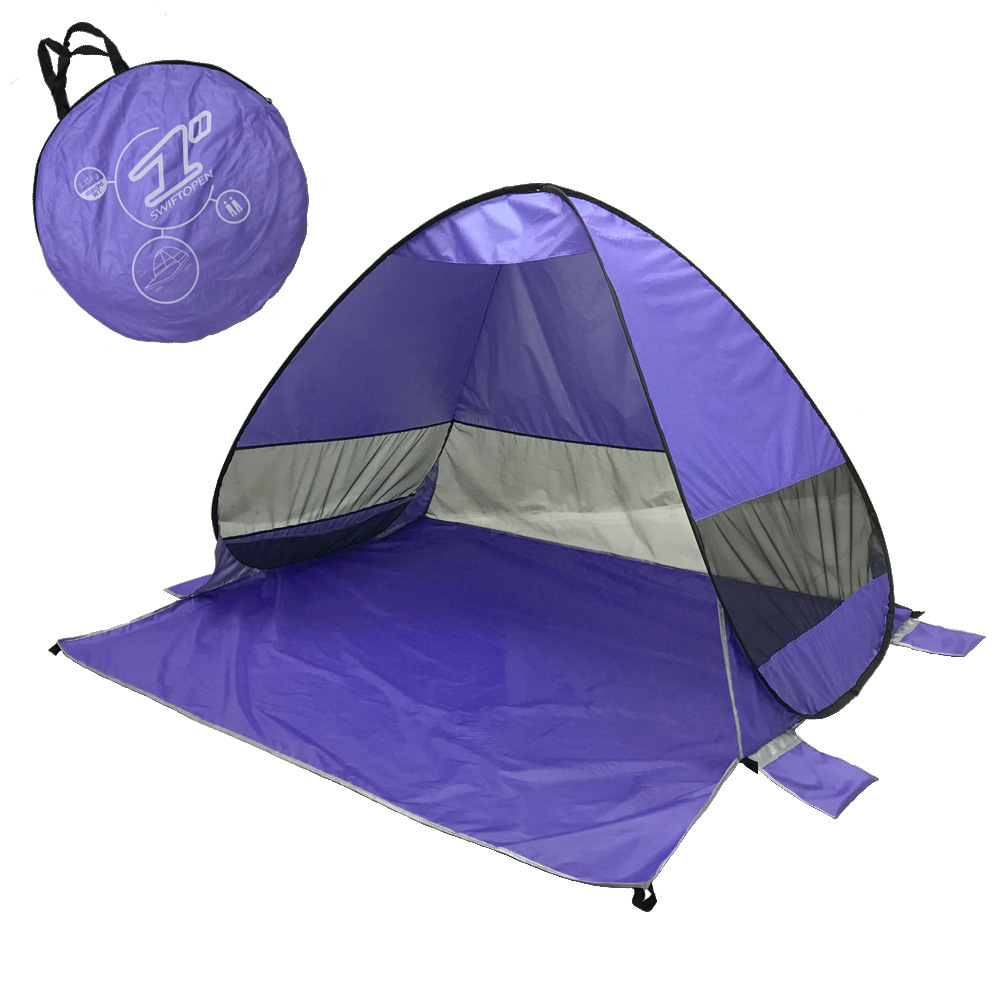 Specifications:
Color: Blue, Yellow, Red, Green, Purple, Orange
Weight: 1.15kg
Size:200X165X130CM
Folded Size: 53X53X17CM
UV Protection: UPF 50+
Waterproof Index: 1000-1500mm
Tent Poles: Glass Fiber
Material: 190T PU silver coated fabric
Capacity:2 Adults and 2 Kids (Depending On Personal Figure)
How to Install:
To pitch your Instant Pop-up Tent, remove it from the carry bag and let it 'Pop-Up.' Fill the external pockets with sand or use the included poles to secure the tent to the ground quickly. That easy!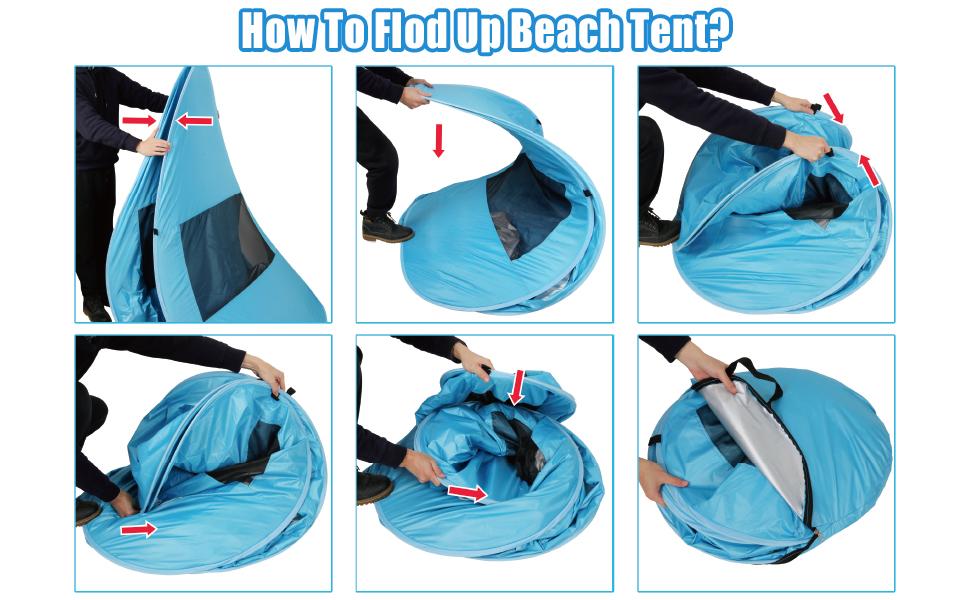 The Package Includes:
1 x Instant Pop up Tent
6 x Poles
1 x Carry Bag
Careful tip: Look around first and take care of yourself; the tent will pop up automatically when you take it out from the bag.