Quick & Easy Shade for Your Weekend Getaway!
Looking for a nice and comfortable, quick-setup tent for your weekend getaway, music festival, beach outing, and any other outdoor activities? The TentoPop is your most stylish, durable, and unique pop-up beach tent that you set up and take down in a jiffy anytime and anywhere. With its compact and portable design, you can take it to almost all your adventures with great ease and comfort. And with its top-notch, quality fabric, you're guaranteed to be protected against the harmful rays of the sun, wind, and rain both day and night!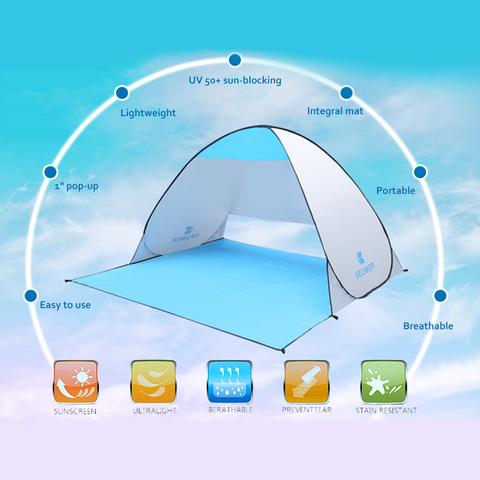 So no matter who you are or what your plans may be, the TentoPop Beach Tent is a must-have if you want to make the most out of your weekend escapades! With its lightweight design, dual and easy-to-construct system, and oxford double binding fabric, you'll never have to worry or spend too much effort setting your resting place anywhere.
The next time you plan for a weekend getaway with your friends or family, stand out amongst the crowd with TentoPop! Each tent comes with a carrying bag, making it perfect as a canopy tent and beach shade, beach shelter, which may be used anywhere from camping to fishing, hiking, or beach trips!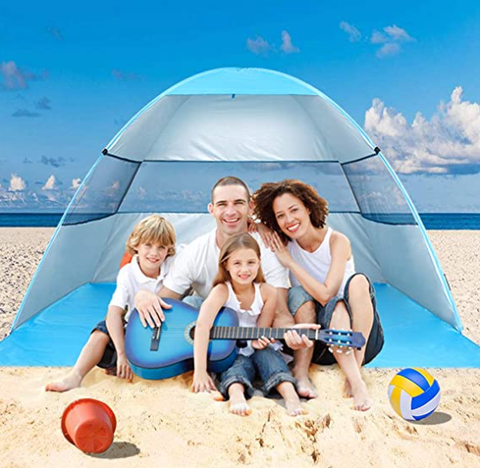 _____
PORTABLE CONVENIENT USE!
Extroverts Rejoice! Now you will be able to take your TentoPop Beach Tent anywhere with great ease and comfort. If you're up for a quick weekend chill-out, don't spend most of your time and effort setting up your tent. With TentoPop, get your resting place ready in under 10 minutes and enjoy every second you have outdoors. Because with TentoPop's durable fabric and quick and easy setup, you'll get a strong yet portable pop-up tent that is capable of keeping you comfortable and relaxed anywhere you'll go!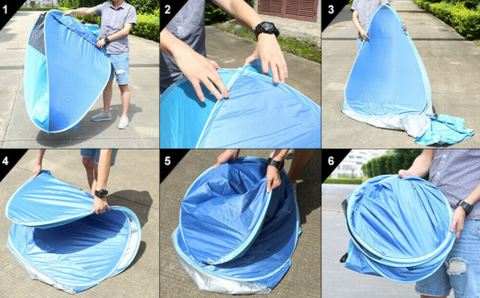 ADVANCED UV PROTECTION FABRIC!
On your next beach outing, don't let the sun stop you from enjoying yourself. With TentoPop Beach Tent, experience the perfect canopy tent for sun protection. Its advanced UV protection material uses 210D oxford fabric, which is durable and perfect for protecting the skin from the sun's harmful rays, making it a great sun tent and shade tent!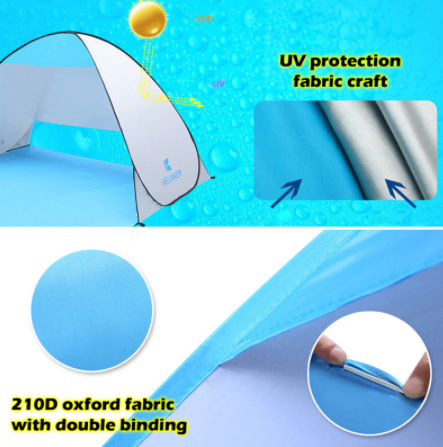 BREATHABLE TECHNOLOGY!
Once you use the TentoPop Beach Tent, guaranteed you'll have the most relaxing and comfortable experience anywhere. With its breathable anti-UV technology and fabric, not only do you get protection against the harmful rays of the sun, but it also ensures that your resting place is not suffocating. The TentoPop design allows better air circulation so that you have an even cooler experience outdoors.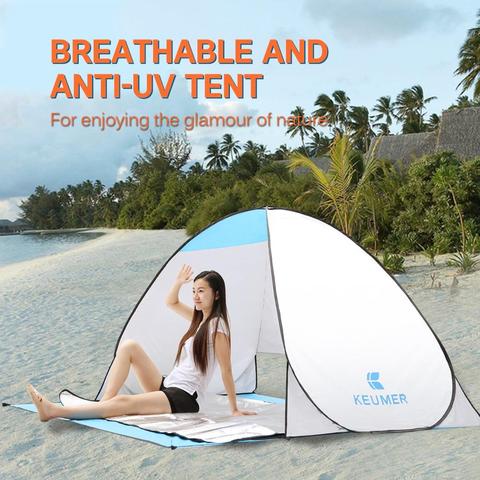 SPACIOUS INTEGRATED MAT!
To make your beach outings or weekend getaways more rewarding and relaxing, we have included a spacious, built-in mat to reinforce a much comfortable resting place outdoors. You can take advantage of this feature to help yourself unwind or bask in the sun so that you can make the most out of every second you spend on the beach, camping grounds, or other outdoor facilities.
SUPER DURABLE MATERIAL!
We have designed the TentoPop Beach Tent to be as sustainable as possible! We do this by using durable, top-notch quality fabric that will protect you from the UV rays or the environment and last longer than strongly woven fabric. With this, we can guarantee that you'll have the best experience anywhere you'll decide to go.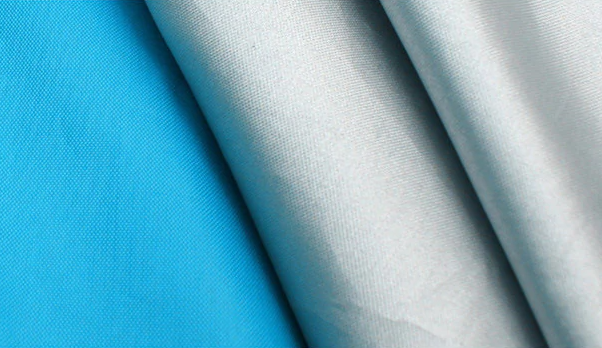 EASY-TO-USE and SET UP!
We have designed to make the entire set-up process fast and simple! With such support, it allows you to have the perfect, convenient sun tent, designed as a shade tent to help anyone use it with ease. The easy-to-follow instructions allow the beach tent to be set up and dismantled easily to be used continually!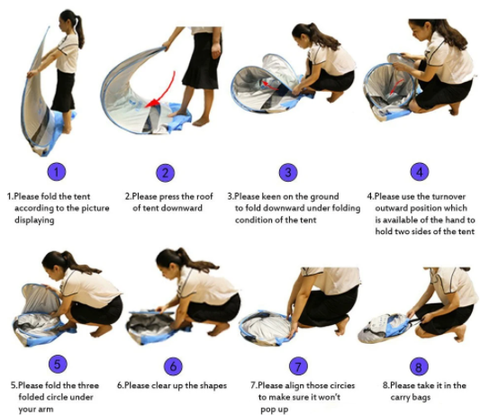 WHAT DO OTHERS SAY ABOUT THE TENTOPOP?
The TentoPop is exactly what I needed to bring in any outing my friends and I planned. It's really easy to set up and provides the most comfortable resting place ever! We highly recommend the TentoPop to people who are looking for a quick and easy tent for Coachella, beach outings, and even picnics!

Andrew, J — Verified Purchase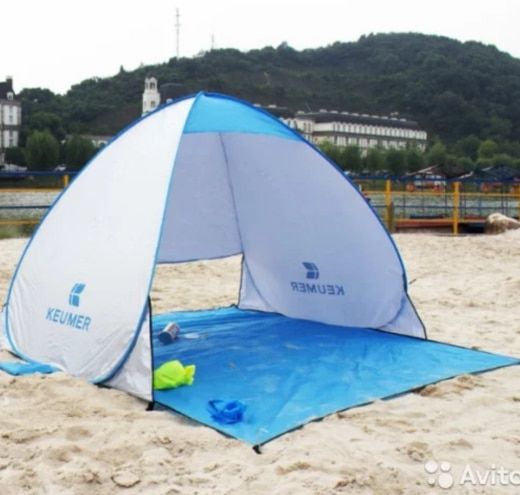 Specifications:
Material: 190T polyester fabric
Color: Blue ,Green
Pop-up Size: 200cm x 120cmx 130cm(79″x47″x51″)
Folding Size: 53cm * 53cm * 3cm
Total Weight: 1060g / 2.33lb
Package List: