Hey there, trailblazer! 🏕️🎒 Are you on the hunt for a leg bag that's more versatile than your favorite multi-tool and more reliable than your weather app? Do you find yourself juggling gadgets, snacks, and that lucky charm you never leave home without? Well, it's time to put an end to the juggling act and step into the world of SecureFlex!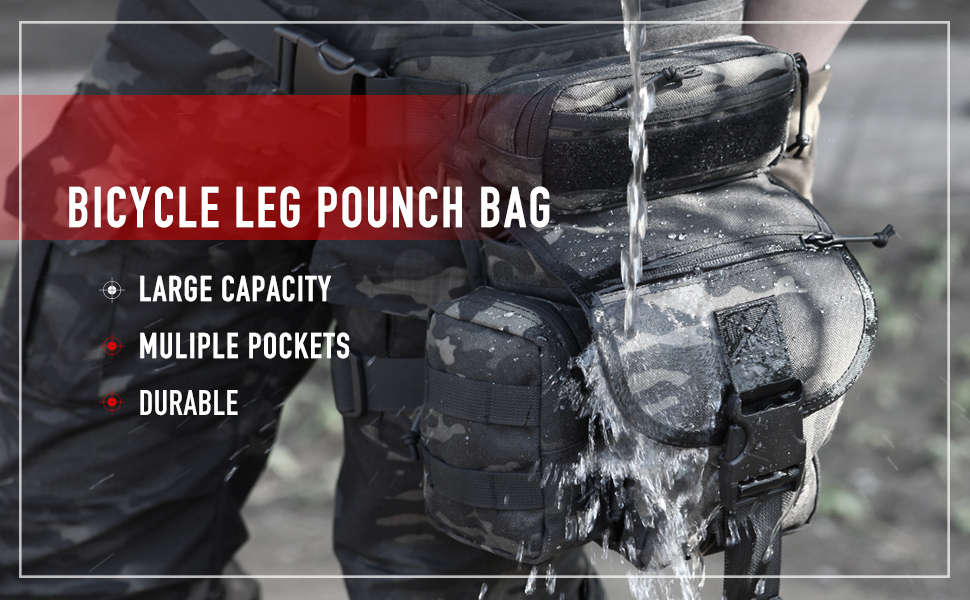 Introducing the SecureFlex Multi-Purpose Leg Bag – the only bag that might just have more pockets than your favorite cargo pants. With a whopping 8 pockets, it's like a portable treasure chest for all your outdoor essentials. And did we mention it's waterproof? That's right, rain or shine, this bag's got your back, or rather, your leg.
Whether you're hiking up a mountain, trekking through the wilderness, or just navigating the urban jungle, this bag is your new adventure buddy. It's like having a personal assistant strapped to your thigh, only without the awkward small talk. So, gear up, adventurer, and let's explore what the SecureFlex Leg Bag has in store for you! 🌲🏞️🚵‍♂️
Rain? What Rain?
This bag's waterproof material is like an invisible umbrella for your stuff. Caught in a sudden shower? No problem! Your gear stays as dry as your sense of humor.
Pocket Party With 8 pockets, this bag is like a magician's hat. You'll be pulling out snacks, gadgets, and maybe even a rabbit if you're feeling adventurous. It's organization on steroids.
Strap into Comfort
Adjustable straps? Yes, please! This bag fits you like your favorite pair of jeans. Comfortable, stylish, and ready for action. It's like a bear hug for your thigh, minus the bear.
Tough as Nails
This bag doesn't just talk the talk; it walks the walk. With rugged construction, it's ready to take on the wild with you. It's the action hero of bags, without the cheesy catchphrases.
One Bag, Many Adventures
Hiking, camping, trekking, or just conquering the concrete jungle? This bag's got you covered. It's like a Swiss Army knife of storage, only without the confusing instructions.
For the Guys, Gals, and Everyone Else
Who says bags have gender? This one's for everyone with a thirst for adventure. It's the universal passport to the great outdoors.
Zip-a-Dee-Doo-Dah
Smooth zippers mean no more wrestling with your bag. It's like having doors that open with a smile. Easy access, easy life.
Light as a Feather
Lightweight and compact, this bag won't weigh you down. It's like carrying a cloud on your leg, only without the risk of rain.
Shine Bright Like a Diamond
Reflective elements make you visible even when the sun's playing hide and seek. It's like having a spotlight on your awesomeness.
Hang in There
Attachment points for all your hangable things. It's like having extra hands, only less creepy.
Breathe Easy
Breathable backing means less sweat and more comfort. It's like having a personal fan, only quieter.
Stylishly Secure
Who says practical can't be pretty? This bag's style is as on point as your adventure game. It's the runway model of outdoor gear.
Alright, fellow adventurer, the time has come to make a choice. Will you continue to fumble with overstuffed pockets and boring bags, or will you step into the world of SecureFlex and never look back? This multi-purpose leg bag is not just waiting; it's practically doing a happy dance to join you on your next escapade. But don't dilly-dally! This bag is as exclusive as your hidden fishing spot, and it's flying off the shelves faster than you can say "adventure awaits." Grab yours now, and let's turn those ordinary outings into extraordinary memories. 🏕️🌟
Still pondering? Think of it this way: life's too short for ordinary bags. The SecureFlex Multi-Purpose Leg Bag is your ticket to a world of convenience, style, and endless exploration. It's not just a purchase; it's an investment in your wanderlust. Click that "Add to Cart" button, and let's make your next journey unforgettable. Hurry, though, because adventure waits for no one, and neither does this offer! 🎒🏍️🌄
Technical Specifications
Gear up, detail-lovers, it's tech spec time! Let's dive into the nitty-gritty without getting lost in jargon:
Material: High-quality waterproof material (Because nobody likes soggy snacks)
Pockets: 8 pockets for all your gadgets, gizmos, and granola bars
Strap Length: Adjustable for waist and thigh (One size fits most adventurers)
Construction: Rugged and reinforced (Like your determination)
Versatility: Great for hiking, camping, trekking, and urban exploring
Gender: Unisex (Because bags don't care who you are, just where you're going)
Zippers: Smooth and durable (No wrestling required)
Weight: Lightweight and compact (No heavy lifting here)
Visibility: Reflective elements for those twilight treks
Attachment Points: Extra loops for your extra stuff
Breathability: Breathable backing for comfort (No sweaty situations)
Style: Stylish design that's ready for the runway or the rugged trail
So there you have it, the full rundown of the SecureFlex Multi-Purpose Leg Bag. It's not just a bag; it's a statement, a companion, and a ticket to the wild. Now, who's ready to explore? 🌲🏞️🚵‍♀️