Hey there, adventure seeker! 🚴🎣🌲 Are you tired of the same old boring bags that cramp your style and limit your fun? Do you find yourself yearning for a bag that's not just practical but also has that "wow" factor? Well, grab your hiking boots and put on your adventure hat, because we've got something that's going to rock your world!
Introducing the FlexiPod Tactical Leg Bag – the leg bag that's more than just a bag; it's a statement. With its water-resistant material, multi-compartment design, and a style that screams "I'm ready for anything," this is the bag that's been missing from your life. It's like the James Bond of bags, only without the secret spy gadgets (though there's probably room for those too).
Whether you're hiking up rugged trails, biking through winding roads, fishing by the serene lake, or just strutting your stuff around town, this leg bag is your new go-to companion. It's the little black dress of outdoor gear, the cherry on top of your adventure sundae, and it's calling your name. Ready to meet your new favorite accessory? Let's dive into the world of FlexiPod and discover what makes this leg bag the perfect match for you! 🏞️🎒🚵‍♂️
The Bag of Many Faces
This isn't just a leg bag; it's a drop leg bag, thigh pack, waist pack, crossbody bag, shoulder bag, messenger bag, and more. It's like the superhero of bags, always ready to transform and save the day.
Motorcycle Magic
With 4 removable magnets, this bag can cling to your motorcycle's fuel tank like a koala to a tree. And don't worry about scratches; it's got a protective layer. It's like having a sidekick for your bike.
Tough but Stylish
Made of high-quality materials, this bag is as rugged as a mountain trail but as stylish as a city street. It's like wearing a tuxedo to a mud run and still looking fabulous.
Room for Adventure
With expandable capacity and double-layer zipper pockets, this bag has room for everything you need and more. It's like Mary Poppins' carpet bag for the modern adventurer.
Ready for Anything
Whether you're biking, hiking, camping, or just running errands, this bag is your go-to companion. It's like having a Swiss Army knife that holds your keys and snacks.
Rain? No Problem!
Water-resistant material means your stuff stays dry, even when you don't. It's like having an umbrella for your belongings, only way cooler.
Custom Fit Comfort
With adjustable straps and 3-Level thigh belt adjustment, this bag fits you like a glove. It's like having a bag tailor-made for your body, without the tailor.
Magnetic Personality
Those 4 removable magnets aren't just for motorcycles; they're for making a statement. It's like having a bag with superpowers, only without the cape.
Rear Seat Ready
Want to install it as a rear seat bag on your motorcycle? No problem! It's like having a convertible car, only for your storage.
Expand Your Horizons
Need more space? Just expand it with a hidden zipper. It's like having a magic wand that makes room for souvenirs.
Adjust to Your Adventure
3 gears of adjustment mean this bag adapts to you, not the other way around. It's like having a personal assistant that knows your every move.
Sleek and Chic
Who says practical can't be pretty? This bag's sleek and tactical design is ready for anything. It's like the James Bond of bags, only without the secret spy gadgets.
Alright, fellow explorer, the time has come to make a decision. Will you continue to settle for ordinary bags that just hold stuff, or will you embrace the FlexiPod Tactical Leg Bag and elevate your adventure game? This bag isn't just waiting; it's practically revving its engines, ready to hit the road with you. But don't just stand there admiring it; these bags are flying off the shelves faster than a motorcycle on the open road. Grab yours now, and let's turn those ordinary outings into extraordinary experiences! 🏍️🌄
Still on the fence? Think of it this way: life's too short for boring bags. The FlexiPod Tactical Leg Bag is your passport to a world of convenience, style, and endless exploration. It's not just a purchase; it's an investment in your adventurous spirit. Click that "Add to Cart" button, and let's make your next journey unforgettable. Hurry, though, because adventure waits for no one, and neither does this offer! 🎒🚵‍♀️🏞️
Technical Specifications
Get ready, gear geeks, it's tech spec time! Here's the full rundown of the FlexiPod Tactical Leg Bag, without the tech jargon:
Design: Multi-Function (drop leg bag, thigh pack, waist pack, crossbody bag, etc.)
Material: High-quality Polyurethane and Toner+210D lining (Tough and stylish)
Size: 21 * 17 * 8.5cm (Expands to 21 * 17 * 13.5cm with hidden zipper)
Motorcycle Compatibility: 4 removable magnets for fuel tank attachment (Also usable as a rear seat bag)
Water-Resistance: Keeps your stuff dry (Rain, what rain?)
Adjustability: 3 Gears adjustable thigh belt (Fits like a glove)
Capacity: Expandable large capacity with double-layer zipper pockets (Room for everything)
Activities: Ideal for travel, motorcycle riding, biking, outdoor activities, and more (Ready for anything)
Extras: Headphone hole, key chain design, and more (It's all in the details)
So there you have it, the full orchestral suite of the FlexiPod Tactical Leg Bag. It's not just a bag; it's a statement, a companion, and a ticket to the wild. Now, who's ready to explore? 🌲🏞️🚵‍♀️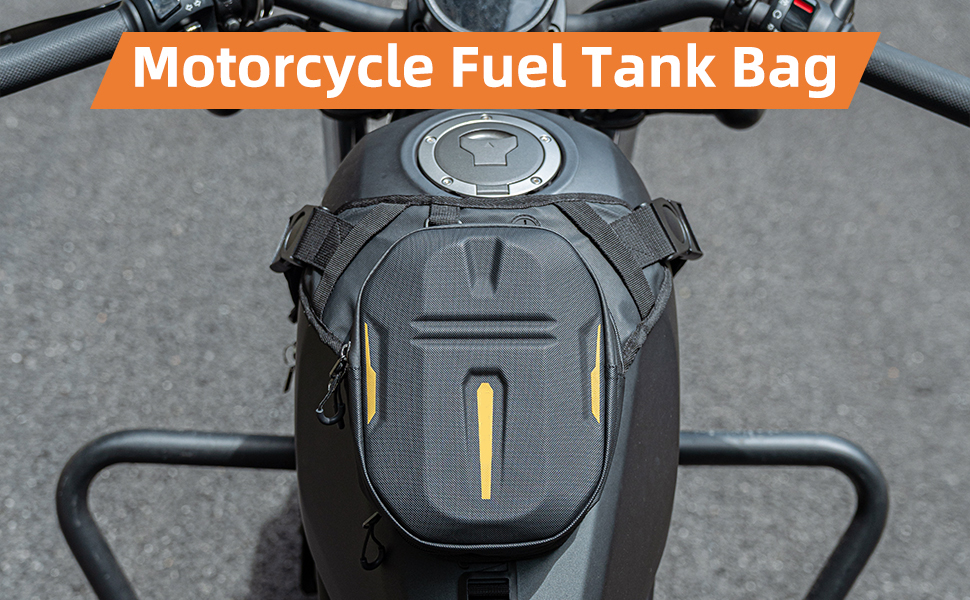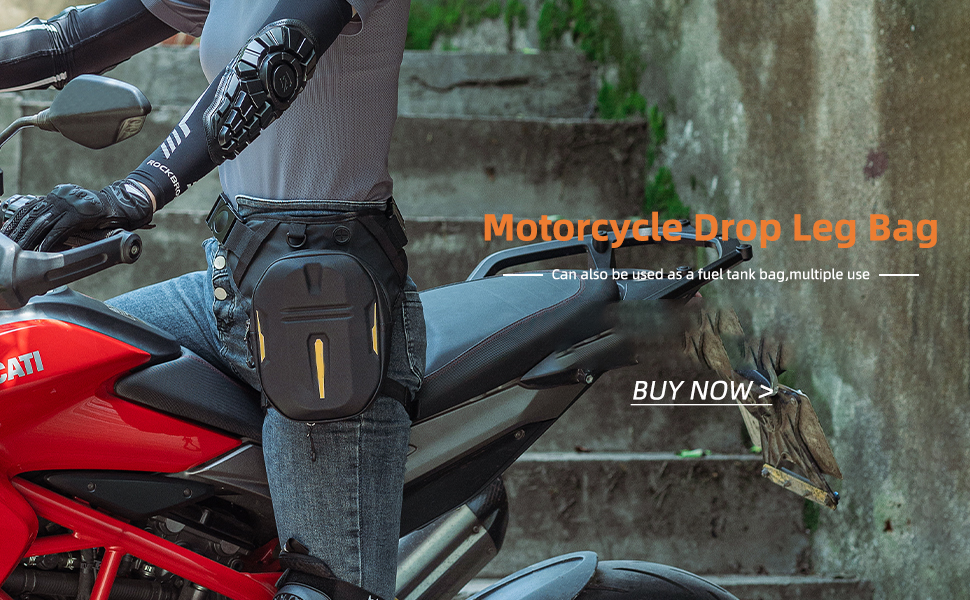 | | | | |
| --- | --- | --- | --- |
| Expand Large Capacity | Double Layer Design | 3 Gears Adjustable | 4 Removable Magnets |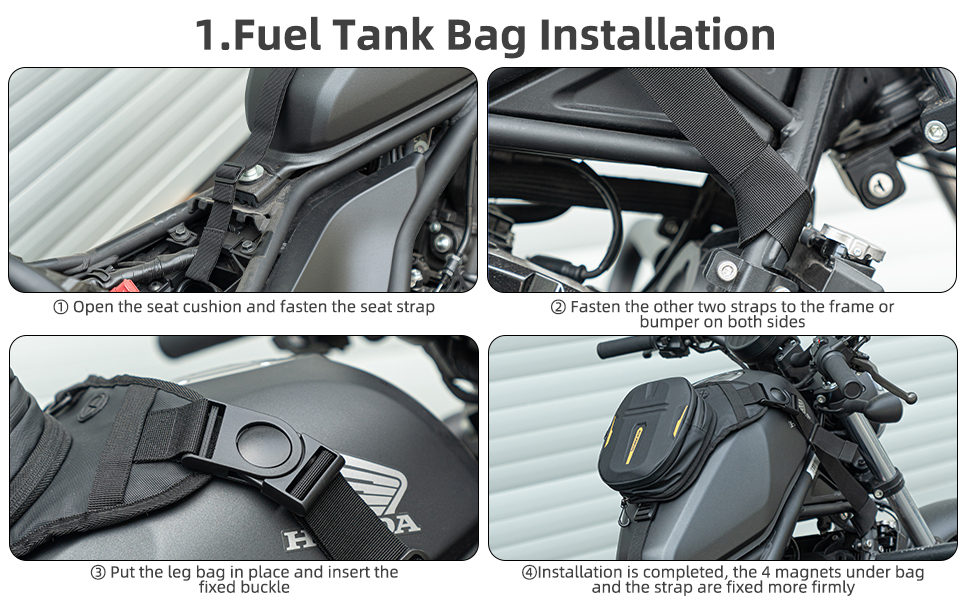 2.Rear Seat Bag Installation
Step1

Open the seat to secure the straps to expose the buckles

Step2

Connect the leg bag to the buckles of the two side straps and fasten the buckles

Step3

Installation finish.Note: The straps on both sides of the bag need to stuffed into seat