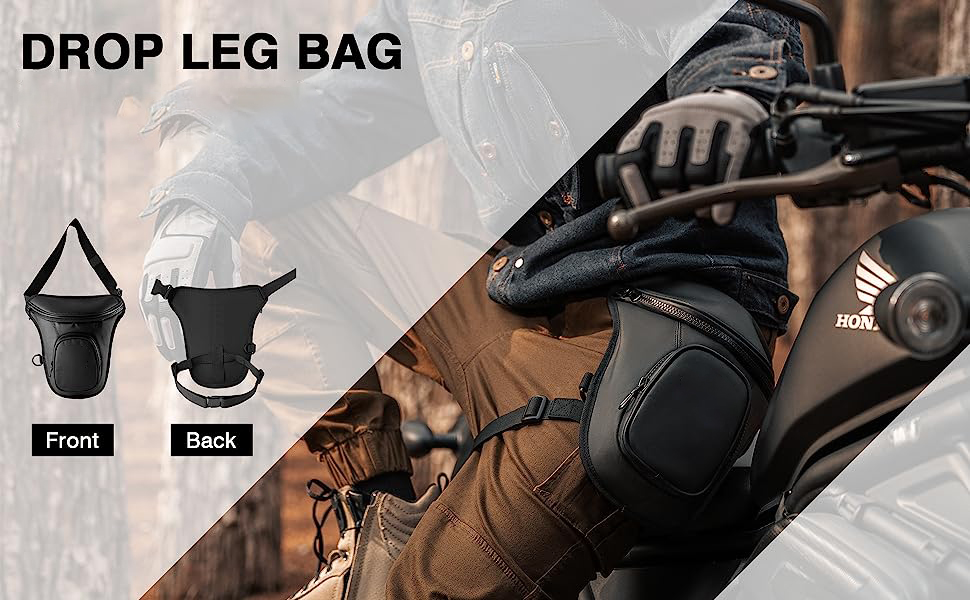 Hey there, fellow adventurer! 🏍️🌲 Are you tired of juggling your essentials while riding your motorcycle, hiking up a trail, or conquering the great outdoors? Do you find yourself wishing for a trusty sidekick that's as rugged and ready-for-action as you are? Well, buckle up, because we've got just the thing to make your adventurous heart sing!
Introducing the FlexiCarry Outdoor Leg Bag – the drop leg bag that's not just waterproof but laughs in the face of scratches. It's like the Swiss Army knife of bags, only way cooler and without the risk of cutting yourself. Imagine strapping on this bad boy and having everything you need right at your thigh, ready to whip out at a moment's notice. Keys, wallet, phone, secret stash of trail mix? Check, check, check, and check!
Whether you're revving up your motorcycle, scaling a mountain, or just strutting down the street like the urban explorer you are, this leg bag is your new best friend. It's the Batman utility belt for the everyday hero, and it's calling your name. Why settle for ordinary when you can have extraordinary? FlexiCarry is here to elevate your game, one adjustable strap at a time. Now, who's ready to ride? 🏍️🎒🌄
Waterproof Wonder
This isn't just a bag; it's your trusty shield against the elements. Caught in a sudden downpour? No worries, your phone's dry, and so are your snacks. It's like having an umbrella for your stuff, only way cooler.
Scratch-Proof Sidekick
Go ahead, scrape it against a rock, drag it through the mud, or dance with a bear (okay, maybe not the last one). This bag laughs in the face of scratches. It's like the action hero of bags, minus the cheesy one-liners.
Double the Fun with Double Layers
Ever fumbled around in a bag that's as organized as a teenager's bedroom? Not with this beauty! Double-layer design means double the fun and zero the mess. It's like having a personal organizer, but without the judgmental looks.
Room for Everything (Even Your Ambitions)
This bag doesn't just carry your stuff; it carries your dreams. Okay, maybe not, but with its large opening and capacity, it sure carries a lot. Wallet, keys, phone, secret superhero cape? Check!
Strap In for Comfort
Adjustable straps? Yes, please! Whether you're built like The Rock or more on the lean side, this bag's got your back (or thigh). It's like a hug for your leg, only less weird.
Smooth Operator
Ever fought with a zipper that's more stubborn than a cat at bath time? Not here. This zipper's smooth and oxidation-resistant, just like your moves on the dance floor.
Stable and Firm, Just Like Your Resolve
This isn't a flimsy bag that'll bail on you mid-adventure. It's firm, stable, and ready for action. It's the best friend you never knew you needed.
For Men, Women, and Everyone in Between
Who says adventure has a gender? This bag's for everyone who's got the spirit of exploration. It's the universal passport to Adventureland.
Stylish as You Are
Who says rugged can't be chic? With its tactical fanny pack design, you'll be turning heads for all the right reasons. It's the little black dress of outdoor gear.
A Pocket for Your Thoughts (and Small Items)
Keys, cards, that lucky charm you never leave home without? There's a pocket for that. It's like a treasure chest for your trinkets.
Built to Last, Like Your Love for Adventure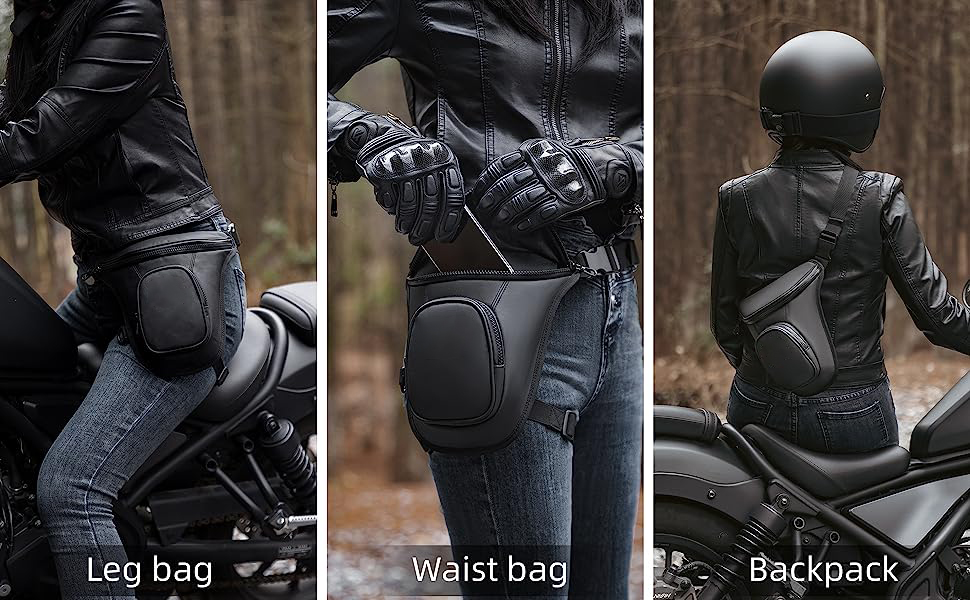 This isn't a fling; it's a long-term relationship. Built with quality and care, it's ready to face the wild with you. It's the Indiana Jones of bags, minus the fear of snakes.
So, fellow explorer, are you ready to elevate your adventure game? The FlexiCarry Outdoor Leg Bag isn't just waiting; it's practically jumping up and down with excitement to join you on your next escapade. But wait, there's a twist! This bag is as exclusive as your secret camping spot, and it's flying off the shelves faster than you can say "wilderness." Don't let this opportunity slip through your fingers like sand on a beach hike. Grab yours now, and let's turn those ordinary outings into extraordinary memories. 🏕️🌟
Still on the fence? Think of it this way: life's too short for boring bags. The FlexiCarry Outdoor Leg Bag is your ticket to a world of convenience, style, and endless adventure. It's not just a purchase; it's an investment in your wanderlust. Click that "Add to Cart" button, and let's make your next journey unforgettable. Hurry, though, because adventure waits for no one, and neither does this offer! 🎒🏍️🌄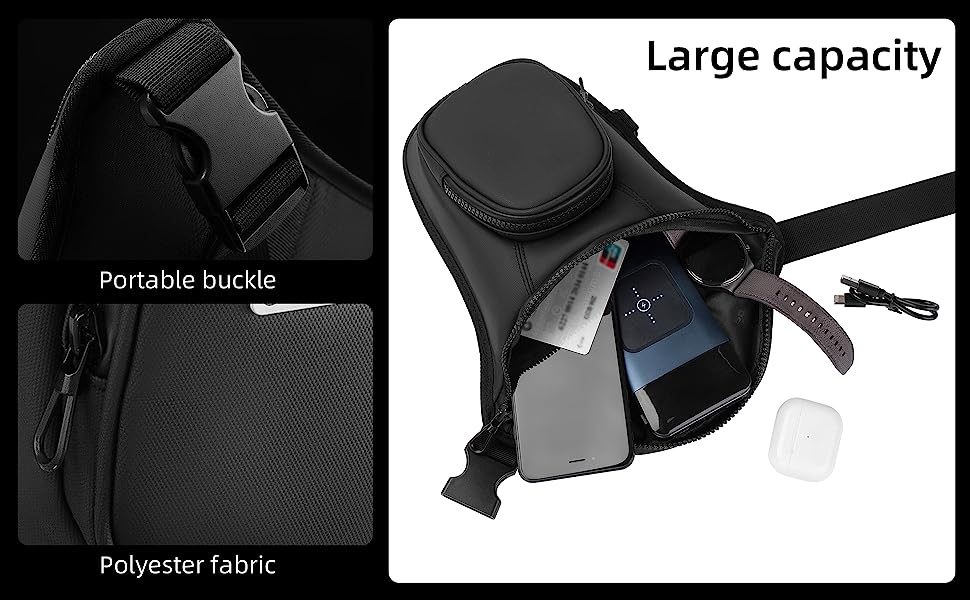 Technical Specifications
Alright, gearheads and detail-lovers, this one's for you. Let's dive into the tech specs without drowning in jargon:
Material: High-quality composite waterproof material (No, it won't melt in the rain)
Scratch Resistance: Bring on the brambles; this bag's ready
Structure: Double-layer design (Because two is always better than one)
Capacity: Two pockets, one main, one secondary (Room for all your secrets)
Strap Length: Waist belt about 79 cm, leg strap about 49 cm (Adjustable, like your attitude)
Zipper: Smooth and oxidation-resistant (No wrestling required)
Fixing Device: Firm and stable (Like your commitment to adventure)
Gender: Unisex (Because bags don't discriminate)
Design: Tactical fanny pack style (Chic meets rugged)
Additional Pocket: For credit cards, keys, etc. (Or your spy gadgets)
Durability: Built to last (Like your favorite hiking boots)
So there you have it, the full rundown of the FlexiCarry Outdoor Leg Bag. It's not just a bag; it's a statement, a companion, and a ticket to the wild. Now, who's ready to explore? 🌲🏞️🚵‍♀️