Your Home Security and Calamity Prevention Partner!
SecuBright is a high-quality and energy-saving security and calamity prevention Flood Lights trusted by hundreds of families worldwide. It features excellent brightness, flexibility, and a durable design that ensures a long lifespan in keeping your home safe against unexpected emergencies.
It's energy-saving. You don't have to break the bank to add an extra layer of protection to your home. The SecuBright will illuminate up to 10,000 lumens while keeping your electricity bill at a minimum. We're talking about an 80% reduction compared to other Flood Lights you see on the market today. This makes the SecuBright the perfect LED outdoor Flood Light fixture for your home, whether it's indoors or outdoors.
Why Switch to SecuBright?
Super Bright & Energy-Saving: There's nothing better than the SecuBright when it comes to illuminating your home the thrifty way. Our LED Flood Lights can produce up to 10000lm of super brightness yets saves more than 80% of your electricity. In addition, SecuBright consumes less electricity than traditional halogen outdoor lamps, so there's nothing to worry about high electricity costs.
Durable Material, Longer Lifespan: This outdoor Flood Light is made up of premium Die-cast Aluminum black, which has excellent heat dissipation. Besides, it is more durable and provides you up to 30,000+ hours of lifespan.
IP66 Waterproof & Wider Beam Angle: With an IP66 rating, it can be widely used in outdoor and indoor spaces. The IP66 rating is much better than the commonly available IP65 waterproof due to its high-quality reflective film and beam angle that can reach up to 120 degrees. For this reason, SecuBright is your excellent choice for outdoor LED lights for your gardens, barn, front porch, factories, docks, squares, stadiums, and other places where lighting is needed.
Safer Flood Lights & Flexible Installation: With our FCC certification, UL plug (with ground wire), and a metal bracket on the lamp body, SecuBright

can provide efficient lighting for your living environment with an extra set of safety to your home.

Compact Design: Compare with other brands, this portable LED Flood Light is more compact. It's very convenient to install, especially when you used it as an outdoor work light, LED outdoor Flood Light, security lights, and more.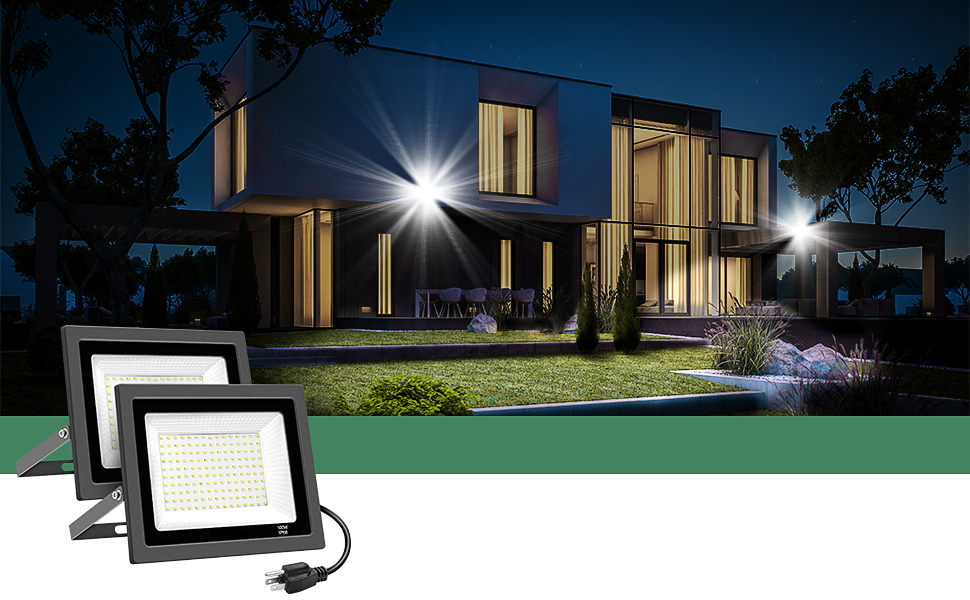 Specifications:
Wattage: 150W
Voltage: AC 120V(100V-130V), 60Hz
Lumens: 10000LM
Color Temperature: 5500K-6000K, White Light
Color Rendering Index: CRI>70
Waterproof Rating: IP66
Features:
Super Bright: Our SecuBright offers high-quality 150 Watts LED beads that can provide up to 10,000 Lumens of brightness. That's more than most outdoor lights provide and is more efficient in keeping your home safe and secure.
Energy Saving: This LED Flood Light can perfectly replace 500W traditional halogen lamps and save up to 80% of power consumption. It's efficient at a lesser price.
Premium Materials: The shell is made of premium die-cast aluminum, which has excellent dissipation and a longer lifespan.

Anti-Fatigue Softer Lighting
Our SecuBright also thinks of your comfort, especially when entering your home at night. So we've added a professional scale-like reflector design that enables the Flood Lights to make a softer and comfortable light to prevent getting dazzled when it's working.
Widely Used
Our Super Bright, Energy-Saving Flood Lights are used by many families and businesses for multiple reasons. It can light up any home, garage, lawn, backyard, tree, patio, hallway, landscaping, and more with efficiency and less consumption.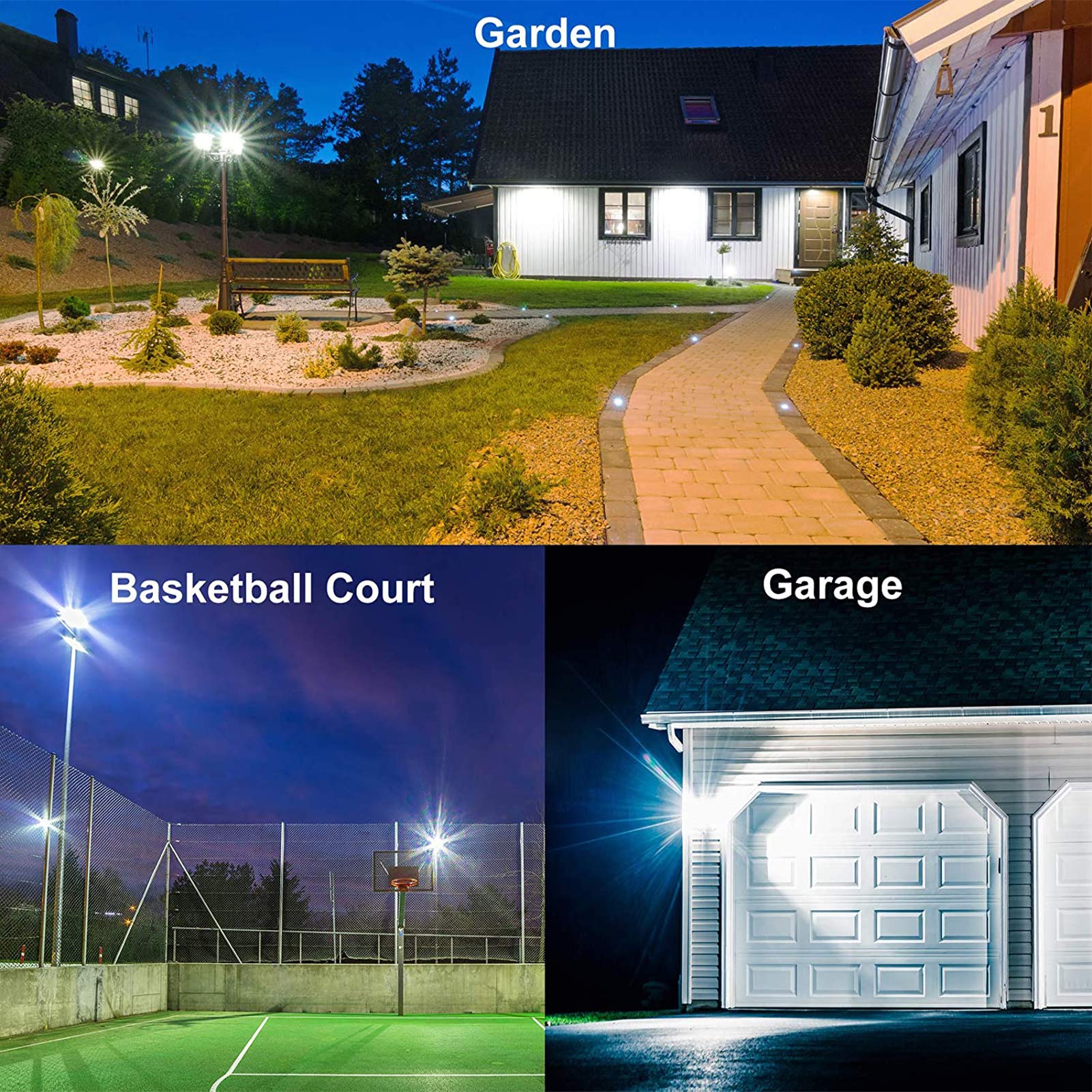 IP66 Waterproof
Our IP66 waterproof rating is the best in excellent in resisting the harsh environment of the outdoors. It can withstand rainstorms, sleets, and more, giving you the peace of mind that the SecuBright will keep working regardless of the situation. SecuBright is your ideal lighting partner for indoor and outdoor spaces.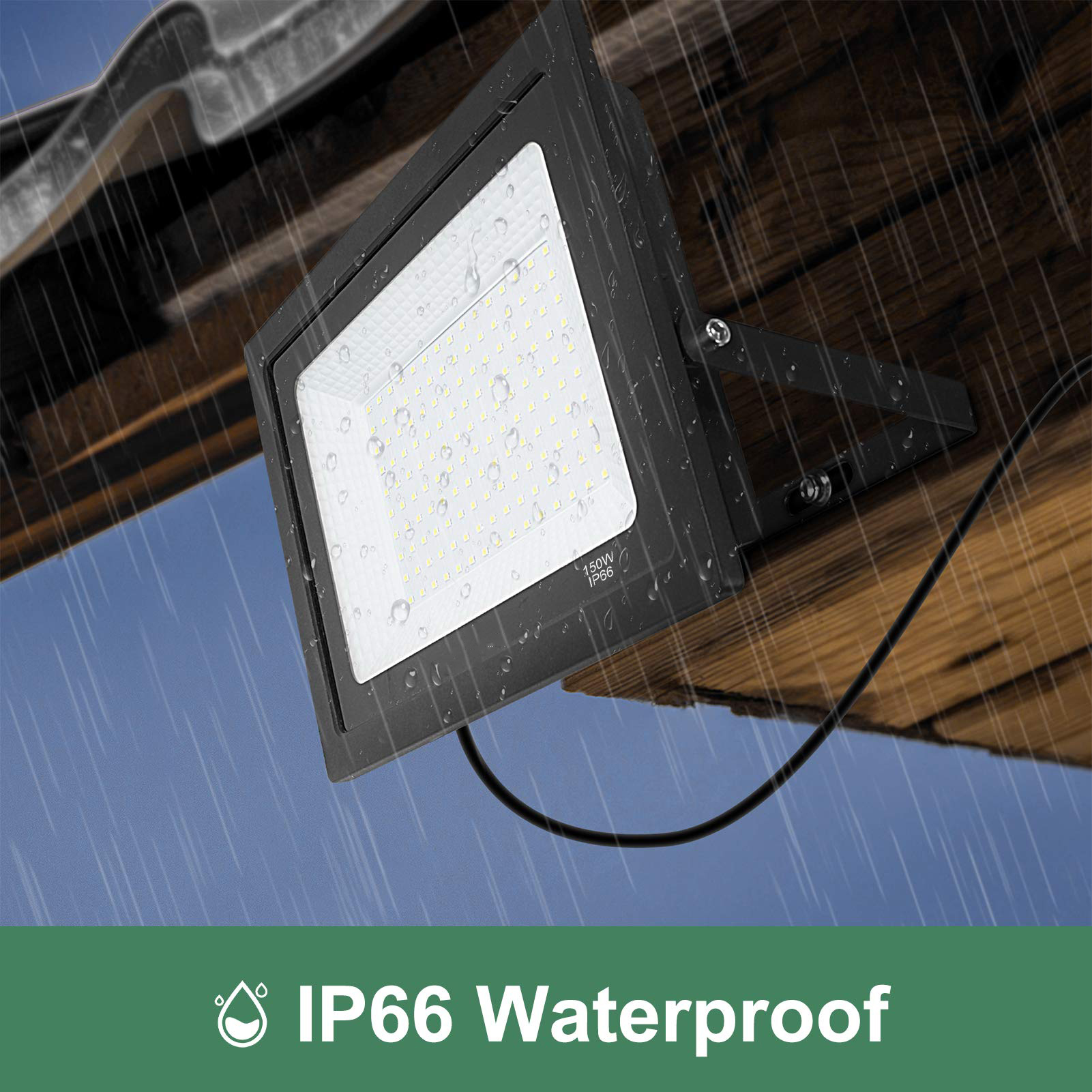 Package Includes:
1* 150W LED Flood Light
1* User Manual
Warm Tips:
The light has no motion sensor, no timer, and no dawn to dusk function.
Please do not submerge the light under the water.
The plug and switch are not waterproof; please keep it dry when in use.