Securing Homes Since 2018
Our LightVio 3-Head, IP65 ETL Motion Sensor Flood Light results from our continuous effort to deliver top-of-the-line security technology for every household. This new and improved Motion Sensor Flood Light is fitted with high-grade features to help every household establish ease in times of distress and emergencies.
The new LightVio comes with upgraded designs. Unlike its predecessors, the LightVio is now fitted with FULL aluminum materials and a Samsung LED lamp bead to deliver better illumination from dusk to dawn. It comes with soft light and anti-glare features so that it's not too blinding when visitors come to your home.
The changes we made with LightVio focuses on making the security device more outdoor- and budget-friendly. This Motion Sensor Flood Light will last longer due to the upgraded IP65 waterproof feature that makes it more suitable for outdoor usage.
Features:
Excellent Brightness & Energy Saving: The LightVio has a LED unit output of 40W—that's 4000 Lumens and 5000K brightness (daylight white)—which is equivalent to 200W of halogen light. It's powerful, but it saves your electricity bill by up to 88%. ETL certificated.
Quick and Simple Installation: The installation is straightforward, and hooking up the device is a breeze, even for DIY'ers. This LED outdoor security light can be installed by mounting to a wall and following a few simple wiring steps.
Bring Safety to Your Home: Our LED security lights can turn on automatically when the motion is detected with 180 degrees swiveling angle, sensing light levels and motion up to a max of 75 feet. Easily adjust the light heads, lens hoods, and motion sensors to different angles based on your DIY requirement.
IP65 Waterproof: The durable and weatherproof design ensures safety for outdoor use by protecting the lamp from rain, sleet, or snow. Perfect lighting solution for garages, workshops, industrial workstations, storage rooms, equipment rooms, etc.
3 Mode Control: "Motion Detection" detects track ambient motion and activates lighting; "Dusk to Dawn (D2D)" functions automatically in the dark while turning off during daytimes; "Always-ON Mode" set D2D+TEST together, manually controls lights by a switch.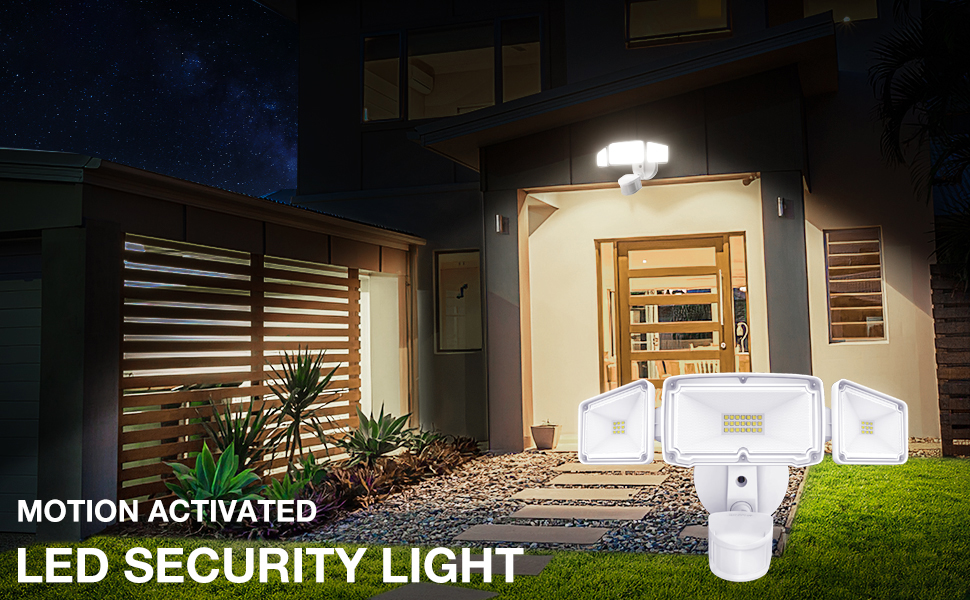 Motion Activated
"I will take care of your child."
The Upgraded Motion Sensor, the LightVio, can detect movements at a max distance of 75ft detection range and 180° sensing angle to give you great coverage for motion detection. This feature is highly suggested in detecting cars, people, and animals for additional safety.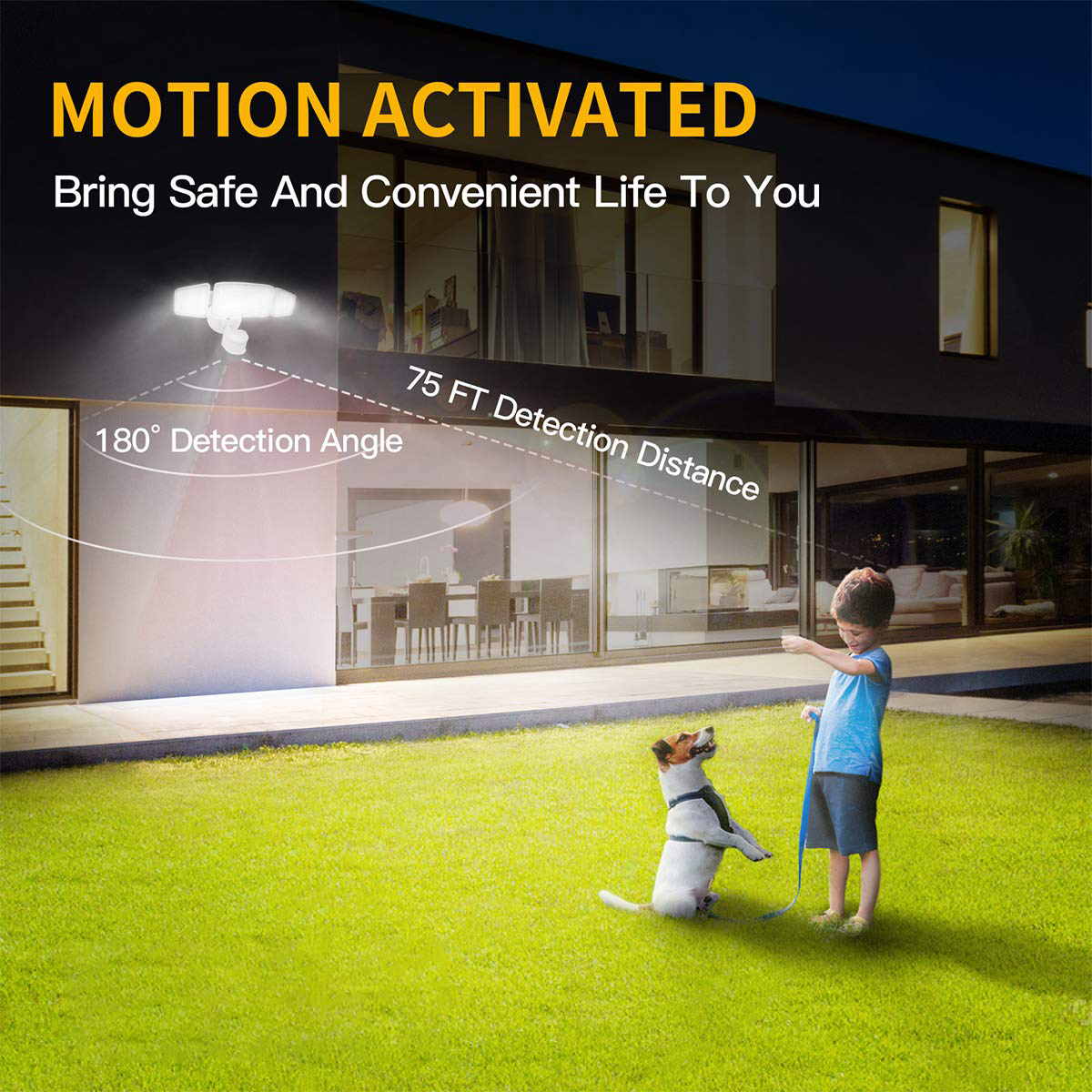 Upgraded Motion Sensor
This light can be easily set to light up your home:
Distance: You can choose detection distance from High/Medium/Low and set it to D2D mode.
Always On: You can easily set manual mode by moving the slider to D2D and TEST together.
3 Lighting Times
The LightVio has 3 modes of lighting time: 1 minute/3 minutes/10 minutes. Most security comes with less than 120 seconds of light. With LightVio, you'll get a better experience, security, and precautions.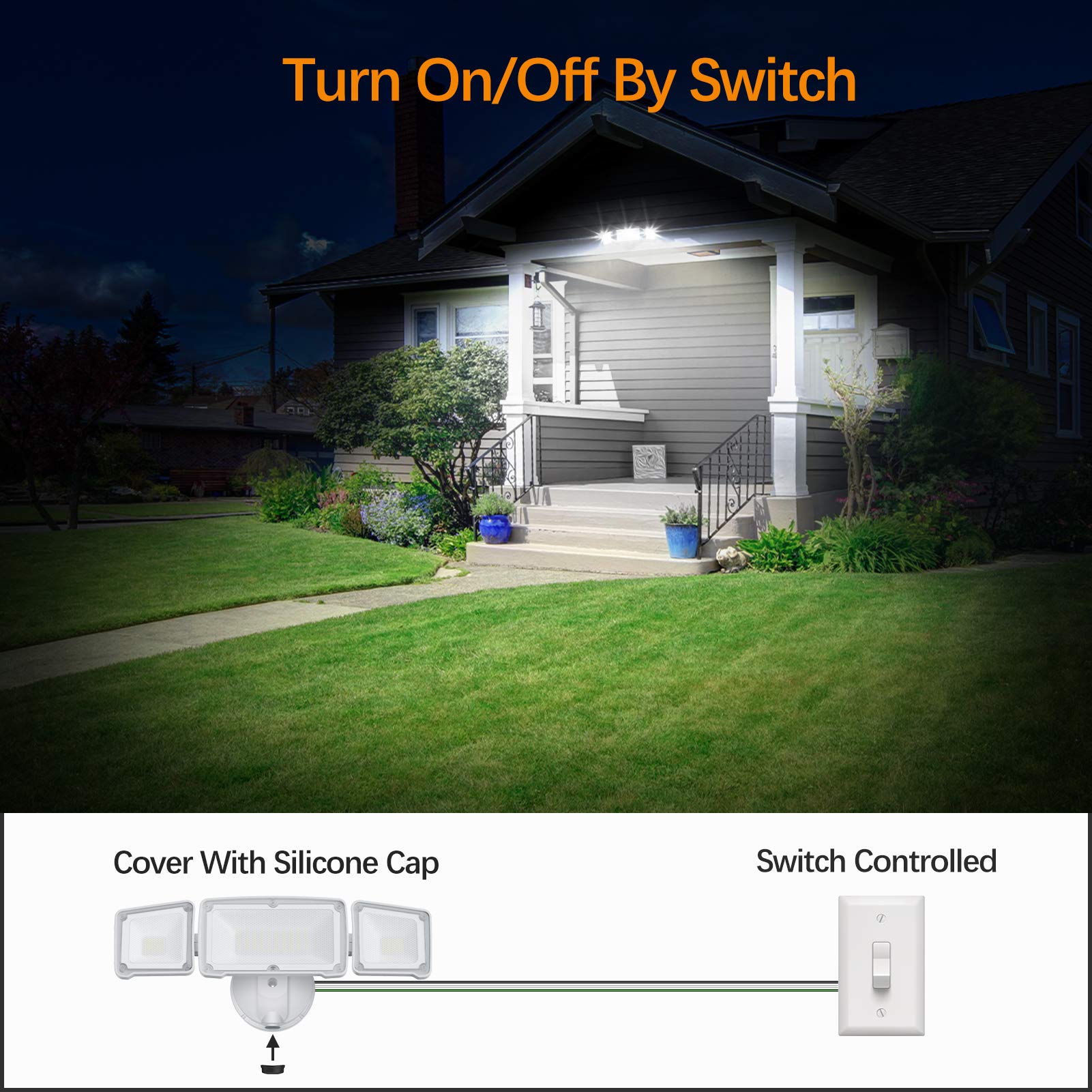 Adjustable Head & Motion Sensor
This LED security light has 3 adjustable heads. You can rotate them to a position according to your needs, so you will have more installation angle options to customize your lighting area. (Warm Tips: Ensure the motion sensor faces outside when mounting on the soffit/eave.)
IP65 Waterproof
The professional waterproof certification ensures safety for outdoor use, protecting the light from rain, sleet, or snow. Perfect for indoor & outdoor installation.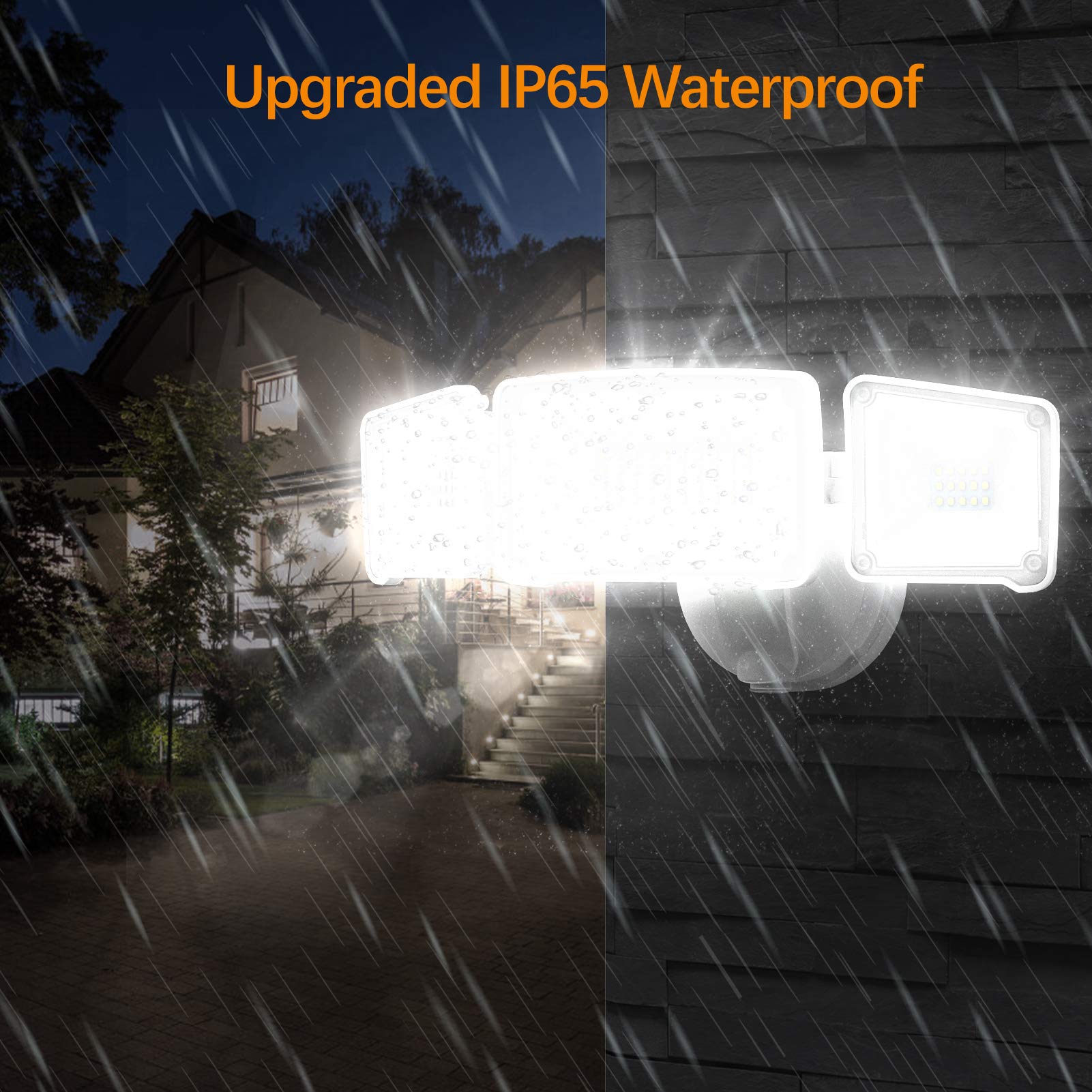 Full Aluminum Back
The exquisite aluminum head is corrosion & rust-resistant and won't fade even for decades. The excellent heat dissipation ensures the light is more durable for a 50000-hour long life span.
Package Includes:
1 x LEPOWER Light
1 x User Manual