Military Styled Pack for Everyday Use!
Tired of changing backpacks because of tearing or fraying around the zips? If your answer is yes, it's time to switch to RovRack Tactical Backpack. Our design is built to last and deliver maximum toughness with intelligent features that you'll see as extremely beneficial. It comes with three essential things you're looking for in a PERFECT backpack: durable, better capacity, and equipped for long, strenuous use.
Get to Know the RovRack
The RovRack is a household name when it comes to quality backpacks. Its latest line of Tactical Backpacks comes with top-notch features that will you fall in love. It's designed to handle all your things with ease and style, regardless of the activity you have for the day. Whether it's an expedition or a regular walk in the park, the RovRack will, for sure, secure your belongings with a high degree of safety and comfort.
What to Expect With the RovRack?
42 Liters Large Capacity Backpack
Bring as many as you can with RovRack's 42 liters capacity and strategically designed pockets. You can easily organize all your belongings without fear of overstuffing. It's secured with a premium-grade material and zipper to ensure all your things are in place, regardless of the activity you are engaging in.
Approx. Size: 15.36″ *  19.69″ *  11.81″ (W * H *D)
Capacity: 42 Liters
Our maximized capacity design allows you to carry all your tactical gears with comfort and ease. If you plan to use it for regular use, it will handle all your personal things without looking bulky. The RovRack Tactical Backpack can be used as a small, 3-day assault pack, emergency backpack, bug out bag backpack, combat backpack, range bag, survival backpack, army backpack, molle EMT backpack, EDC outdoors backpack, hunting backpack, hiking backpack, camping backpack, travel backpack, and so on.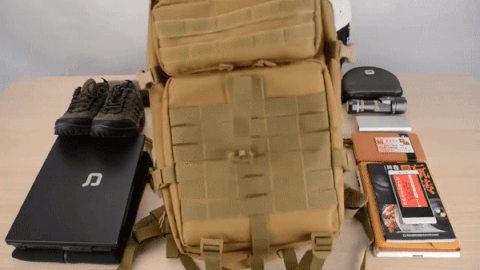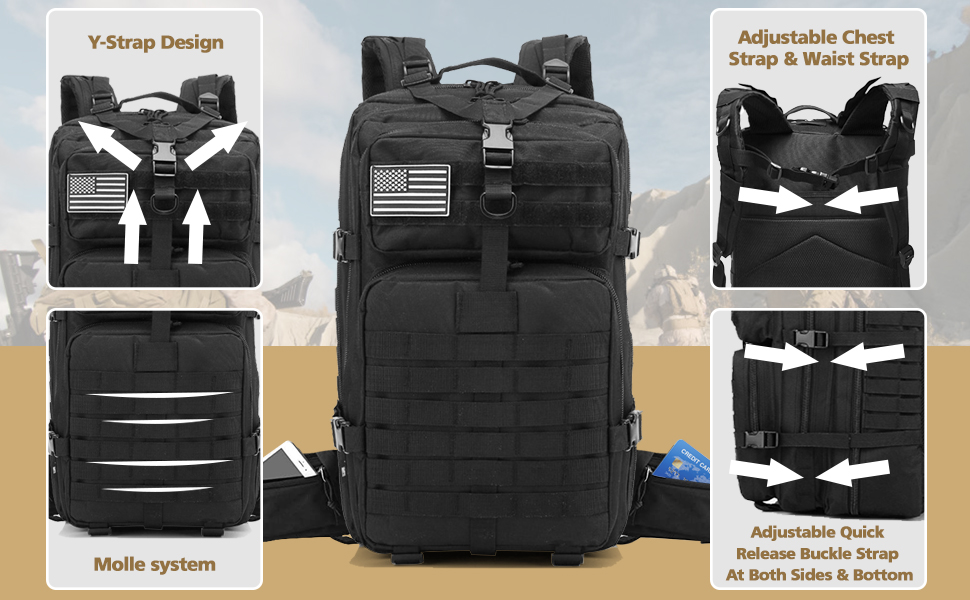 Military MOLLE System
The molle webbing system of the RovRack is designed for convenient attaching of additional Molle tactical pouches or more gears. With 3 rows of molle velcro areas allocated in front of the backpack, you can attach more items with ease. The front, sides, bottom, and shoulder straps come with molle attachment straps for adjustment and additional storage. The shoulder straps with two D-rings hang some things, and the straps at the bottom can hold a tent, sleeping pad, or other outdoor gear.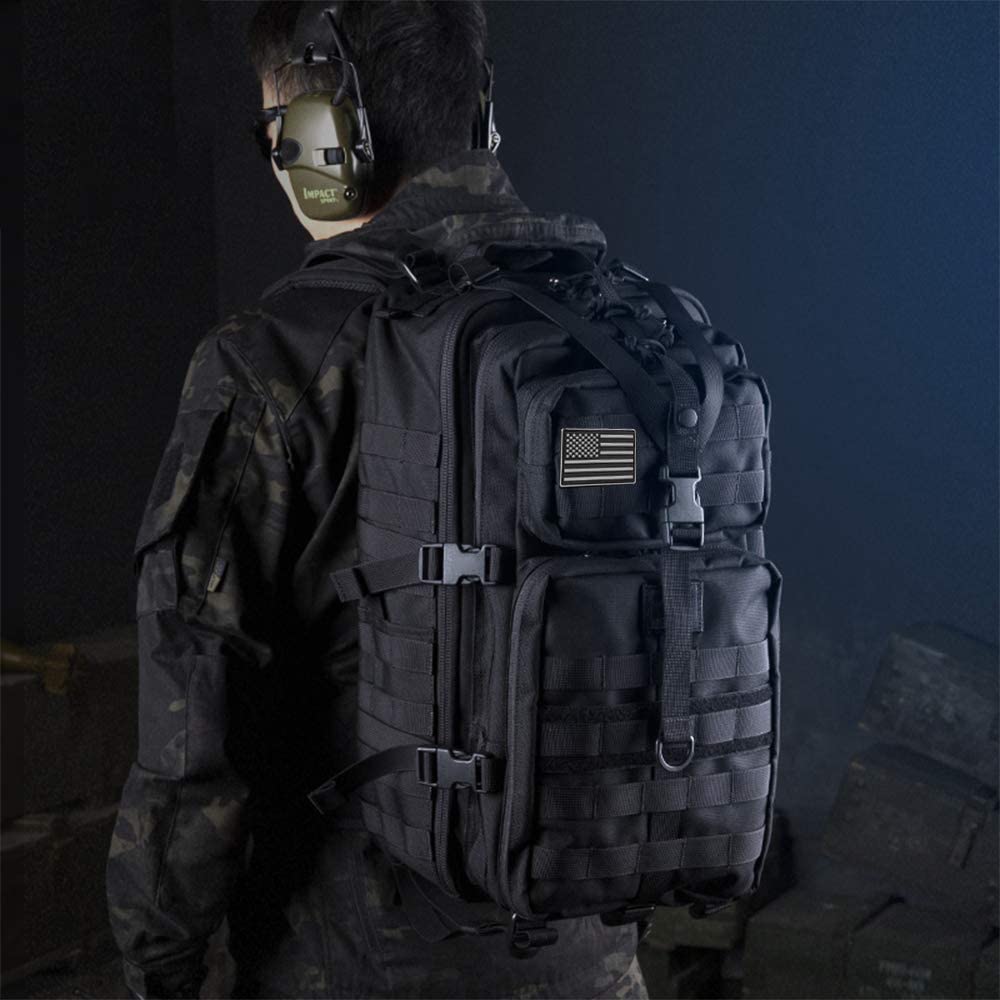 Tactical Backpack
The RovRack Tactical Backpack comes with ergonomically designed and padded straps for both the shoulder (roughly 5 cm wide and length adjustable). Moreover, the pack goes with a padded back, and an adjustable waist strap opened with a clip, making it a perfect military backpack.
Due to various lateral compression straps, the RovRack enables volume control and luggage locking and allows additional equipment to be mounted through several sturdy all-round straps and loops and D-rings on the shoulder straps.
We've designed this bag so you can add extra jackets, gear, snacks, shoes, and more to it. You'll be shocked by how much fits into this military-grade bag with compartments that stretch and expand as you overstuff. And there's nothing better in a pinch than knowing that you have enough extra space for that last object.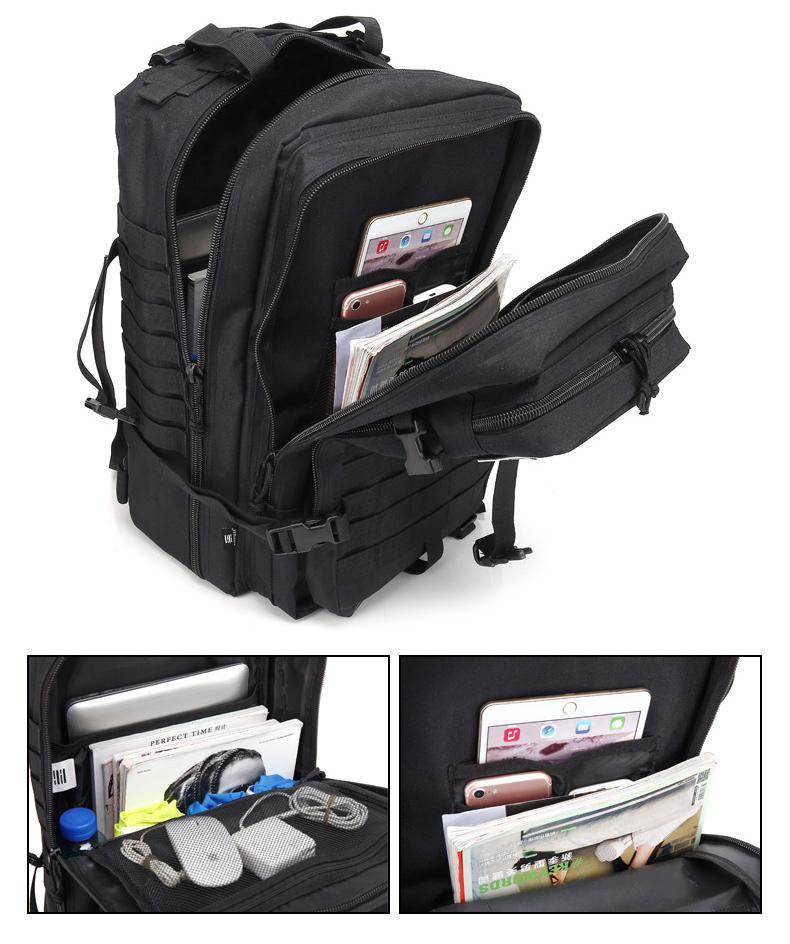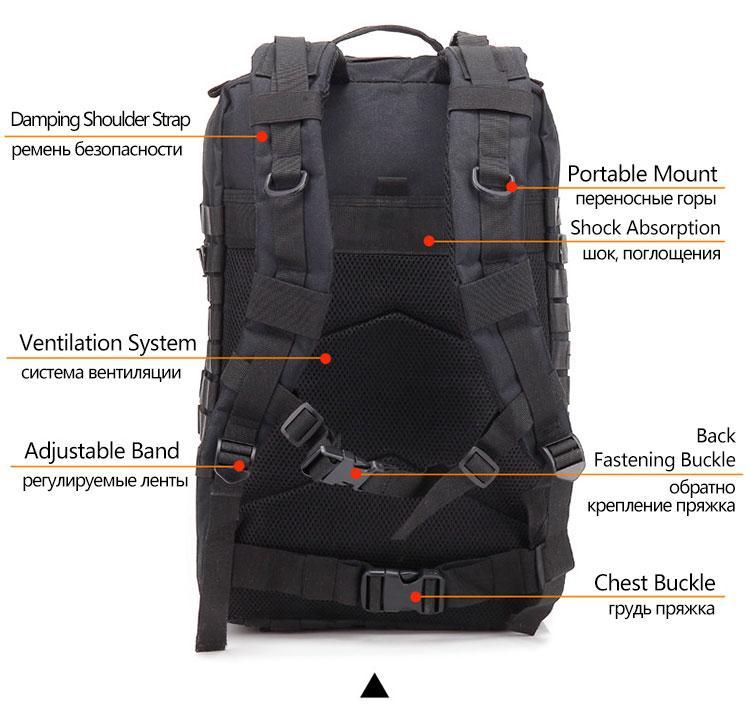 Versatile With Multi-Compartment
Our Military Backpack has 2 main large compartments, 2 small compartments in front, and 1 back compartment. The large compartment has an elastic strap to hold laptops or anything you don't want to move around. Each compartment has a mesh pocket or zipper pocket to help with organization. The Y-Strap on the top allows you to hold more items, like a sleeping pad or sweatshirt. And it's much more convenient to put your gadgets into the bottom side pockets.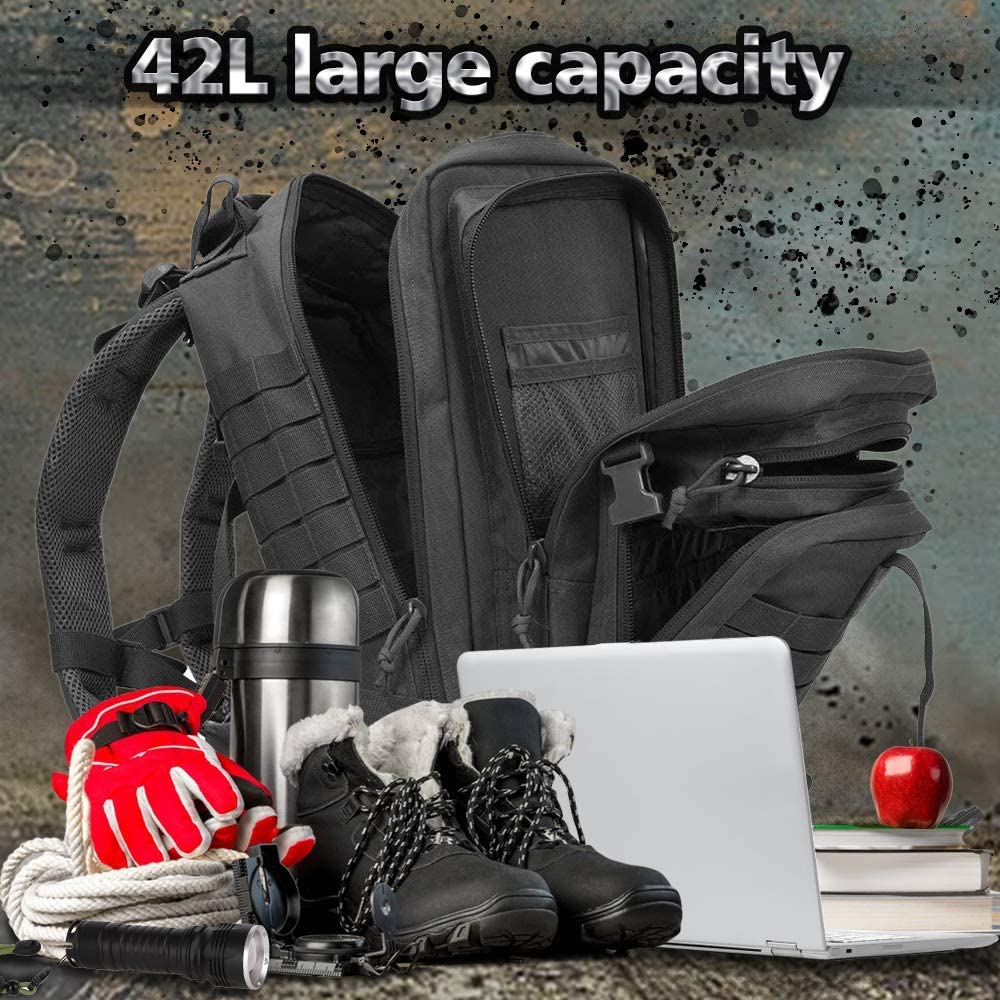 Durable & Comfortable
This pack is durable and water-resistant with the dual-zipper closure and high-density double-stitched 900D Oxford and Nylon fabric. The back and shoulder straps come with adjustable chest straps that are ventilated mesh padded design for breathable and comfortable use. The sides and bottom load compression straps system enables you to adjust and tighten the backpack. The thick mesh padding back area and shoulder straps will not pinch you under heavy duty.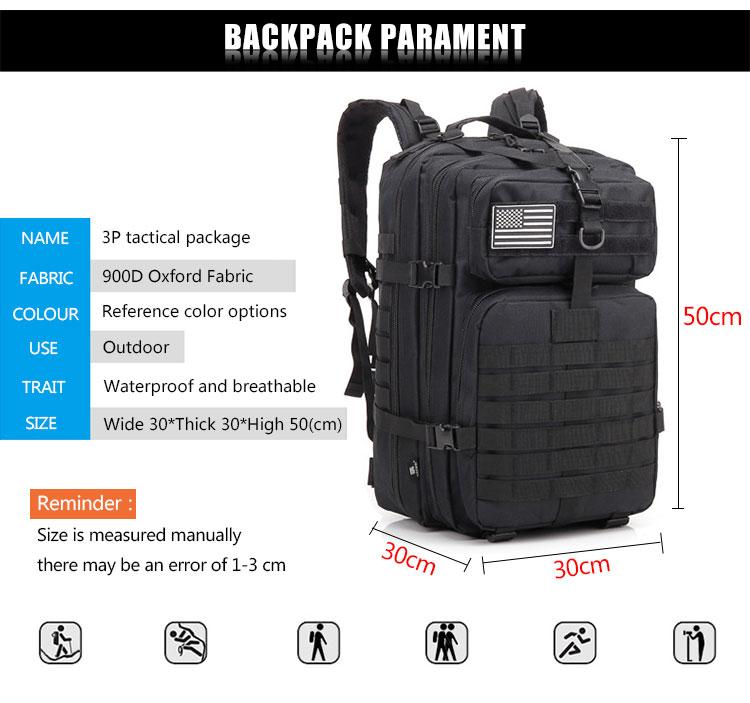 Specifications
Item No.: ZE-002
Fabric: 800D waterproof Oxford
Size: Height 48 * Width 28 * Thickness 28 (cm)
Capacity: 40L
Net Weight: 1.3KG