Secure, Easy-Install Pull-Up Bar for Your Home Exercises
In need of an upgrade from your old pull-up bar that's "not so safe" to use? If so, it's time to switch to the safest and most secure pull-up bar on the market, the Pull2Fit Heavy-Duty Pull-Up Bar.
Our design ensures the exercise bar stays secured and immobilized no matter how much you pull or twist. With our screwed metal casket installed on your doorway and high-quality metal build, you'll never have to worry about falling or injuring yourself while on the bar.
It's Quick Install Yet Secured
You will need only a few minutes to set up your Pull2Fit securely. And with its extendable design, it can easily fit 24.4 to 39.4 inches of doorways with minimal effort.
The Pull2Fit gives you an easy and economical way to strengthen and tone your back, arms, shoulders, and abs at the comfort of your home with minimal space requirement. You can retract the bar and store it anywhere when not in use!
It's the perfect multi-functional home workout equipment that fits all ages and body types!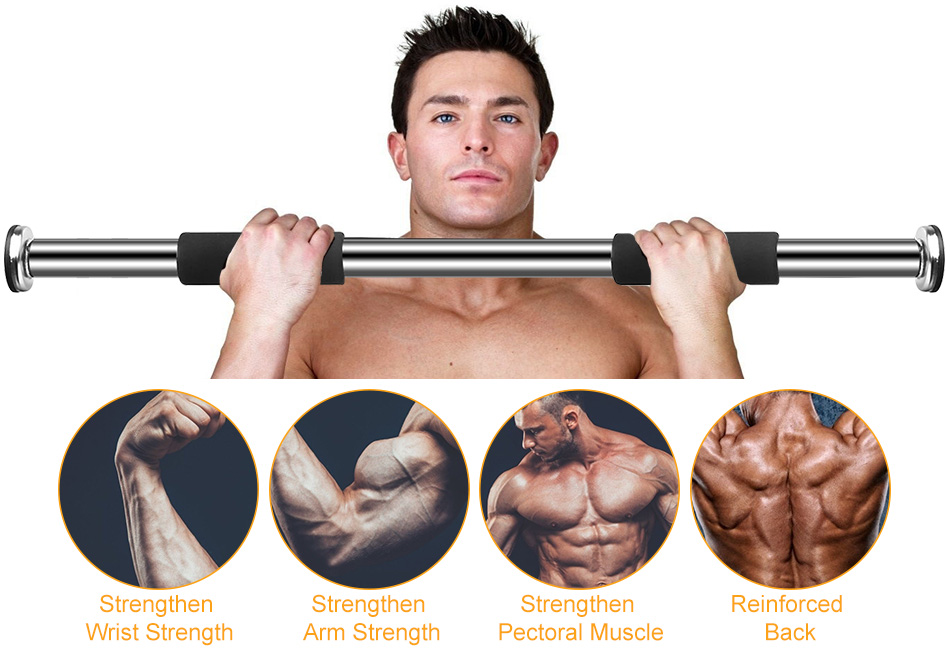 Features:
Multi-Usage: You can use this Fitness Bar for many exercises, including pull-ups, chin-ups, hanging leg raises, push-ups, dips, sit-ups, and crunches to strengthen your back, arms, shoulders, abs muscle, and so on. It's the best multi-functional home workout equipment you'll find today.
Safe & Secure: Our heavy-duty, chrome steel pull-up bar and door mounts provide excellent support and safety. This fitness bar holds up to 220 lbs, giving you full support for pull-ups and chin-ups.
Adjustable Bar Length: Fits for 24.4 – 39.4in doorways with extendable design for easy installation. It's perfect for your home, garage, gym, or office. You can also exercise at different heights and adjust the bar length according to your needs.
Comfort Grips: Non-slip extra-long foam grips for extra comfort to minimize hand fatigue and minimize risks of calluses or hand cramping.
Easy To Store: The shortest length is 24.4in, and it can be set up in seconds in almost any door frame. You can retract the bar to its smallest size and store it anywhere when not in use!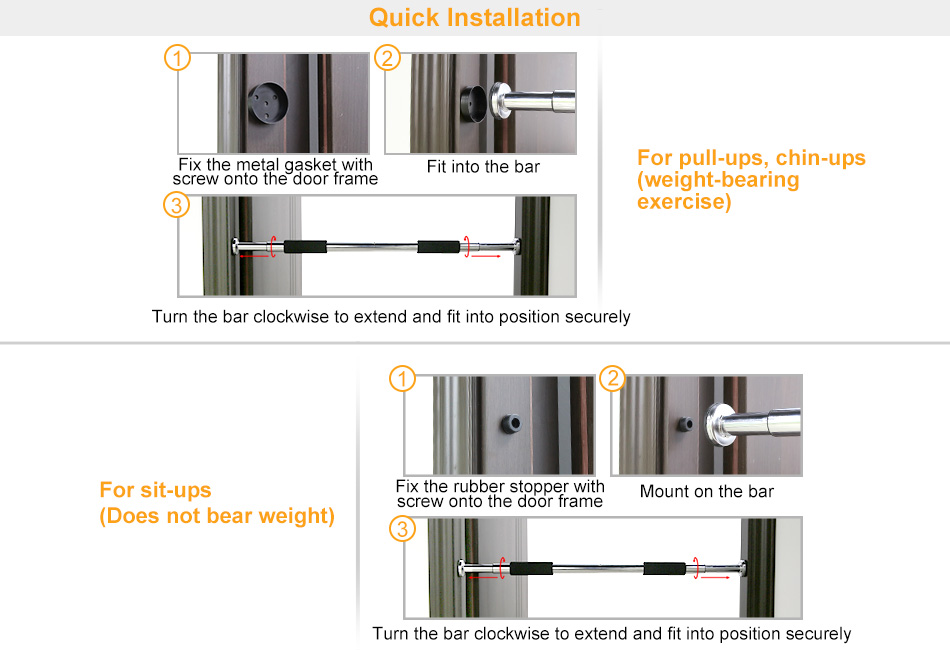 Safety Note: Each time the workout bar is used, please cautiously apply your weight to it during the first few exercises to confirm that it is secure and safely holds your weight.
Specifications:
Material: chrome steel
Fits doorway: 62-100cm/24.4-39.4 in
Weight capacity: 100kg/220lbs
Size: 24.6 x 2 x 2 in/62.4 x 5.1 x 5.1cm (L x W x H)
Weight: 1.1kg/2.5lbs
Package size: 25 x 2.13 x 2.13 in/63.5 x 5.4 x 5.4cm (L x W x H)
Package weight: 1231g/2.71lbs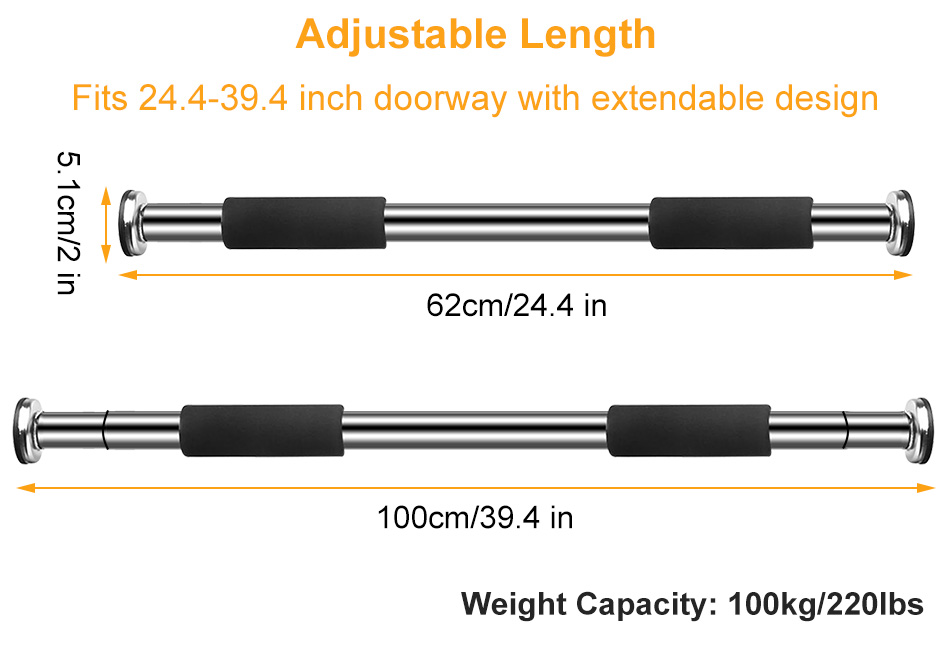 Package Contents:
1 × Doorway Pull Up Bar (Two metal gaskets attached on)
2 × Rubber Stoppers
8 × Screws