Its Time for a Picnic!
Our Premium PicPack Backpack has everything you need for your next picnic, including 4 sets of matching silverware complete with napkins, wine glasses, bottle opener, bread knife and waterproof blanket!

Summary
Boasting an exceptionally large insulated compartment and a top loading design, PicPack picnic backpack offers you plenty of space to pack everything you want for a family picnic or an elaborate picnic for two. The bag is sturdy enough to hold a lot of weight and the thick straps won't dig into your shoulders. All this plus the classic red and white checkered theme for a picturesque setup make it our favorite choice.
Capacity and Compartments
If you're looking for the roomiest four-person picnic backpack, PicPack offers you more than enough space to pack all the foods, snacks, and drinks you plan to bring. The thermal lining ensures your foods will stay hot/cold until you get to your destination. The accessories compartment comes fully equipped with everything you need to host a picnic for four while the wine cooler and two pockets give you more storage space.
What Makes This Picnic Cooler Backpack Stand Out:
Extra-spacious insulated compartment for food
Classic checkered lining, napkins, and blanket
Top loading design maximizes packing space
Wine cooler, cutlery compartment, and multiple pockets
Table ware for 4, accessories and blanket included
MODEL & ACCESSORY SPECS
Capacity: 4 Person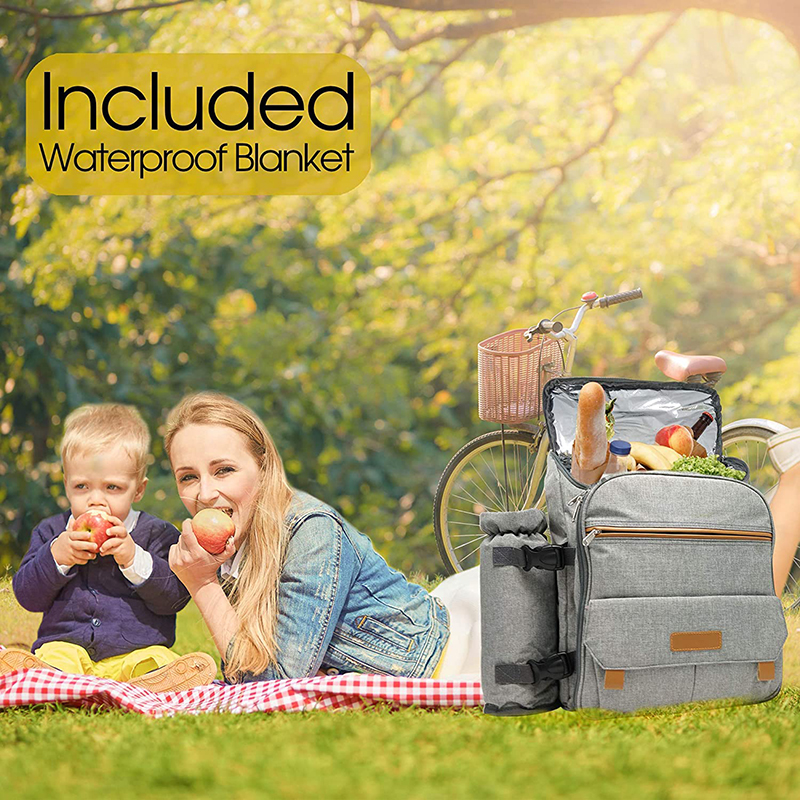 Insulated Main Compartment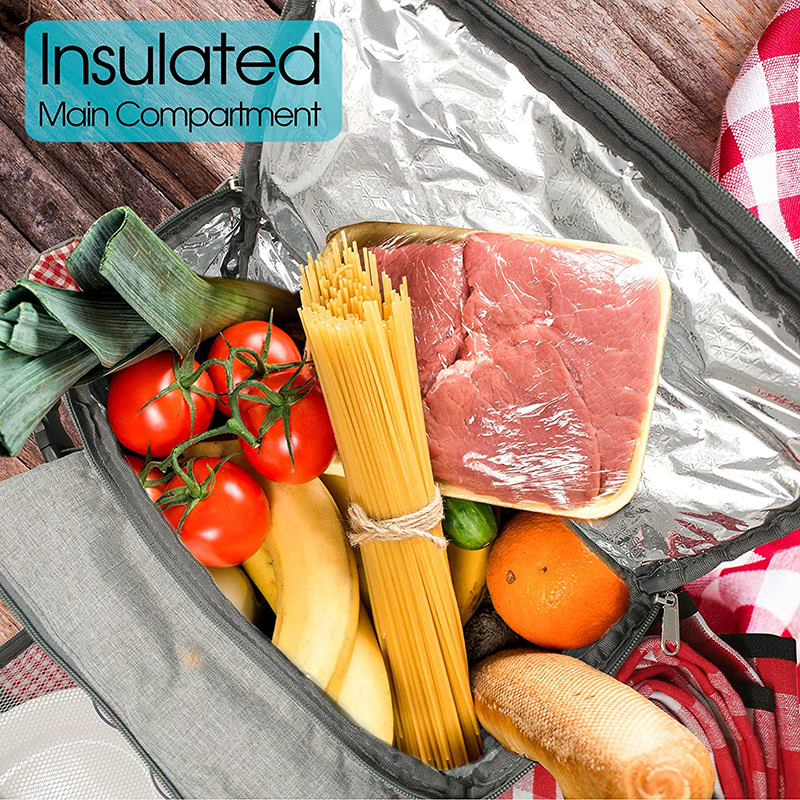 Insulated lining means your hot foods stay hot, and your cold foods stay cool. Your fresh fruits, delicious foods, tasty deserts and beverages will stay at the correct temperature until you arrive at your destination. No other picnic basket features a fully insulated main compartment as large as ours!
Geared for Nature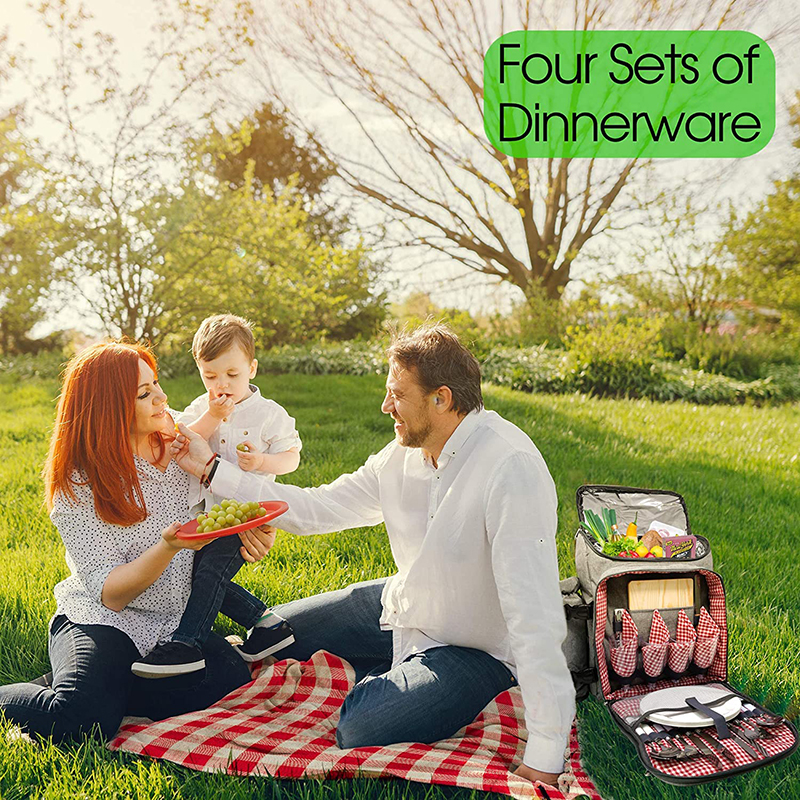 Our basket has the largest main-insulated compartment available and waterproof blanket. Bring your favorite foods on a hike, to the beach, site-seeing or on a camping trip!
Waterproof blanket allows you to picnic anywhere. Dont worry about rain the night before your big day – wet grass wont soak through the blanket because it comes with a pva waterproof liner.
Memories & Special Moments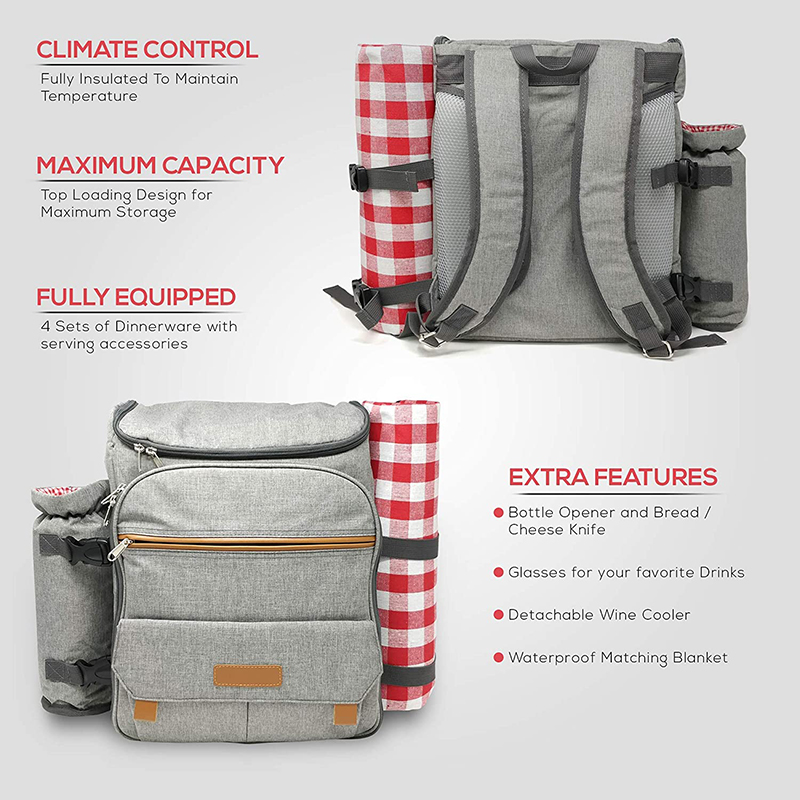 Picnics are an amazing and special way to enjoy the great outdoors with friends, loved ones and family members.
Plan romantic outings, scenic get-togethers, trips and group excursions to places of interest. Bring your camera because our basket is photogenic.