Every Adventure's Light And Cool With the ICEVENTURES Backpack Cooler!
Want a lighter alternative to all the coolers you've had to carry before? You'll find a better choice to keep your food and drinks for that next outdoor adventure with the ICEVENTURES Backpack Cooler. Designed like a regular backpack complete with adjustable straps, it's lined with insulated material to maintain your goodies at the perfect temperature. Meanwhile, you'll be able to carry the essentials for your trip without lifting a finger, while also leaving you room to carry all your other adventure gear by hand. Now, enjoy a hassle-free getaway, and leave the heavy stuff to the ICEVENTURES Backpack Cooler.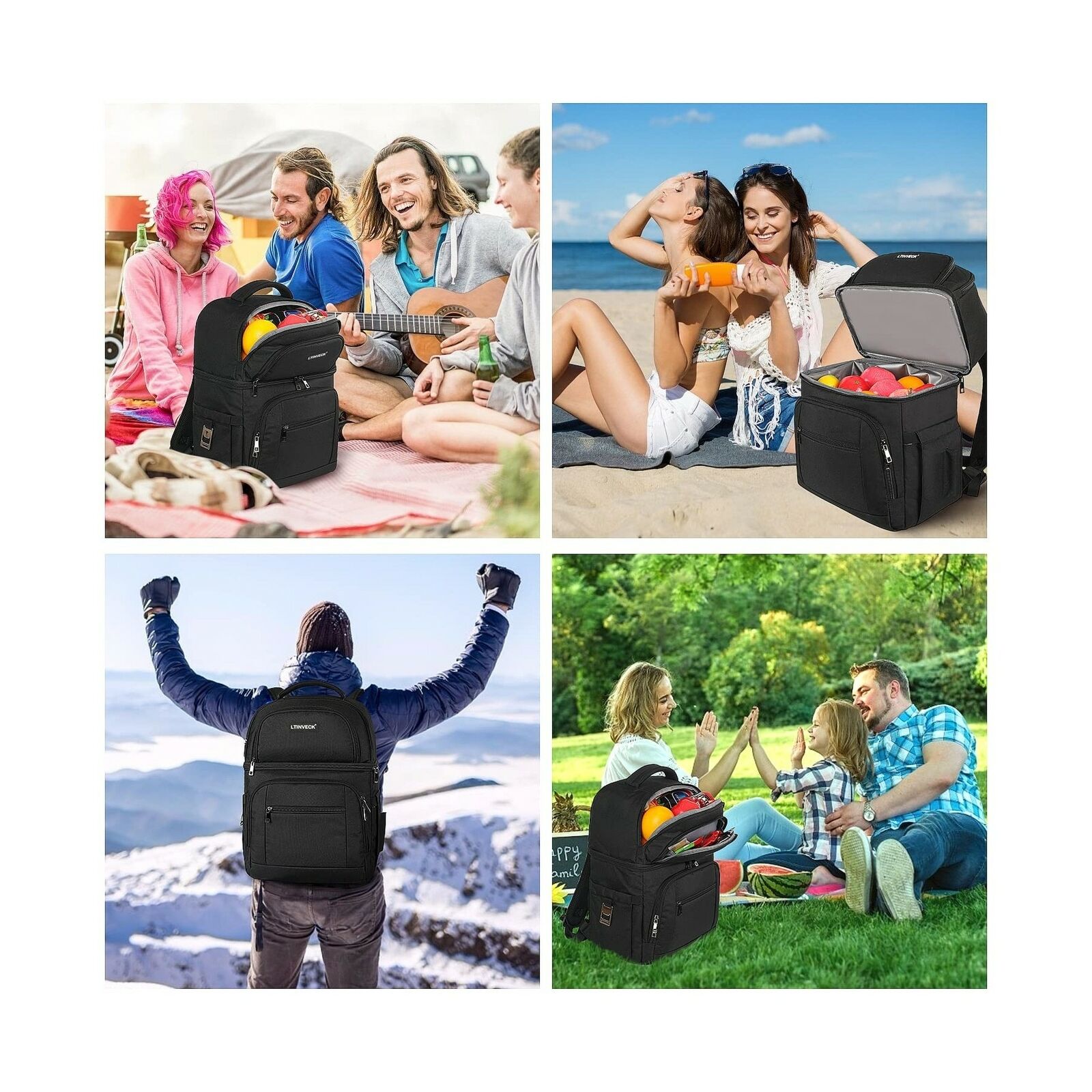 FEATURES
DUAL COMPARTMENT BACKPACK COOLER
Keep all of your essentials safe and secure in this dual compartment backpack cooler, made roomier for all your packed food, fresh produce, drinks, ice, and even your soda & beer (can carry up to 30 cans). Its upper compartment meanwhile is designed for dry items, such as snacks, other packed meals, and electronic devices like phones.
INSULATED & LEAKPROOF COOLER DESIGN
The inner insulation of this backpack is thickened with foam, and is fitted with a leak-proof PEVA liner. These work together to keep your food and drinks cold for hours without you having to worry about any spills. Indoors and outdoors, this backpack cooler can withstand any bump or stumble. Bring it with you to the beach, your picnic, hiking or fishing trip, camping adventure, travel, or any other outdoor activity.
WITH RFID & ANTI-THEFT FEATURES
More than just a cooler, this bag has RFID (radio frequency identification) pockets to help secure personal data encoded on your credit cards, IDs and passports. An oversized anti-theft pocket at the back of the backpack makes keeping your phone, passport and wallet convenient yet worry-free.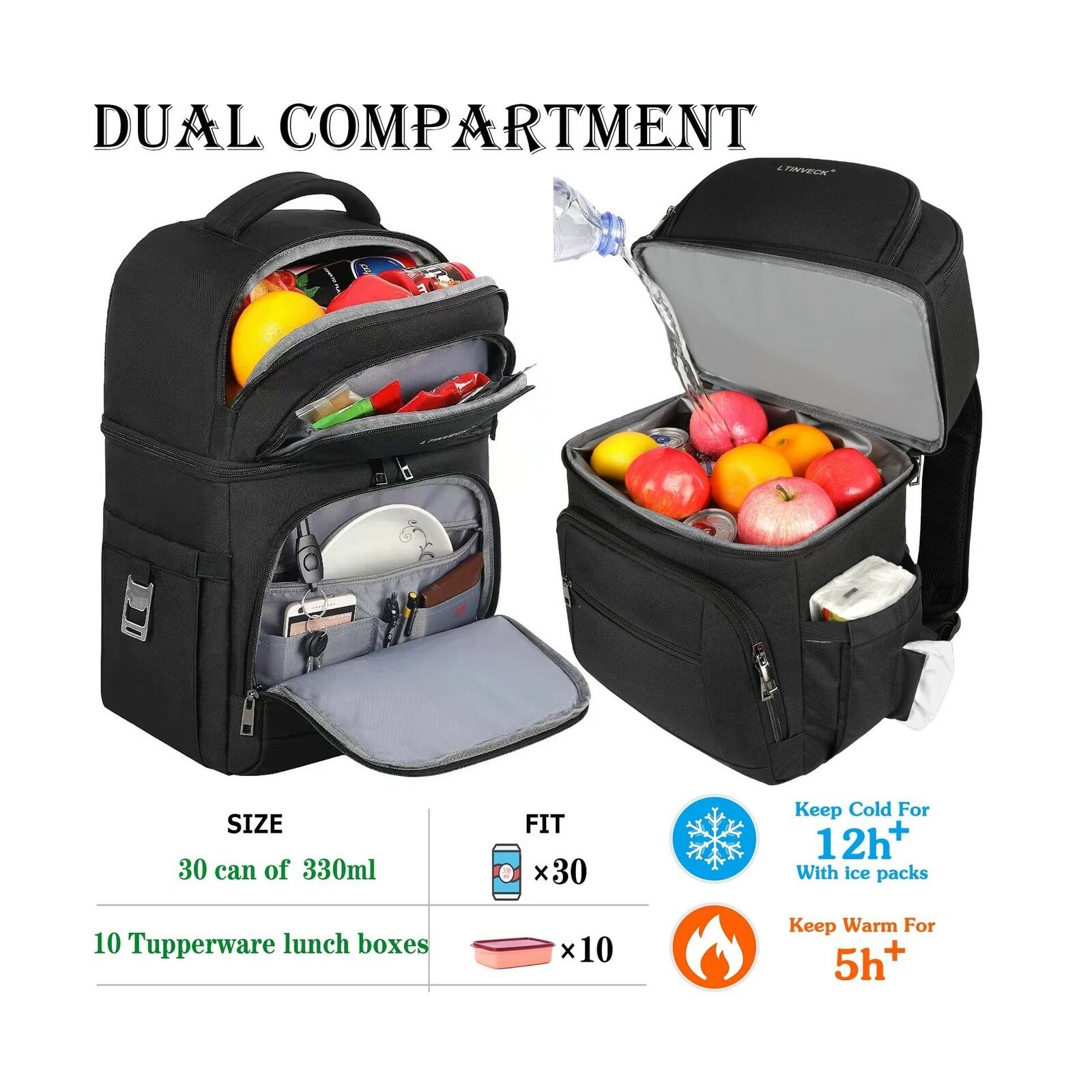 MULTIPLE POCKETS
This backpack cooler has multiple pockets to store your items, including:
1 large, insulated & leak-proof compartment for drinks
1 upper half compartment for dry items
1 large front zipper pocket for knives, forks and plates
2 small pockets for accessories like notebooks, pens, keys, etc.
2 large side pockets perfect for 2 wine bottles, or non-beverage items like umbrellas
1 beer opener on the side pocket
LIGHTWEIGHT & DURABLE
Made of durable, waterproof fabric, this backpack cooler is made to resist rips, tears, or scratches. It's also lightweight, with breathable mesh pads at the back to make it easier to carry for long durations. The bag is also designed with adjustable shoulder and waist straps so you can evenly distribute the load.
GREAT AS A GIFT FOR THE ADVENTURER YOU KNOW FOR ANY OCCASION
Birthdays, Christmas, Father's & Mother's Day, you name it: this backpack cooler will be a pleasant surprise to the adventurer you know and love.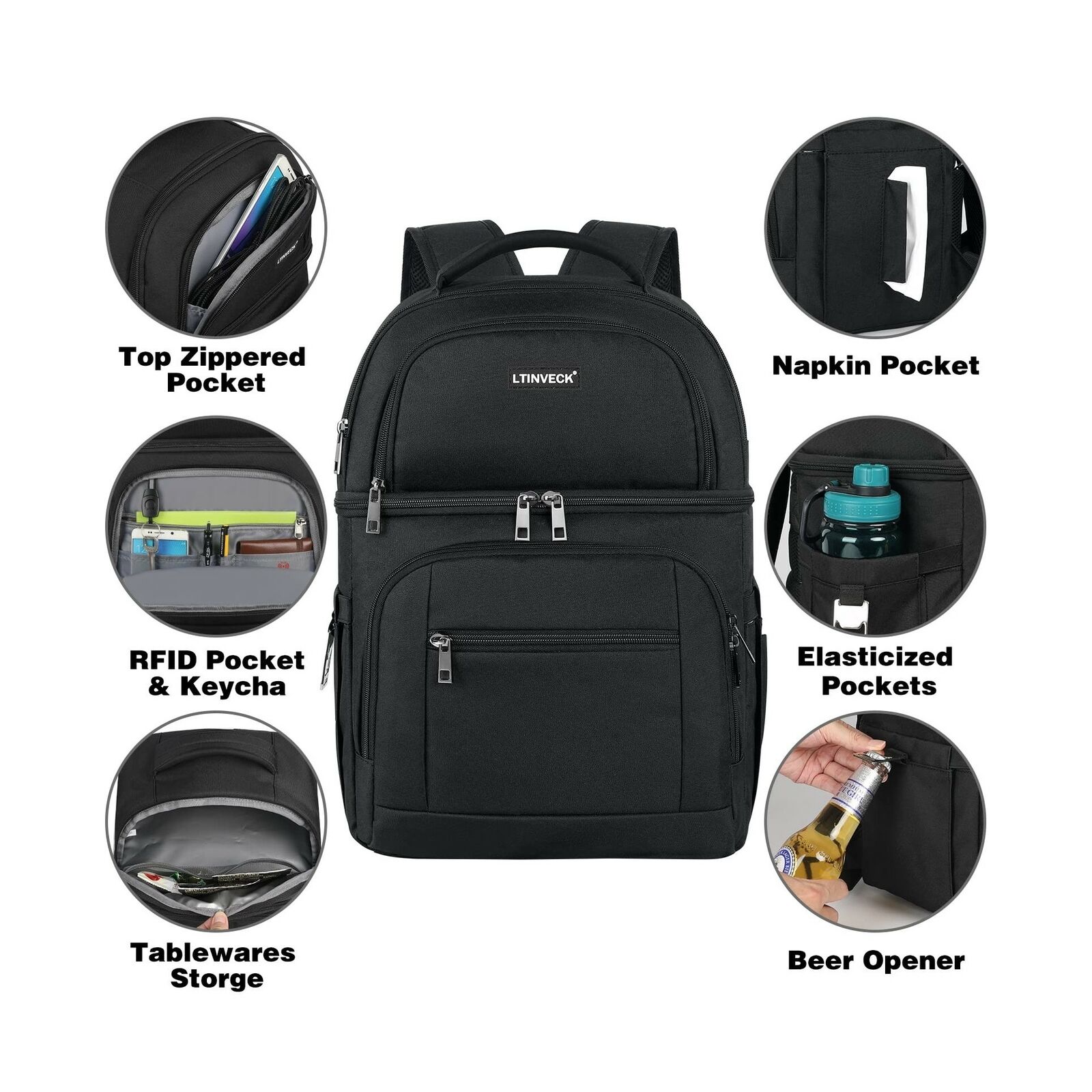 PACKAGE INCLUDES