Tired of those bulky and never easy to use alarm locks for your bikes? Why make things difficult when you can have a portable and foldable lock that you can attach to your bike wherever and whenever you go with the help of PedalLatch.
The PedalLatch consists of high quality  materials which makes it sturdy, durable and trustworthy. It also has a foldable design that  is easy to carry, compact and flexible. An ideal device for those looking for efficient and low-maintenance locks for their bikes.
specification
Type : foldable lock
Material : zinc alloy + alloy steel +abs plastic
Size : about 78cm
Item name : foldable lock
Length : about 78cm
Folded size : 7.5*6.6*5.5cm
Net weight : about 574.5g
Gross weight : about 725g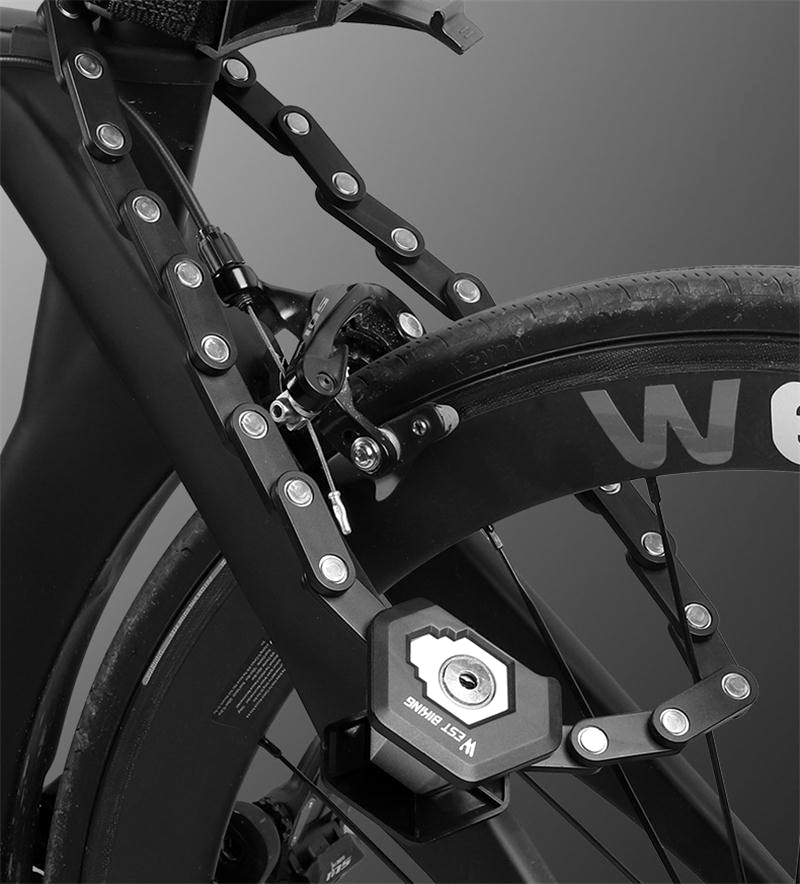 Feature
🚴 Sturdy and durable – quality zinc alloy and abs made lock, sturdy and durable with high grade of anti-theft, anti-breaking and anti-cutting function. The hamburger lock material are zinc alloy and abs special material, which have the function of anti-theft, anti-cut, tamper-proof.
🎁Theft-proof and waterproof design – the lock core surface is fully sprayed with rubber lacquer, and the anti-impact bumper during transportation reduces noise, effectively preventing damage to the bicycle frame, and can be directly locked on the lock frame, protecting the folding lock and preventing the lock from being locked.
🚴High class stainless steel keys – 3 high class stainless steel keys, distinguished key mouth design to avoid mix opening. Also there are serial numbers, if lost, key remake is available.
🎁 High security – bicycles are mostly quick-release seats, there are security risks, can easily take away. Wheel and seat distance of 23cm or less, can lock the wheel and seat. After folding, the bike lock size 5cm * 7cm, compact, lightweight and convenient to store in top tube bag, saddle bag, etc.
🚴 Easy to carry, compact, and flexible – the folding lock fits most bikes, it only weights 575g easy to carry featuring special rivets that make folding easy.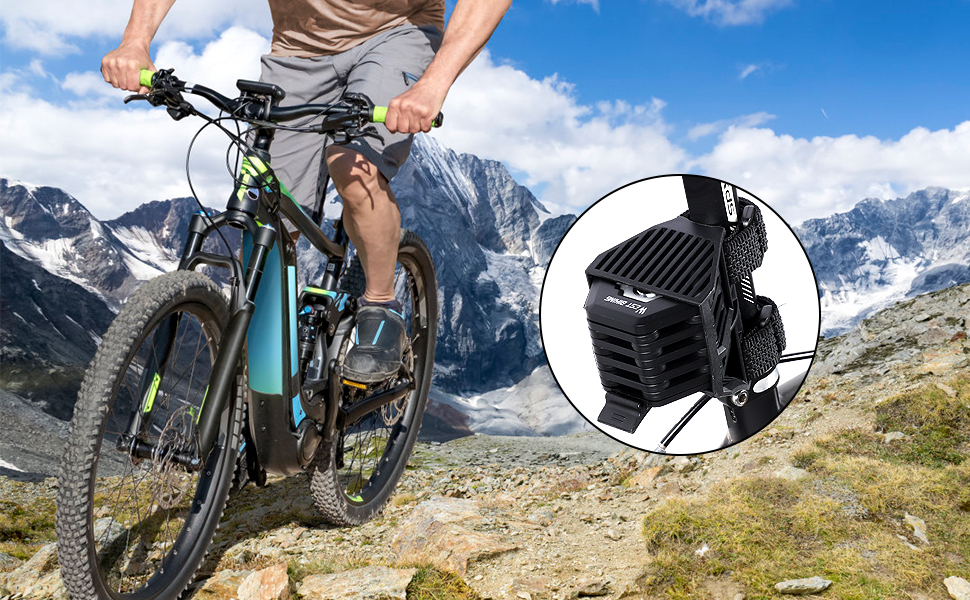 Mini Alloy Steel Bike Lock – 78cm/30.7inch
Strong alloy steel
Foldable & space saving
Upgrade lock cylinder
Reinforced riveting design
Comes with an easy-to-install bike lock mount
3 laser-cut alloy keys
Waterproof design
Multipurpose: ideal for bicycles, skateboards, gates & fences, grills & lawnmowers, sports equipment, tool boxes & ladders ! ! !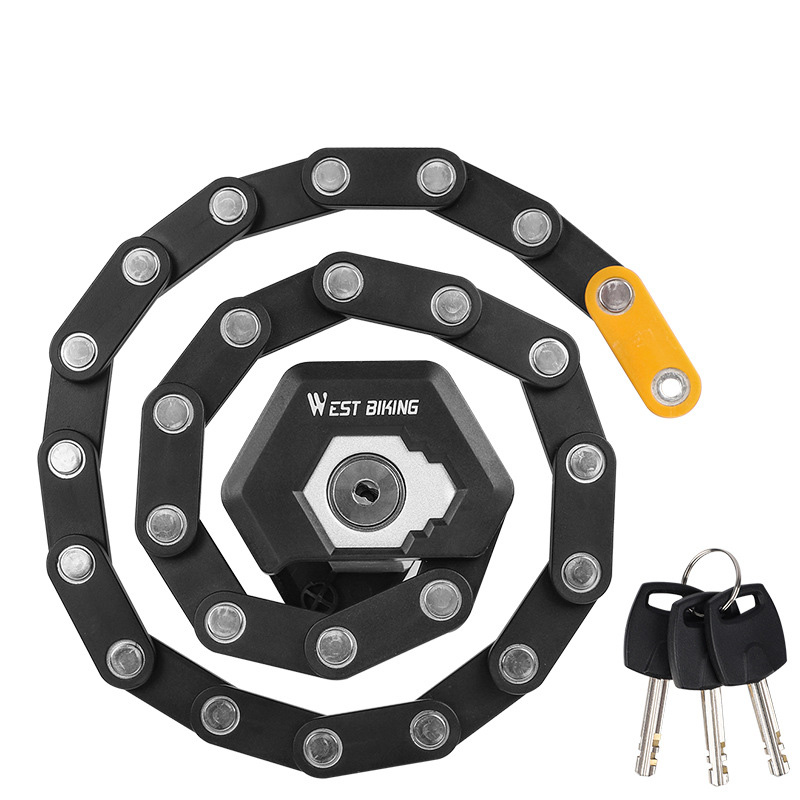 Violence Test
Anti-cutting
Anti-drilling
Anti-smashing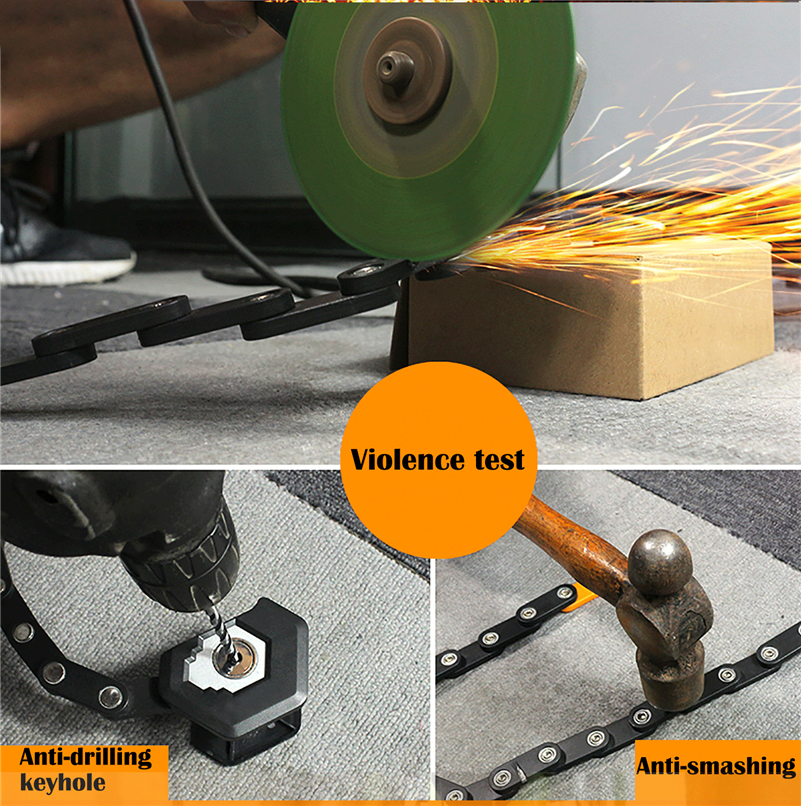 Ultra Protected Rivets
Rivets are designed with vsr technology which protects against sawing and cutting ! ! !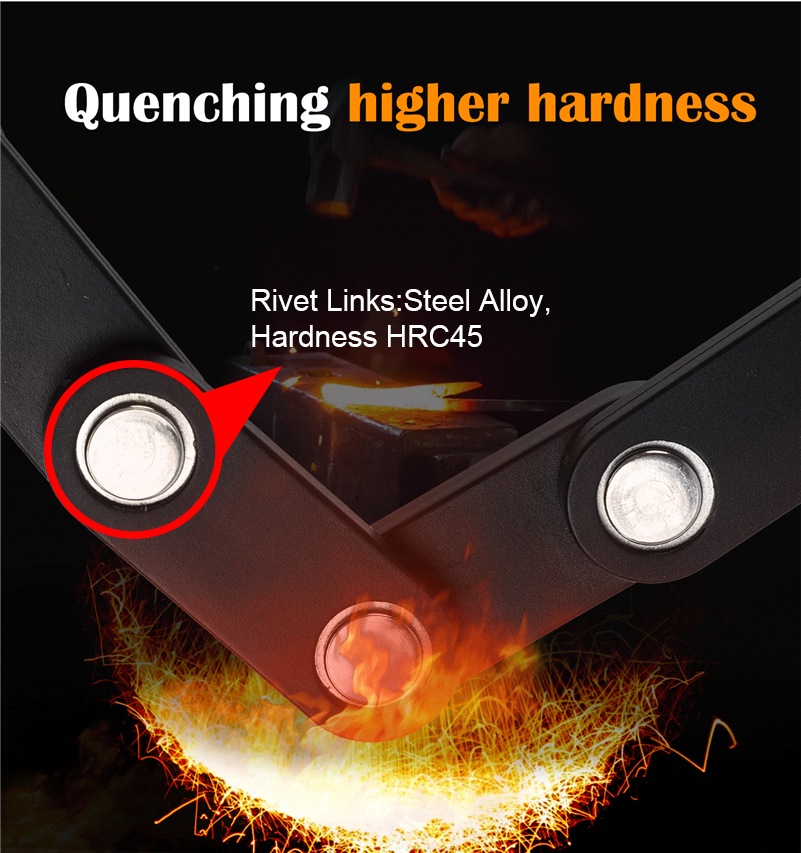 Widely Used
80cm length, it is the perfect lock for bicycles, motorcycles, electric bicycles, scooters and all other two-wheeled vehicles that want to prevent theft.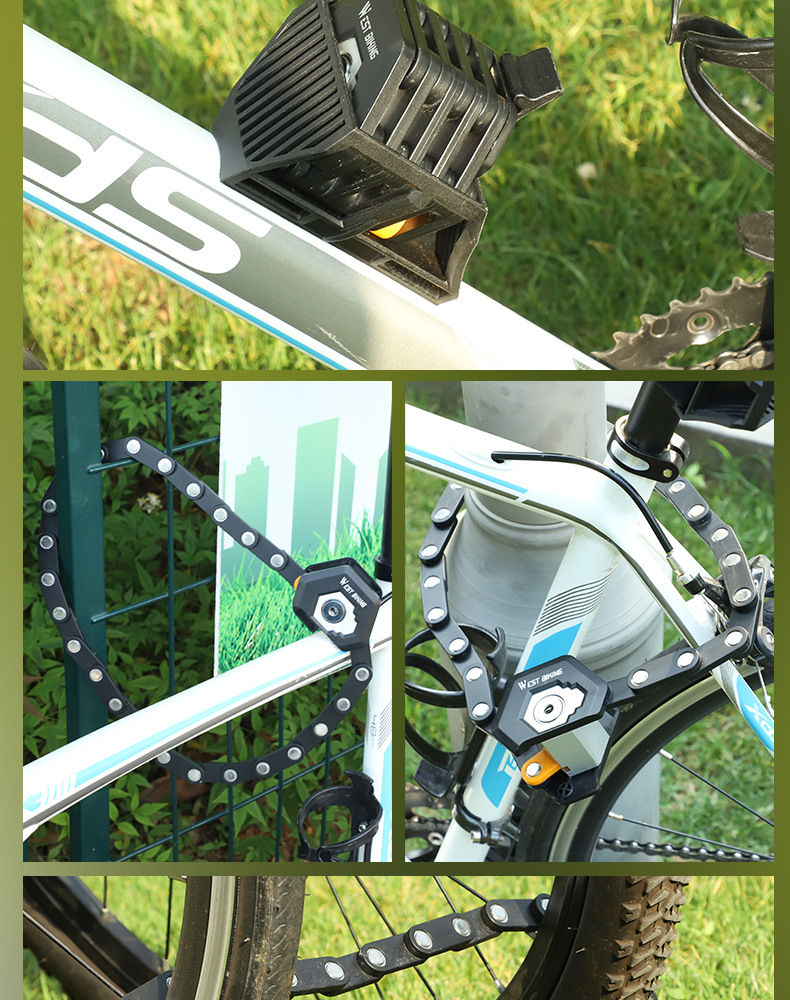 Small & lightweight
Easy to carry
Great bike safety tool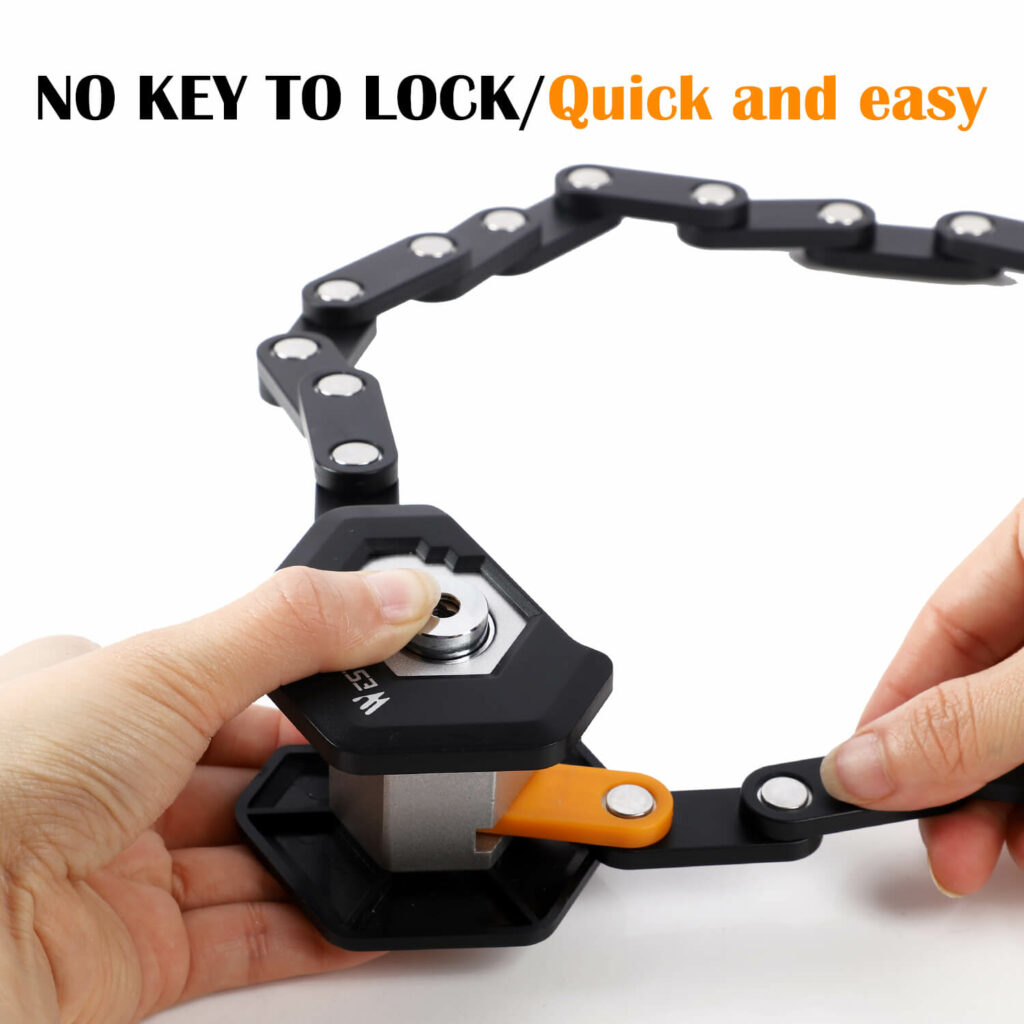 Unlock Method
Insert the key to the lock cylinder
Turn the key 180° clockwise and then the cylinder come out a little
Turn the key 180° counter clockwise and take away the key
Pull out the orange section and stretch out the lock totally
Put the orange section into the hole on the bottom of the cylinder 6.push back the cylinder to lock up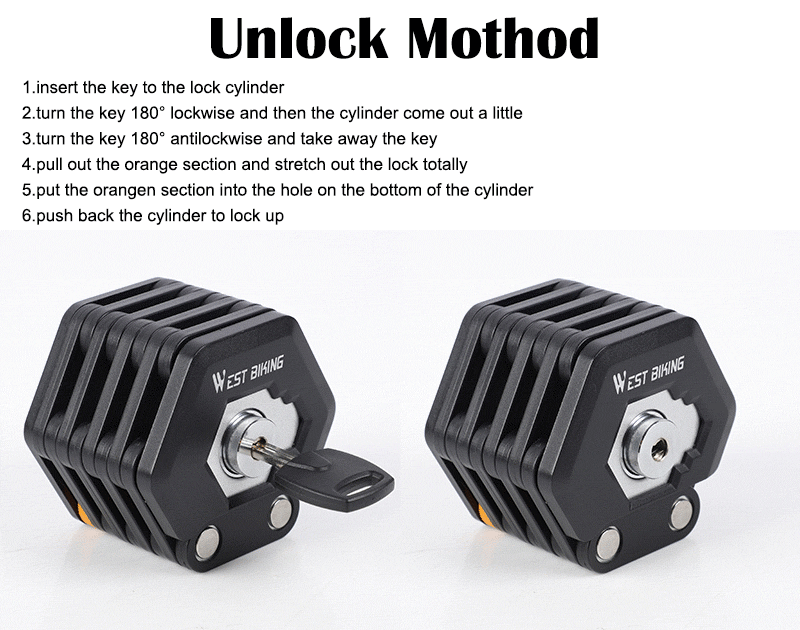 Installation methods 1 : fix the mount on seat post with the loop straps
Installation methods 2 : fix mount with screw to the bike frame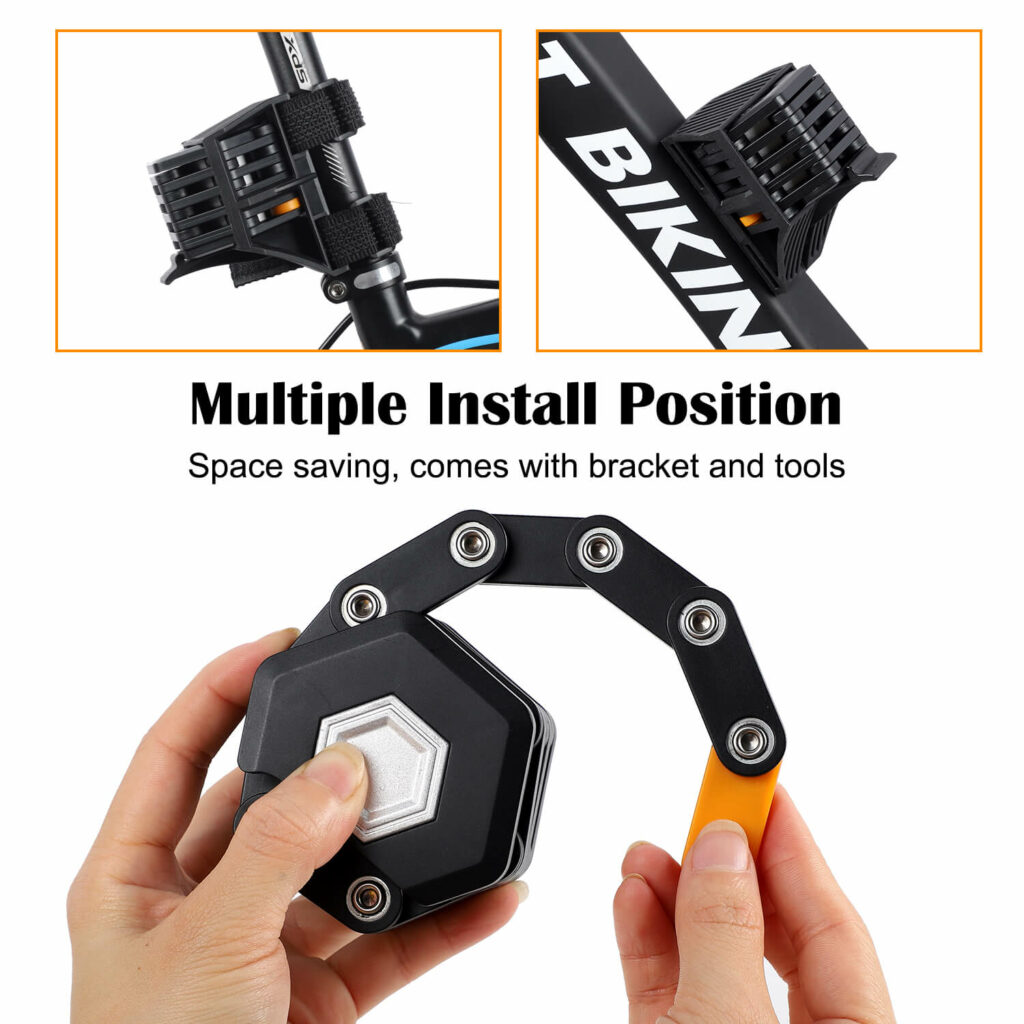 Package Includes
Lock*1
Mount*1
Eyes*3
Loop Straps(skid proof)*2
Screw*2
Notes |
1. The measurements were done by hand, so there may be errors within 1-2cm or 1-5g.
2. Factors such as lighting, contrast and color display can cause the photos to look slightly different, this is not indicative of any product quality issues.
3. The size is based on the actual measurements. We may enlarge the pictures just to display details better.