THE PERFECT PORTA POTTY TO BRING ANYWHERE!
Looking for a portable toilet that you can easily bring to relieve yourself outdoors with convenience, comfort, and environmental protection? Look no further because OutPotty 5.3-gallons Camping Toilet is here to deliver a sturdy, full-sized seat and lid personal toilet features outdoors. With its large capacity, it's clear that you can do a number two with such ease, regardless of the situation. It's like having your very own personal bathroom during camping, fishing, and any other outdoor activities!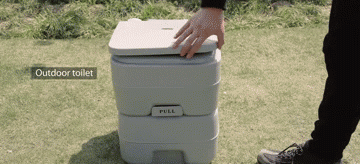 YOUR PEACE OF MIND WHEN THE CALL OF NATURE COMES OUTDOORS
We all have those days when we face a tough situation when the call of nature comes outdoors, especially if you're not prepared with the right equipment to assist you. We have the PERFECT solution for you: a sanitary, secure, and portable toilet that you can bring with you anywhere—the OUTPOTTY!
The OutPotty is your go-to camping toilet to relieve yourself or anyone during long trips or outdoor activities. We've designed it to be compact yet with reinforced plastic so that it can hold over 200lbs without issues. Plus, we also included a double piping feature in the porta-potty so that the water flow will not cause staining in the interior of your RV, tents, and other facilities and provide you with ease of use every time.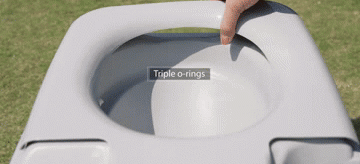 MOST TRUSTED PORTABLE CAMPING TOILET
From RV-goers to camping enthusiasts to family recreational activities, the OutPotty Portable Camping Toilet is one of the most trusted brands for comfort and ease outdoors. With hundreds of reviews from people worldwide, we're confident that OutPotty will deliver the best service no matter where you go!
We love how easy and comforting the OutPotty is in outdoors. It's true! It really does function like a personal bathroom with its fantastic features. This porta-potty made our camping trips relaxing and sanitary :).

Maya, Verified Purchase
FEATURES:
HIGH-QUALITY MATERIALS:
Our portable toilet base is made of PE material that provides a strong structure and resistance to corrosion, low temperatures, and odor. It also helps ensure that the porta-potty is non-toxic, and other important properties guarantee a sanitary outdoor toilet. We do this by using high-density polyethylene or HDPE Plastic, which is durable and environmentally friendly with low-carbon recyclability. The sturdy material can easily carry a weight of up to 286 pounds, making you worry-free. The PP toilet seat has high-quality properties such as strength, stiffness, hardness, and heat resistance.
EASY TO CARRY:
The OutPotty's advanced design concepts are tailor-made to provide the best service for you outdoors. Though it's small (with a measurement of 16.14 "(L) x 13.78" (W) x 16.14 "(H)), it is enough to meet the size of an adult seat. The upper and lower parts of the toilet can be disassembled and separated for easy storage and cleaning. And its ergonomically designed comfortable grip handles make it easy to pour sewage. In addition, the toilet brush is provided so that you can clean it at any time, even when you are away from home.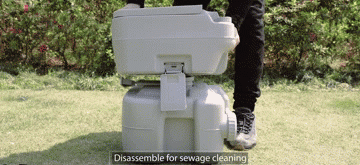 DOUBLE WATER OUTLETS:
Compared to single-outlet portable toilets on the market, our upgraded dual-water outlet's design makes cleaning easy and avoids the embarrassing problem of leaving stains in the dead corner with a single pipe. The portable toilet has a large storage capacity and a 2.5-gallon freshwater capacity that allows you to flush about 40 times.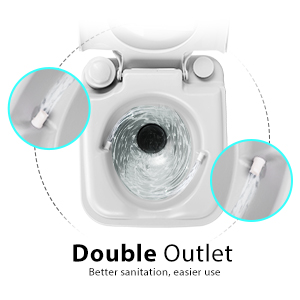 EASY TO OPERATE:
This portable toilet is straightforward to use and install; Before use, please make sure to pull open the handle. Then, close the toilet cover and press down the air pump several times to wash the soil. The upper and lower parts of the toilet are tightly fitted, and there are no extra gaps around the sealing slide valve. The good sealing effect will not affect your living environment.
MULTI-SCENARIO USE:
The ergonomic design of the portable toilet meets all your needs. This product is suitable for outdoor leisure activities, yachts, mobile homes, hotels, places with inadequate sanitary facilities for field operations, and people with reduced mobility. It is also designed for pregnant women, the elderly, patients, children, etc.
GOOD SEALING EFFECT:
The upper and lower parts of the toilet are tightly fitted, and there are no extra gaps around the sealing slide valve. The good sealing effect would not affect your living environment.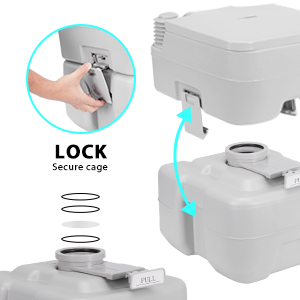 LARGE CAPACITY:
Large toilet storage tank capacity with 5.3 gallons of sewage storage capacity and 2.5-gallon fresh water capacity allows you to flush about 40 times.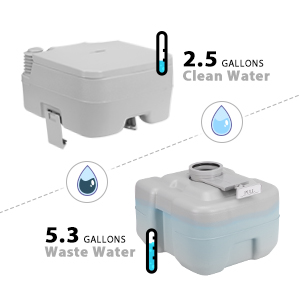 SPECIFICATIONS:
Color: Grey
Material: Polyethylene
Over dimension: 16.14″ (L) x 13.78″ (W) x 16.14″ (H)
Net weight: 11.77 lbs
Weight Capacity: 286lbs.
Waste holding tank: 5.3 Gallon
Freshwater tank: 2.5 Gallon
PACKAGE INCLUDES:
1 x Compact Anti-Leak Indoor Outdoor Camping Potty