Your Sigh of Relief Outdoors
If there's one thing more stressful than a flat tire while RV-ing or left behind camping item, it's holding your poop or pee in the middle of nowhere. No matter where you are or what you're doing, eventually, you're going to need to use the bathroom.
The solution? A portable camping toilet that you can pull out anytime when the call of nature comes.
CampQuisitive Portable and Foldable Camping Toilet is every camper and outdoor enthusiast's potty-buddy outdoors. It devotes itself to provide you with more suitable and comfortable mobile sanitation solutions. This updated mobile toilet combines the comfort of a home toilet and the convenience of a camping toilet into one simple, easy-to-use porta-potty.
With CampQuisitive, you get to enjoy your outdoor adventures without worrying about the nearest bathroom facility.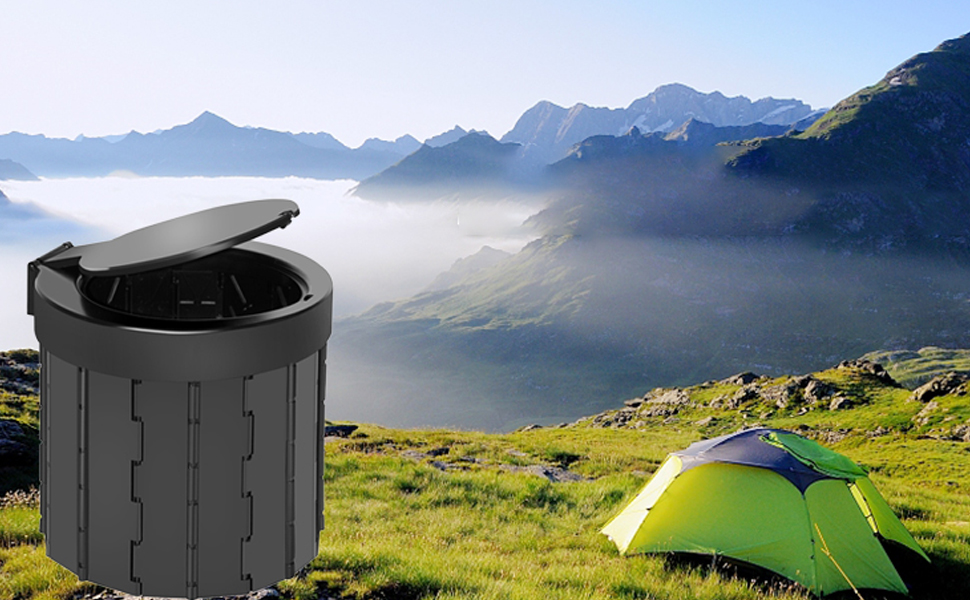 Why Choose CampQuisitive Portable Camping Toilet?
#1. Easy to Carry
Our portable camping toilet is one of the easiest to carry around. Only weighing 2.2 lbs/1kg, it is light enough to bring with you at any location and has the capacity to hold up to 440 lbs of weight. And with its foldable feature, you can pack the CampQuisitive Portable Camping Toilet into a 2-inch thick small to save space and lessen your traveling weight. All of these fantastic designs make the CampQuisitive the perfect outdoor camping toilet solution for hiking, fishing, boating, long road trips, and any other outdoor activities.
#2. Multifunctional
More functions mean more value—that's the great advantage of the CampQuisitive Portable Camping Toilet compared to other brands. It can be used as a toilet for your RV or camping site and as a seat with storage functions or as a trash can, small stool, storage box, indoor toilet for the elderly, vomiting bucket for pregnant women, and so on.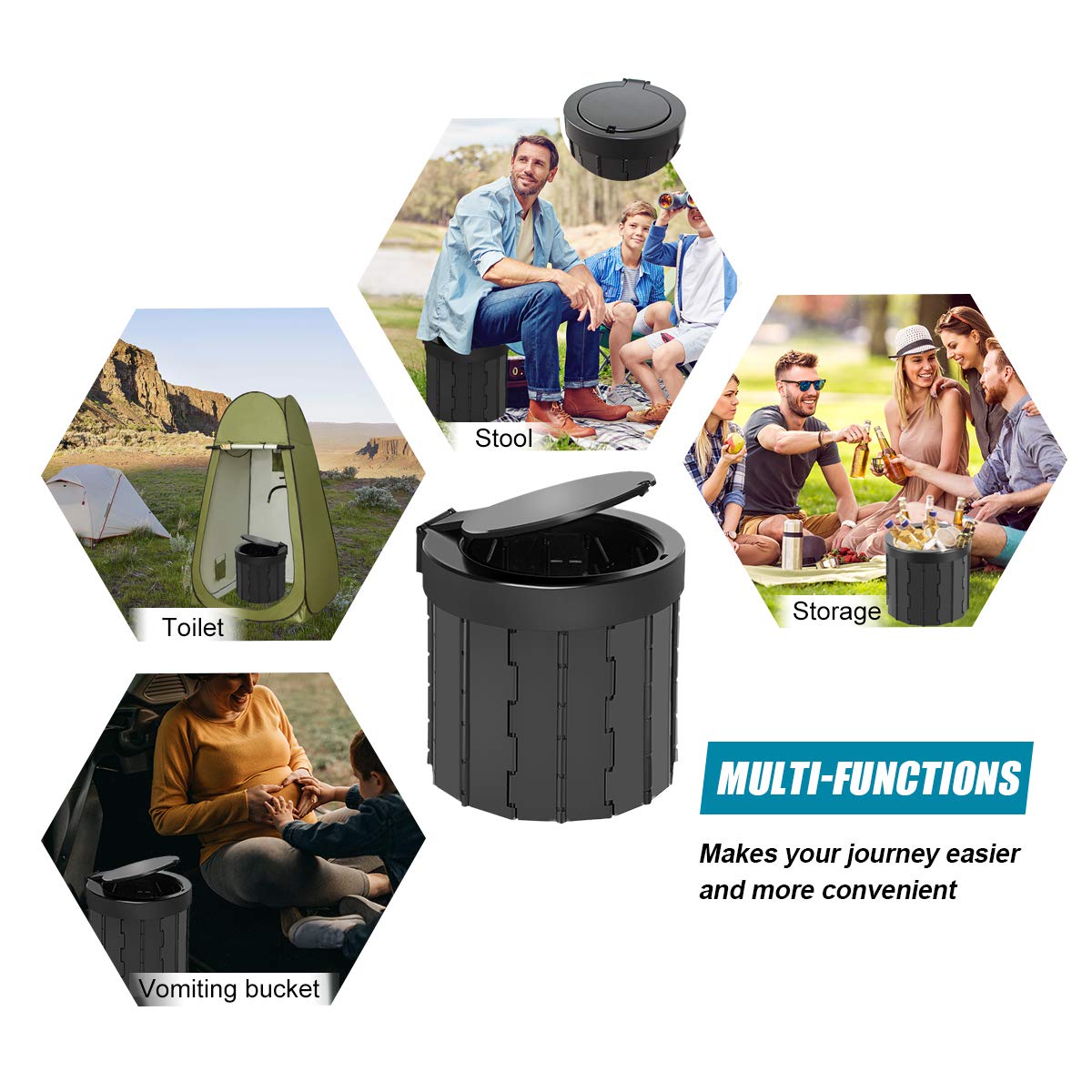 #3. Stable and Washable
The CampQuisitive Portable Camping Toilet is made of ABS, eco-friendly plastics that ensure a waterproof, strong resistance to fall and pressure, sturdy, and easy to clean/disinfect structure. Regardless of the weather condition or user's weight, this camping toilet is capable of withstanding its position to provide you comfort anytime. You can easily clean it with water, soap, and a small amount of bleach to keep it sanitized all the time.
#4. Extremely Good Quality
This Portable Camping Toilet is built with quality in mind. From the type of plastic used to the overall structure and features, the CampQuisitive speaks quality all the way through. And with its round shape, it's the ideal size and suitable for different age groups. Not to mention it's easy to clean, store, transport, and use.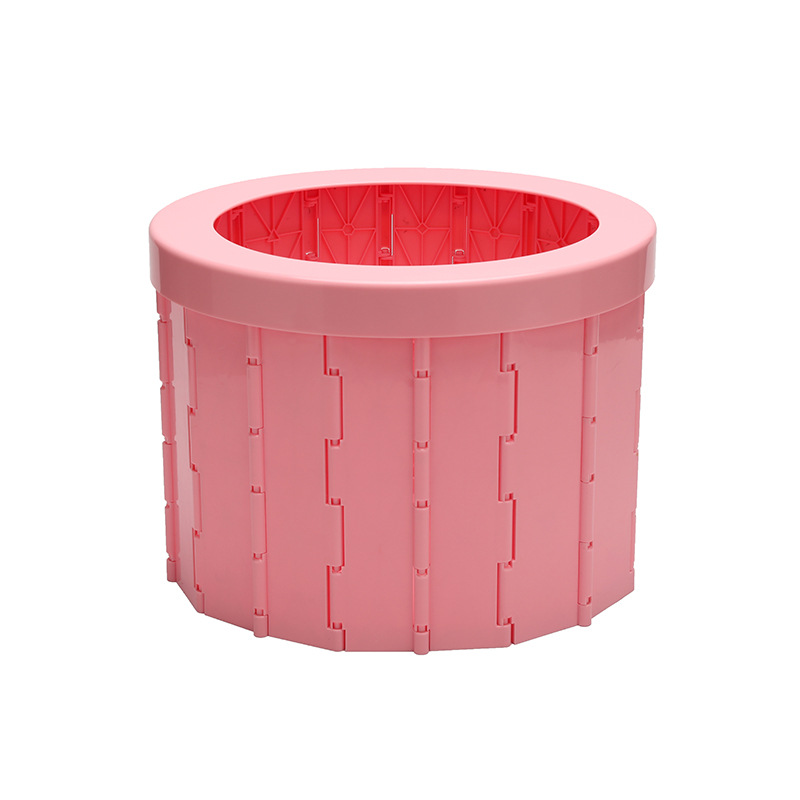 #5. Foldable Design
Unlike other camping toilets that come in a fixed shape or size, the CampQuisitve features a foldable design that makes storing and transporting easy and space-saving. It can be folded down to a 2.4-inch thick, so you don't have to think about how it'll fit in your car's trunk or your traveling backpack. Plus, it's extremely lightweight and comes with a handy bag to help you carry it around with ease.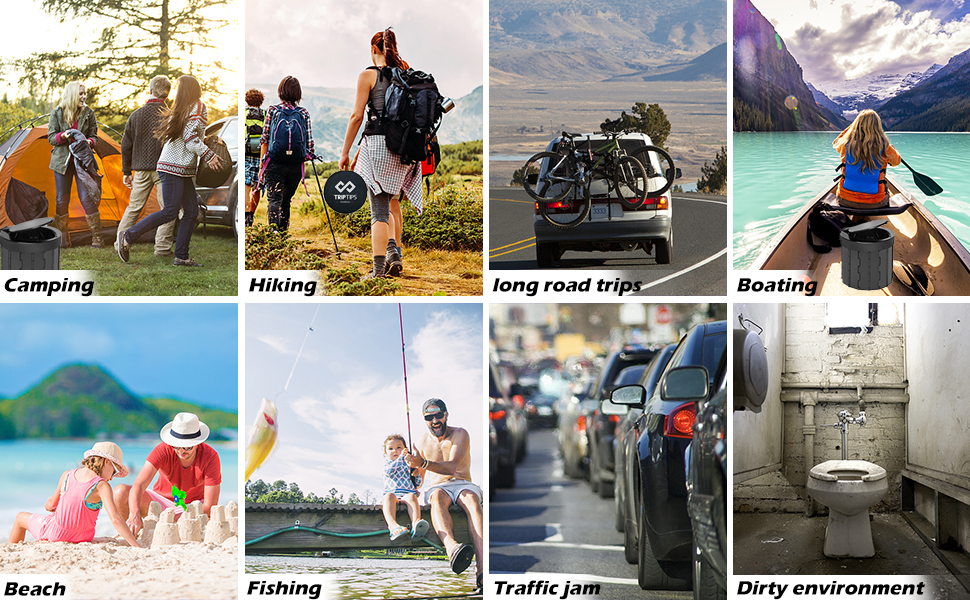 Your Potty-Partner for Every Adventure!
Without a doubt, the CamQuisitive Portable Camping Toilet is the perfect portable toilet for camping, a travel toilet for riding, hiking, fishing, boating, an easy access toilet for a traffic jam or long road trips, and a porta-potty for outdoor at the beach, construction sites, etc.
Package Includes:
1 * Portable Folding Toilet
1 * Waterproof Carry Bag
1 * Hardener
1 * Manual

Please Note: Always put the bottom board on the side with lugs so that you can hold it properly and prevent falling off.