Super Bright, Instant Install Bike Light Set for All Your Illumination Needs
To overcome even the darkest, rugged paths — you need a dependable bike light. Whether it rains or snows, our LUMEBOZ will guide your way to safe travels.
The LUMEBOZ Bike Light is one of the brightest and most reliable bike lights. We give you up to 1,400 lumens of brightness so that you can clearly see the road while biking in pitch-dark paths.
Our Bike Light Features 3 Modes:
High: features 100% brightness (1400 Lumens, 3-4 hours of work time)
Medium: features 50% brightness (700 Lumens, 4.5-6 hours of work time),
Strobe (8 hours of work time)
With LUMEBOZ, easily choose the brightness that fits your needs. Change modes just by pressing the ON/OFF button. For security, you can also turn on the built-in ANTI-THEFT MODE (just press and hold the ON/OFF button for 3 seconds to activate).
Unmatched 360° Visibility
Our LUMEBOZ Bike Light Set comes with a FREE tail light to give you complete illumination for your safety and convenience. With our Super Bright Proprietary LEDs, both in the front and rear light, you'll get the PERFECT visibility to make "biking in dark places" safer and easier.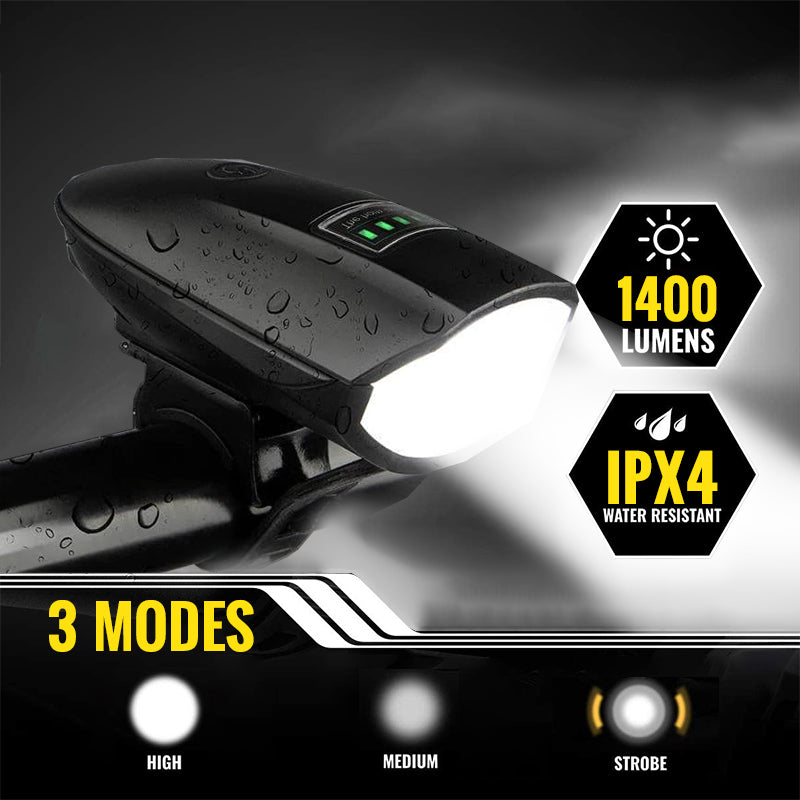 Designed with Durability in Mind
When it comes to bike lights, durability is the key. Our LUMENOZ Bike Light boasts a durable construction to withstand all abuse outdoors. It's so durable that it can even survive a 10-foot drop.
Instant Install, No Screw Required!
We've made sure that the LUMENOZ Bike Light is super easy to install so that you can get on with your journey as soon as the package arrives. We used a non-tool universal mount design and quick-release bracket to allow you to clip the front and rear bike light with ease conveniently.
Long-Lasting Operation, Powerful Batteries
It's powerful and rechargeable. The LUMEBOZ gives you up to 8 hours of runtime in a single 2 to 4 hours charge. We've used the best Lithium-ion batteries so that it lasts longer and serves you better.
For notification, the LUMEBOZ comes with a battery indicator to let you know once it's time to charge. It will flash to indicate it's charging and will turn to solid green light once fully charged. 100% convenient!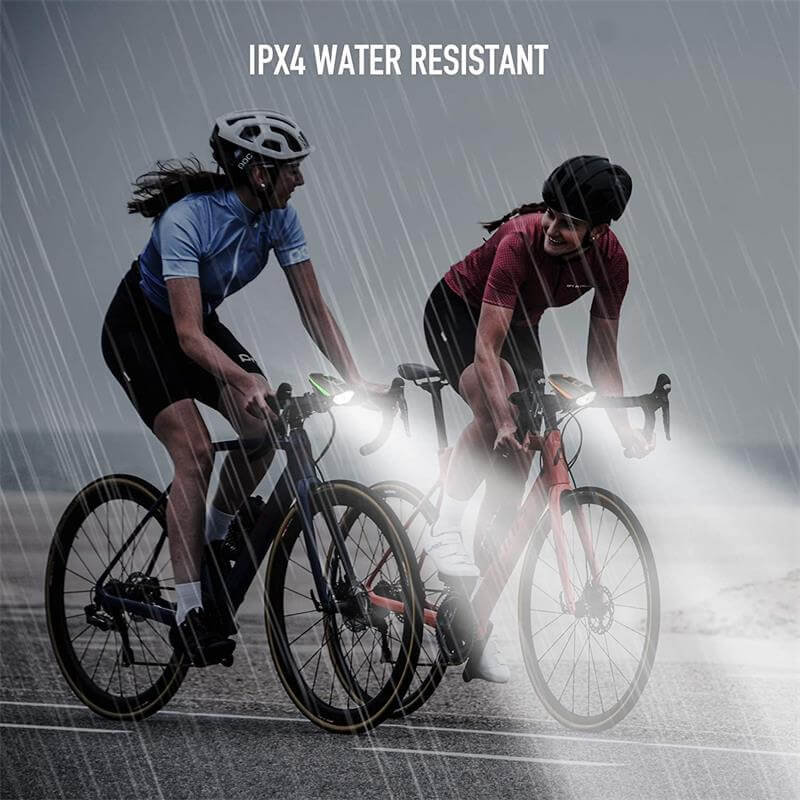 See up to 80 Meters Ahead Right Away
Our super bright LED lights let you see stumps, roots, branches, and other obstacles while riding in the dark right away. The distance is up to 80 meters, perfect for making your move to avoid accidents.
IPX4 Waterproof Rating and Compact
Rain or shine, the LUMEBOZ is designed to make your bike rides extra safer. You don't have to worry about the bike light turning off whenever it pours. It's compact, waterproof, and durable to help you overcome the dangers of the night. The total weight is 0.21 lbs.
Includes a Built-in Horn for Extra Security
To help you notify other riders and commuters on the road, our LUMEBOZ Bike Set also includes a loud, built-in horn. There's no need to buy an extra set just to install a reliable horn for your road signals.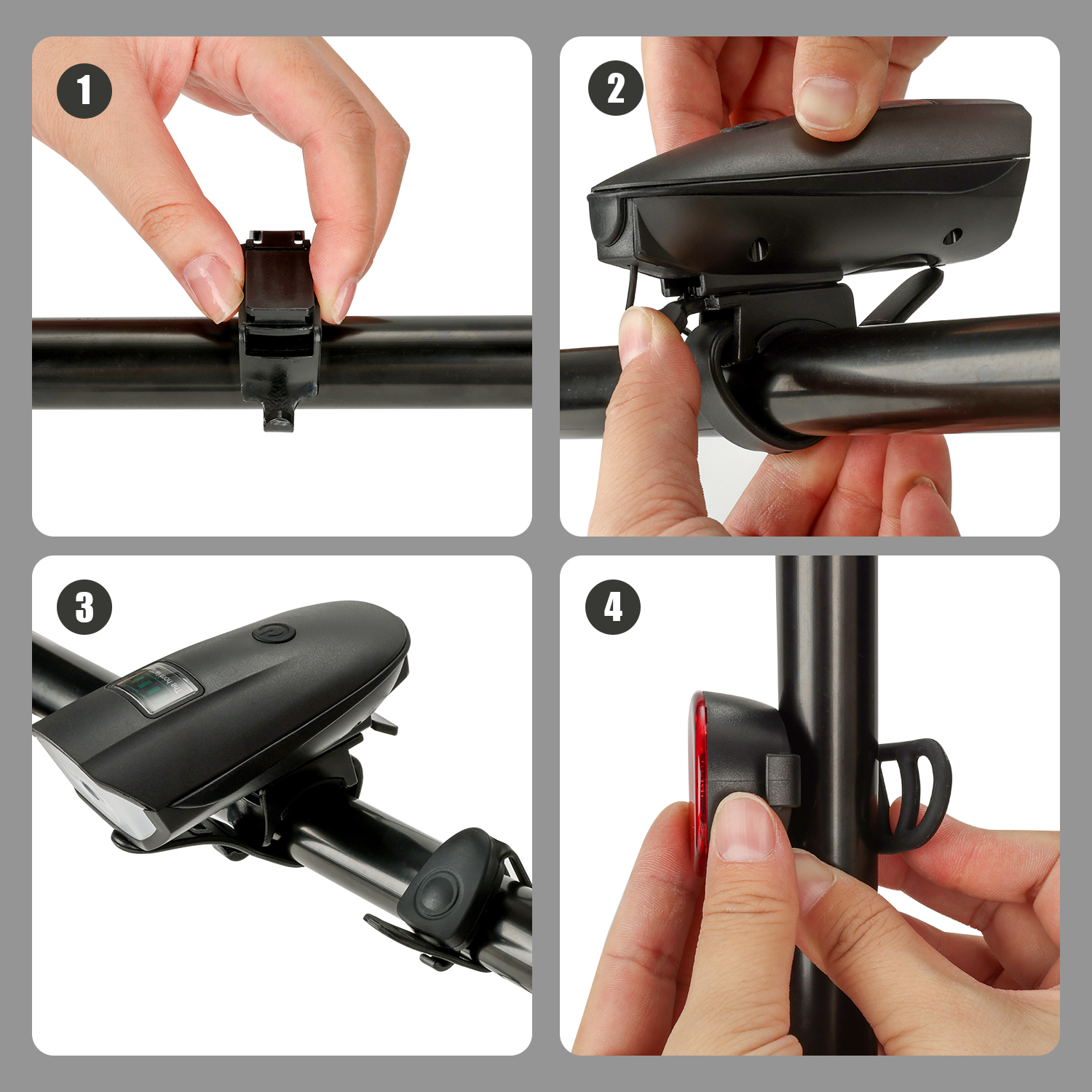 Multi-Purpose
Not all bike lights give you this functionality, but the LUMEBOZ is also designed to make jogging, fishing, hiking, and reading at night easy. Our easy-switch light modes can deliver the perfect lighting for your varying activities.
It's the Perfect Gift!
If you are not a riding enthusiast yourself, this rechargeable bike light set can be a perfect gift for a bike lover in your life. Show that you care and make that special someone a dash happier with this convenient and valuable device. It looks and works remarkably well — that's for sure!
Question & Answer
Question: How can I assemble it quickly?
Answer: The LUMEBOZ Bike Light comes in a ready-to-install package. All you need to do is clip the bike light on the front and rear of your bike, and you're set! You can also check the included manual for more assistance.
Question: What's the horn used for?
Answer: The horn is used to notify riders and pedestrians to prevent road accidents.
Question: How far does the light shine?
Answer:  About 80 meters. You can easily see stumps, roots, branches, and other obstacles on the ground at night.
Question: Is this a good gift for a bike lover?
Answer: Of course! The bike light looks great and works well. It will be a perfect gift.
Package Includes:
1x Bike Light with Horn Set
1x Tail Light
1x USB Charging Cable