All-Around Camping Chair for Your Outdoor Adventures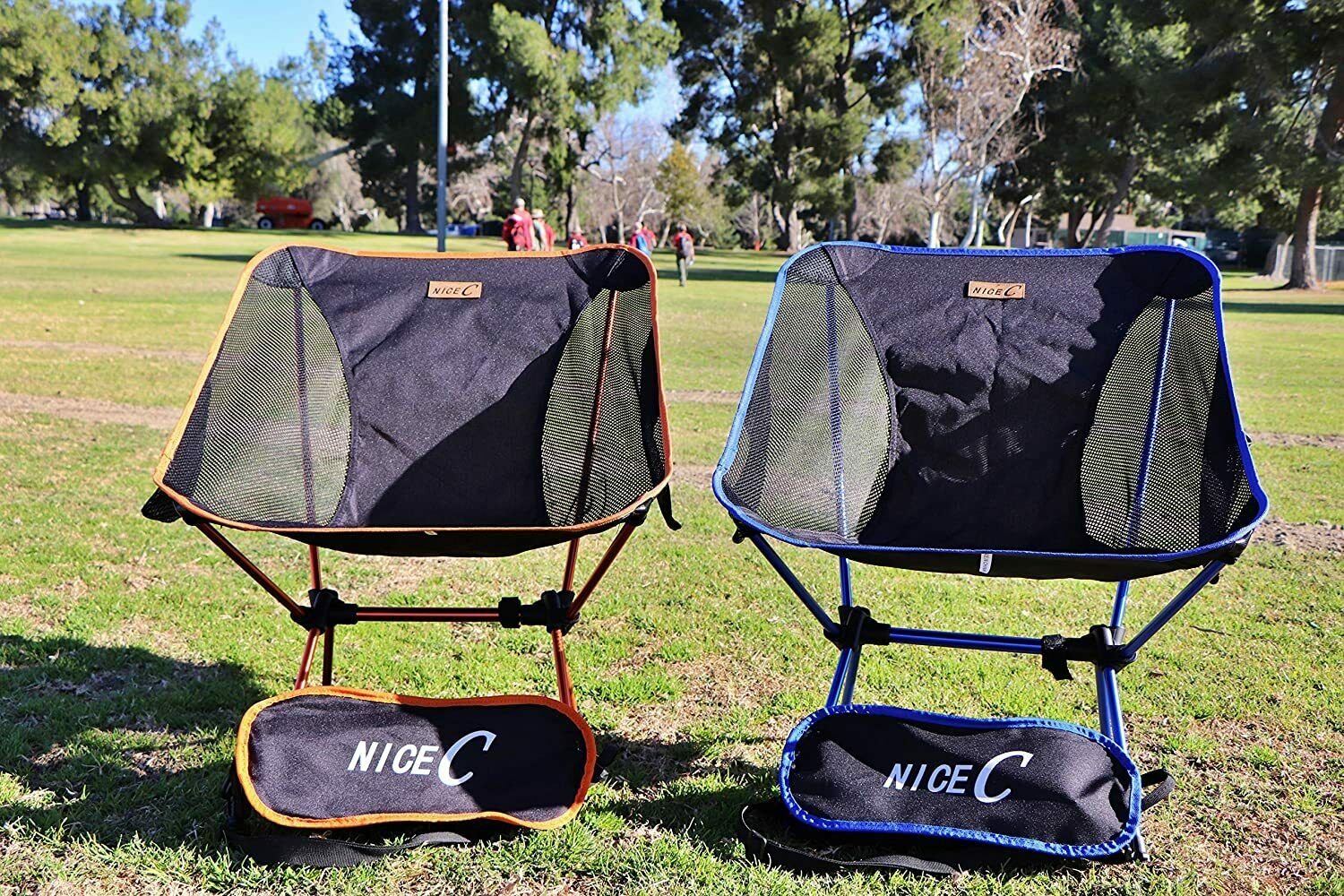 The chair that makes relaxation easy while outdoors…

Are you looking for an outdoor chair that you can easily bring in the outdoors? Are you in search for a chair that features comfort, durability, portability, and versatility?
7 out of 10 people say that one of their biggest struggles when hanging outdoors is finding an ergonomic seat to settle in. Laying down on a sprawled picnic cloth sometimes doesn't help – it can actually make one feel extra pained and restless.
If you're one of the folks who feel like having an outdoor camping chair is a must, the LeanStreen is for you.
Designed for the outdoor lovers, the LeanStreen's wide seat style allows room for ergonomics, for flexibility when resting, for proper posture, and for letting your body rest without sporting any stiff, uncomfortable positions.
Best for Outdoor Enthusiasts

With its portable and lightweight design coupled with its unique mesh material, the LeanStreen is great for outdoor sports fans who are looking for outdoor chairs they can use on each adventure trip.
Best for Adventure Junkies
For trekkers, hikers, mountaineers, fishing fans, and boating enthusiasts. This is the perfect camping chair especially when you're taking excursions that last several days.
Best for Picnic Lovers
Love picnic but hate how laying on the ground makes your back feel terrible? The LeanStreen is the better option!
Best for those who Love to Stay Outdoors All The Time
Whether you're in the beach, enjoying a barbecue party, hanging by a lake, or enjoying a day on the park, you can count on the LeanStreen to make your experience more comfortable.

LeanStreen Features
WEIGHT SUSTAINABILITY: Our outdoor foldable chair can sustain weight up to 250 lbs. or 113kg. Be worry free as you can now take your chair anywhere with you.
COMFORTABLE DESIGN & MULTIPLE USAGE: Orthopedic recommended ergonomic design gives you comfortable seating experience giving you full relaxation. The breathable mesh net design makes sitting for long comfortable for you. You can use this seat for all outdoor activities like camping, BBQ, hiking, beach, travel, picnic, festival, garden or any outdoor activity.
PORTABLE DESIGN: Both the mesh net seat and aluminum frame can be detached and folded into small pieces. This portable chair is compact enough to put into your backpack or your carry-on luggage. EASY SETUP and CLEAN: Foldable mesh and metal poles make it easy to set up and fold down. It is super easy to clean: just sweep off or clean by soap water.
ULTRA LIGHTWEIGHT & INDUSTRIAL GRADE MATERIAL: This chair weighs only 2.1 lbs., making it ultra-lightweight for you to carry. It is made from the aviation grade aluminum and industrial grade Oxford 600D polyester mesh seat, this portable chair is bound to last you for a lifetime.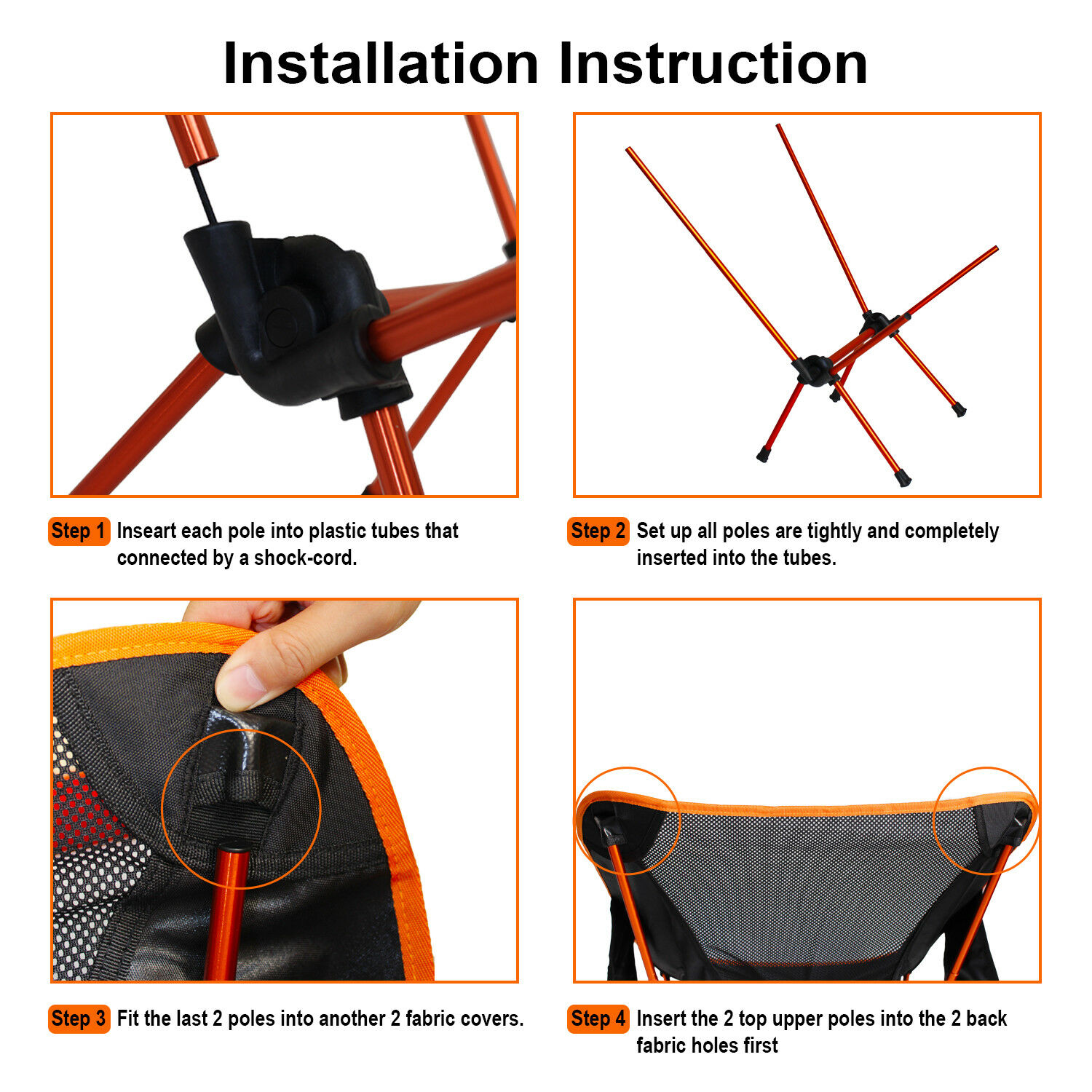 Specifications
Dimensions: 22″D x 23.5″W x 13″H

Color: Orange,Blue

Material: Aluminum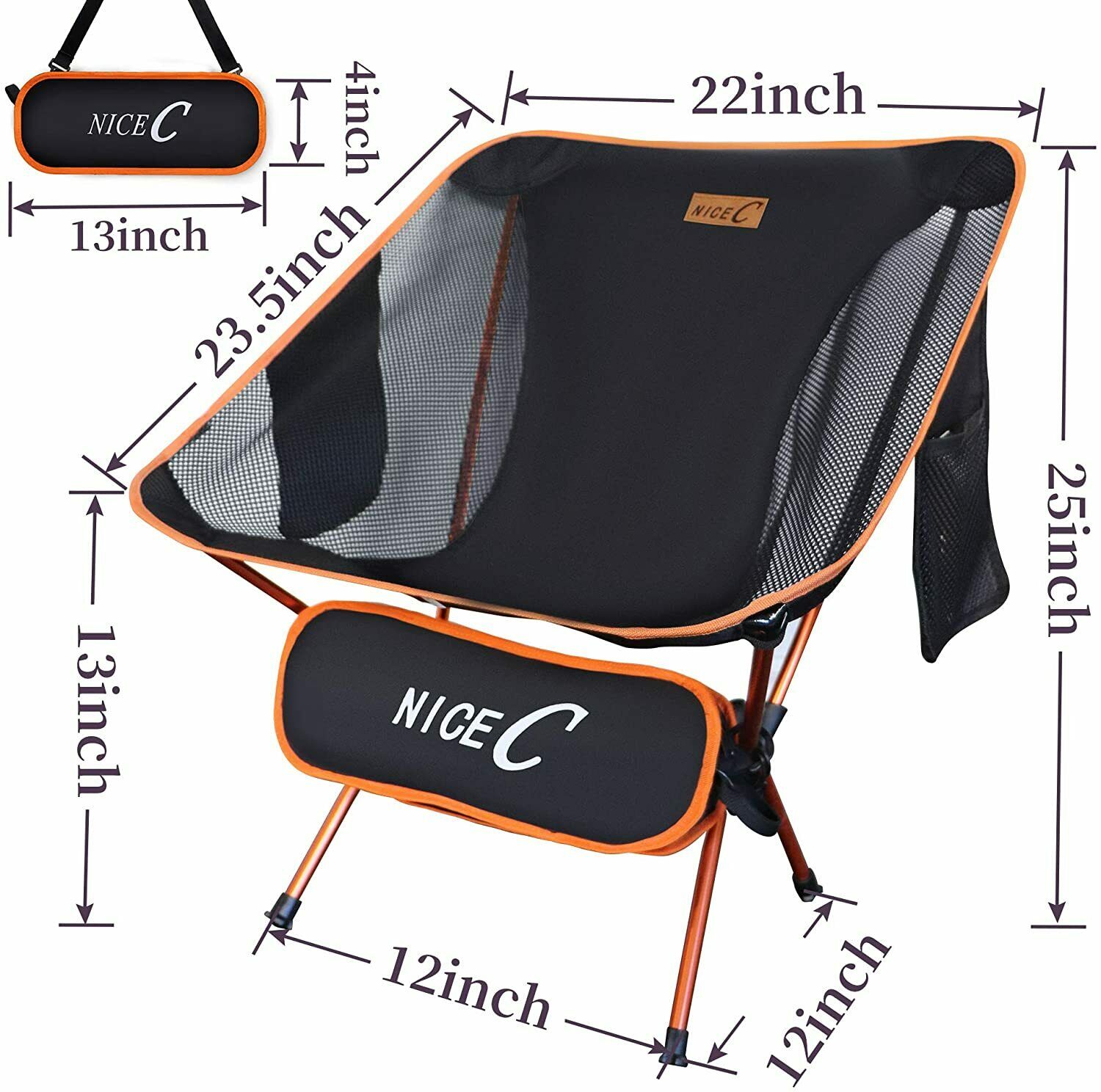 Product Package
1 x Camping Chair
1 x Carry bag