Bringing Comfort Back to Camping

Camping Should Not be Synonymous to Discomfort!
Going on a camping trip includes so many things that could really be physically taxing. You scan boulders, walk miles, and even trek difficult trails. At the end of the day, when the exhaustion finally sets in, one of the best things you can do is just lounge out, relax, rest, rejuvenate, and to take in the wonderful sights around you.
This is the inspiration behind the CampoLounge camping chair. This all-in-one outdoor seat is designed with all that you need for resting during camping – durable build, breathable design, and accessories that make camping breaks a breeze. 
The CampoLounge complete camping chair has everything you need for a seat you can take outdoors – lightweight design, convertible build, and a make that redefines comfort while you're in the wild.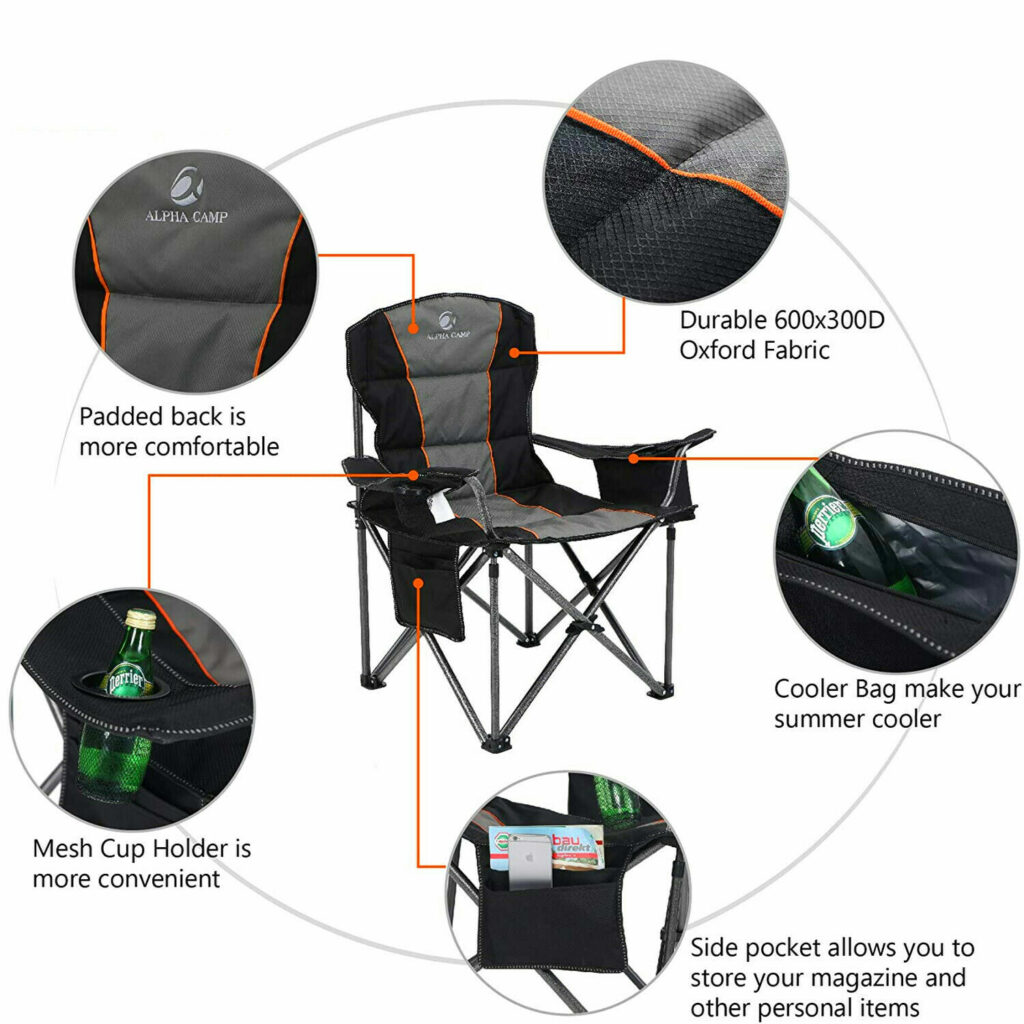 Best for Beginner and Professional Campers Looking for the Most Jam-Packed Chair.

💪Created for outdoor enthusiasts who value all-in-one supplies, the CampoLounge has everything for adventure junkies who love taking a break on the road.
💪The chair comes with a cup holder, a beer slot, a side pocket for phones and other essentials!
Best for Hikers Who Are Trekking Long Trails
💪 If you're looking for a foldable camping chair that is uber lightweight that you can use as you take breaks from your hikes, you can count on the CampoLounge – it only weighs 13.2 lbs but can handle up to 450 lbs!
Best for Avid Fishing Fans
💪 Waiting for fish to come can be exhausting. With the CampoLounge, you won't have to squat anymore. This camping chair for fishers can make your fishing activities less exhausting.
Best for Those Who Love Going on Outdoor and Picnic Trips
💪 Do you consider the outdoors a great place to socialize? If you're traveling with family or with a big group, bringing this lightweight, space saving chair is a better option compared to bulky chairs.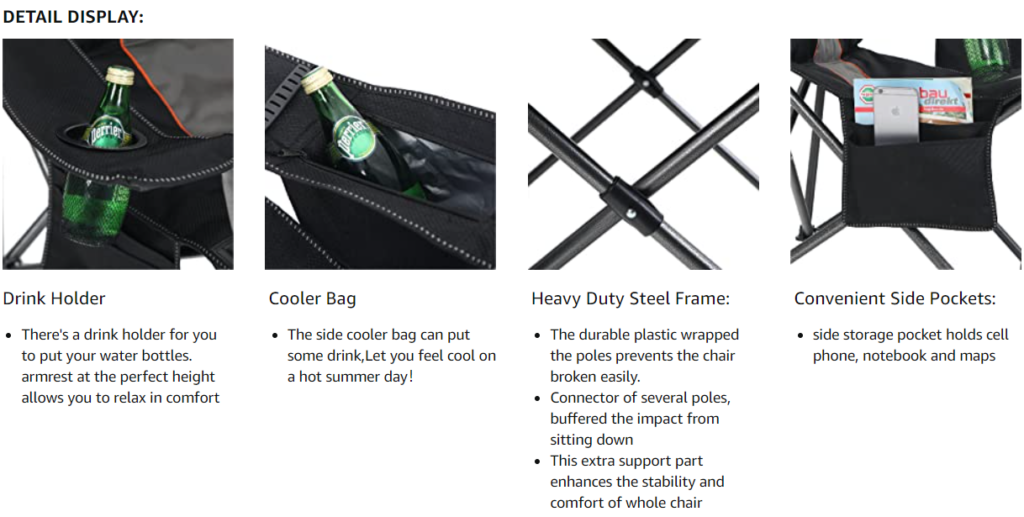 CampoLounge Features
❤
Large size camping chair for both old and young. The o
versized camping folding chair has a dimension of 25.20″ L x 39.37″ W x 39.37″H. It can cater to people of all ages and sizes. 
❤ Comfort is in the seats. The l
arge seat area comes with 600x 300D padded oxford fabric and padded armrest ensure you get the ultimate comfort while you're lounging in this chair. 
❤
Durable enough to handle up to 450 lbs of weight!
With hammer tone powder coating prevent corrosion and fading. four heavy duty steel frame were added to the bottom of the chair .sturdy steel frame construction make it can support up to 450 lbs and you're guaranteed a long lasting chair to enjoy outdoors all year
❤
The chair that includes enough pockets and slots for your essentials. 
Durable mesh cup holder and armrest at the perfect height allows you to relax in comfort.side storage pocket holds cell phone, notebook and maps,side cooler bag will keep you cool on a hot summer day!
❤
 The easiest camping chair for outdoor trips. The f
olding camping chair is easy to set up and fold in seconds. It collapses down to just 9.05″ x 38.58″ and weighs only 13.2 lbs making it easy to store anywhere. 
❤ Supreme comfort anytime, anywhere. Whether you're in your garden, at the beach, camping or hiking, this quad chair is super comfy. You can even use it in the home!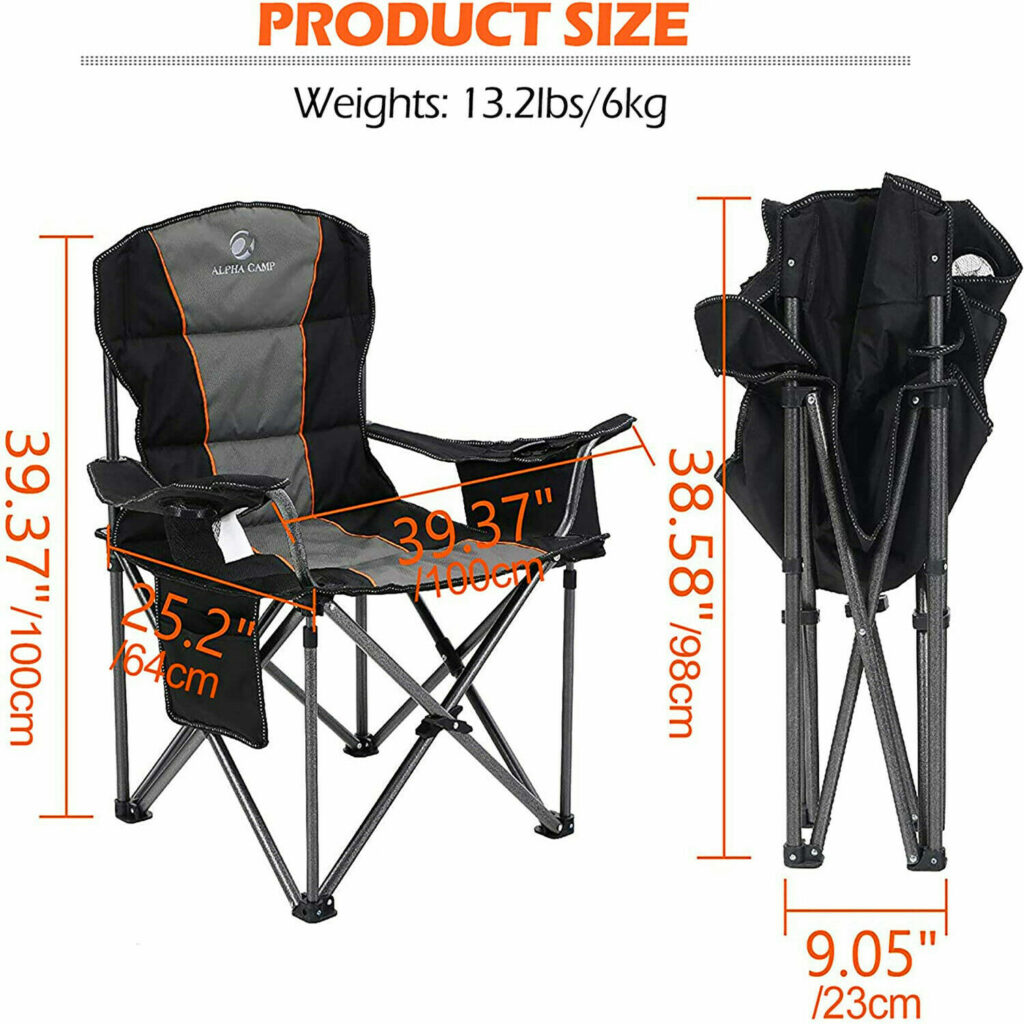 Specifications:
Color: Black
Weight Capacity: 450 lbs
Material: Thick oxford cloth
Dimensions:

25.20″ L x 39.37″ W x 39.37″H
Product Package
1 x Camping Chair
1 x Carry bag