Upgrade Your Paint Projects with the HaloxoPaint High-Powet Portable, All-around Paint Sprayer With Adjustable Spray Patterns and 3 Different Spray Flows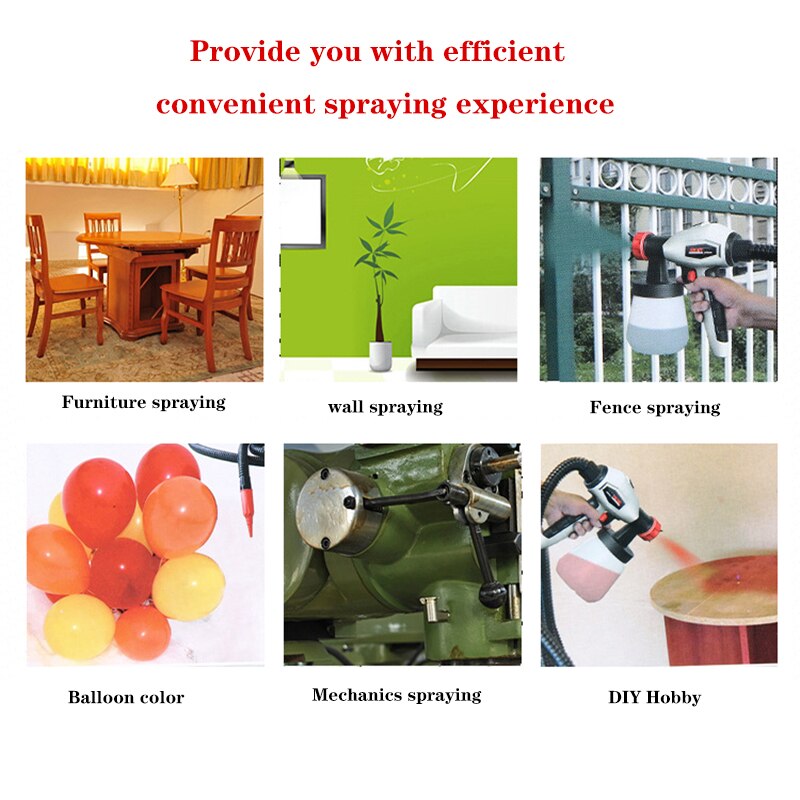 Painting Up a Project and You Need to Do it the Fast and Efficient Way? Look No Further – The HalxoSpray Is Made to Do Just That!
Whether you're painting a room for renovation, or sprucing up your fences and yards, you can trust on the HalxoSpray to do the job for you.
You can say goodbye to manual paint brushes that would require you to do the heavy lifting, and only finish a fraction of the job despite spending a lot of time on it.
Change the way you paint with the HalxoSpray. This powerful paint sprayer now comes with adjustable spray intensity, and spray directions to help you paint the way you want to without any complicated process!
Lightweight, easy to use, and powerful enough despite its portable size, the HalxoSpray can be your go-to paint sprayer for home projects, DIY revamping, home remodelling, and even designing commercial spaces!
HalxoSpray Paint Sprayer Features
🌟Our paint sprayer has a fast and easy setup. No complicated processes involved. No air compressor required. The motor generates air pressure efficiently. 
🌟Great for achieving that sleek, smooth painting finish. The overall design of the HaloxoPaint enables paint to settle firmly and fast. You won't have to worry about air forming pockets undeneath the pain that can eventually cost chipping and paint fall out. This product provides a precise spray pattern, creating a smooth and superior finish.
🌟The paint sprayer with multiple spray settings and spray patterns. The spray painting gun will be your best electric paint sprayer for different surfaces and objects. For home use, you can apply the paint coatings from this paint sprayer on tables, chairs, fences, interior walls, crafts, and dressers. You can also use this for commercial spaces.
🌟Nozzle sizes adjustable valve knob, regulate your paint output by adjusting the flow control knob on the sprayer to get different paint output. Whether you want an intense blast of paint, or a spattered one, it's 100% your choice. The nozzle size can be adjusted simply by rotating the flow control knob.
🌟The paint sprayer for all types of paint. You can add spray oil or water-based materials such as chalk type paint, milk paint, latex paints, enamels, primers, clear sealer, polyurethane, stain, and varnish. When you're done spraying, you can wash it all away with the rapid clean.
🌟Long power cord & lightweight body that allows you to move around without feeling restricted. Power cord is long enough for you to move freely in the large work area. Jump right in with easy setup, easy spraying, and easy cleaning.
🌟This sprayer is user-friendly and has a simple and effective design. Our sprayer with lightweight build and portable spray size can fit perfectly in your hand and let you spray longer without fatigue.
Specifications:
Weight: 1.7kg.
3 Spray Patterns: horizontal, vertical and circular.
3 Flow rate: 1.3mm / 1.8mm /2.6 mm, for any painting projects.
Rated voltage: 220V/50Hz.
Rated input power 400W, 2.2A.
Capacity: 800 ml
Coating spray quantity: 800ml/min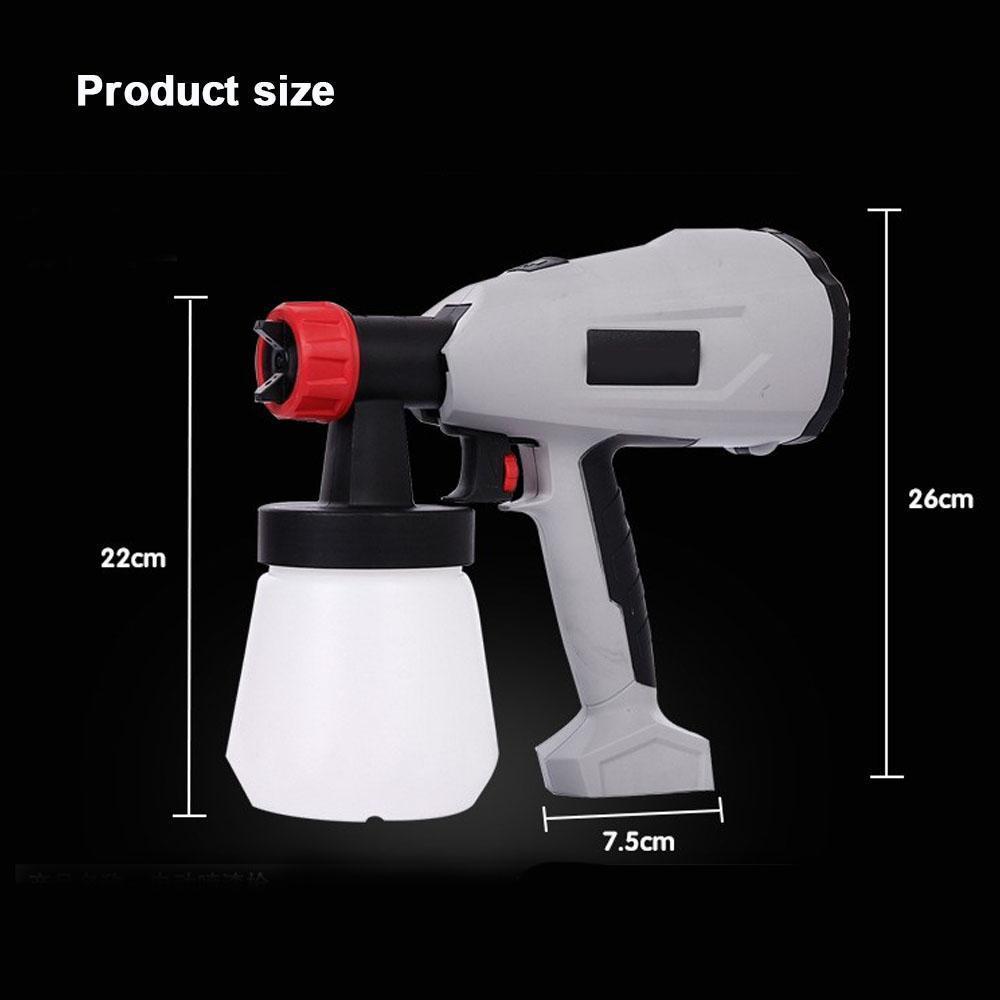 Package Include:
1 x High-pressure Paint Sprayer
3 x Flow rate: 1.3mm / 1.8mm /2.6 mm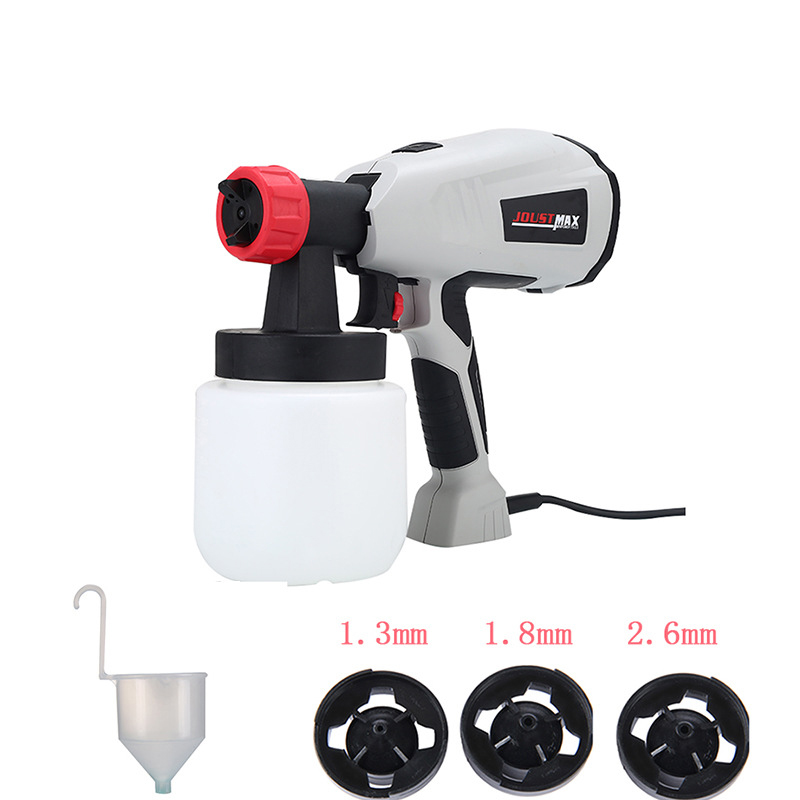 Notes:
Due to the different monitor and light effect, the actual color of the item might be slightly different from the color showed on the pictures.