Get on with the most comfortable, stylish, and functional safety shoes—the Gear-O-Five!
Tired of those heavy, clunky tactical boots that leave your feet sorer than ever? If so, we got the perfect footwear to keep your feet cool and protected no matter where you break your sweat.
Introducing the Gear-O-Five Steel Toe Cap Trainers!
Combining the comfort science of athletic shoes and the max protection tactical shoes deliver, the Gear-O-Five is the perfect blend of comfort, style, and protection—perfect for people working hard in construction sites, metal & automotive industries, or other workplaces with falling or sharp object hazards. With its excellent steel toe and puncture-resistance features, you'll never have to worry about dead toenails or foot injuries ever again.
Why Choose Gear-O-Five? Let Our Features Do the Talking!
Experience What Limitless Feels Like
With our lightweight, breathable, and reinforced protection design, there's nothing that can stop you from getting the job done. No more tiring feet or struggling to walk. The Gear-O-Five is made of the best quality materials and comfort technology to make you feel at your best all the time.
It's the Most Durable Shoes Ever!
We designed the Gear-O-Five Steel Toe Cap Trainers to withstand whatever comes their way while maintaining the comfort and lightness of a running shoe. Offering maximum footwear protection, the Gear-O-Five is extremely durable with resistance to impact, puncture, slipping, and other hazards in the workplace. Our unique lightweight combination of features makes these safety shoes the perfect footwear for things like construction work, carpentry, and manual labor.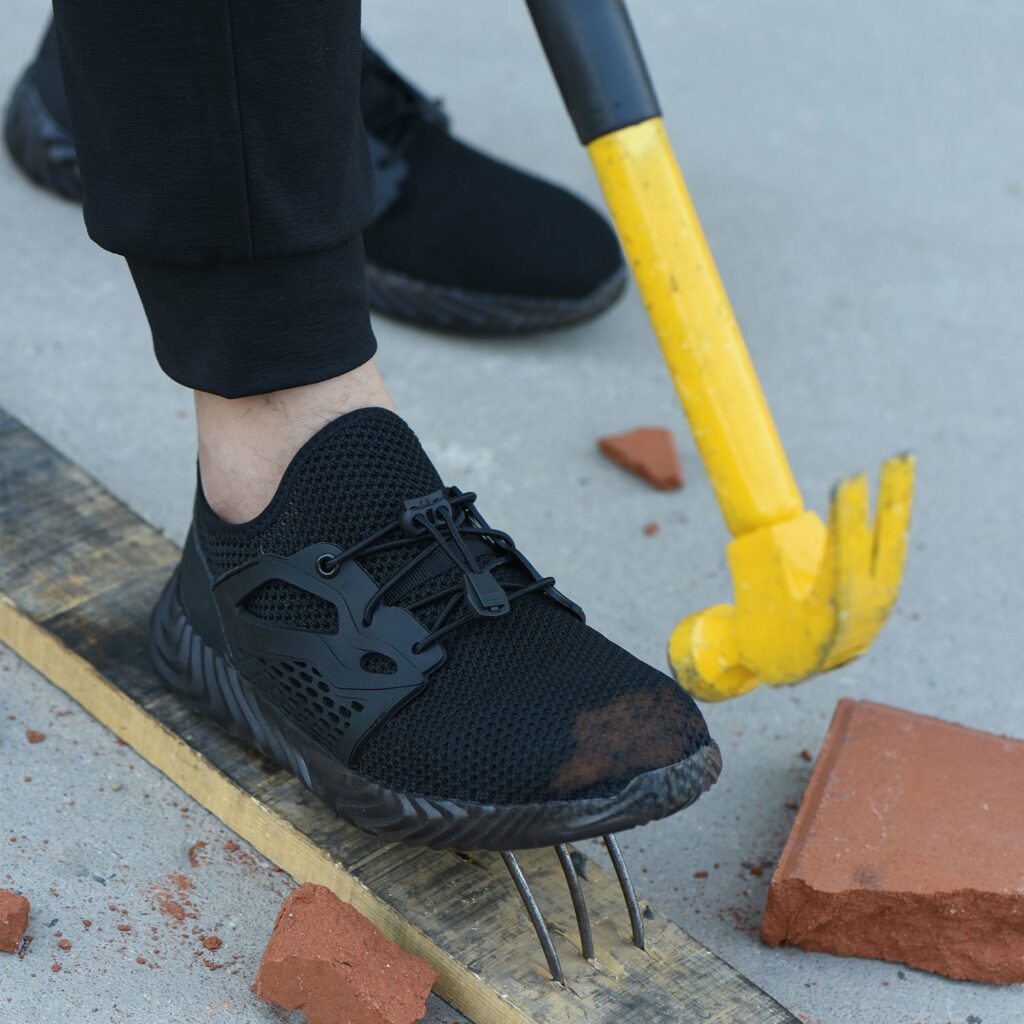 Impact-Proof Steel Toe Design
The Gear-O-Five is built with high-density steel that is made to last and protect your feet from any falling objects. Have peace of mind knowing in the case of an accident, your toes are safe and protected at work.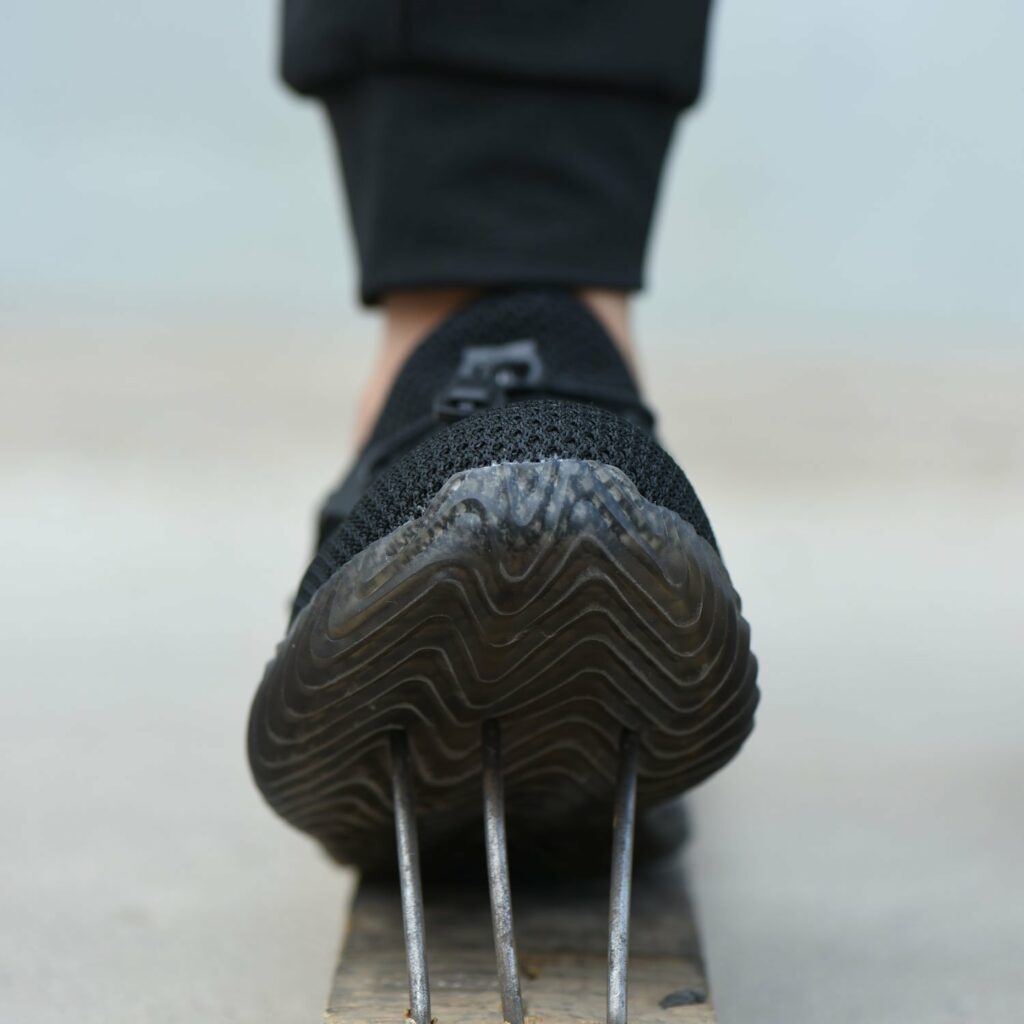 Nail-Resistant Sole
With military-grade Kevlar woven built into the sole, the Gear-O-Five Steel Toe Cap Trainers take much more force than a regular pair of work shoes. With their puncture resistance, these safety shoes are perfect for hazardous work around things like dangerous broken glass and sharp nails!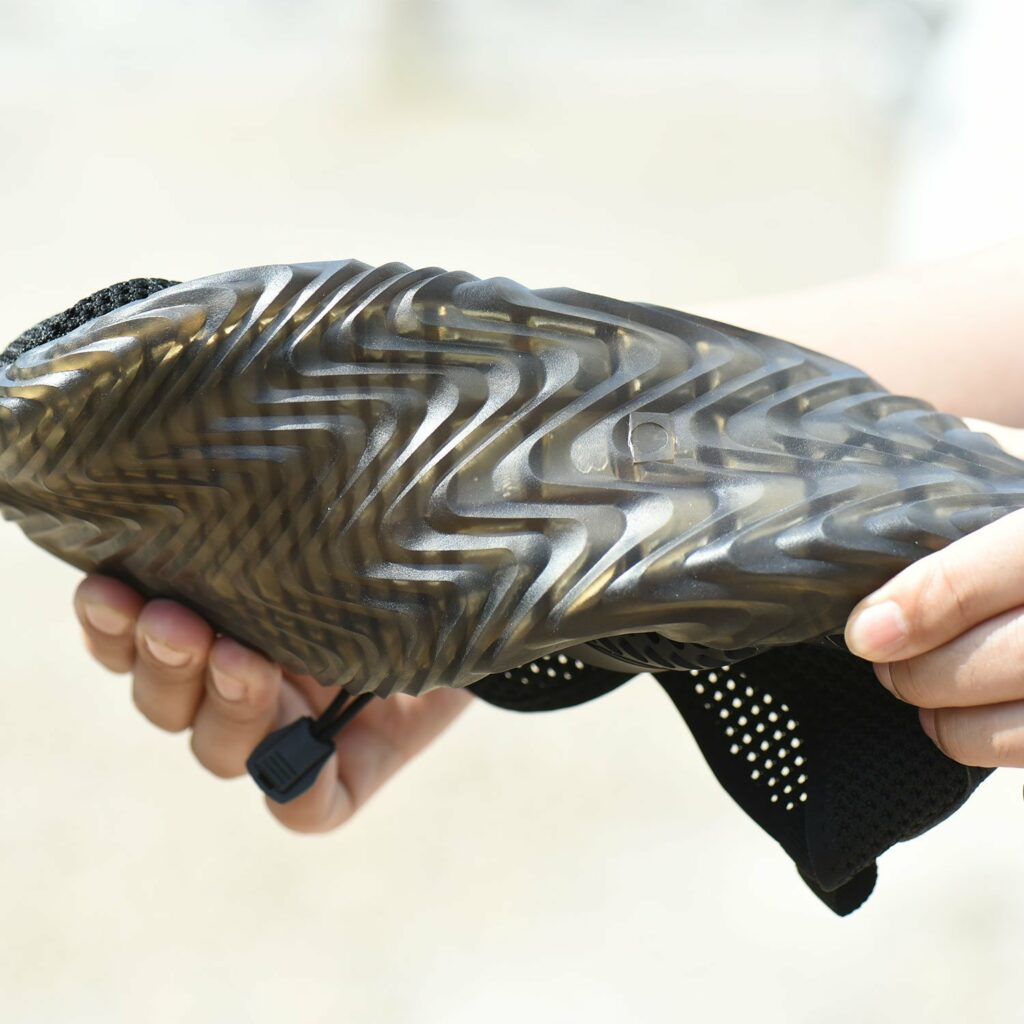 Versatile and Stylish
Our shoes were designed to be multipurpose, and excel at everything they do. Use them as gym shoes, work-shoes, and everything in between. They also look and feel fantastic, earning you constant compliments no matter where you are.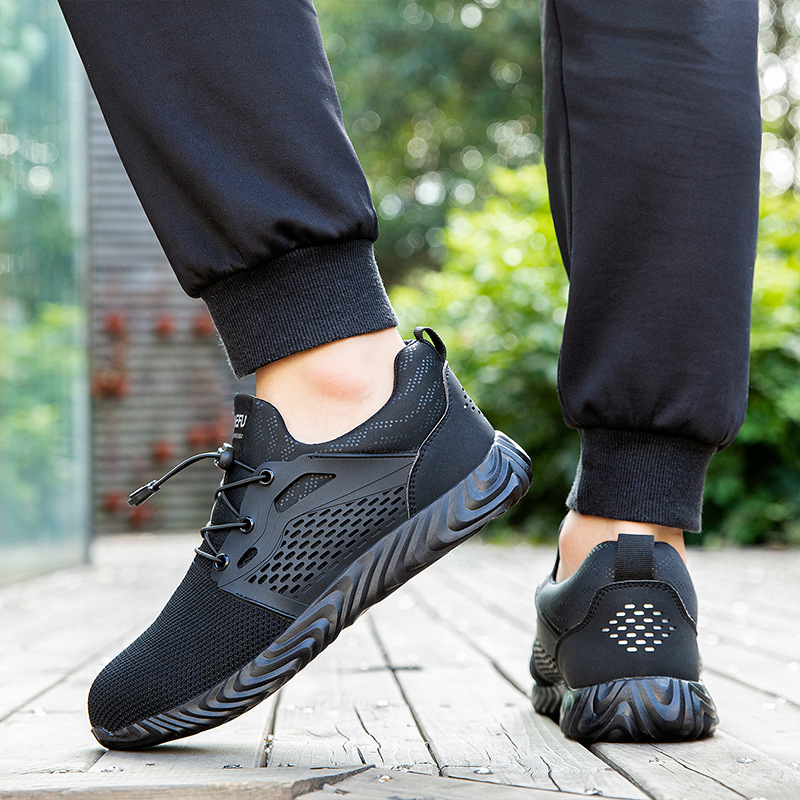 Features
A very high degree of foot protection. As you can see above, they protect against impact, crushing, puncture on a sharp nail, or falling due to slipping.
Breathable fiber and mesh structure. They provide maximum ventilation, remove moisture, prevent foot sweating and unpleasant odors.
Reinforced steel overlay at toe height. It protects against crushing by heavy objects falling on fingers or hitting a car wheel, etc.
A sole that cannot be punctured or punctured on a nail, glass, or sharp stones. It prevents slipping, and its incredible flexibility allows for an even and balanced distribution of body weight over the entire surface of the foot. This increases the wearing comfort many times over and reduces foot fatigue.
Weight. They are very light. It will be appreciated by everyone who wore heavy and not very comfortable work shoes, even for a moment. Ours weigh little more than pool flip-flops. But they are much more convenient than them.
Laces. Flexible and no need to tie. A patent that worked great in trekking shoes. Convenience and speed in putting on. It is not necessary to take off the gloves when putting them on. Like a trifle, and sometimes it comes in handy.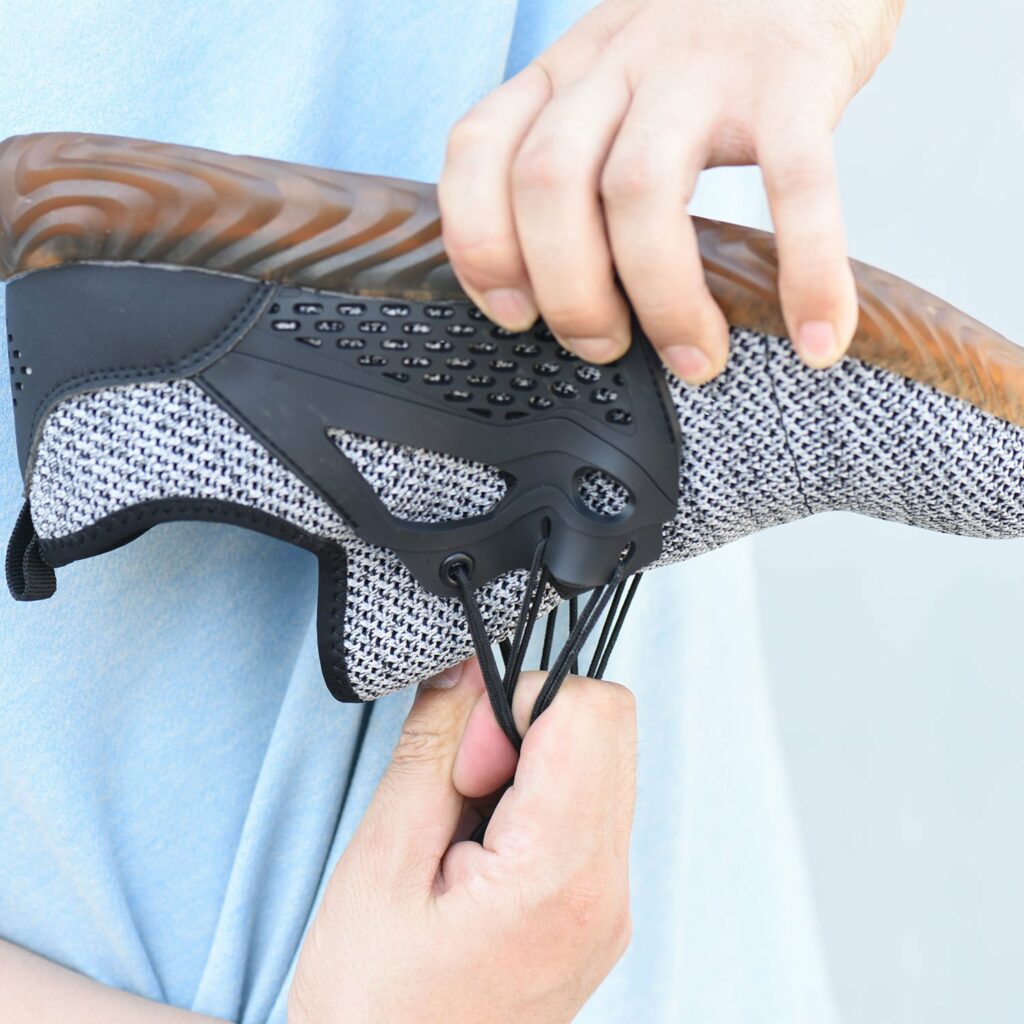 SIZE CHART
Please refer to the size chart before purchasing. We have a unique sizing system and we highly recommend that you measure the length of your foot before purchasing to ensure a perfect fit.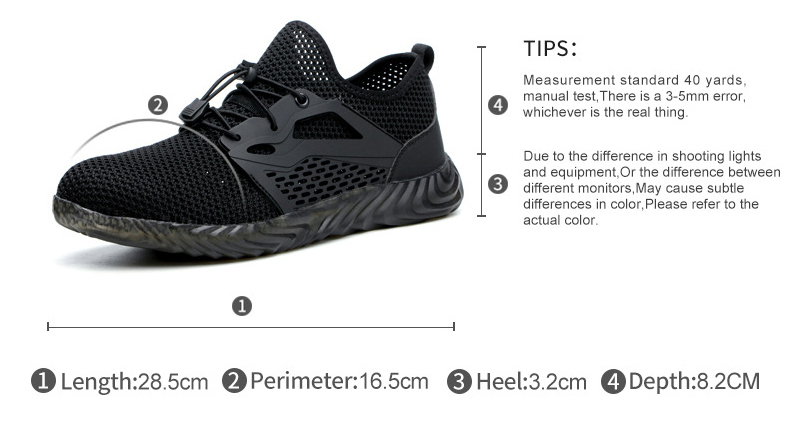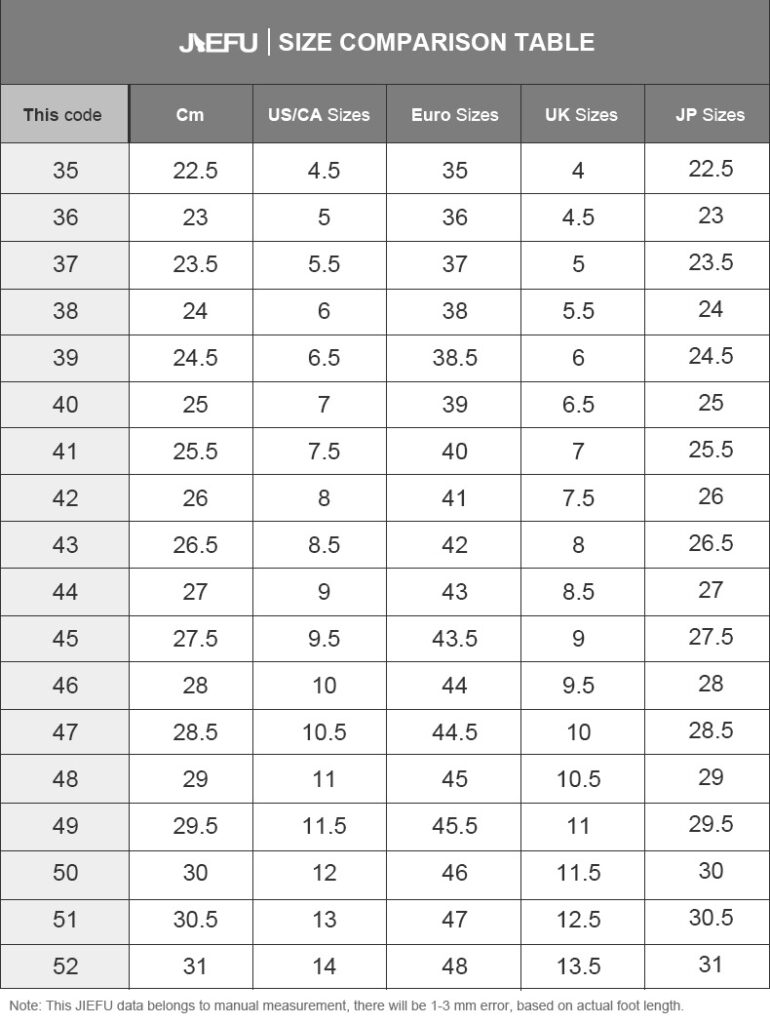 Specification
Boot Type: Work & Safety
Upper Material: Steel Mesh (Air mesh)
Outsole Material: Rubber
Closure Type: Lace-Up
Material: Breathable Mesh
Color: Black, Grey, Green
Steel toe cap: Anti-Smashing Working Shoes
Outdoor Security Boots: Industrial Work Boots
Puncture Proof: Anti-Piercing
Package Includes:
1 * Pair of Steel Toe Cap Trainers