Snap Your Best Summer Selfie with DiaSplash!
Trendy pool floats are taking over Instagram, and everyone has their own spin of the #summerselfie! If you want to join the fun and snap an eye-catching, Instagram-worthy selfie this summer—do it with DiaSplash!
The DiaSplash is your definition of paradise, with fun and exciting aesthetics. There are flamingos, unicorns, even watermelons, but nothing can beat the stunning feel of a big diamond ring. Float in the pool luxury style, and capture that selfie that people will surely like.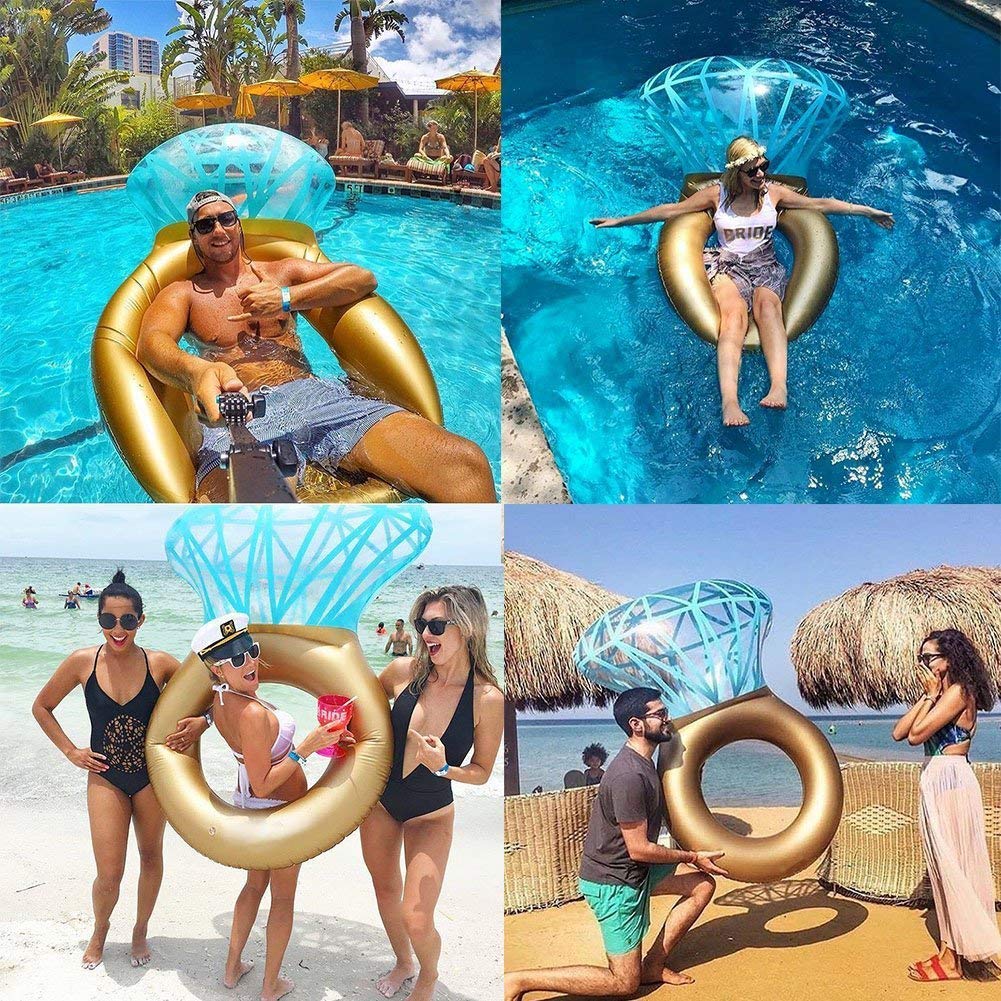 The Life of the Party
No other float is sure to be more eye-grabbing out on the water than the diamond ring float! Everyone will love this fun touch that is guaranteed to make a splash wherever you go. So be the center of the crowd and put a diamond ring float in that pool-venture!
Picture Perfect
The diamond ring is natural in front of the camera and makes for a fun photo op when you're having fun in the sun. Did he propose? Or recently wed? Say it out loud with a big diamond float!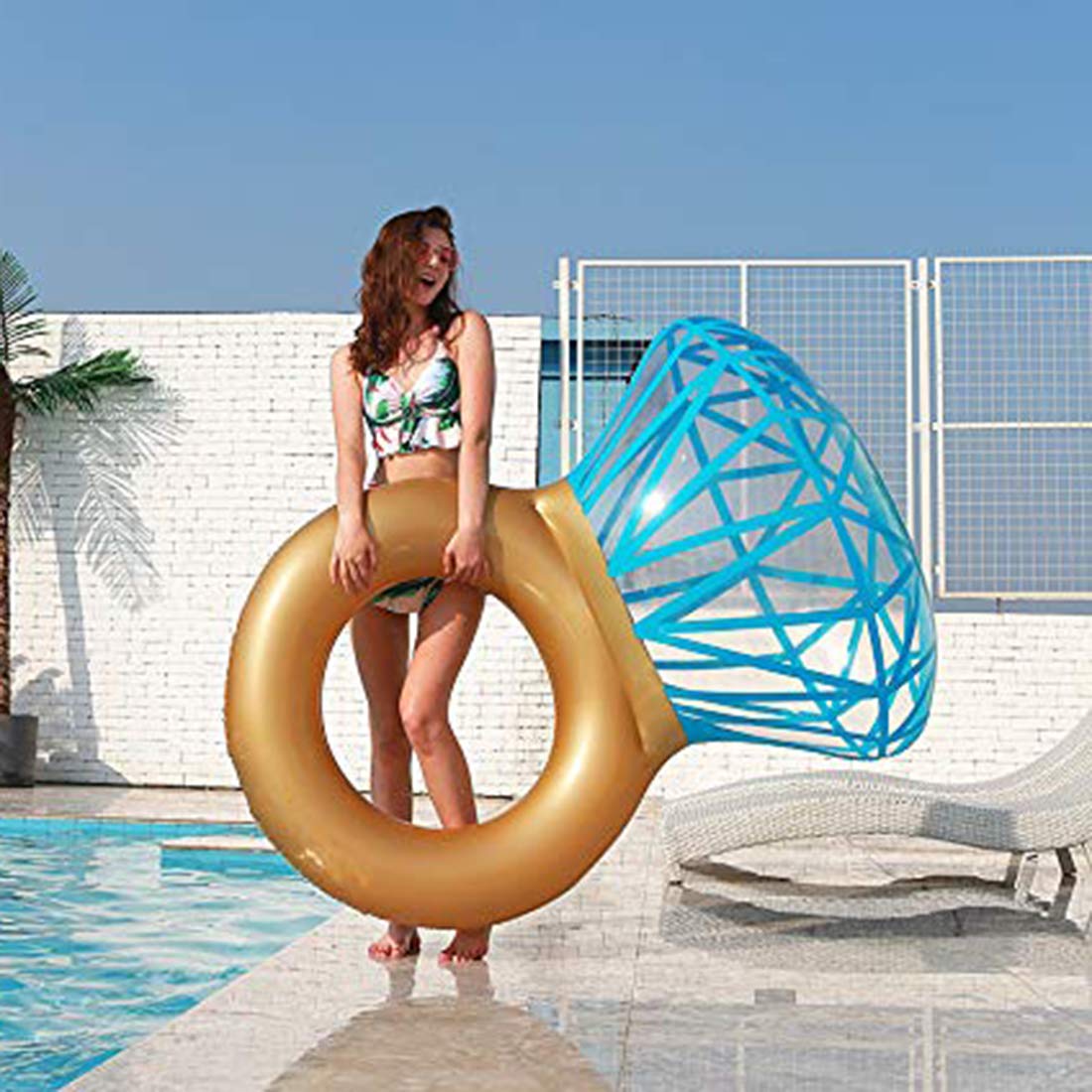 Specifications:
Size: 140cm x 120cm (55 x 48 inch)
Material: High-quality PVC
Weight: 0.9kg
*Note: This product is not equipped with inflatable tools.
*Warning: Adult supervision is a MUST when used by children.
Features:
Easy to Store:The DiaSplash is foldable and compact so that you can inflate and deflate the water hammock quickly and easily. Just roll it up for easy storage or tote around when needed, and bring it with you where your summer plans bring you.
Keep Your Body Cool: The inflatable rafts allow your body to stay cool by soaking in the water while keeping your head and knee afloat. You can float on water, luxuriate in sunshine, feel the cool world, enjoy and relax in this wonderful moment.
Perfect for Adults and Kids: Size is 71″X48″ with a weight capacity of 200 lbs or about the weight of one adult or two children. This pool float is designed ergonomically and covered with soft PVC to provide plenty of support and an abundance of comfort. It's 100% free of smell and guaranteed non-toxic, so it's safe for use for kids and adults.
Enjoy Your Time on the Water: Our Diamond Pool Float Chair is perfect in every body of water. Use it in the ocean, lake, river, or pool; it'll stay comfortable, relaxing, and eye-catching! Recommended for adults and children under supervision. The DiaSplash is the best birthday present, summer gift for a pool party.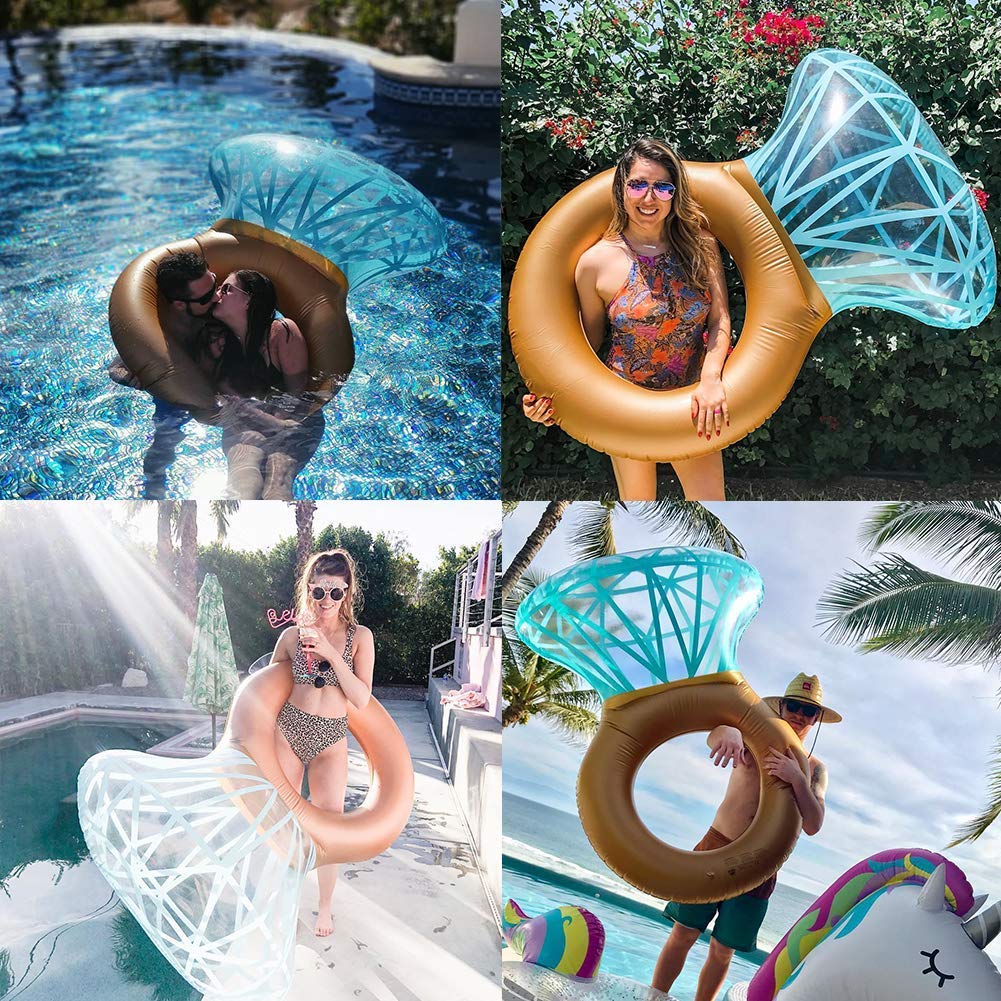 Specifications:
Name: DiaSplash Diamond Inflatable Pool Float Chair
Material: 0.25mm Environmental PVC
Fits for: Adult and Kids
Packing: PE Packaging
Color: As Shown Before Inflation

Bullet Points:
Size: approx 140*120cm.
The product is thick, soft, and durable. It is made of high-quality rain-grade non-phthalate material.
New matte finish with quick valve. The rate of inflation and deflation is more than 5 times faster.
It can be inflated with a hairdryer or a toy air pump. Suitable for children and adults birthday gifts, summer gifts.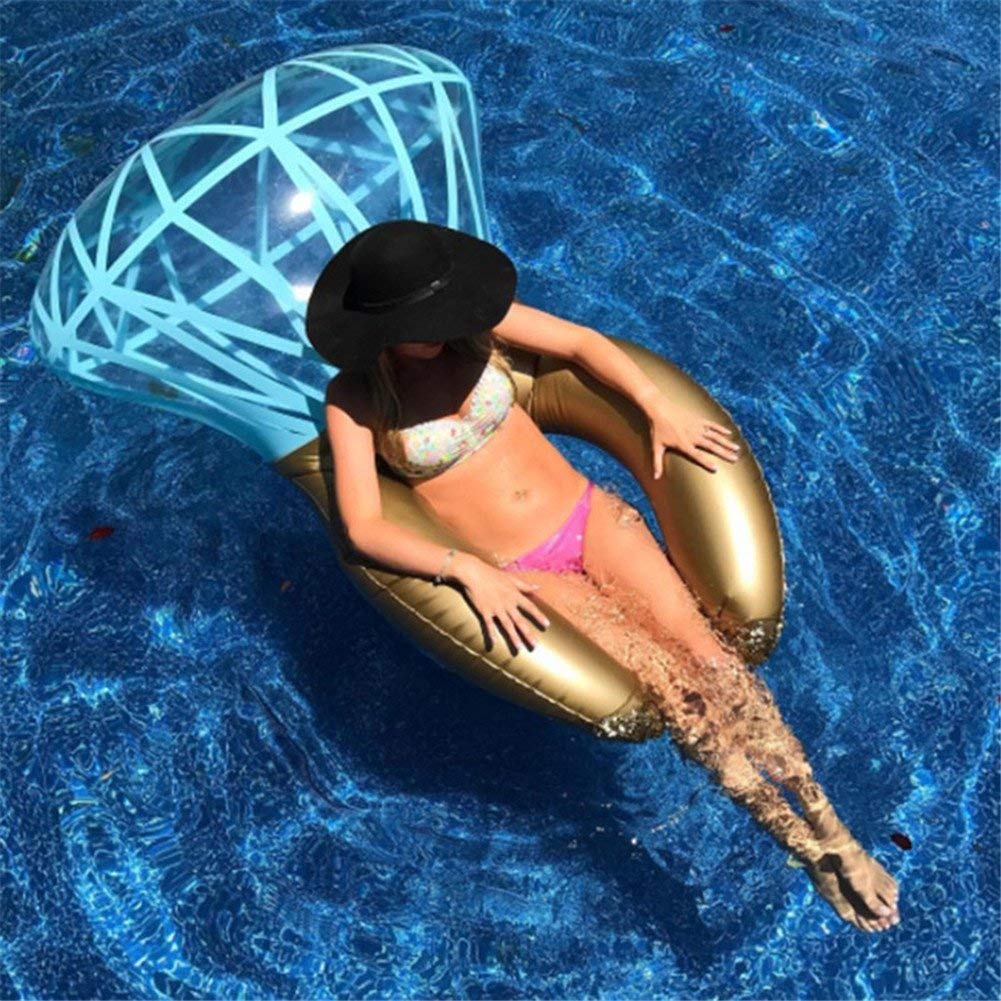 Package Include:
1 * Diamond Ring Pool Float Chair
Tips:
Please keep away from sharp objects like prickly plants or pointed stones or blades.
Please do not use it as a lifesaving device.
Stay away from fire or hot items. Avoid alkaline medicines. Please put it somewhere that your kids or pets can't touch it. Repair glue is a chemical material, don't touch the eye or swallow it.
When the temperature is high, please don't put inflatable products in the car or tent.
Please don't expose the floating system to the sun for a long time. UV rays will damage the surface of the material.
Remember not to excessively inflate the float, especially in the summer.
Please avoid jumping on the product as this could overload and damage the material, causing the surface to bulge.